Choosing the right grill for your RVing adventures can be tricky and challenging. You might be feeling a bit confused because there are so many choices. All grills promise the same thing, such as top performance, quality, and solid features. There are countless grills on the market that can get the job done, but none in my opinion do as much and as well as the Blackstone Tailgater Combo.
This post contains affiliate links. As a participant in Amazon Associates and various affiliate programs, we are compensated when qualifying purchases are made through our referral links at no additional cost to you. Full Disclosure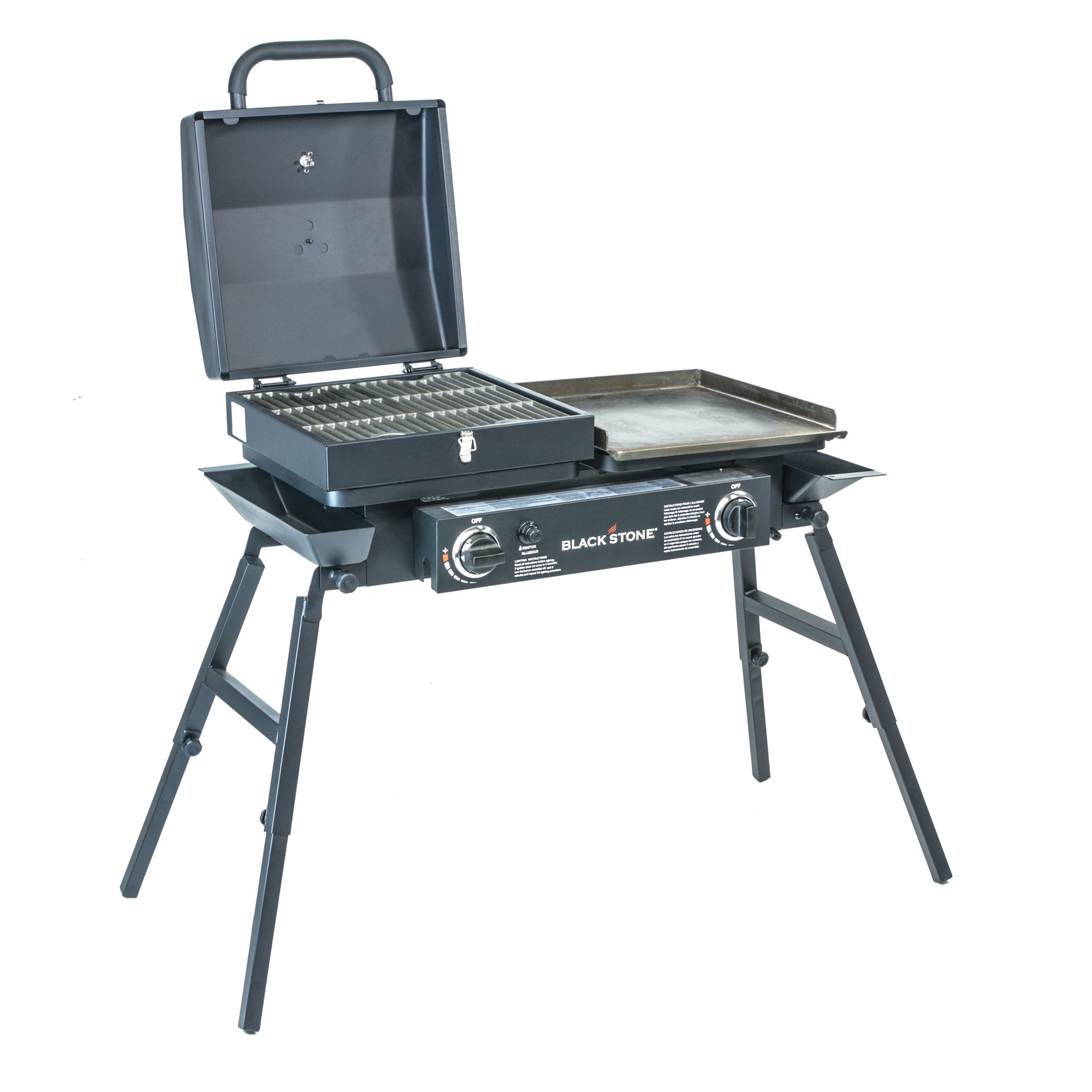 Being outdoors and grilling is an integral part of the RVing experience. It's simply a fundamental aspect of a good camping trip. Although you may take great care in selecting and preparing the foods you serve, the success of your meal often comes down to the quality of your grill. With this in mind, we thought it was incredibly important that you have a high-quality RV grill to make sure those trips are the experience you've always envisioned.
There are some grills made for cooking in the backyard, and there are a few made for cooking while RVing. For RVing, you need a grill that is portable. The Blackstone Tailgater Combo is a propane grill made for cooking anywhere. It has the features and versatility to sustain an outdoors person in any setting. It's the perfect all-purpose barbecue that is extremely portable, unlike the conventional gas grills on the market. The Tailgater Combo has a grill, griddle, and stove top all in one, and can cook just about anything.
Features
35,000 BTUs of Heat between Two Burners
1 "H" Style Stainless Steel burner
1 Round Cast Iron burner
477 sq. inch total Cooking Surface, including a Multi-Purpose Grill and Griddle Plate
Two Adjustable Heat Controls with a Built-in Electric Igniter
Grill Box and Griddle Plate add-ons included
Direct Burner Access for Dutch Ovens, Skillets, and Stock Pots
Extra-Large Dual Grease Trays
Independently Adjustable Legs for Use on any Terrain
Box Dimensions–37″ L x 20″ H x 18″ W, 78 LBS
Assembled Dimensions–37″ L x 20″ H (Adjustable to Higher) x 18″ W
Versatility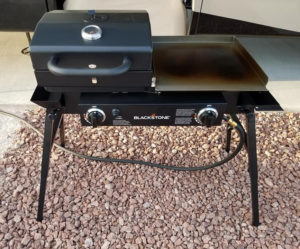 The Blackstone Tailgater Combo is a versatile unit that can be taken anywhere. Construction and versatility are designed for the active barbecue chef that loves to cook anywhere.
Enjoy many combinations by using the griddle and grill box. Both of these surfaces can be removed for direct access to the burners in case you want to cook with dutch ovens, skillets, pots, or even roast food like hot dogs or marshmallows.
One burner is a stainless steel H-tube burner and the other is a cast iron burner. The Stainless Steel H-tube burner can put out 15,000 BTUs and the cast iron round burner produces 20,000 BTUs and because it's cast iron it'll hold heat very well.
Portability
The Blackstone Tailgater is portable, although a bit heavy. The 4 telescopic legs on the base retract into themselves and then fold up underneath the unit so that it can be stored in a compact area. Having telescoping legs doesn't just help with storing the Tailgater, it makes it perfect for setting up a level cooking surface on any terrain.
Each of the legs is independently adjustable with a simple thumbscrew. Those thumbscrews lock each leg into place at whatever height is needed to make the unit completely level. That's a good thing since most of the campsites we've been to aren't perfectly level!
Usage
The Blackstone Tailgater gives the ability to cook two vastly different foods at the same time at different temperatures and speeds. Honestly, this feature gives me grilling versatility that I could only dream of when I started my research into RV grills.
I can grill steaks on one side while sauteing mushrooms and caramelized onions on the griddle side. Or cook an entire breakfast of bacon, hash browns, and eggs on the griddle and as things get done move them to the grill side to keep warm.
We've changed the hose from a portable propane tank to a hose that we connect directly to our motorhome propane system. This allows us to travel without needing to bring a separate propane tank just for the grill.
The Blackstone Tailgater Combo also comes with a powered ignition that starts with the push of a button. No messing around with lighters and cold weather. It does take 1 AA battery for the powered ignition which isn't included.
Clean-up is easy the cast iron grill grates are covered in a non-stick porcelain coating, which makes them easy to scrape down with a bristle grill brush. The griddle is as easy as using a little olive oil and a scraper then wipe off with a paper towel and let it cool.
The grease management system of the griddle side can be a little slow and cumbersome. I would like to see Blackstone put the grease traps on the back of the unit as they've done with some of their home griddles.
After three-plus years of use, one of the drawbacks we've found with the Blackstone Tailgater Combo is it does poorly in the wind. If it's windy you can't get enough heat to adequately cook your food. We've added some aluminum windscreens around the bottom of the grill and this seems to help. It's still a great grill/griddle but you'd be surprised by how many windy days there are when you try cooking on it every day.
Weight
One thing to consider with using the Blackstone Tailgater for a portable/camping grill is that it's heavier than most grills you will find. It weighs about 85 pounds, so you know it's made solid.
I have seen other reviews that list the heaviness of it to be a negative for some people. When put up against all the positives the weight is a non-issue for me. But it would feel misleading if I didn't at least mention the weight of the unit. I really don't notice the weight too much, but that may be because it comes apart so easily. Each of the 3 pieces comes apart for storage.
Accessories.
Blackstone makes many accessories to enhance your grilling experience. From a variety of Tool Kits and accessories. Blackstone has all the items you need to become a grill master.
We use the Tailgater Combo Storage Bag Set when our grill is packed away in our motorhome. The two storage bags in the set allow you to keep the stove and accessories all together. One bag stores the griddle and grill box the other bag stores the unit base and accessories.

Conclusion
For us and our RVing lifestyle, the Blackstone Tailgater is perfect. If you're an active outdoor enthusiast who doesn't like to be confined to the backyard and you want a go-anywhere, do-anything grill, griddle, and camp stove combo, then the Blackstone Tailgater Combo should be your go to grill.
The Tailgater can be folded up for compact traveling and unpacked in seconds. With the different ways, it can be configured it's the perfect option for tailgating, camping, and other adventures. It is sure to get your culinary juices flowing for your next trip. While it is great on the road this unit is also completely at home living on your deck as your daily griller.
I hope you enjoyed the review on this product. If you have any questions about the Blackstone Tailgater Combo or any other Blackstone products, or you want to leave your own personal review, please leave a comment below.
If you're looking to build your own home-based business like we have with this webpage, check out Wealthy Affiliate.
Wealthy Affiliate is an all-in-one platform that you can build your whole affiliate marketing business on. It combines training, software, and website hosting into one. This makes the whole process of starting an online business from scratch much easier, especially if you're new to building a website.