We looked at a lot of RVs before finally making our decision to go with our Thor Challenger 37YT Class A Motorhome. Most if not all the RVs we looked at had mattresses that were less than comfortable.
We were initially surprised by the Denver Mattress that Thor put in their motorhomes. While still on the thin side at about 6 inches thick it seemed comfortable and we used it for about 2 ½ years. At that point, we started to notice two indentions in the mattress where we lay and a big hump in the middle.
It was time to buy a new mattress. But where do you find an RV King Mattress (72″ x 80″) as we have in our coach?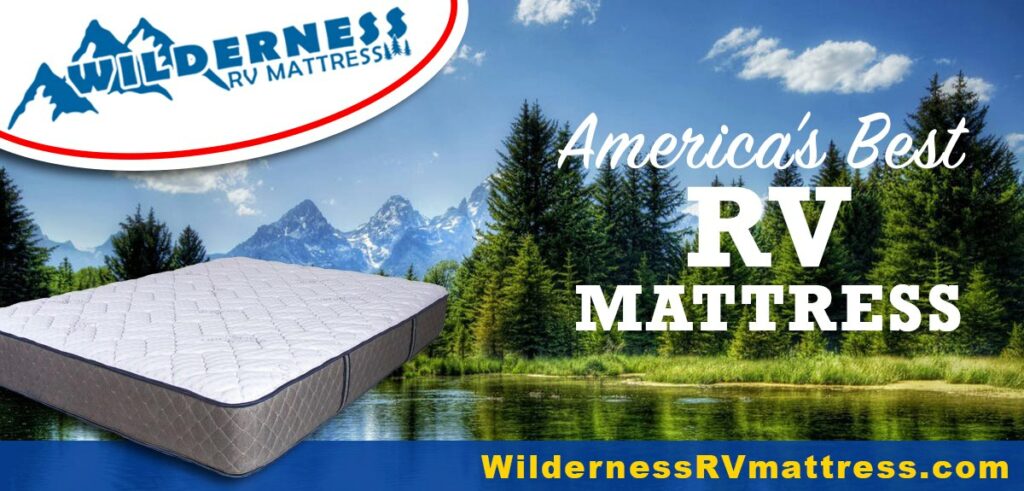 This post contains affiliate links. As a participant in Amazon Associates and various affiliate programs, we are compensated when qualifying purchases are made through our referral links at no additional cost to you. Full Disclosure
Buying a Mattress Online
Buying a mattress online was one of the strangest things for me. I'm used to going to a store and checking out what the mattress feels like, laying down on them, and making sure it seems like something that is going to be comfortable. We just didn't know where to go to find an RV mattress we could actually do all that with. I guess we could have gone to a Denver Mattress Store and checked out some I don't know. But we weren't happy with our original Denver Mattress only lasting a little over 2 years so we looked at other options.
The first thing we looked for was something that had good reviews from other RVers. We checked lots of review sites but even with them, mattress comfort is such a personal choice it is hard to determine what will be right for you. Everything we looked at we kept hearing good things about the Montana Hybrid Mattress from Wilderness Mattress.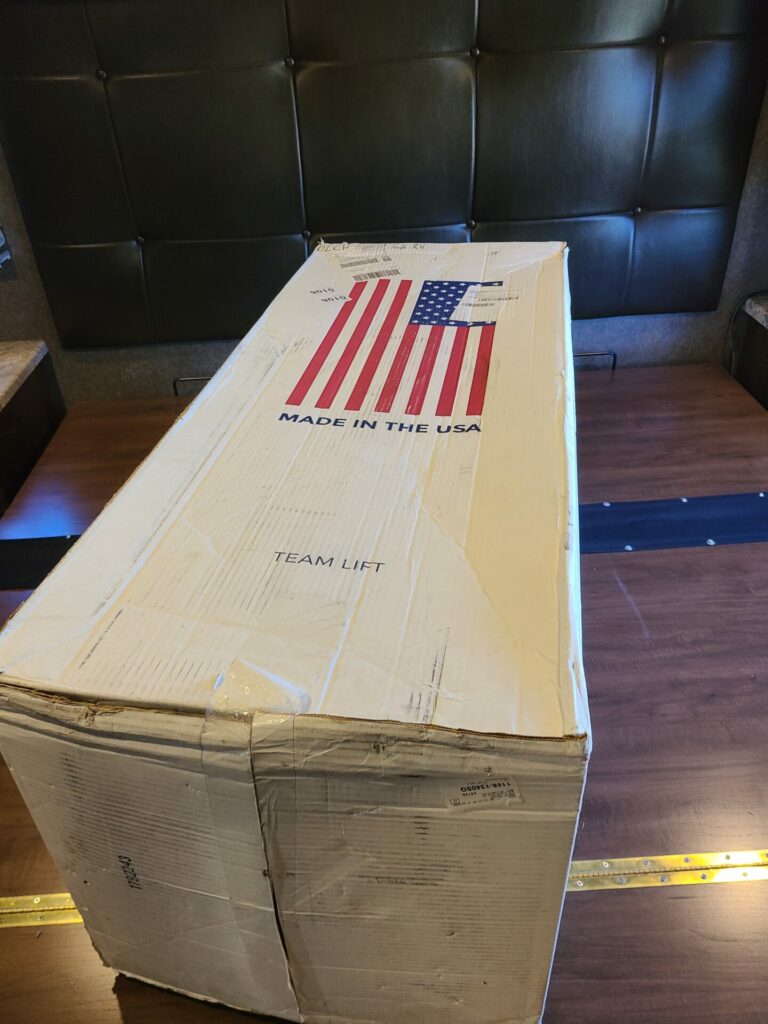 We decided to purchase the Montana Hybrid RV Mattress in Plush.
Montana Hybrid Mattress
The Montana Hybrid is Wilderness's luxurious RV mattress line. The Montana Mattress is handcrafted with the highest quality materials available. They are confident you will find the Montana to be the most comfortable RV mattress you will ever sleep on. We definitely think this is true. Our mattress is more comfortable than the one we had in our sticks and bricks.
Some companies want you to believe one mattress fits all, but that is just not the case. Everyone defines comfort in their own way, which is why the Montana Mattress comes in three different comfort levels Soft-Pillowtop, Plush (Which is what we bought), and Firm.
Most RV mattress companies only provide cheap memory foam options for the RV. Wilderness wanted to build the most luxury hybrid mattress available for RVs, and they have succeeded! That is why it is by far their Top Seller! Their quality & craftsmanship are unmatched. Order your Montana Hybrid today and turn your RV into a 5 Star Resort!
How's it Made?
1″ PREMIUM QUILTED TOP WITH COOLING COVER
Their premium quilted top helps resist body impressions and provides optimal breathability while you sleep. Their new cooling cover helps regulate your body's temperature giving you a much more comfortable sleeping environment.
1″ FAST RESPONSE MEMORY FOAM
A 1″ layer of patented, hyper-elastic foam features immediate response technology that adjusts to your body each time you move, and you never have that dreaded stuck feeling in the mattress.
1″ TRANSITION FOAM
A 1″ layer of transitional foam combines comfort with deeper compression support in the firm version of the Montana Hybrid.
8″ INDIVIDUALLY ENCASED COILS
An engineered layer, consisting of up to 961 individually encased coils, allows for exceptional reactivity and motion isolation, minimizing sleep disturbance. Additionally, high-caliber perimeter coils create greater edge support along the sides, head, and foot of the bed.
.25″ FLEX BASE
A .25″ high-density flex base adds durability to the mattress while reinforcing individually encased coils as they compress.
Installation
Your new RV mattress is compressed and rolled, then packaged in a box, before being shipped directly to you. Take the box to the location you wish to open your mattress.
Remove the compressed mattress from the box, and carefully cut open the outer plastic wrapping of your mattress (A basic letter opener works great for this step).
After the outer plastic has been removed, carefully cut or tear away the plastic covering on your mattress. It will immediately begin to expand. Once you've removed the plastic, set and position your mattress in its place and allow it to fully expand. It will be fully expanded and ready to use within minutes!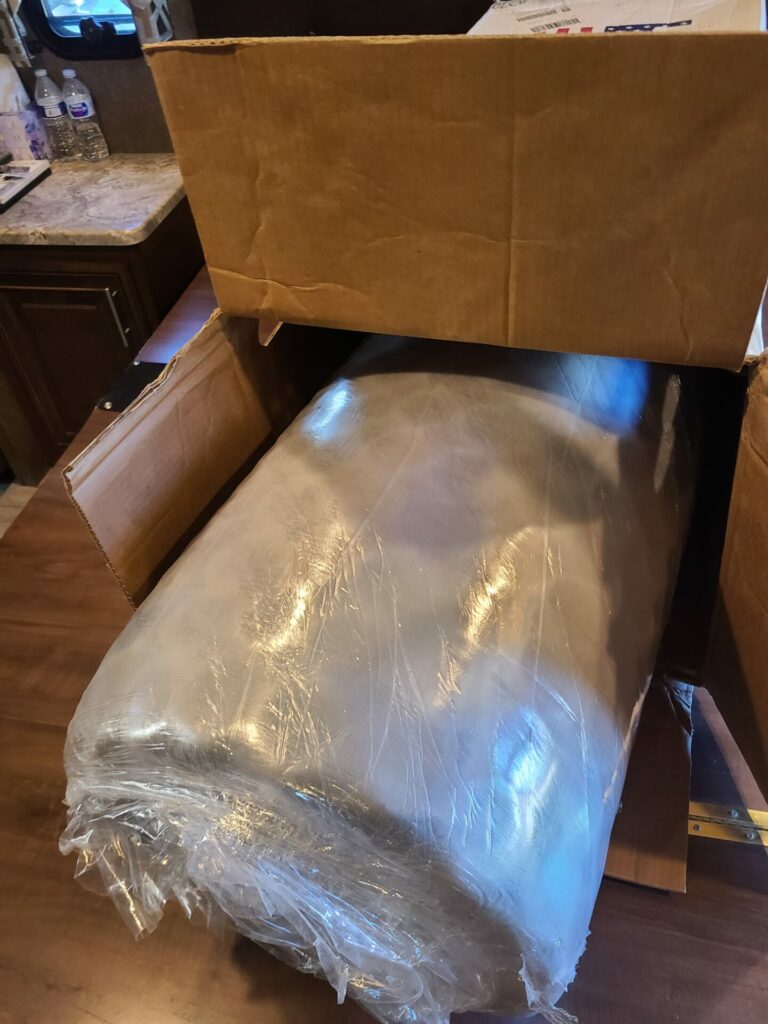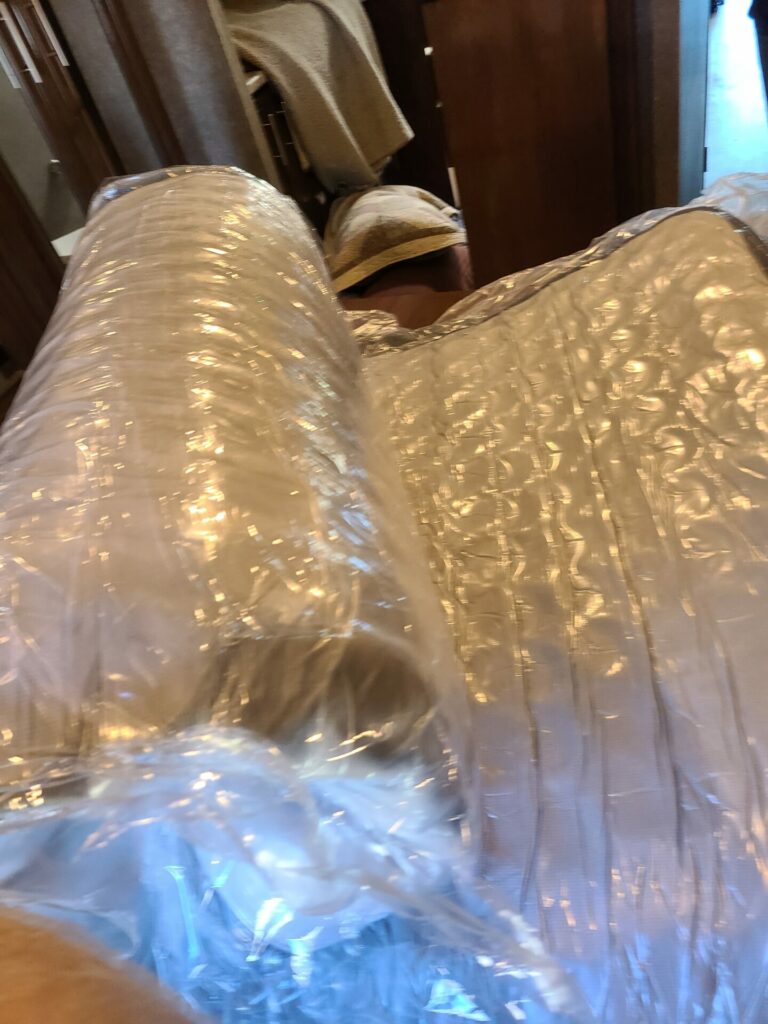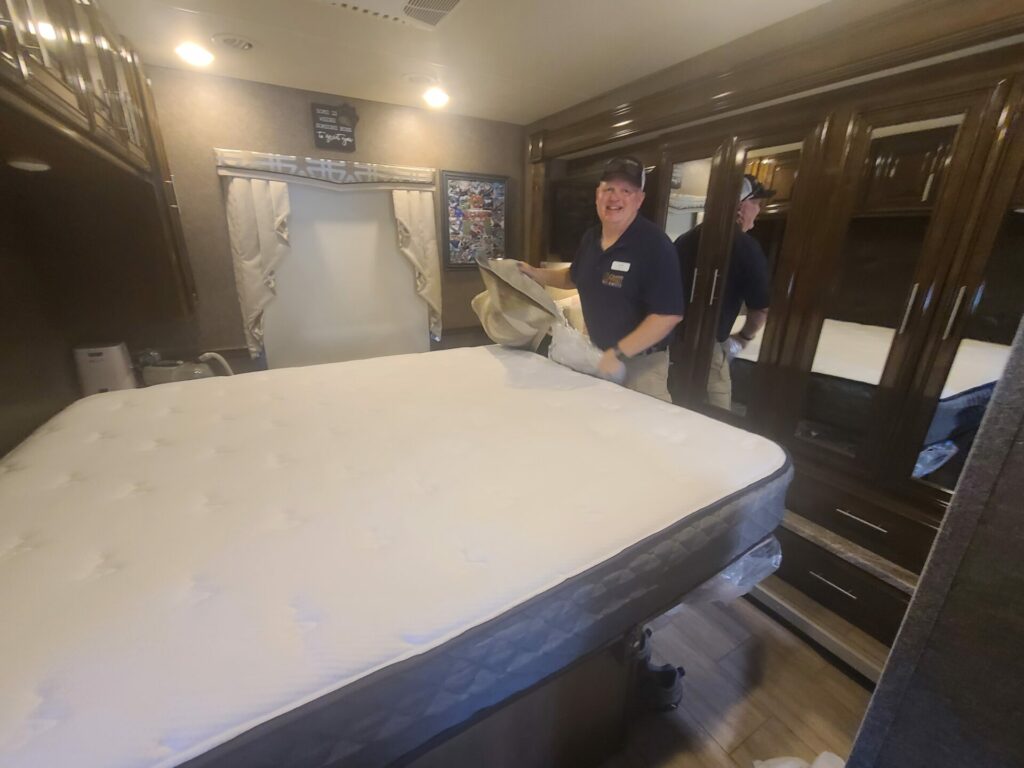 Our Thoughts
After sleeping on the Montana Hybrid RV Mattress we couldn't be happier. The mattress is so comfortable, even more so than the mattress we had in our home. It literally feels like sleeping in a luxury hotel bed. It took a bit of getting used to how high it was compared to the little 6″ thick Denver Mattress we had before. At 10″ thick it seemed a bit high climbing into bed. But a great night's sleep makes it worth it for sure.
We've owned the Montana Hybrid RV Mattress for about a year and a half now and it is still very comfortable. There are no indentations where we lay and the bed feels the same as it did when it was new.
Flexibility
If you have under-bed storage in your RV, the mattress will flex so you can still get to your storage. Also, if your RV has an adjustable base that raises the head of the mattress so you can bring your slide in (like ours does), the mattresses are designed to work in this application as well. The mattresses also work on any adjustable base in your home.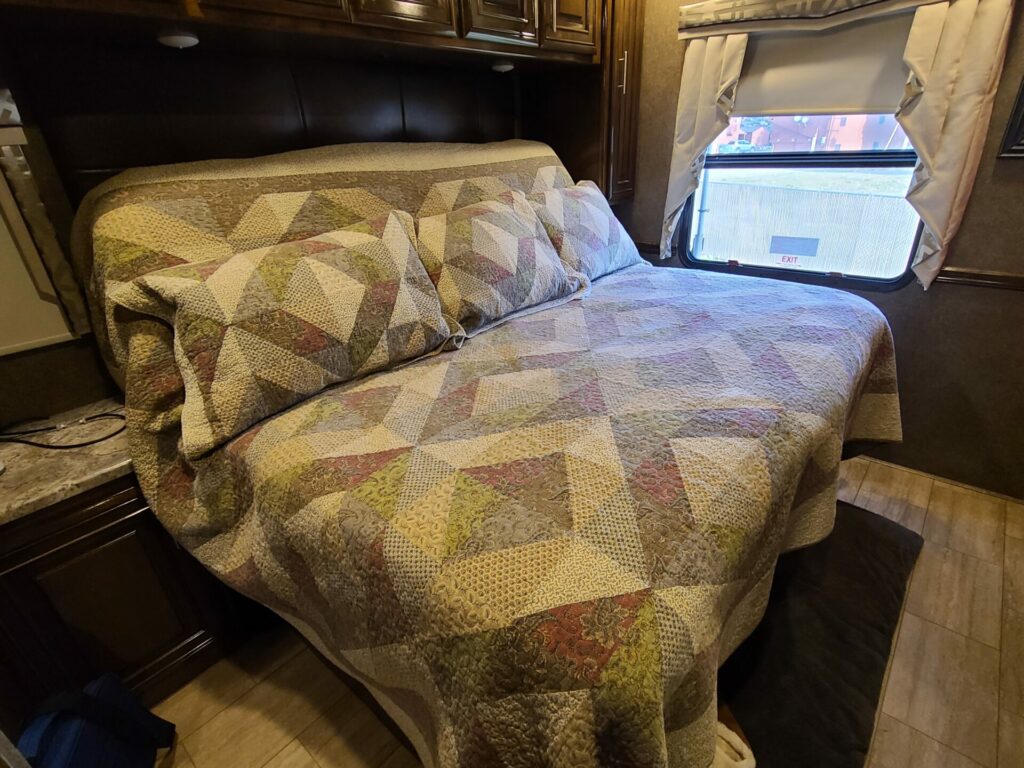 100 Night Trial
Try the Montana Hybrid 100% RISK-FREE for 100 Nights!
While I couldn't imagine being unhappy with the Montana Mattress, Wilderness Mattress has a No Drama, no return fees – Wilderness Mattress is so confident you'll love your Montana Hybrid that they will refund you in FULL if you are dissatisfied. And you will not have to squeeze the mattress back into that little box!
Warranty
All Wilderness RV mattresses purchased on wildernessrvmattress.com come with a full 10-year hassle-free warranty that covers any defects or body impressions that measure 1″ or more.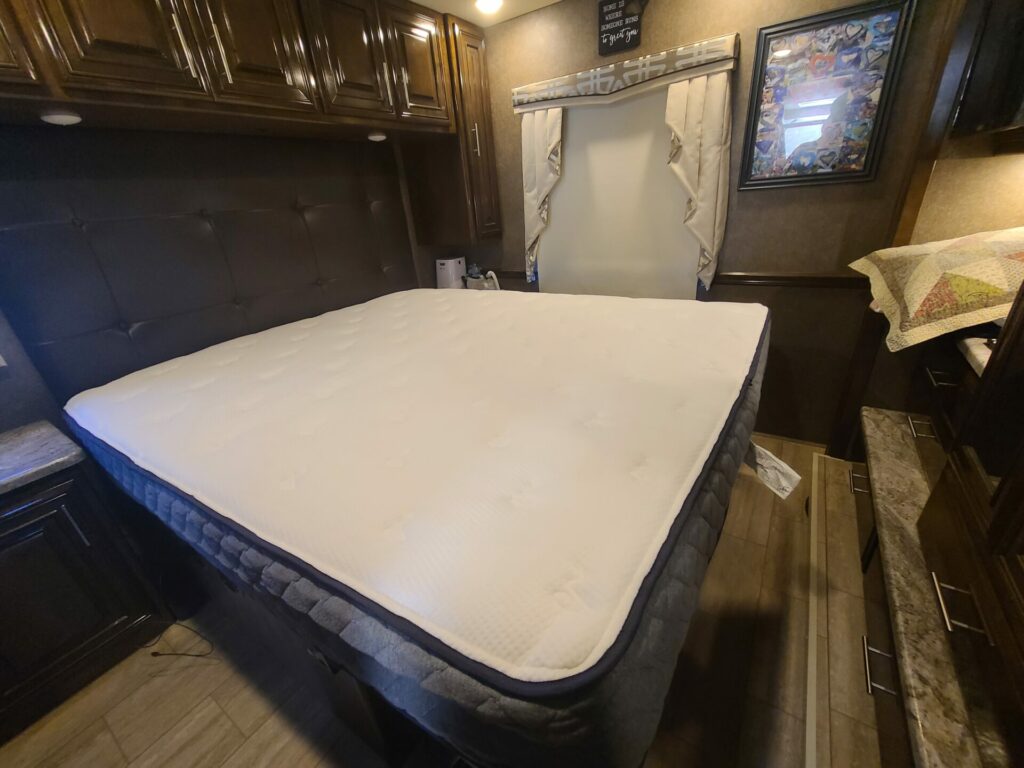 Other Wilderness Mattresses
Canyon RV Mattress – The Canyon was designed to be the perfect mix between comfort & budget-friendly, for people who only get to camp a few weekends each year. Now you have an option that is still tons better than your stock RV mattress, without costing you a small fortune. Canyon Mattress is made from a high-density 6″ Poly support foam, topped with 2 inches of Gel Memory foam for a firm/medium firm comfort level. To top it off enjoy the soft sleep experience of the knit woven, quilted top.
Aspen RV Mattress – The Aspen is a luxury 10″ memory foam mattress. After years of testing, Wilderness created the perfect combination of firm and soft to give you the best-feeling medium firmness mattress. It works great for all sleep positions and is a great option for those who prefer to have a spring-free mattress. You will be able to feel the great quality that is put into this mattress after your first night sleeping on it. The mattresses that come with RVs are terrible! The Aspen will not disappoint with craftsmanship and comfort.
Wilderness Dream Bunk – Looking to upgrade your RV Bunk Mattress? The Wilderness Dream Bunk is designed with your comfort in mind. With Gel Memory Foam, the mattress offers an elevated sleep experience at an everyday price. Two inches of gel memory foam gently contours to your body's curves for exceptional pressure point relief. A 4" high-density base foam provides greater durability and support. The Wilderness Dream Bunk Gel Memory Foam mattress reduces tossing and turning for a deeper, more restful night's sleep.
Conclusion
We are very pleased with our Wilderness, Montana Hybrid RV Mattress. There are many mornings I'll lay in bed amazed by the comfort of the mattress. We can't recommend the Montana Plush Hybrid RV Mattress more highly.
Thank you for reading our article. Have you had to update your RV Mattress? What kind did you buy? If you have any comments or questions we'd love to hear from you below.