With a total of 24,459 rocks, the Parr Park Rock Art Trail has officially been entered into the Guinness World Records for "Largest Display of Painted Pebbles."
This post contains affiliate links. As a participant in Amazon Associates and various affiliate programs, we are compensated when qualifying purchases are made through our referral links at no additional cost to you. Full Disclosure
We recently visited Parr Park Rock Art Trail in Grapevine, TX, which began in March 2020 with Grapevine residents Ron Olsen and Chris Penny, who looked for a way to "inspire and uplift the community during the harsh reality of the COVID-19 pandemic," according to a press release.
We're always on the lookout for free and/or cheap entertainment. After our visit, we had to share about Parr Park Rock Art Trail because it was truly one of our favorite frugal activities we've done on our trip South this fall! If you're looking for a free activity near Dallas-Fort Worth, this is a fun way to spend an hour or so.
If you are in the area, we highly recommend making a trip out to Parr Park! It's so beautiful, inspiring, and true works of art.
What is it?
The Parr Park Art Trail includes rock designs of animals, messages, characters, carvings, games, Day of the Dead depictions, and abstract art. The trail winds around several curving paths.
All along the nature trail, visitors will now find painted owls, unicorns, tigers, and humpback whales, along with the emblems of favorite sports teams, salutes to fallen soldiers, and paintings of beloved cartoon characters and classic cars.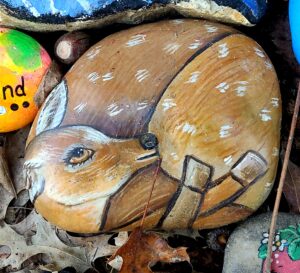 There are sections devoted to wildlife, teachers, health-care heroes, firefighters, Dr. Seuss, Disney princesses, patriotism, movie stars, video games, and travel.
We had such a good time, strolling along the trail and pointing out our favorite rocks. It was fun seeing long-forgotten characters, advertisement logos, and themes.
Getting There
It's easiest to use the Church of the Cross address to get to the Parr Park Rock Art Trail. 3000 William D Tate Ave, Grapevine, TX. Park in the furthest southwest corner of the parking lot near the playground.
Take the path behind the playground; at the first chance, turn right. The trail is about 1/4 mile on the left.
Conclusion
If you haven't already, visit the Parr Park Rock Art Trail. The artwork is beautiful and the talent of some of the artists is truly amazing. It's encouraging that the citizens of the area aim to inspire each other through the enjoyment of the outdoors and art. You're welcome to bring your own painted rocks to add to the collection.
What interesting places have you been to and can recommend? We're always looking for neat out-of-the-way places to put on our list of must-sees. Thank you for reading our article. If you have any comments or questions we'd love to hear from you below.
We do all our trip planning with RV Life Trip Wizard. RV Trip Planning Made Simple! RV Life Trip Wizard is by far the best RV route planner we've found. Get your 7 day Free Trial