The Vroom Slide System Upgrade is our biggest upgrade to date. The only thing I can think of that would be a bigger upgrade would be if we installed a solar system on our coach.
When one of the slides on our 2019 Thor Challenger 37YT jammed it became a nine-and-a-half-week ordeal to get it fixed. Our slide system issues made us aware that the Schwintek Slide System used on a majority of RVs on the road today, is not substantial enough for the large slides on Class A motorhomes and other RVs.
While reading stories of others that had problems with their Schwintek Slide Systems I came across a post on Facebook from a guy with a Challenger like ours, who just had the Vroom Slide System Upgrade done on his coach. After messaging him I knew the Vroom Slide System was what we wanted for our "home".
This post contains affiliate links. As a participant in Amazon Associates and various affiliate programs, we are compensated when qualifying purchases are made through our referral links at no additional cost to you. Full Disclosure
We do all our trip planning with RV Life Trip Wizard. RV Trip Planning Made Simple! RV Life Trip Wizard is by far the best RV route planner we've found. Get your 7 day Free Trial
Planning
I called and talked to the owner of Vroom, and discussed his slide system and how it is better than the Schwintek System on our motorhome. His shop is in Tucson, Arizona and we were in North Texas. Since we were in Texas for the winter we asked when we could get into the shop to have the Vroom Slide System installed. We were told the earliest we could get in was April 4, 2022. Okay with the five-month wait, we planned on looping around on our way back to Yellowstone this spring.
Arrival
Anxiously we arrived at Vroom Engineering and Manufacturing at 7 am on April 4th. We were met by the owner of Vroom and Joey, the slide system installation manager. What was supposed to be a day and a half installation we were told was going to take longer because they were short on parts. Vroom manufactures the whole system in-house and was a bit behind on making some of the pieces required for the upgrade. I asked how much longer we were going to have to wait and was told just an extra day. The delay wouldn't change our plans by much, so we were ok with it.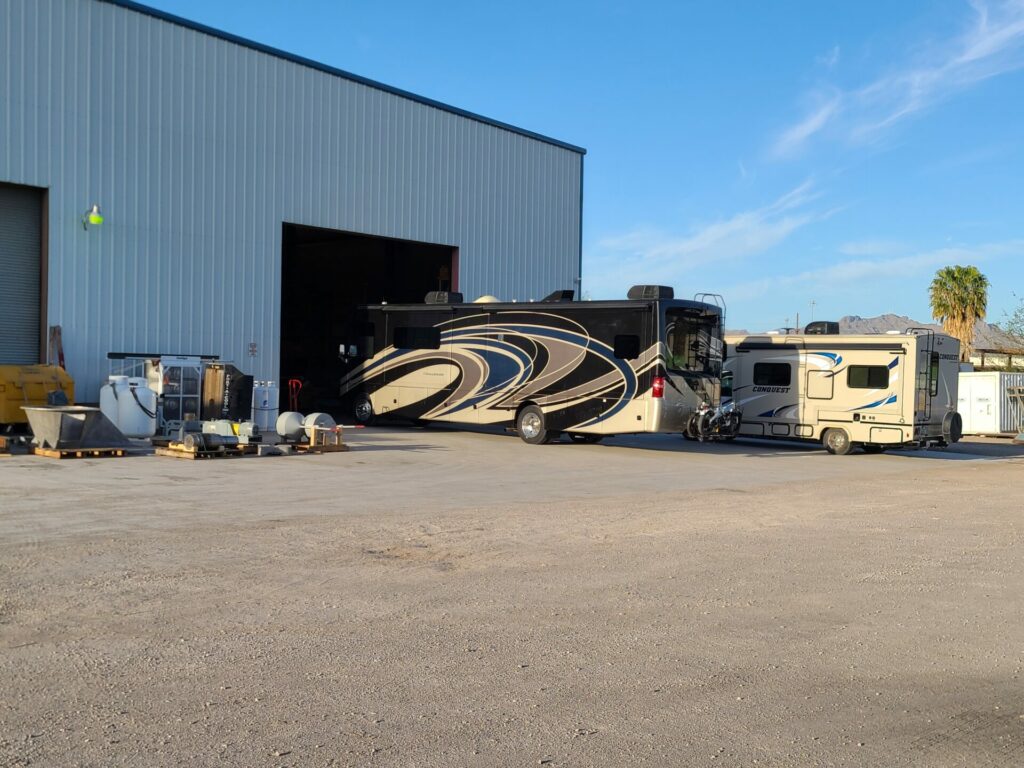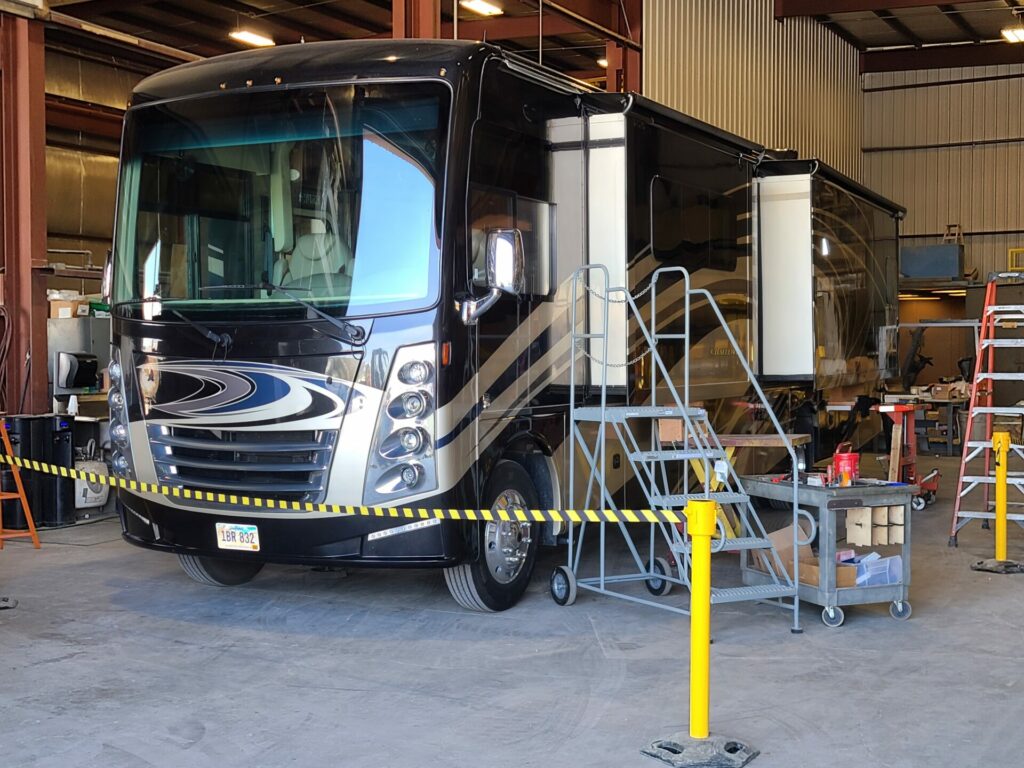 We left our home with the Vroom guys and headed to a hotel for a couple of nights. Lisa always enjoys getting a hotel so she can have a bath. A bathtub is the one thing she misses most about living in an RV.
The Upgrade
I stopped by later in the day to see how things were progressing and to pick up some extra clothes since we'd spend two nights at the hotel instead of one. They had our old Schwintek System out of two of the three slides and things were going as planned.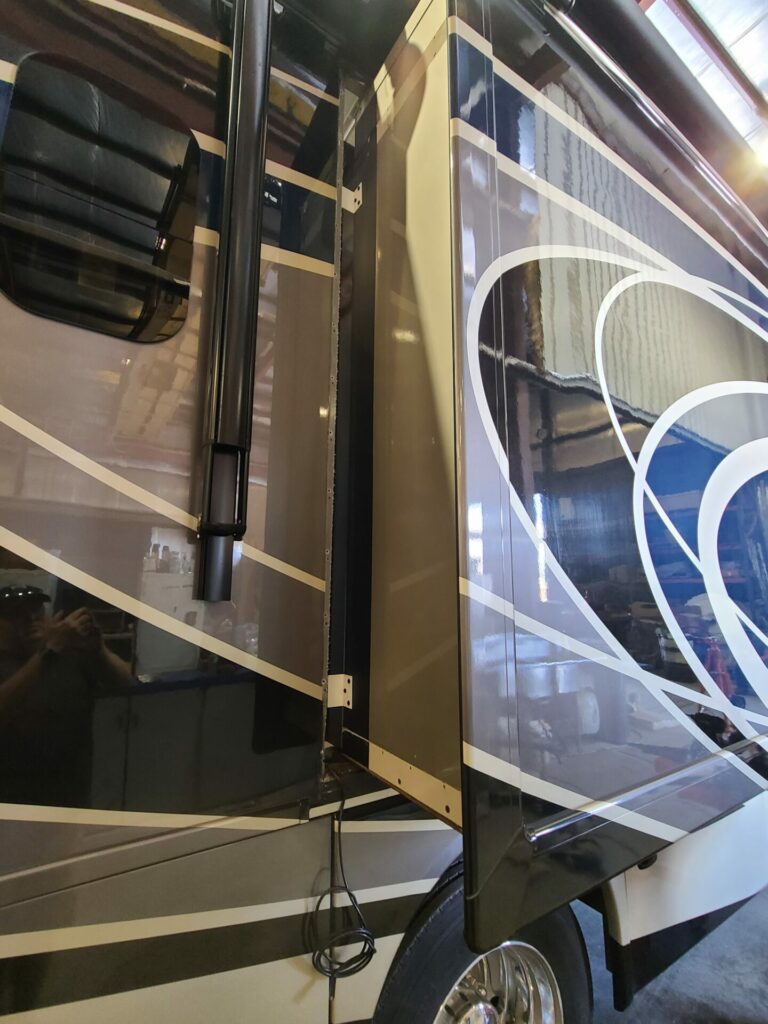 On the second day, I stopped in to get an update on how the installation of our Vroom Slide System was going. I talked to Joey and he showed me the parts that they had for our RV. He explained how the parts worked and how they were better than our old Schwintek parts.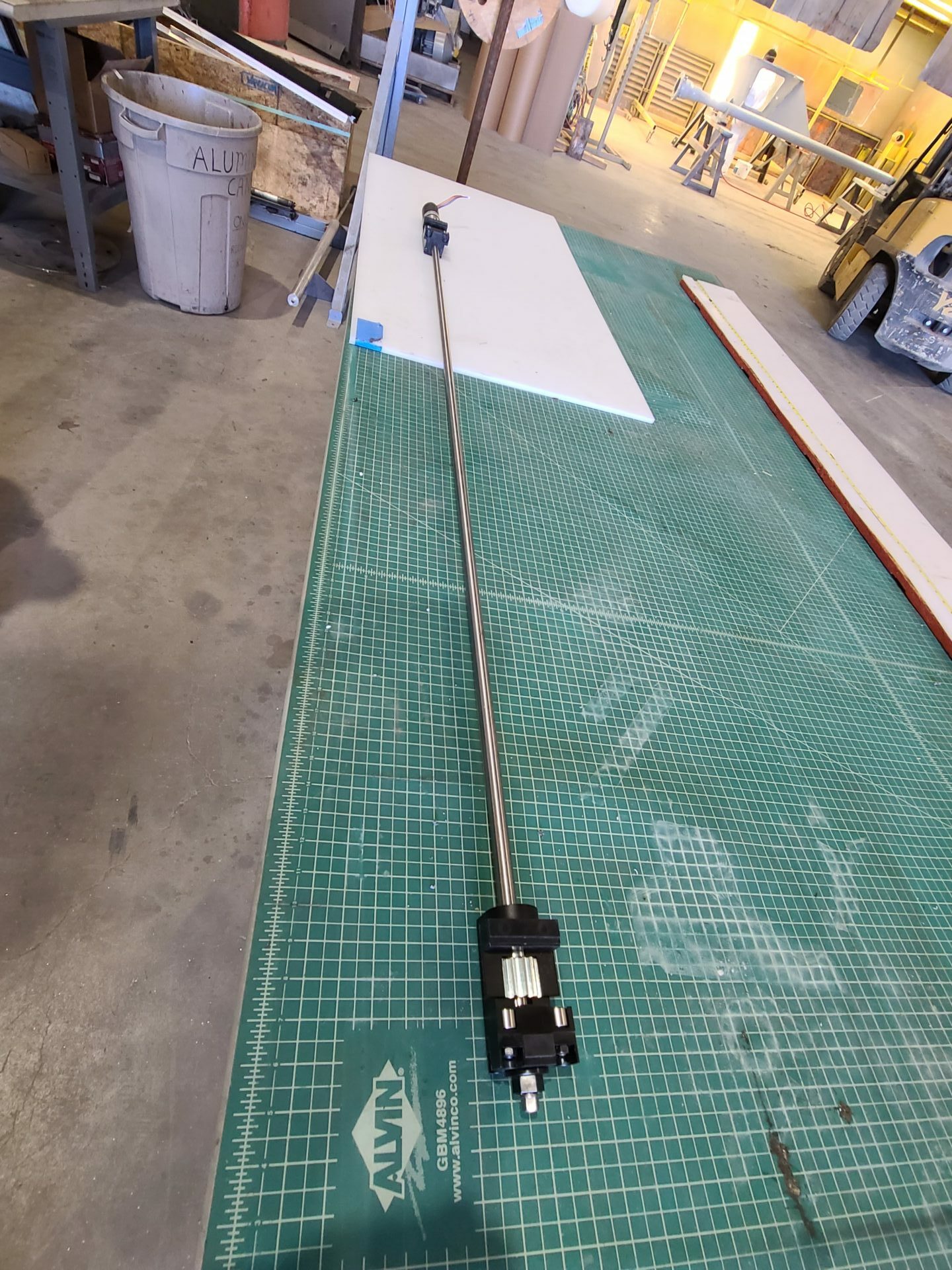 I was impressed by how much bigger the gears were than our original system.
Joey showed me parts that had just arrived from the machine shop, some of which were going to be installed on our coach.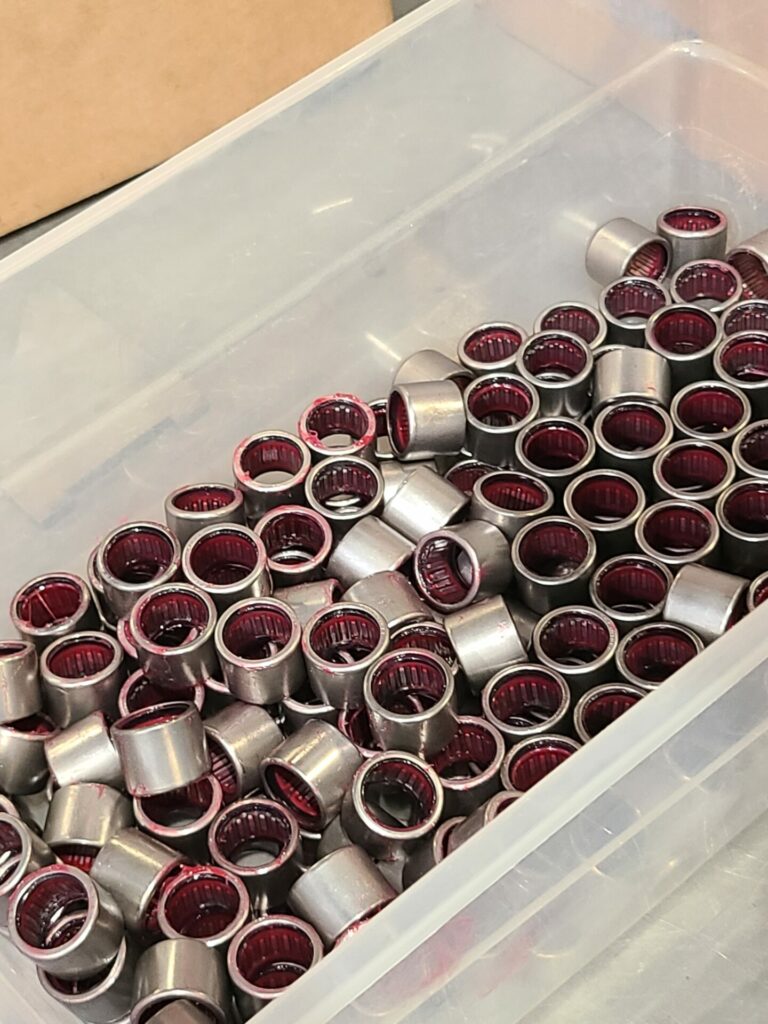 The installation was coming along nicely, Joey explained that they adjust all the rollers that the slide sits on to ensure the system works better than when the coach was new. He also showed me how they use a jig to align the system to the outer wall of the slide instead of the floor as the RV manufacturers do. Everything involved with the installation of the Vroom System seems to make sure the slides always work as they should.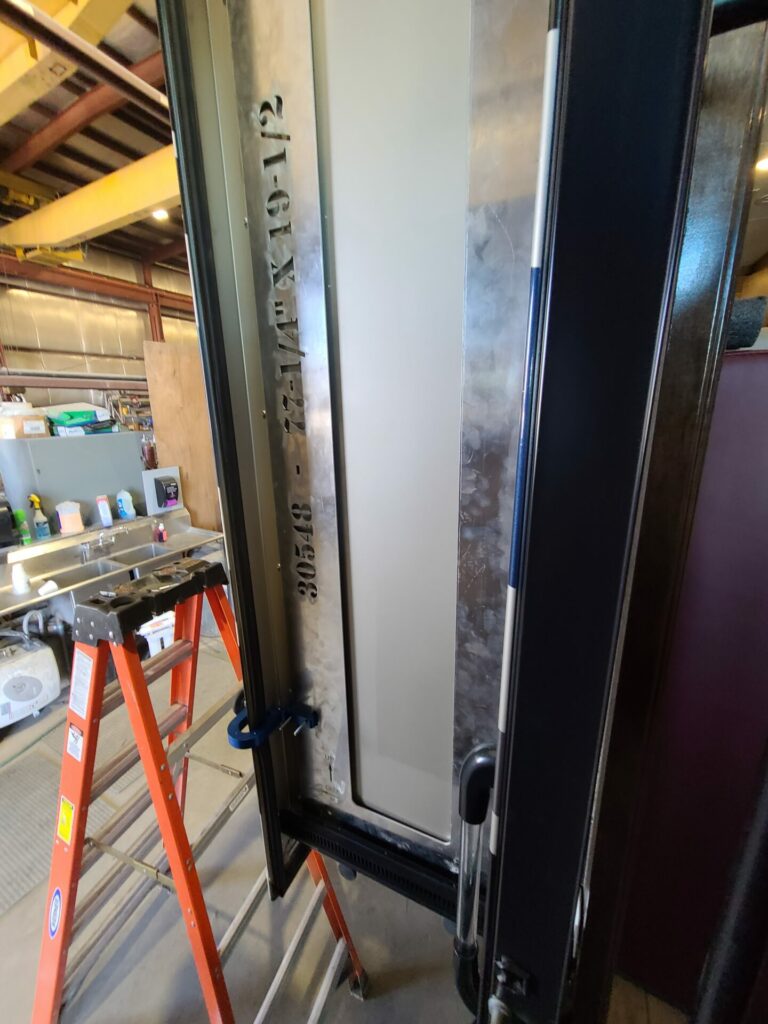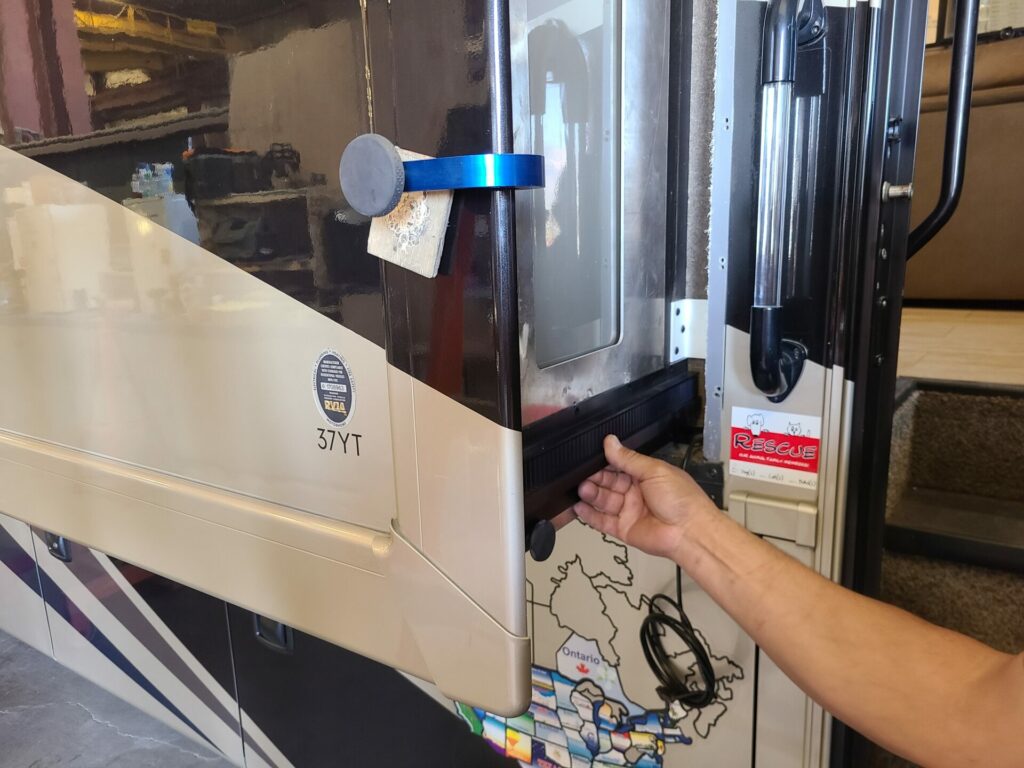 On day three we arrived around 11:30 am after checking out of our hotel room. Hoping that our motorhome would be done when we got to the shop, but the guys were still working. All three slides had the system installed and they were working on testing everything. They go above and beyond to ensure everything works properly. Once the testing was complete they had to install the seal pieces that cover the motors, shafts, and gears.
The guys showed me how in the unlikely event the slide won't go in or out you can back off the 3/4″ nut on the bottom of each side then turn the 7/16″ bolt head to move the slide or push the slide in or out manually, something that couldn't be done with the Schwintek System.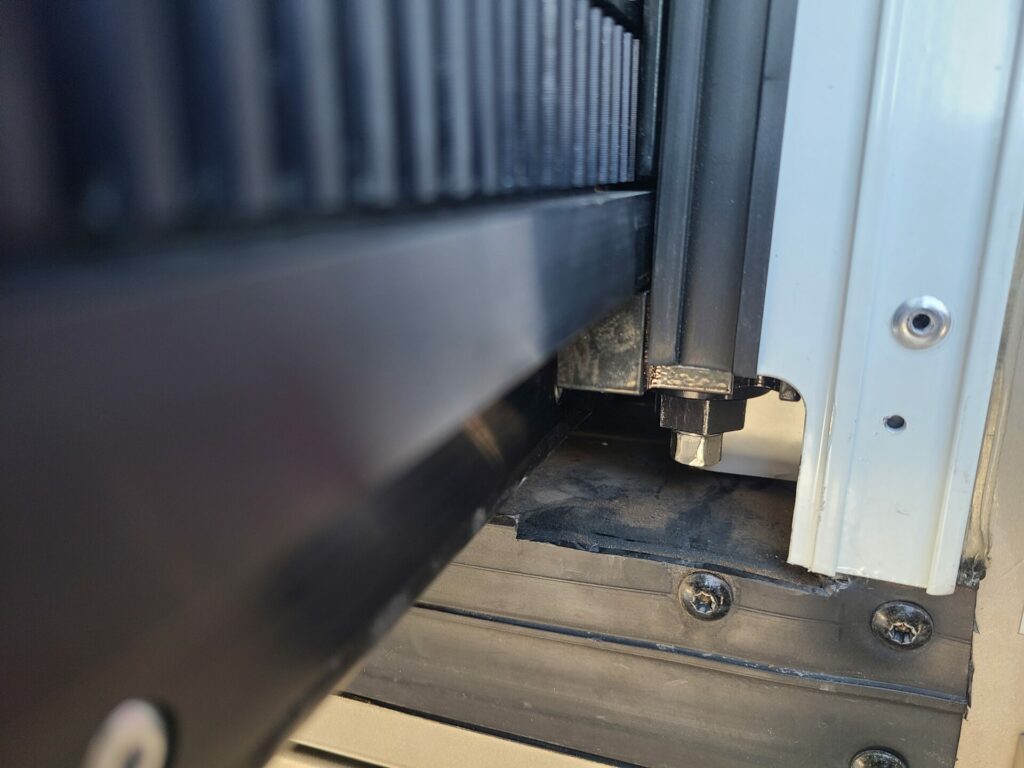 The Vroom team worked hard, finished testing, installed the outer seals, reinstalled the trim that was removed inside, and cleaned our coach thoroughly. While it took longer than we expected we're very pleased with the work Vroom did and with the Vroom Slide System itself.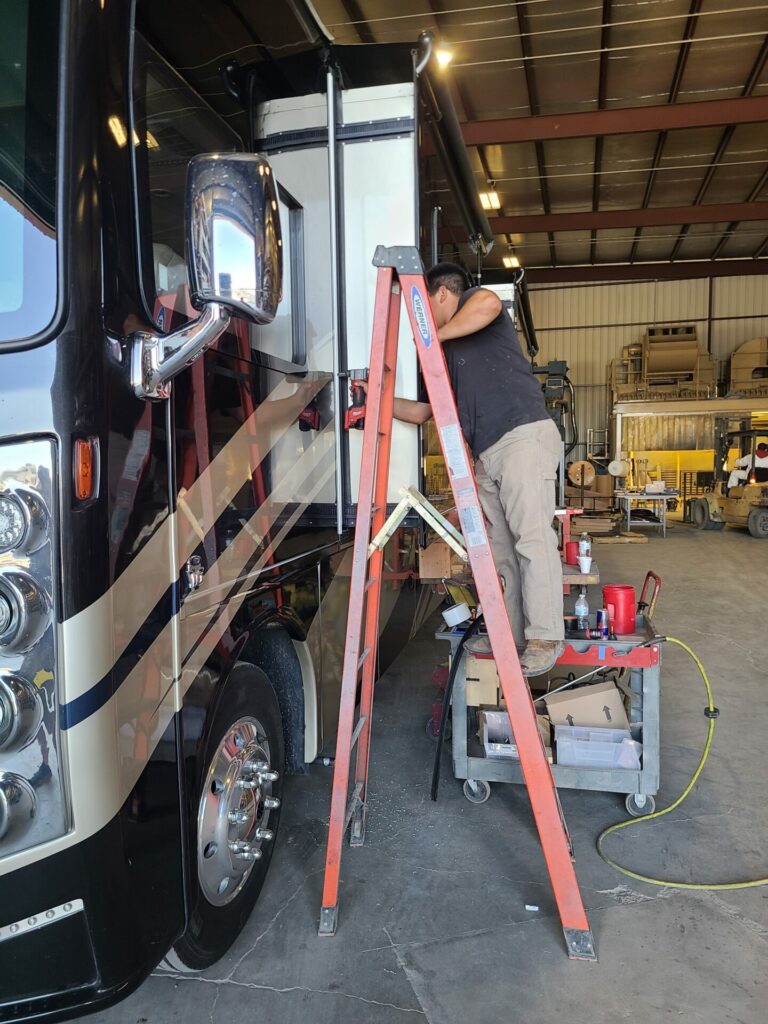 We were on our way shortly after 4:00 pm on the third day. Normally the installation will be a day and a half for three slides. But with them making parts it took a bit longer for our installation. We're happy we didn't get postponed or canceled.
Parts Comparison
In our opinion, the Vroom Slide System is a huge improvement over the Schwintek Slide System. The first thing you notice is the bigger gears and roller bearings on the Vroom System. The motor is attached using four screws mounted into the gear block. On the Schwintek System, the motor is held in place with a single set screw that allows the motor to move about and if something happens to it or it backs out the motor can spin damaging the wiring.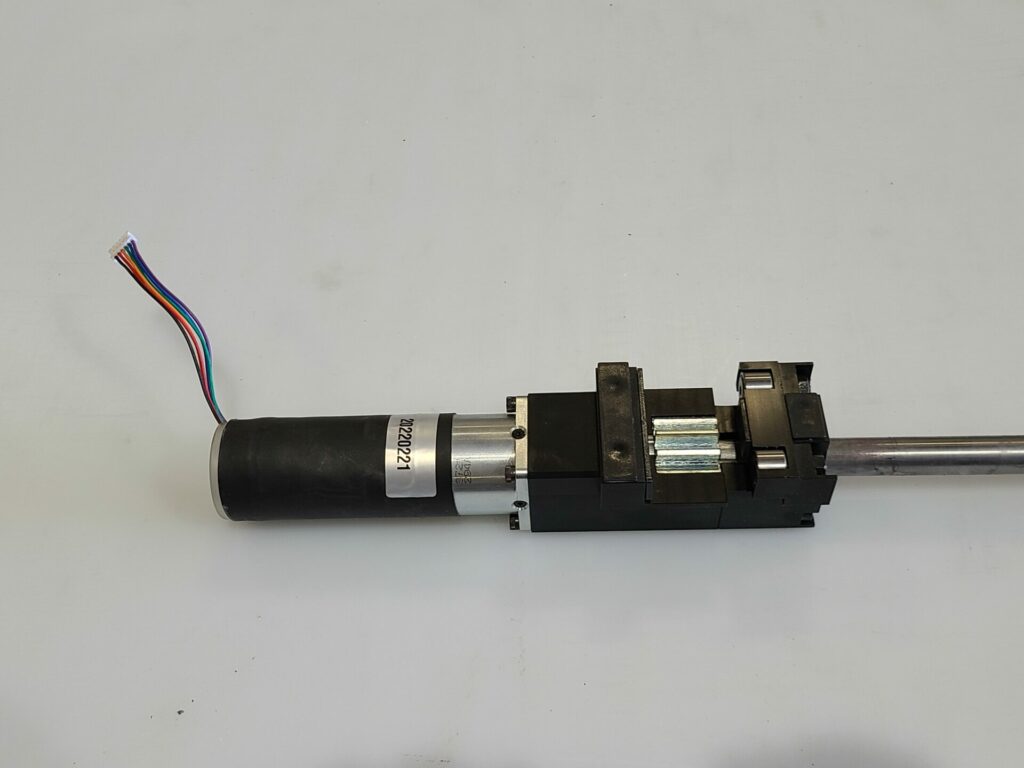 Again the comparison of the gears and the block is much more substantial on the Vroom Block.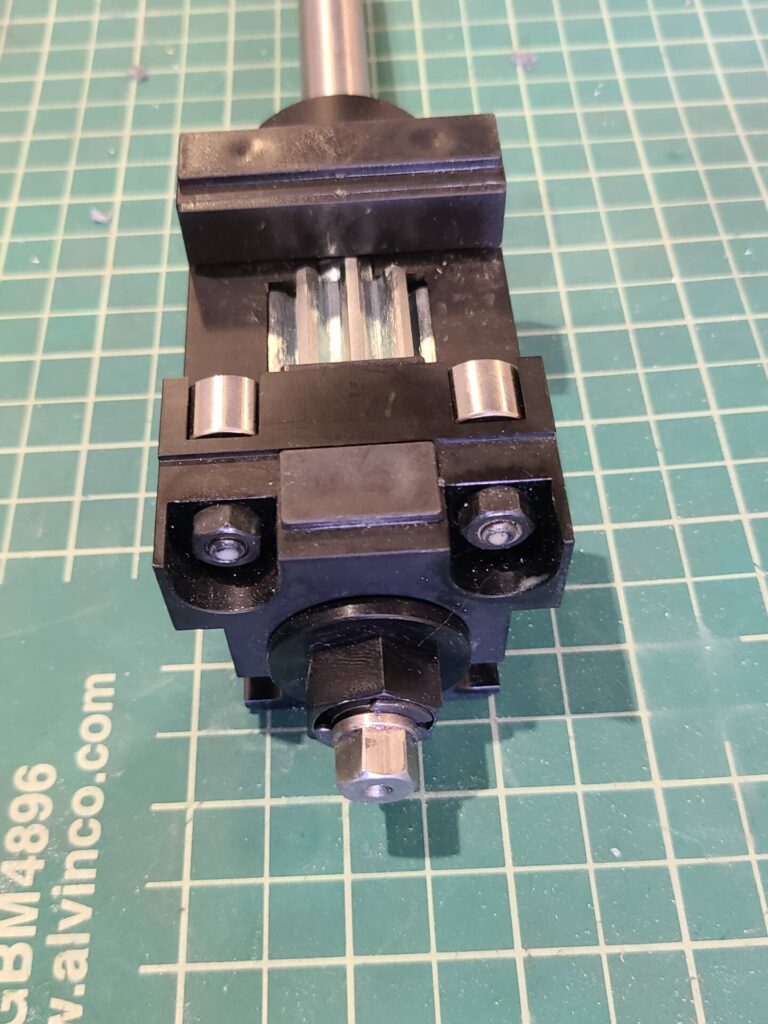 Along with bigger gears the tracks are bigger as well.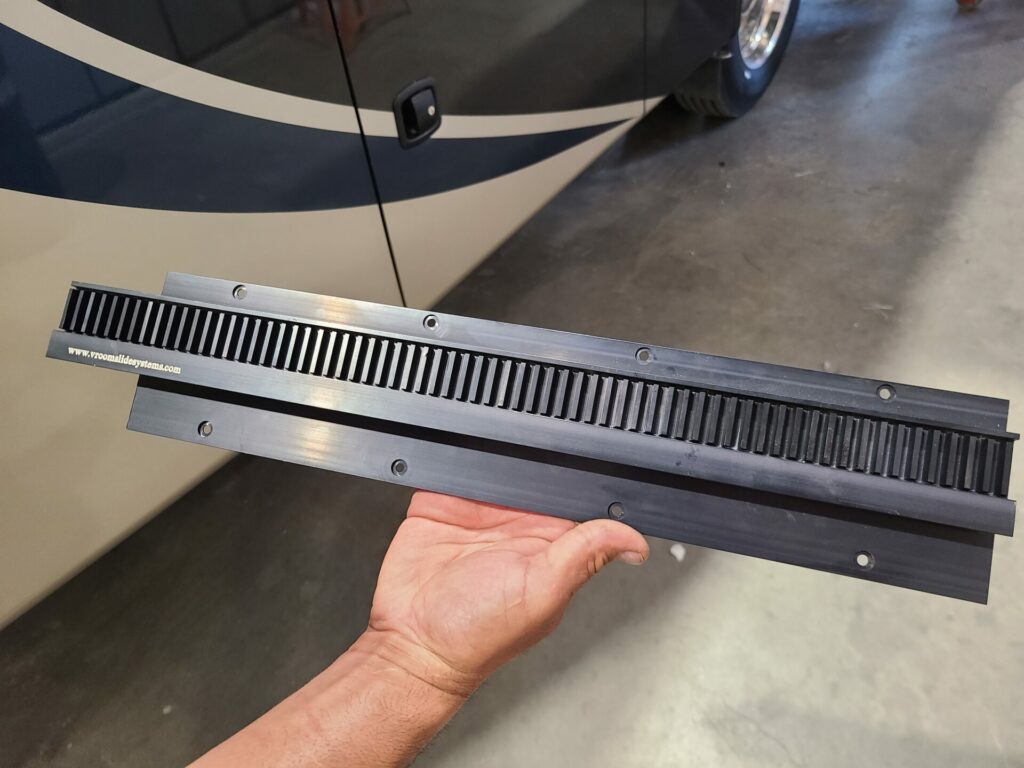 Schwintek uses what they call a V-roller on their system, this nylon wheel rides in a groove on the bottom of the track. The Vroom System uses a metal roller wheel with needle bearings for a much-improved system.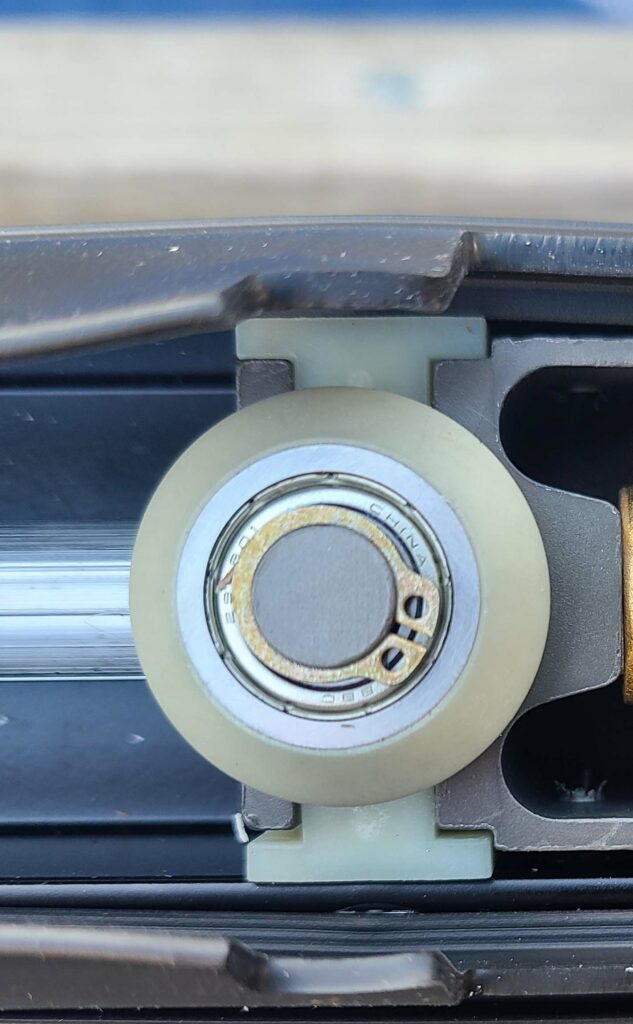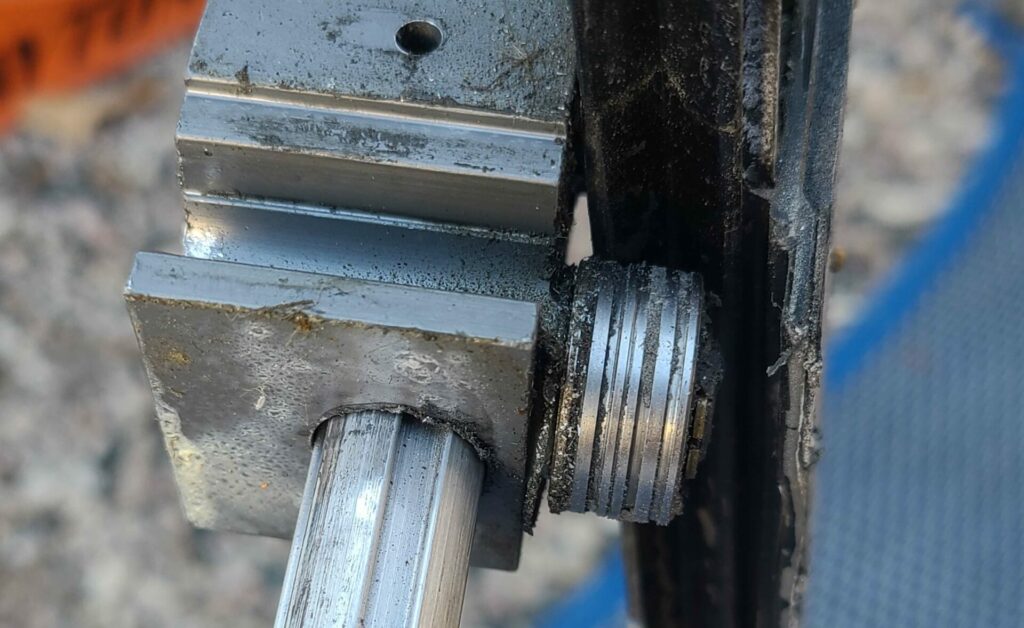 One thing I missed getting pictures of on our old system was the seals. On the Schwintek System, the seals for the slide are 1 1/4″ wide, this left a gap on one of our slides. The Vroom guys said that wasn't uncommon so they created seals that are 1 3/4″ wide. The only thing I would have liked differently is to have a black instead of a white seal assembly. We were told they ran out of black powder coat so we ended up with white. Not a huge deal to us.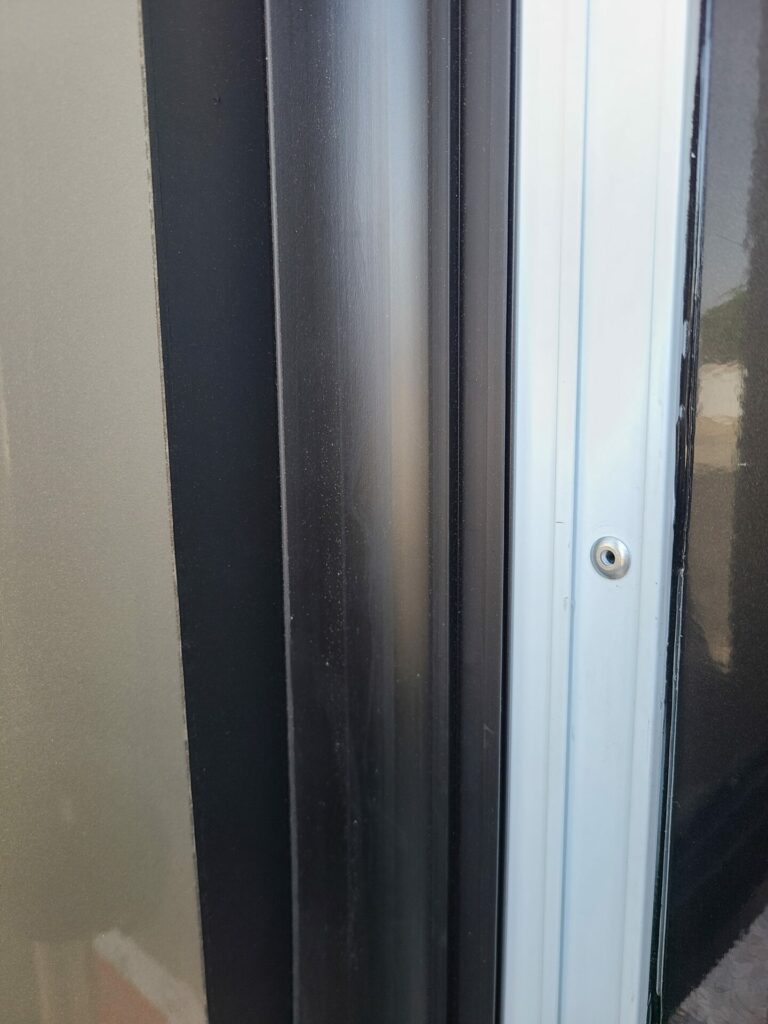 Before and After
The Vroom Slide System is a huge improvement over the Schwintek System. Our old system struggled with the two 17′ slides on our motorhome. The motors seemed to have a hard time moving the large slides in and out smoothly.
Our Vroom Slide System runs quietly and smoothly. It is a bit slower than the Schwintek System but more robust with the high torque 500:1 motors. The old Schwintek System had 300:1 motors.
With the Vroom Slide system, things seem to run with ease. No more sounds of motors struggling to move a slide in or out.
Price
The Vroom Slide System is expensive but a well-worth-it upgrade for any RV that has the Schwintek Slide System installed. The piece of mind that comes with knowing the slide is going to function when you plan on it is enough to make the upgrade worth the price.
We were quoted $2500 per slide in November 2021, for an April 2022 installation. That's what we paid when we had our system put in.
Recently we've heard prices have gone up. I talked to people in November 2022 that said the price is now $4500 per slide. (Pricing is determined by the RV and may differ from the listed price.)
While it's a big jump I still feel that the price is reasonable. Considering that if your Schwintek slide ends up having problems like a lot of them do, then you're going to be in a big chunk of money just repairing the system that will inevitably fail again down the road.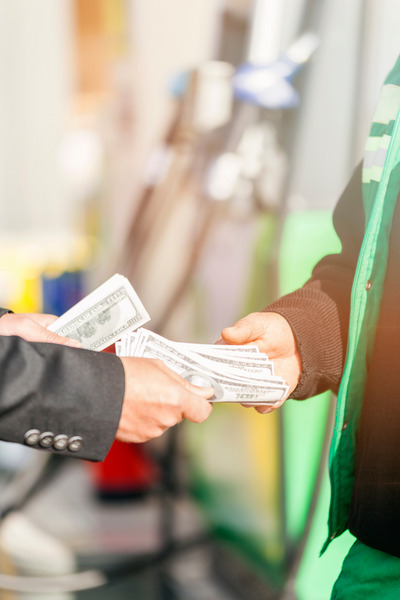 I saw on a forum someone said if you are going to put $1000 into your Schwintek System you might want to invest in the Vroom System instead. Otherwise, you'll be throwing good money after bad. My opinion is if you're going to spend $2000 to repair a Schwintek System, (which is very easy to do), I'd invest in the Vroom System.
Installation Locations
Vroom has been working on getting technicians throughout the country trained on the installation of the Vroom Slide System. Below are the current authorized installation locations. (I'm working on getting any other locations. If you know of any please let me know. Thank you.)
Arizona
Vroom Slide Systems – 11835 North Tangerine Business Loop, Marana, Arizona 85658 (This is Vroom's new location in the Tucson area.)
Alabama
Custom RV – Red Bay, Alabama
California
I heard there may be a location in California authorized to install the Vroom System. If you know of this location please let me know. Thank you
Connecticut
Connecticut Motor Cars & Coaches – Plainville, Connecticut
Texas
Patriots RV Garage – Aubrey, Texas
Utah
I heard there may be a location in Utah authorized to install the Vroom System. If you know of this location please let me know. Thank you
Wisconsin
Fabel Repair and Collision Center– Appleton, Wisconsin
Conclusion
We're more than thrilled with the Vroom Slide System Upgrade. It is an expensive upgrade but since this is our home we feel it is well worth it not to have to hold our breath and pray our slides would move when we want them to. Everyone we met at Vroom Engineering & Manufacturing was friendly and answered all our questions. Joey, Miguel, and Anthony did a great job with the installation.
Have you had problems with your Schwintek Slide System? Have you thought about upgrading to something better?
If you've had issues with your Schwintek Slide Systems we highly recommend upgrading to the Vroom Slide System!
Thank you for taking the time to read our article on our Vroom Slide System Upgrade. If you have any questions or comments please let us know below.