After traveling in our RV for 2 years and 7 months through 39 states one of our biggest fears came to fruition. A slide on our 2019 Thor Challenger 37YT got stuck while we tried to set up in Fargo, North Dakota. We've heard the nightmares of Schwintek Slide System Issues, and it caught up to us.
As we started to put the slides out the first two went as normal then as we started to extend the third it moved out a couple of inches and I heard the rear motor bog down and stop.
I immediately stopped extending the slide and moved it back in. I tried extending it again with the same results. When I went out to see what was happening I noticed the front part of the slide was out about 3 inches but on the back where there was some binding the top was nearly all the way in still and the bottom out about 3 inches.
When I would retract the slide the front and top rear would close but the bottom stayed out the 3 inches. I couldn't figure out why this would happen since the top and bottom are tied together with a driveshaft.
I looked into the manuals, online, and on YouTube for troubleshooting guidance but couldn't find anything on if the slide was in on top and out on the bottom.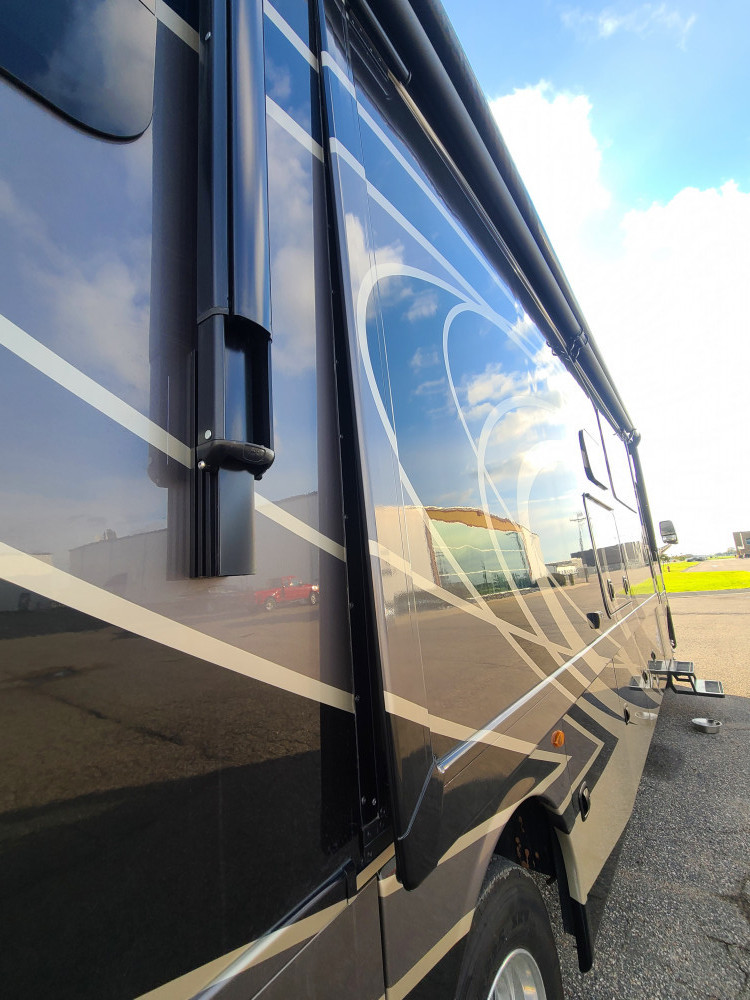 Luckily for us, the slide was nearly all the way in so we just left it as we were traveling daily for the next few days. When we got to Sioux Falls, South Dakota we stopped at Camping World to see if they could help. They were booked out longer than we were in town so they recommended a Mobile RV Technician. We called him and he came to take a look. He also was leery of working on the system because parts were so hard to come by. We decided to just leave the slide as is till we got to Texas where we had a three-week stay booked.
This post contains affiliate links. As a participant in Amazon Associates and various affiliate programs, we are compensated when qualifying purchases are made through our referral links at no additional cost to you. Full Disclosure


Schwintek Slide Systems
Over 70 RV brands use the Schwintek slide-out system from Lippert. A Schwintek slide is a type of slide-out that's commonly used on motorhomes and towable RVs. The slide is unique in that it uses some worm gears to make the slide move in and out of the RV.
There are motors on either side of the slide that help the slide move when you want it to move, and there's a panel inside the RV that allows you to control the motor. Schwintek slides are generally easy to use and that's why you'll find them on a wide variety of RVs out there.
Diagnosis
Once we got to our first stop at Lake Texoma Thousand Trails first thing we did was contact a couple of RV dealers to see if we could get our coach into the shop. Since it's fall they both were booked solid till at least December with people getting their RVs winterized.
I started looking for a Mobile RV Technician. I got the name of one from one of the dealers I had called. I got one from the RV Park and one I found online. I called the first one and left a voicemail about my issue. The second had a full voicemail. I also sent each a text about our issues. The third technician I called actually answered and said he'd be over in 30 minutes to check out the coach.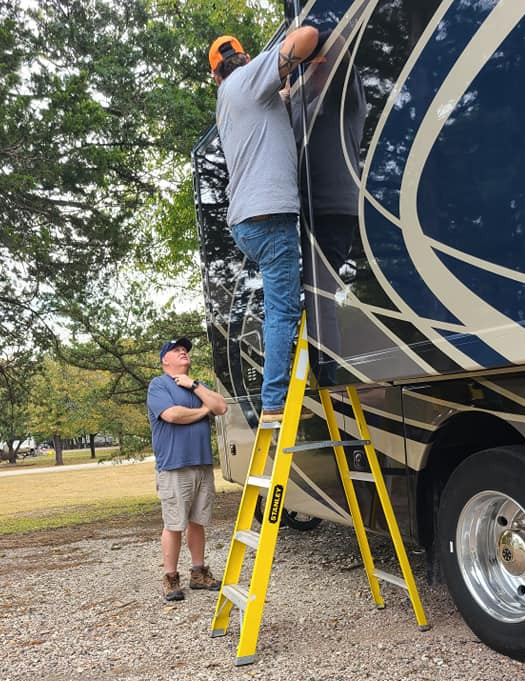 He arrived and we tried putting the slide out. It jammed up as it had previously. He looked at it for a few minutes and told me that it would need to go to a shop since he couldn't access the top motor from the outside and to get to the motor on the inside he'd have to take apart all the trim work around the slide. This technician told me no one would want to do the work in the field. He charged me $100 for a service call, I thought OK I guess it needs to go to a shop.
That evening I received texts back from the other two Mobile RV Technicians I decided I'd let them know that I had someone look at it already and I was told it needed to go to a shop. I responded back and one said OK, the other gave me a call and asked about our issue and who I had look at it. I told him who came out to take a look and what our issue was. He told me the technician that looked at it was a bit green and that the motorhome didn't need to go to a shop to have it fixed and that he'd come to take a look.
Shawn arrived and we ran through the same opening procedures that I did the day before with the other technician. The slide still refused to open properly. Shawn then had me open the basement door to access the controller. He set the controller into manual mode and we got the slide to open fully.
I had read in the troubleshooting about the manual mode but didn't fully understand how it would work with the slide cockeyed like ours was.
Once the slide was open we started to retract it but it made a bunch of noise and was really shaky closing so we extended it out so we can have our living space while we wait for parts. The top track had a lot of metal shavings where the gears were rubbing wrong.
After seeing how easily Shawn was able to get the jammed slide opened I was mad that I had been charged $100 for a "Mobile RV Technician" to tell me it needed to go to a shop. If the guy didn't know how to use the manual procedures I don't feel I should have been charged.
Parts
Shawn ordered the assembly that includes Upper and Lower Gear Racks, H-Column, Motor, Upper Bearing Block, Coupler, Shoes, Spur Gears, Torque Shafts, and Gibs. Pretty much everything is needed to replace the entire rear-track assembly.
Extended Warranty
Thankfully we paid for an extended warranty for our RV. This is the first big issue we've had with our motorhome so the extended warranty is going to save us from having to dip into our savings for this repair. The total cost for this repair was $1602. With our extended warranty we only had to pay the $200 deductible. So glad the warranty covered this repair!
Repair
Parts were ordered from Lippert on November 16, 2021. We hoped for a two-week turnaround but as of November 30th, they had not shipped. When Shawn called Lippert on November 30th they said if our order is in the next shipment they will go out on December 6th.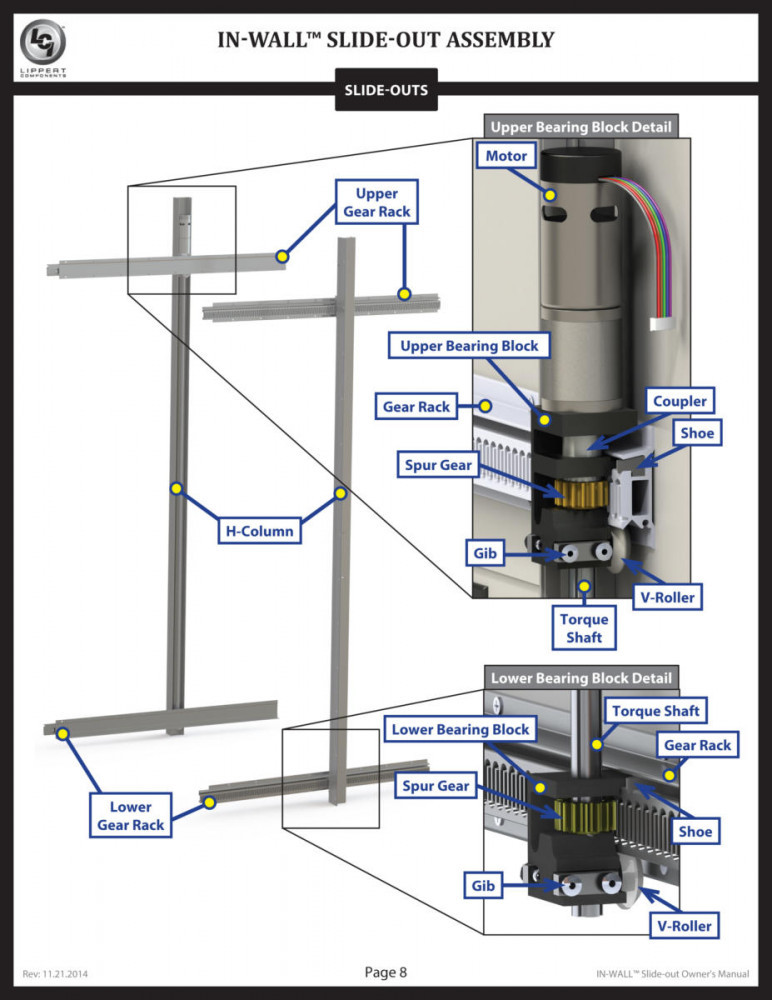 December 6th came and went with no response from Lippert. Shawn called and talked to them but they didn't have any word on our parts shipping.
December 14th Shawn called and told me his card was charged for the parts so we guess they were on the way!
December 17th Shawn called to tell me that the parts were on his front step when he got home. Great news for us. He'll do the installation on Monday or Tuesday.
When I got a look at the parts they were manufactured on December 8, 2021. Lippert is building the parts and sending them out as quickly as they can.
On December 21st Shawn and his helper, Jason showed up to swap the parts. There were a bunch of rivets that hold the H-Column to the motorhome. The first thing they did was drill out the rivets. Normally the H-Column will come right out after the screws/rivets are removed but of course, with our Thor Challenger, it lived up to its name of being a challenge.
Come to find out there are two brackets on the inside of the motorhome that need to have the screws removed before the H-Column will come out. Once we found that out it was a pretty straightforward swap.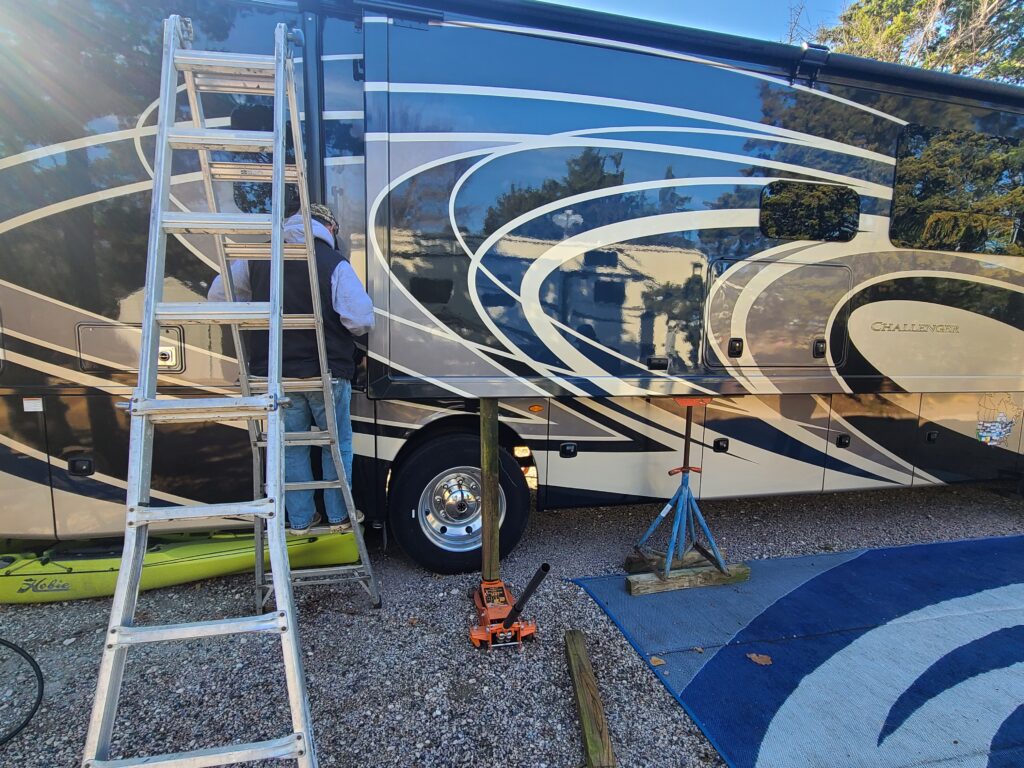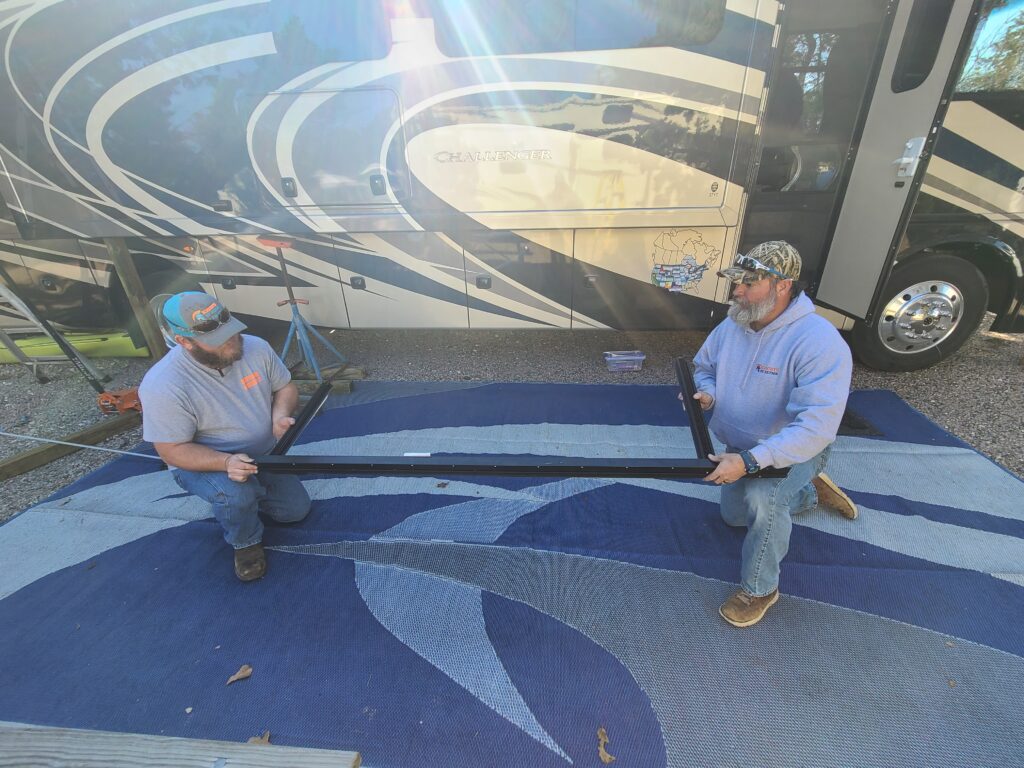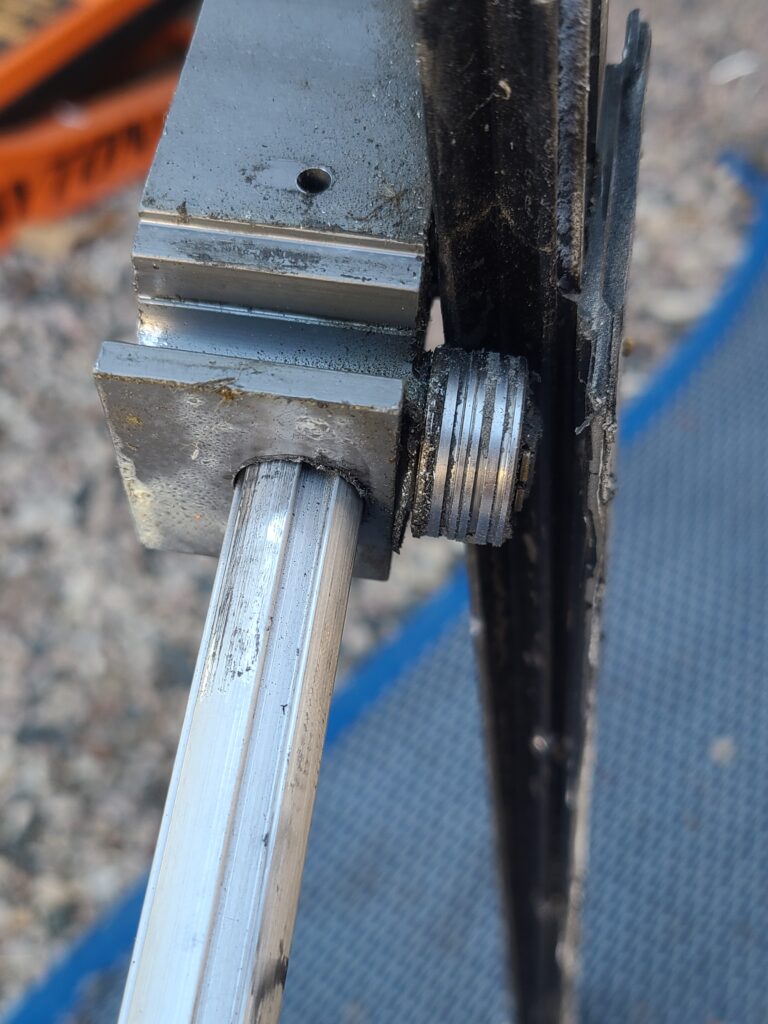 The whole problem was the V-Roller had been damaged somehow in the operation of the slide. This caused the jamming of the slide and all our problems. There is so much weight on the V-Roller that it is no wonder it didn't hold up. The slide that jammed has our residential refrigerator, kitchen, and dining area on it so it is very heavy.
Once everything was changed out we ran the slide and everything is now back to normal… For now! Praying we can make it to Tucson for our Vroom Slide System Upgrade without any more issues.
What's Next?
Once our motorhome is fixed and the slides working as they should, we're back to worrying if they'll have another issue down the road. Knowing there are so many issues with the Schwintek Slide System, especially with the larger slides like on our coach we're looking into other options.
Vroom Slide Systems is the only competitor for Schwintek. It's a direct bolt-on replacement for the Schwintek System but much more robust with better motor attachment, bigger gears, and tracks. After calling and talking to Brian Vroom we've decided on having his system installed on our motorhome. The Vroom Slide System is not cheap coming in at about $2500 (as of November 2021) per slide. We feel the upgrade is worth it for the peace of mind it'll bring with all of our travels. Just the repair of our slide on this issue came in at more than half that price.
Conclusion
Since our motorhome is our "home" we want the systems to always work when we go to use them. RV manufacturers build these things as cheaply as possible to keep their bottom line padded. The Schwintek Slides are a cool design and work well in smaller RVs with smaller slides. But when you get to a 17′ or larger wall slide with the whole kitchen and dining area it adds up to a lot of weight for the small motors, gears, rollers, and tracks. For these reasons, we are going to move forward with changing out the Schwintek System for the Vroom System come April 2022. Now that we've changed to the Vroom Slide System see how things went here.
Have you had issues with your slide system? What type of slide system do you have on your RV? Thank you for reading our article. If you have any comments or questions we'd love to hear from you below.