Thanksgiving is just around the corner, and this leaves many RVers wondering what they will do for Thanksgiving dinner.
Yes, it is possible to have a Thanksgiving dinner in your RV. With less counter space, a smaller oven, a smaller sink, and a smaller fridge, many may see cooking a large meal like Thanksgiving dinner in their RV as an impossible task.
This post contains affiliate links. As a participant in Amazon Associates and various affiliate programs, we are compensated when qualifying purchases are made through our referral links at no additional cost to you. Full Disclosure

However, with some prior planning and some small tweaks, preparing a full Thanksgiving spread in your RV is totally possible. Read on for a full list of tips and tricks for cooking a turkey dinner in your tiny kitchen.
The Turkey
The turkey is the heart and soul of Thanksgiving. Without the turkey, it's just not Thanksgiving.
Most people have the biggest challenge with having enough space to cook their turkey. Chances are good you're thinking: "How in the heck am I ever going to fit a whole, big Thanksgiving turkey in my tiny RV oven?" The answer: You're not.
When you look inside your RV's oven, the word "big" probably doesn't pop into your head.
So what do you do?
If you're spending Thanksgiving in your RV, you've likely got a smaller guest list than you may have if you're at home. That means you don't have as many mouths to feed, which negates the need for a colossal bird that ensures everyone gets their fill.
Buy a smaller turkey. Or maybe a turkey breast. (This is what we do, and yes I do miss the dark meat but it's a sacrifice I make.) It is perfectly possible to cook a smaller bird with that little appliance. With a disposable aluminum pan that can be bent to fit the oven, you can roast your turkey just as you would in a house. The fact that you will probably want to use the oven for other things—and because the bird will likely use every inch of space the oven has—you might want to seek out alternative cooking methods.
If you are inviting friends, family, or people from your neighboring park site to your Thanksgiving dinner and are in need of a big turkey, no problem. You can cook two smaller turkeys, or cut up a bigger bird into smaller, easier-to-manage sections that will allow the turkey to fit in your small RV oven, and will also allow your turkey to cook thoroughly.
For those of you who have an RV with no oven at all or just a convection/microwave oven don't worry — there are options!
There are actually several solutions to this problem:
Air Fryer: This year we used the air fryer to make two 3 lb Turkey Breasts, one for dinner and one for leftovers. They turned out so crispy on the outside and moist on the inside. It only took about an hour and 10 minutes to cook.
Pellet Smoker: Pellet Smokers are all the rave and cooking a turkey on one looks fairly simple. We plan on purchasing a tabletop Pellet Grill/Smoker and cooking our turkey on it next year.
Grill: If the weather is nice wherever you happen to be staying, you can put your turkey on the grill.
Instant Pot Pressure Cooker: Many RVers swear by their Instant Pots. Some even cook pieces of turkey in these small appliances for their Thanksgiving meal.
Electric roaster: Electric Roasters are available for a relatively low price. Grab one of these and you can rest assured your bird will be perfect.
Deep fryer: For those who happen to have a deep fryer on hand, frying is an excellent turkey cooking method although one I've never done.
Pre-made: Many restaurants and stores will offer up precooked turkeys that will taste just as delicious as the ones you make at home. We've done this a couple of times and had no complaints about the meals we received. It's as simple as bringing the meal home, reheating the items, and serving.
THE SIDES
Serving a turkey without mashed potatoes, gravy, and cranberry sauce at Thanksgiving is considered blasphemous to most people.
In order to keep your Thanksgiving meal traditional and not skip out on everyone's favorite sides, there are tricks you can put into action.
One great option is to cook some of the side dishes ahead of time at home and store them in your fridge or freezer. Then on Thanksgiving day heat and serve.
Instant may be best. We know — instant potatoes just aren't quite the same as the real thing. However, when you're limited on cooking space instant sides may quickly become your best friend. Rather than standing over the hot stove top for hours, you can have your mashed potatoes ready in just a few minutes.
We go with Bob Evans Mashed Potatoes. They are actually so good! 4 minutes in the microwave, a quick stir, and 3 more minutes in the microwave again and you have nicely lumpy mashed potatoes just like homemade.
Got to have the stuffing! This is one item I love nearly as much if not more than the turkey itself. I have an awesome recipe I always use for the stuffing and even in an RV it's a dish I must make. See the recipe below.
Cooking Ahead of Time
Several traditional Thanksgiving foods can be made ahead of time. Pumpkin pie, for instance, is just as good two days after baking. Deviled eggs and cranberry sauce can also be made ahead and stored in the fridge. Other items that you might consider making ahead of time (and reheating the day of) include green bean casserole and mac & cheese.
By cooking those things ahead of time, you'll reduce stress on the holiday itself and make things run a lot more smoothly.
Some examples of dishes that can be prepared in advance include:
Pies
Other baked goods
Stuffing
Salads
Veggie trays
Don't be afraid to buy pre-made
After all, you are living in a space not nearly as large as a sticks-and-bricks home. You don't need to make every single dish or any part of the meal if you don't want to. Don't be afraid to buy pre-made items for your meal. We bought the pies from Kroger this year.
Eat Out
Cooking may not be your thing. If this is the case, why not pack up the family and head out? Plenty of eateries stay open on Thanksgiving, and having a nice meal out is a perfectly acceptable way to celebrate. Since it's just the two of us, we have gone out for Thanksgiving dinner a number of times.
A word of caution, plan ahead! Reservations are often needed when dining out on Thanksgiving Day. Don't expect to just walk in someplace and have dinner.
Recipes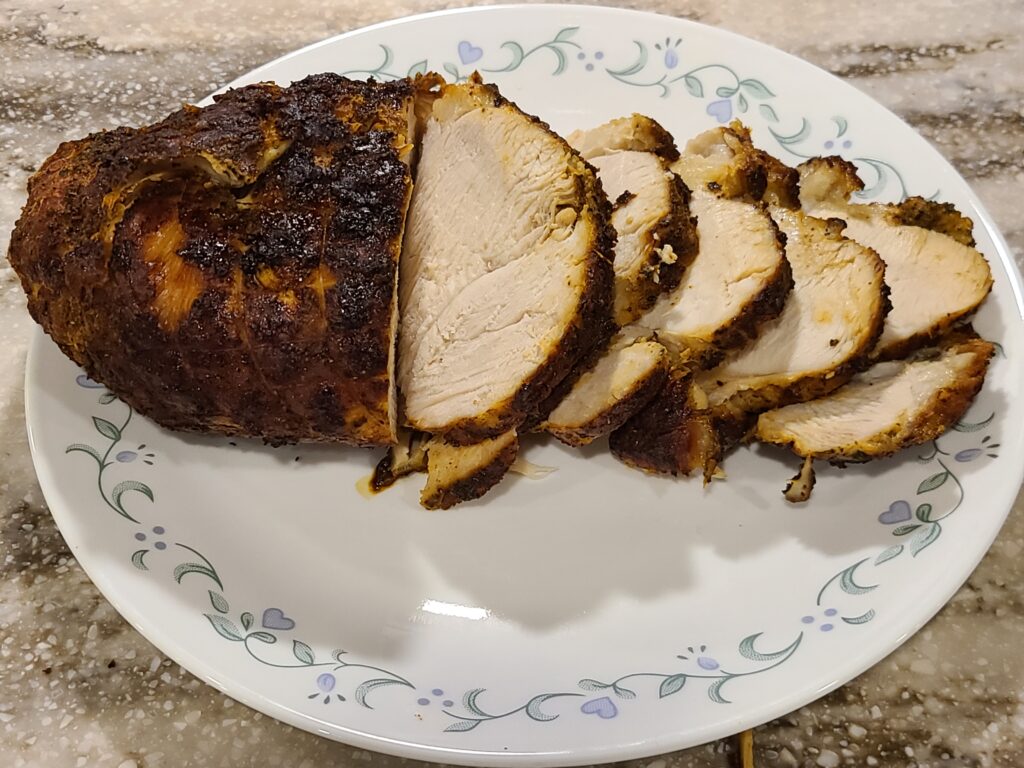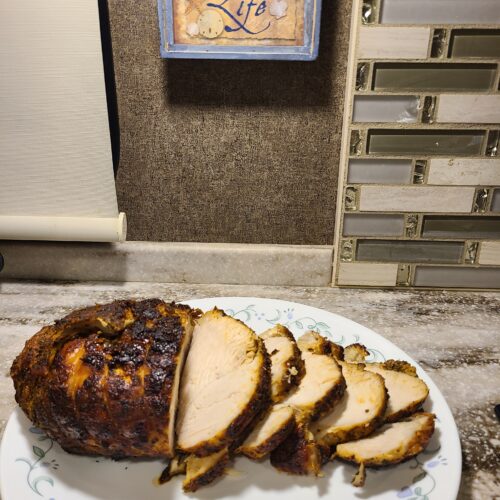 Air Fryer Boneless Turkey Breast
Equipment
Air Fryer

Instant Read Thermometer
Ingredients
1

3 pound

Boneless Turkey Breast

1

tbsp

Olive Oil

1

tbsp

Kosher Salt

2

tsp

Seasoned Salt

1

tsp

Ground Black Pepper

1

tsp

Poultry Seasoning

1

tsp

Garlic Powder

1

tsp

Red Pepper

Optional or to taste

1

tsp

Dried Basil

1

tsp

Dried Parsley
Instructions
Preheat Air Fryer to 360 degrees

Mix dry seasonings together

Rub turkey breast on all side with dry seasoning

Placed seasoned turkey breast in air fryer basket

Cook 1 hour turning every 15-20 minutes to avoid burning

Cooking time depends on the wattage of the air fryer. The turkey is done when it reaches an internal temperature of 165 degrees. A meat thermometer should be used to read the temperature.

Allow turkey breast to rest 10 minutes prior to slicing an serving

Stuffing from the Slow Cooker
Ingredients
1

cup

Chopped Onion

1

cup

Chopped Celery

1/4

cup

Butter

6

cups

Cubed day-old white bread

6

cups

Cubed day-old whole wheat bread

1

tsp

Salt

1

tsp

Poultry Seasoning

1

tsp

Rubbed Sage

1/2

tsp

Black Pepper

1

can

Chicken Broth or Vegetable Broth

14.5 ounces

2

large

Eggs

Beaten
Instructions
In a small nonstick skillet over medium heat, cook onion and celery in butter until tender.

In a large bowl, combine the bread cubes, salt, poultry seasoning, sage and pepper. Stir in Onion mixture. Combine broth and eggs; add to bread mixture and toss to coat.

Transfer to a 3-qt. Slow Cooker coated with cooking spray. Cover and cook on low for 3 hours or until a thermometer reads 160 degrees.
Notes
In place of the cubed day-old white and whole wheat bread I use Pepperidge Farm Herb Seasoned Stuffing Cubes.
I like my stuffing extra moist so I use additional broth.  
Conclusion
No matter the size of your kitchen, you can pull off an amazing Thanksgiving dinner. You may have to adjust your expectations, but you can get the essentials done. If you are having any sort of gathering at all, ask people to contribute. Even if you can just knock one item off your list, it can take a whole load of stress off your shoulders.
What Thanksgiving traditions do you have? Do you have any items that are must-haves for your Thanksgiving dinner? Thank you for reading our article. If you have any comments or questions we'd love to hear from you below.