Yellowstone Grizzly RV Park is located in West Yellowstone, Montana, and is a popular spot for a quiet, relaxing mountain getaway. Campers flock to this campground yearly because of the gorgeous, manicured lawns, clean sites, and community atmosphere. Bordered on two sides by the Gallatin National Forest, the park is uniquely peaceful and quaint, and if well-known for its friendly staff and straightforward layout.
Grizzly RV Park and Cabins offer several types of full hook-up RV sites. With over 200 full hook-up sites they offer 30-50 amp electric service, water, sewer, cable TV, and WIFI (with some restrictions). They do not allow tent camping.
This post contains affiliate links. As a participant in Amazon Associates and various affiliate programs, we are compensated when qualifying purchases are made through our referral links at no additional cost to you. Full Disclosure
We do all our trip planning with RV Life Trip Wizard. RV Trip Planning Made Simple! RV Life Trip Wizard is by far the best RV route planner we've found. Get your 7 day Free Trial
Location
210 S. Electric Street
West Yellowstone, MT 59758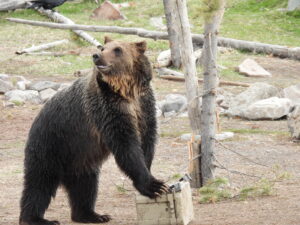 Located in West Yellowstone, Montana. Yellowstone National Park's west entrance gate is only four short blocks away, with dining, shopping, and attractions within easy walking distance.
Just a couple blocks away are the Grizzly and Wolf Discovery Center, IMAX Theatre, Museum, and Historic Center as well as the exciting aerial ropes adventure course.
West Yellowstone is situated within a short driving distance of many beautiful points of interest inside Yellowstone National Park and the nearby Gallatin National Forest. The numerous lakes, streams, and rivers in the area offer some of the best fly-fishing in the United States. Other outdoor activities in the area include horseback riding, mountain biking, hiking, float trips, and guided tours of Yellowstone Park.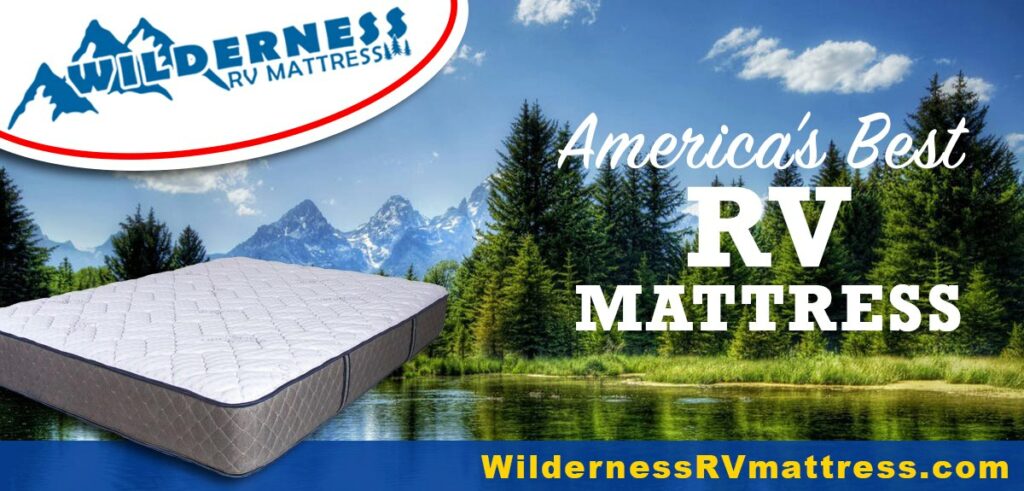 Prices
No Hook-up sites start at $55/night. Electric Only Partial Hook-up sites start at $75/night and Full Hook-up sites start at $91/night.
Cabin rentals start at $150/night with a two-night minimum
Reservations
For Reservations go to: Grizzlyrv.com or Call: 406-646-4466
Our Review
Grizzly RV Park is a bit pricey but that's what you get in West Yellowstone. All aspects of the campground are in excellent well-maintained condition. The grounds are kept in pristine condition and the bathrooms and laundry room were immaculate. It is a very nice park!
The gravel sites are fairly large and level, each has a concrete patio and a picnic table as well as some grass. No wood fires are allowed, but you can use your own propane fire pit.
Easy check-in with friendly staff. Very close to restaurants and other sites. Short drive to the West Yellowstone NP entrance which is very convenient. The store is well stocked, especially with camping supplies.
The Gallatin National Forest abuts the park on one side and there are hiking trails leading right from the park.
Amenities
While Grizzly RV Park doesn't have a lot of amenities you would see in other areas of the country. It has what is needed to enjoy a stay near America's First National Park. The staff is very friendly and helpful with any questions you may have.
The restrooms and showers looked new and were spotlessly clean when we were there.
Laundry rooms are located in the Main Building and Restroom Buildings 1, 4, and 5. The cost to wash was $3.00 and the cost to dry was $0.25 for 5 minutes.
While Grizzly RV Park does not have a Dog Park the campground backs to Gallatin National Forest. Our dogs love walks on the Rendezvous Trails behind the campground. Carry Bear Spray, you never know when or where you may run into a bear near Yellowstone
Lodge
The Main Building/Lodge has a check-in area and a small store with camping necessities.
Grizzly RV Park does not have a pool or spa, but it is Yellowstone so who cares?
Phone and Internet Service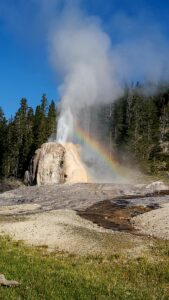 We use T-Mobile for our phone service. Service was good around town but once in Yellowstone, it is very spotty to nonexistent.
Our Verizon MiFi received 3-4 bars of service and we were able to use our Fire Stick and stream Netflix with no problems most of the time. Occasionally things would slow down in the late evenings.
You can receive packages at Grizzly RV Park contact the front desk for instructions. We also did General Delivery at the West Yellowstone Post Office.
Sports, Recreation, and Playground Areas
The large playground has a tire swing, monkey bars, and a slide on a wood chip base. There is a large grassy area for games.
Things to see/do nearby

Yellowstone National Park – is the number 1 thing to see, and more than likely the reason you came to the area, to begin with. Yellowstone National Park is a nearly 3,500-sq.-mile wilderness recreation area atop a volcanic hot spot. Mostly in Wyoming, the park spreads into parts of Montana and Idaho too. Yellowstone features dramatic canyons, alpine rivers, lush forests, hot springs, and gushing geysers, including its most famous, Old Faithful. It's also home to hundreds of animal species, including bears, wolves, bison, elk, and antelope. But there is plenty of other things to see/do in the area.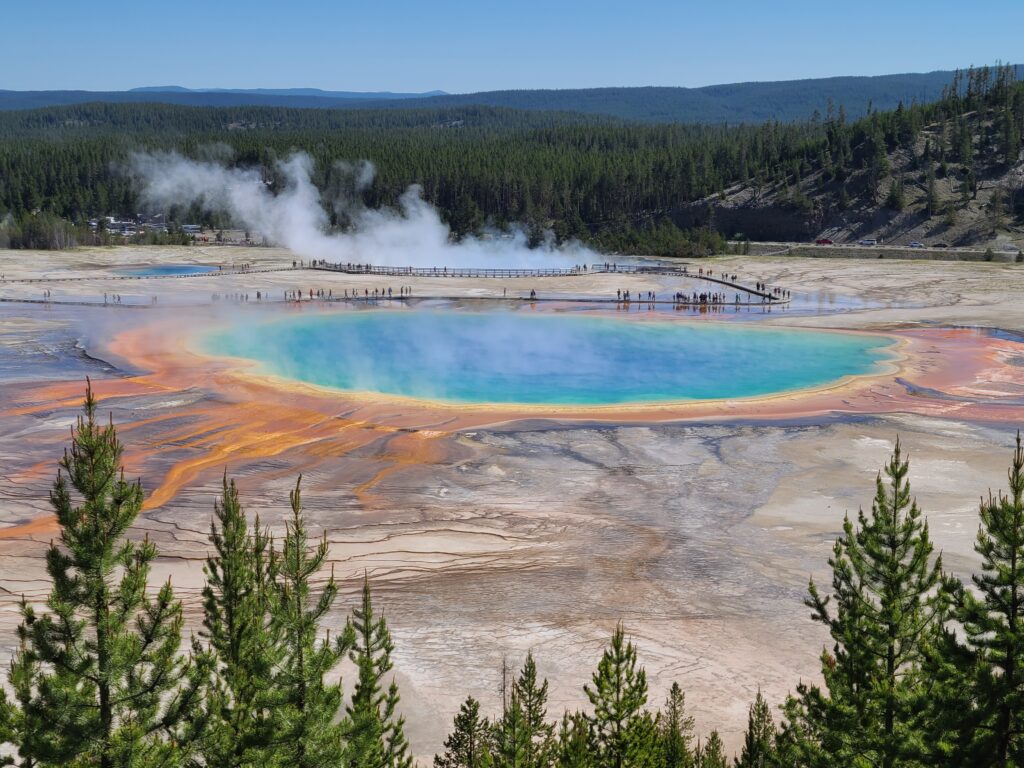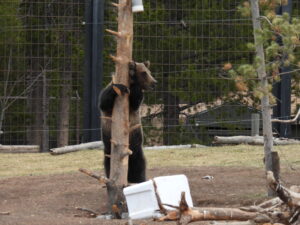 Grizzly and Wolf Discovery Center – See live grizzlies and wolves at this AZA Accredited, Not-for-Profit Wildlife Park and Educational Facility. If you're lucky you may see a grizzly bear while in Yellowstone National Park. But then again you may not. We spent the whole summer near Yellowstone and only saw a few grizzly bears. If you want a great experience and guaranteed grizzly bear sighting you need to go to the Grizzly and Wolf Discovery Center.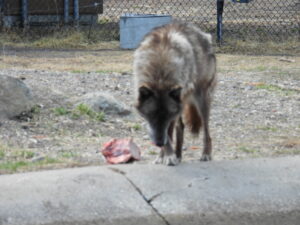 Even if you've seen bears in the park Grizzly and Wolf Discovery Center gives you a closer view of the bears, wolves, and otters as they search for hidden food. The bears that reside at the GWDC were rescued, given a second chance and now are ambassadors for their counterparts in the wild.
It was one of our favorite places to spend a couple of hours during our stay.
Fly Fishing – The Yellowstone area boasts some of the best fishing waters in the world. Whether you go with a guide or on your own there are plenty of rivers and lake fishing opportunities to be had in Idaho, Montana, and Wyoming. The Madison River was our favorite place to fish.
Playmill Theatre – If you're looking for something fun and entertaining to do after your day in the park Playmill Theatre is an amazing small-town theatre with great actors and actresses performing three separate shows each summer. You'll see the very talented cast around town singing and dancing trying to drum up audiences.
We saw two of the three shows this year and will definitely be back in 2022 to see Disney's Tarzan, Bright Star, and Singin' in the Rain. Both shows we saw had great casts, wardrobes, and sets. The intermission is not to be missed, it's hectic as the cast and crew serve up refreshments and souvenirs.
Our favorite places to eat
West Yellowstone has plenty of places to eat. Most are expensive like everything else in town and unfortunately not highly rated. The food is basic at best. Our favorite places to eat in town are: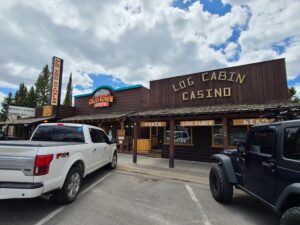 Breakfast
Old Town Cafe – Great place for breakfast or lunch. The friendly staff made this place our favorite place to eat in town. The wait times usually weren't as long as Running Bear.
Running Bear Pancake House – The best place for breakfast. The food and service are very good. Usually a fairly long wait in the mornings.
Lunch
Canyon Street Grill – Nice little 50s diner right on Canyon Street. Some of the best burgers at the best prices in town and friendly staff.
Las Palmitas – One of two Mexican Taco Buses. Old school buses turned into food cart was our favorite one to get takeout from. Located on Canyon Street.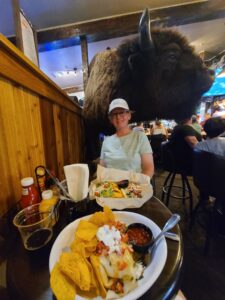 Dinner
The Buffalo Bar – Our favorite place to eat and drink. Reasonably priced food and drinks for the area. Great food and service. Their burritos and tacos were our favorites. They also have great burgers. The outside patio area has live music in the summer. One of the few restaurants open year-round in town.
Bullwinkles Saloon and Eatery – Another place with good food but high prices. Dinner and drinks for 2 will run nearly $100. The place to go if you want wild game dinner. Their Elk Ravioli is amazing! Best Huckleberry Margaritas!
Madison Crossing Lounge – West Yellowstone's only upscale restaurant. The place to go for a celebration-type dinner.
Wild West Pizzeria and Saloon – Best pizza and entertainment location. Live music a few times a week. Great drinks and friendly bartenders.
Firehole Bar-B-Que – If you're looking for BBQ in West Yellowstone, Firehole Bar-B-Que is the only one to try! Some of the best Brisket I've ever had. My wife loved their Turkey.
Anywhere you go for food in West Yellowstone be prepared to wait. Go early if possible to avoid long lines at every restaurant in town.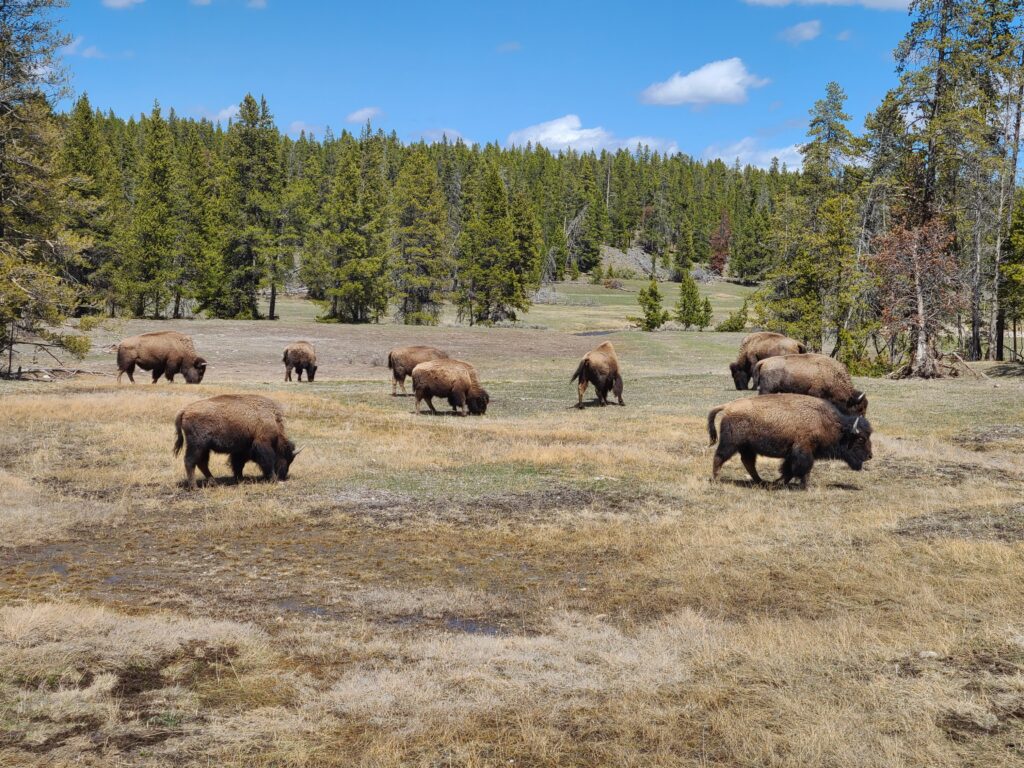 Conclusion
West Yellowstone is a wonderful place to make your outpost for any trip to Yellowstone National Park. Grizzly RV Park while being a bit pricey is well worth the cost for easy access to the park and surrounding areas.
What interesting places have you been to and can recommend? We're always looking for neat out-of-the-way places to put on our list of must-sees. Thank you for reading our article. If you have any comments or questions we'd love to hear from you below.