Yellowstone and the area surrounding it is a fly-fishing paradise. Nowhere in the world are there so many public rivers, lakes, and streams found in such a small area. One of Yellowstone Parks' largest rivers, the Madison is viewed by millions of visitors each year as it winds along the West Entrance Road.
What you will see here is completely different than in the famous waters outside the park in the state of Montana. While the Montana stretch is swift, rocky, and peppered with huge boulders, the Park section resembles a big spring creek. Aquatic grasses wave in the current and much of the riverbed is sand or small pebbles. Elk and bison are frequently spotted along the grassy banks.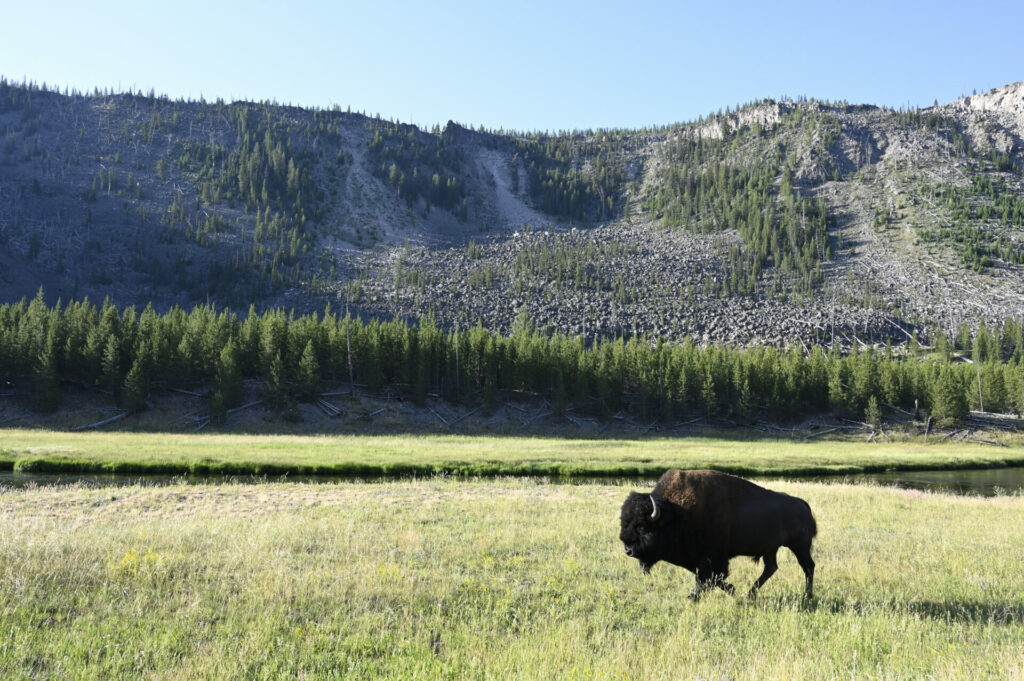 This post contains affiliate links. As a participant in Amazon Associates and various affiliate programs, we are compensated when qualifying purchases are made through our referral links at no additional cost to you. Full Disclosure
The Madison River is a Fly Fishing only river. Use only artificial flies regardless of the type of rod or line.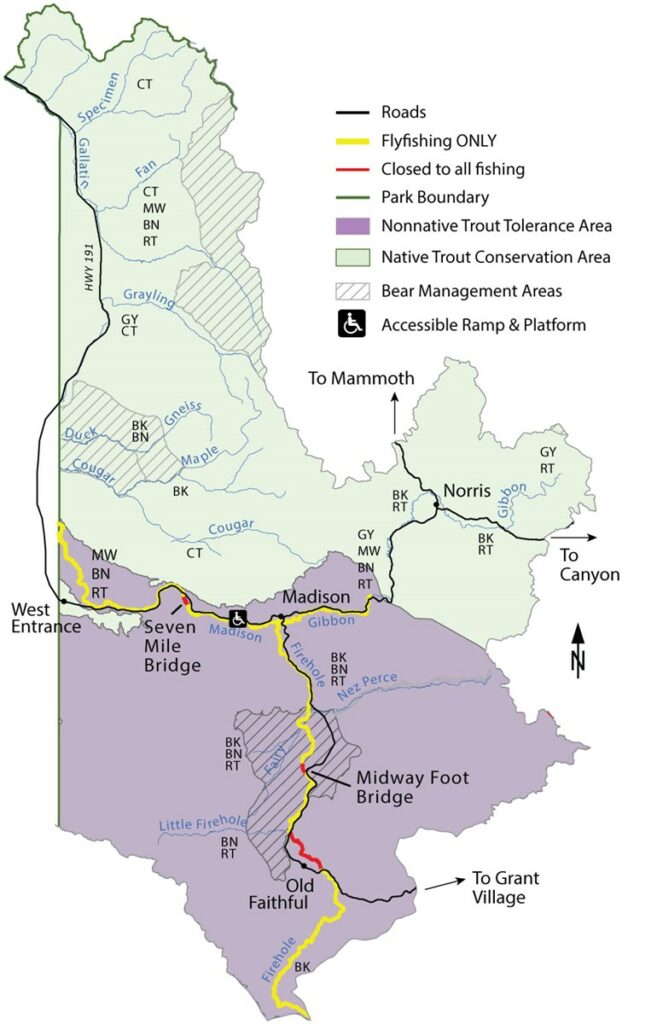 Fishing the Madison
The scenery in Yellowstone National Park and along the Madison River alone is enough to make an enjoyable day. The fishing is a bonus!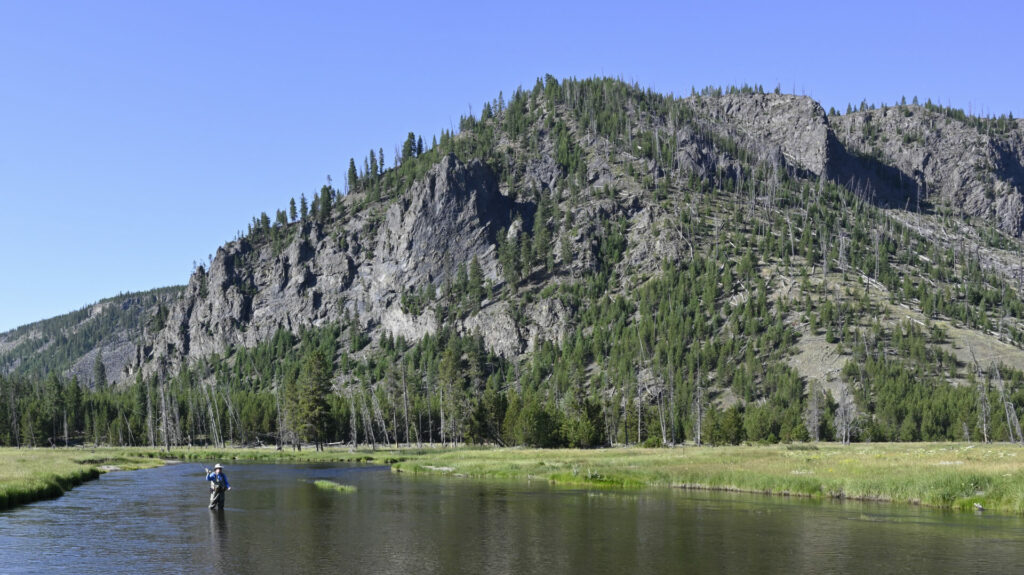 The first day I fished the Madison was a beautiful morning in late July. The water was perfect and the day was fantastic. I fished the section of river just downstream from the confluence of the Gibbon and Firehole Rivers.
The waters in this stretch of river are calm with some nice deep holes. While fishing I heard a huff behind me and turned to see a big bull bison wandering down the trail along the river. He stopped, turned, and looked at me as if to say "Hi, how's the fishing?"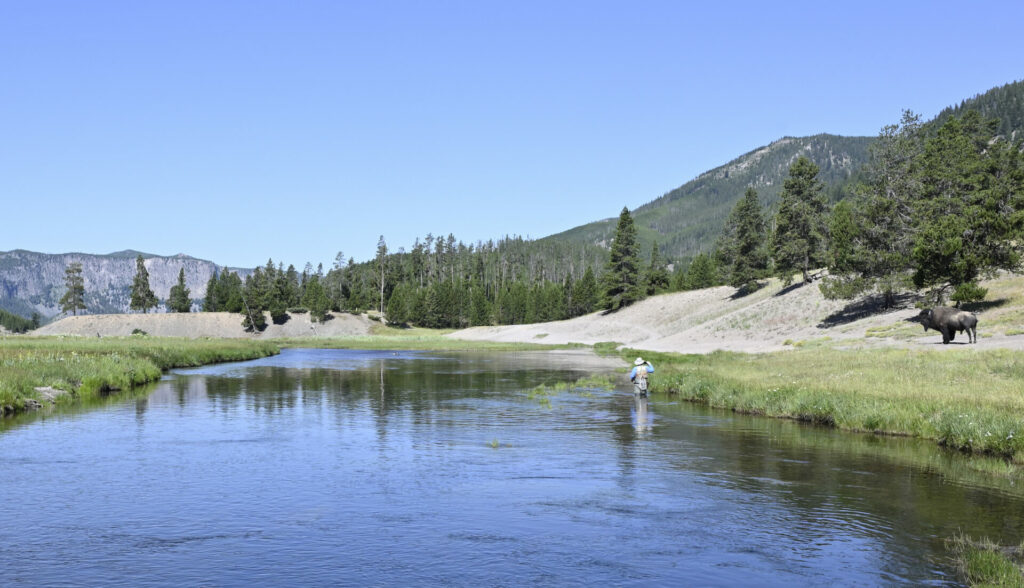 It was a cool experience to see this big bull so close with no one else around.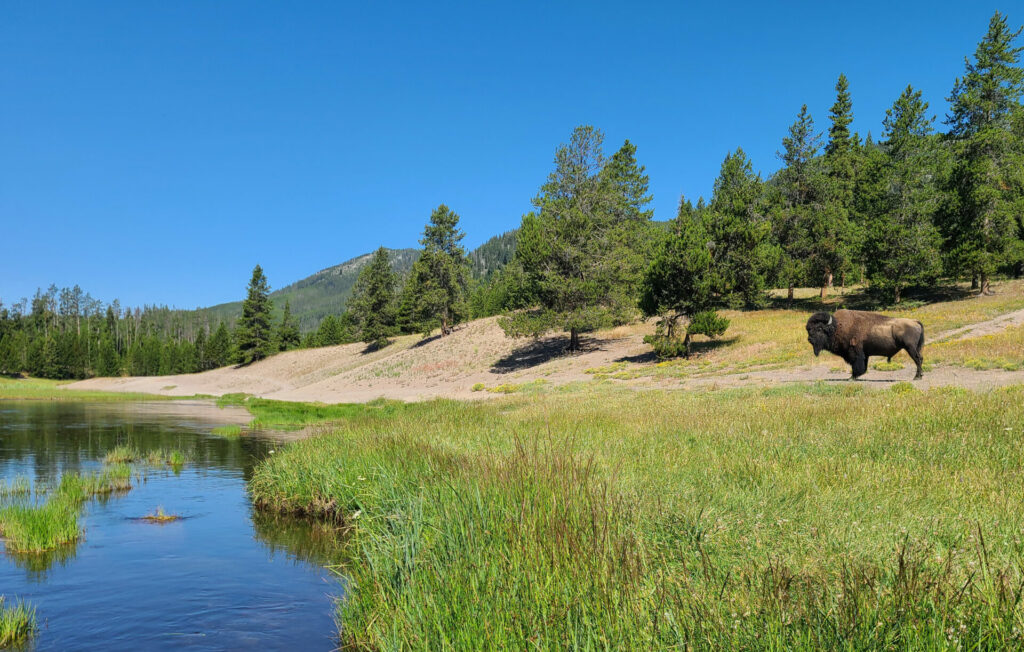 While I took his picture I got a bite and hooked a fish. My new friend went about his business.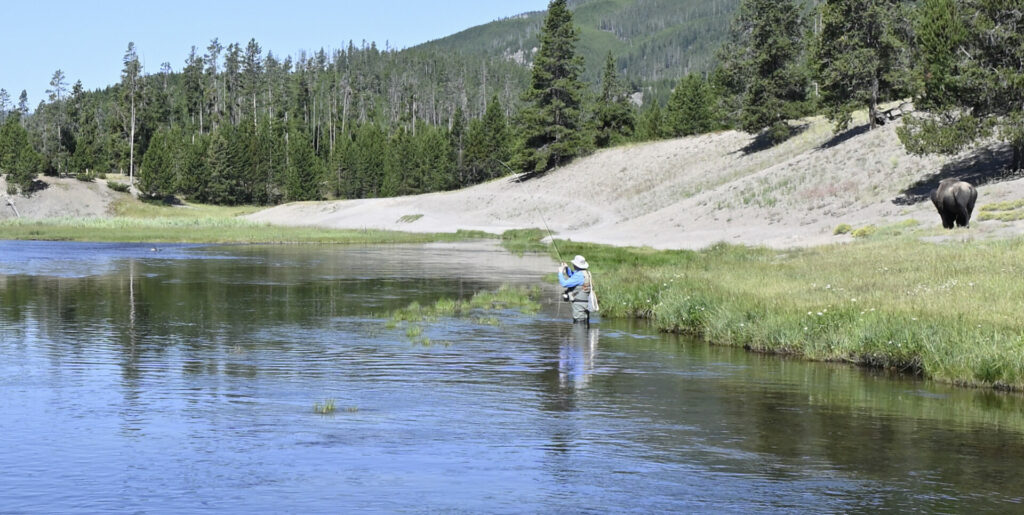 The fish put on a pretty good fight for a couple of minutes. But I ended up landing the little rainbow. I quickly unhook it and set it free.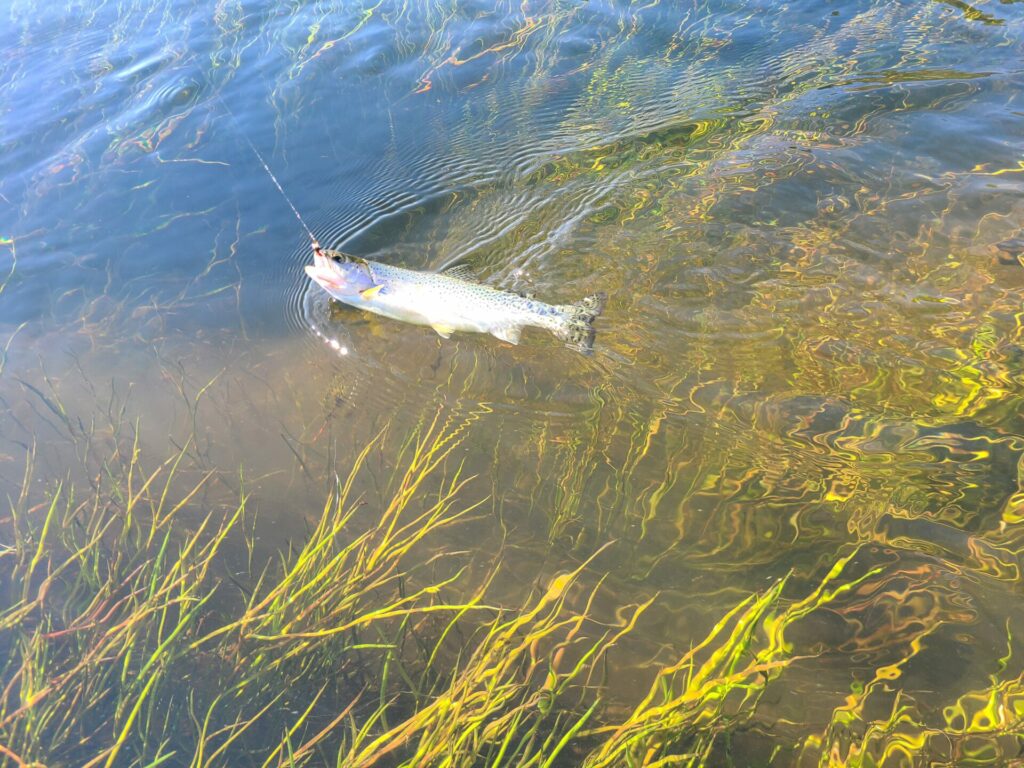 Flies
I used a #12 Kaufman Stimulator in orange as my dry fly in a dry dropper set-up. The dropper was a #16 burnt orange bead head nymph. I had a number of strikes, (that I missed), on the dry fly and caught the fish this day on the nymph.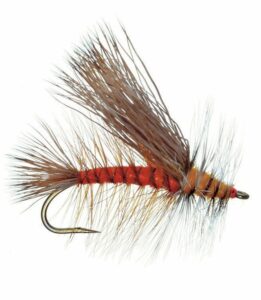 Permits
Not being a local and a resident of Montana, Wyoming, or Idaho it can get very expensive to buy licenses to fish all the waters in the Yellowstone area. This year, I figured to save some money I would just fish the Yellowstone National Park lakes, rivers, and streams.
A Yellowstone National Park fishing permit is required for all in-park fishing. A state-issued permit (i.e. Montana, Wyoming, or Idaho) is not a substitute for a Yellowstone National Park permit. Permits are $40 for 3 days, $55 for 7 days, and $75 for a whole season. You can purchase a permit online at Recreation.gov.
Know The Fish, Know The Rules
Yellowstone is home to seven game fish: brook, brown, cutthroat, lake, and rainbow trout, along with grayling and whitefish. Before fishing, you should be able to identify each species, as regulations vary for each. The park's fishing regulations guide provides images to help you identify. All native fish, including the cutthroat trout, are catch-and-release only. If you catch an invasive Lake Trout in Yellowstone Lake, it must be killed. Knowing which fish live in which bodies of water will help you identify quickly when you reach that exciting "fish-on" moment!

Be Prepared
Never fish in Yellowstone without bear spray, rain gear, sunblock, sunglasses, insect repellent, and a hat. Be Bear Aware and know how to use your bear spray, and brush up on bear safety guidelines before you head out.
Take A Guided Trip
If you're looking to fish for the first time, or even if you consider yourself experienced, a lesson or guide can help you get the most out of your time on the waters.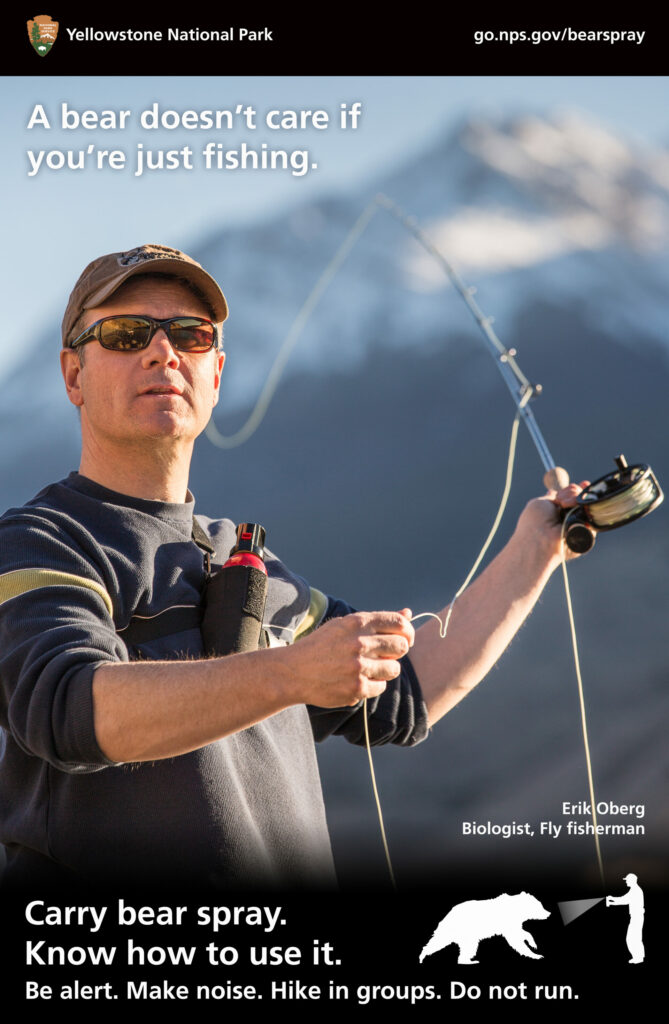 Conclusion
Get out and have some fun in Yellowstone National Park, fish the Madison River, or one of the many other waterways within the park. If nothing else just go for the scenery.
What interesting places can you recommend? We're always looking for neat out-of-the-way experiences to add to our list of places to visit. Thank you for reading our article. If you have any comments or questions we'd love to hear from you below.