Anyone that has been to Yellowstone or any National Park recently knows that crowds have grown exponentially over the last few years and especially since Covid-19. Long lines and wait times are now the norm at all the popular locations. So what can you do to avoid the crowds and still enjoy the National Parks? This article will cover ways to still see plenty of Yellowstone National Park and avoid the overcrowded locations that most people are going to.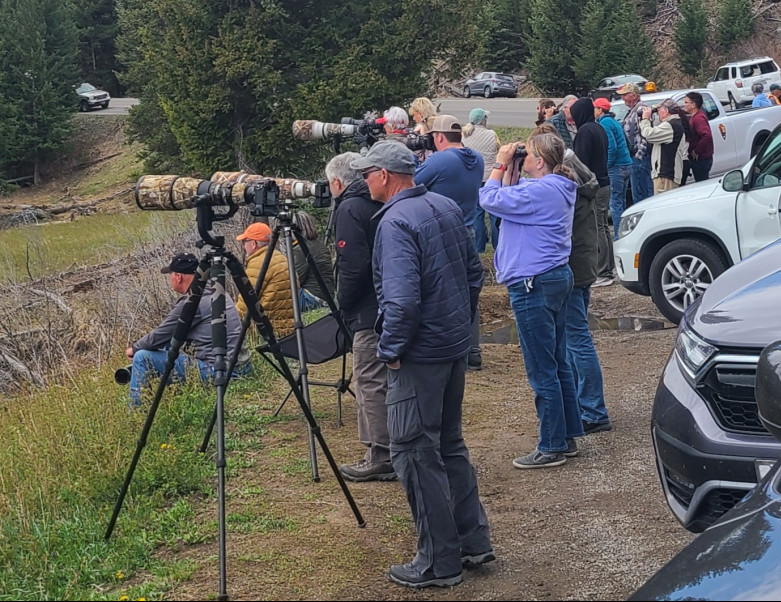 This post contains affiliate links. As a participant in Amazon Associates and various affiliate programs, we are compensated when qualifying purchases are made through our referral links at no additional cost to you. Full Disclosure
Get An Early Start
No matter where you go or what you do in Yellowstone National Park, one of the best ways to beat the crowds is to get an early start! If you're coming in the West Entrance from West Yellowstone be aware that the lines back up clear into town. One morning we got started into the park at 8am. The lines were backed up to Canyon Street in West Yellowstone. It took us two hours to get to Madison Junction 14 miles into the park. We turned right toward Old Faithful to find more backups. We turned around and left the park that morning not wanting to wait in line after line.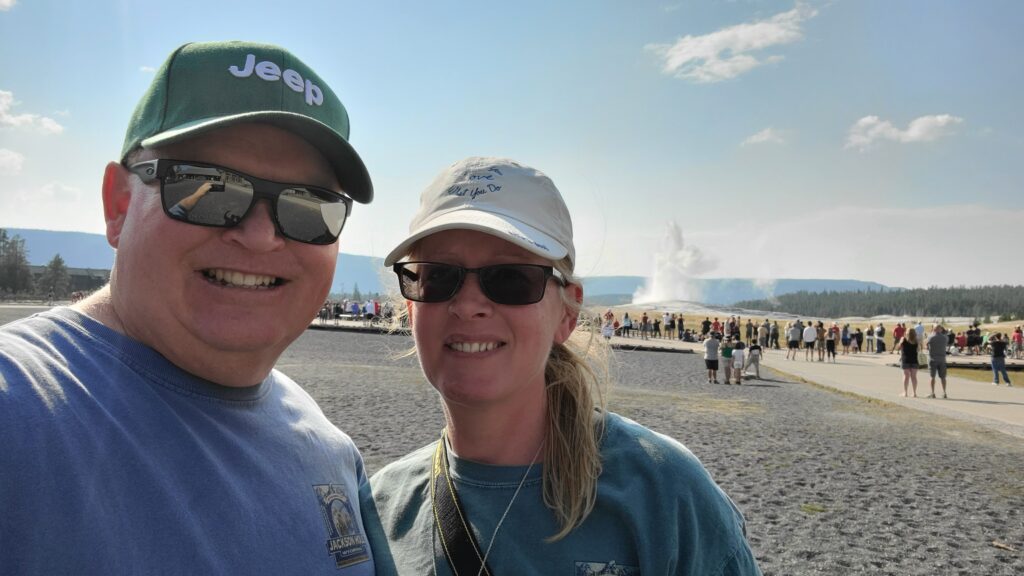 If you get started early and enter the park before 7 am you should have no problems beating a lot of the crowds nearly anywhere you may go.
Another reason to get an early start is to increase your chances of seeing wildlife. We love wildlife and have our best days seeing a variety of animals on days we go early. Lamar Valley from West Yellowstone is about a two-hour drive. So if we want to see what's happening around the wolf dens along Slough Creek Rd we try to be on the road by 4 am. More often than not by leaving early we will see a bear or something great along the way.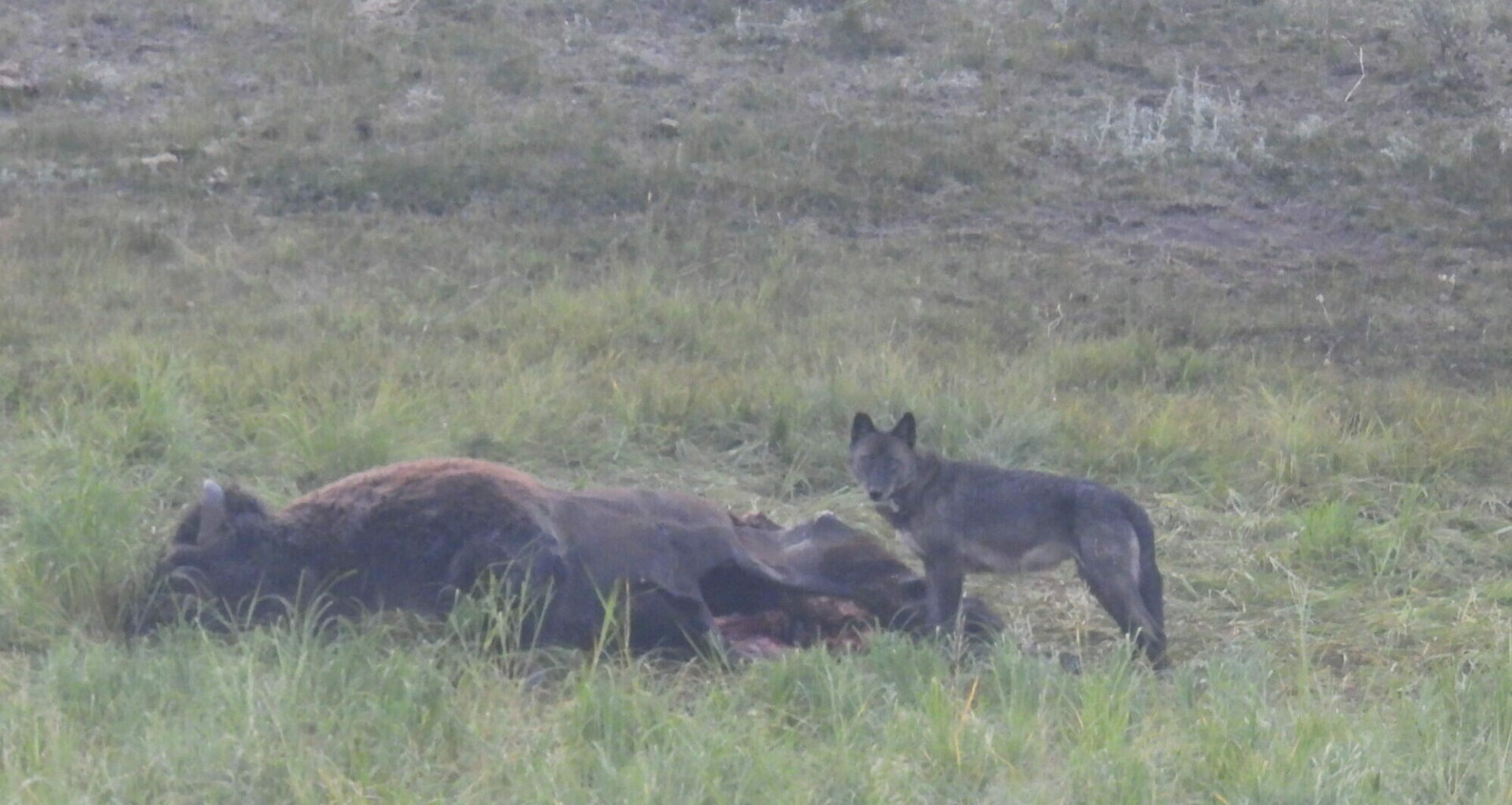 Hiking
Hiking is probably one of the easiest ways to get off the beaten path and away from most people. We've found people are pretty lazy and don't want to invest a lot of time to find cool and interesting things to see. They would rather have instant gratification. We see it all the time when waiting on some animal to come out for a viewing. People will pull up where we're standing next to our spotting scope and cameras. They ask what we're looking for, and we tell them a wolf or a bear or something else, but if it's not right then and there they lose interest quickly and move on.
Fairy Falls Trail – While not really an off-the-beaten-path trail it is one of our favorite places to hike in the park. The hike from the Fairy Falls Trailhead to Fairy Falls is moderately trafficked, but past the falls is the best part and it's lightly trafficked. Past Fairy Falls is Imperial Geyser, one of our favorite geysers. While not the biggest geyser in Yellowstone, Imperial Geyser is one of the most active. On the day we hiked the trail we were the only ones that went past Fairy Falls to Imperial Geyser and we got to spend a good 30 minutes there before anyone else showed up. The geyser erupts for about 5 minutes before it takes a small minute or two break. The 6.4 miles round trip, don't be put off by the hiking distance. You'll be able to see two other major landmarks, Grand Prismatic Spring and Fairy Falls, on your way to Imperial Geyser.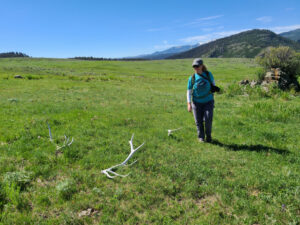 Buffalo Plateau Trail – This trail you truly get into the backcountry of Yellowstone and away from EVERYONE! We watched a YouTube video of this hike by a guy that saw so many animals along this trail we had to hike it. The trail starts at Hellroaring Trailhead and is listed at 18.7 miles. Once past Hellroaring Bridge, we had the trail all to ourselves. The trail climbs through meadows and is fairly steep. Beautiful wildflowers were everywhere and while we didn't see the animals we hoped to we did come across a lot of elk antler sheds. Bring bug spray the mosquitoes were vicious.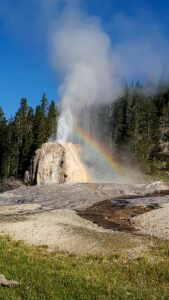 Lone Star Geyser – Another geyser trail that is a great place to get away from the crowds. This 5.3-mile trail is listed as heavily trafficked on AllTrails.com. but we were the only ones at the geyser when it erupted. As usual, we got an early start at the park. We arrived at Lone Star Geyser at 8:20 am and it started erupting at 8:22. This geyser erupts every 3 hours or so. We felt very lucky to catch it right on time.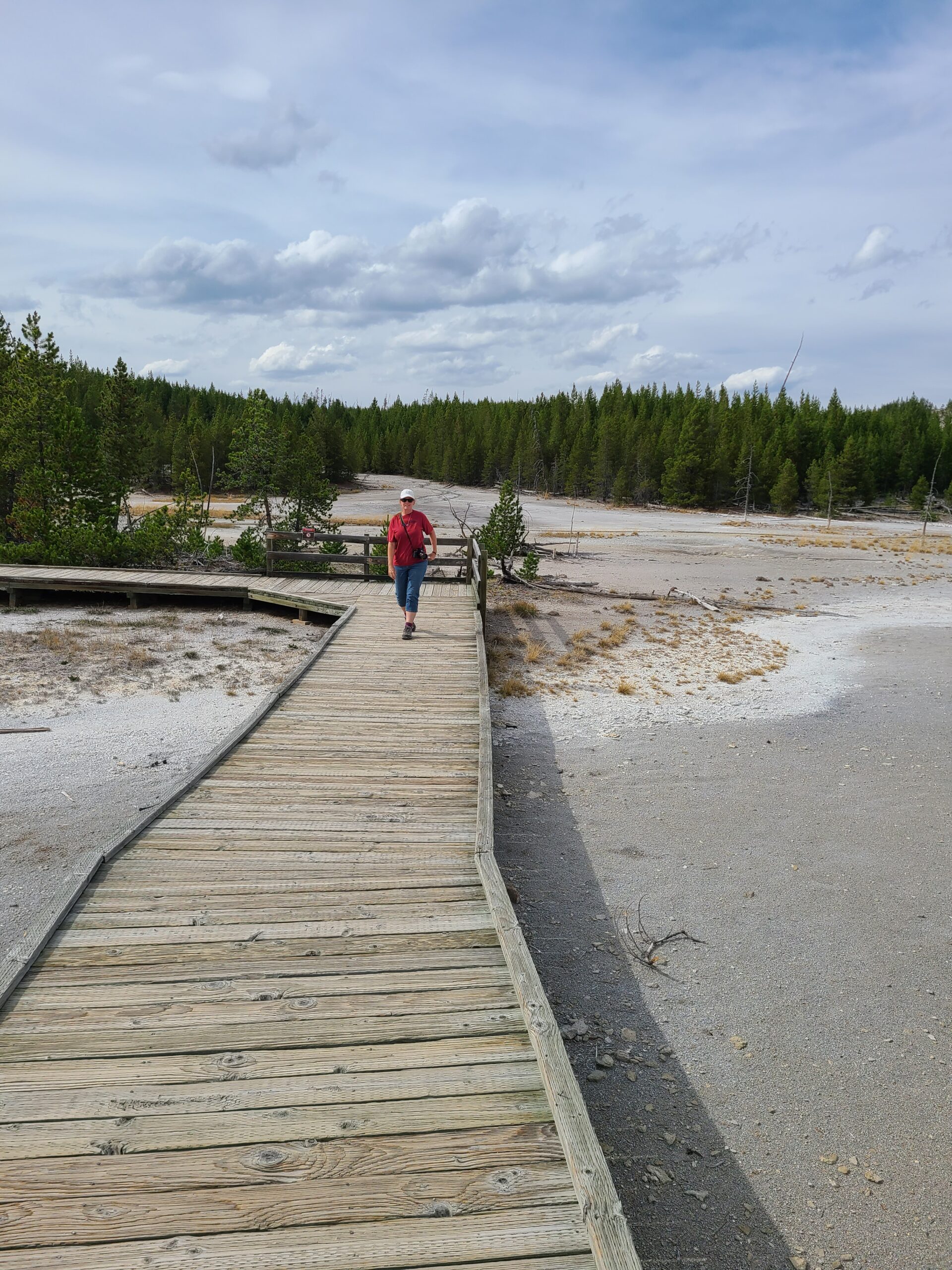 These are just three of the countless hiking opportunities in and around Yellowstone. We're looking forward to doing much more hiking in 2022.
More off the Beaten Path Yellowstone Hikes
Fishing
Even though a lot of people fish the rivers and streams of Yellowstone National Park, there is plenty of room to get away from people and enjoy some peace and quiet. That alone makes it feel like you're off the beaten path.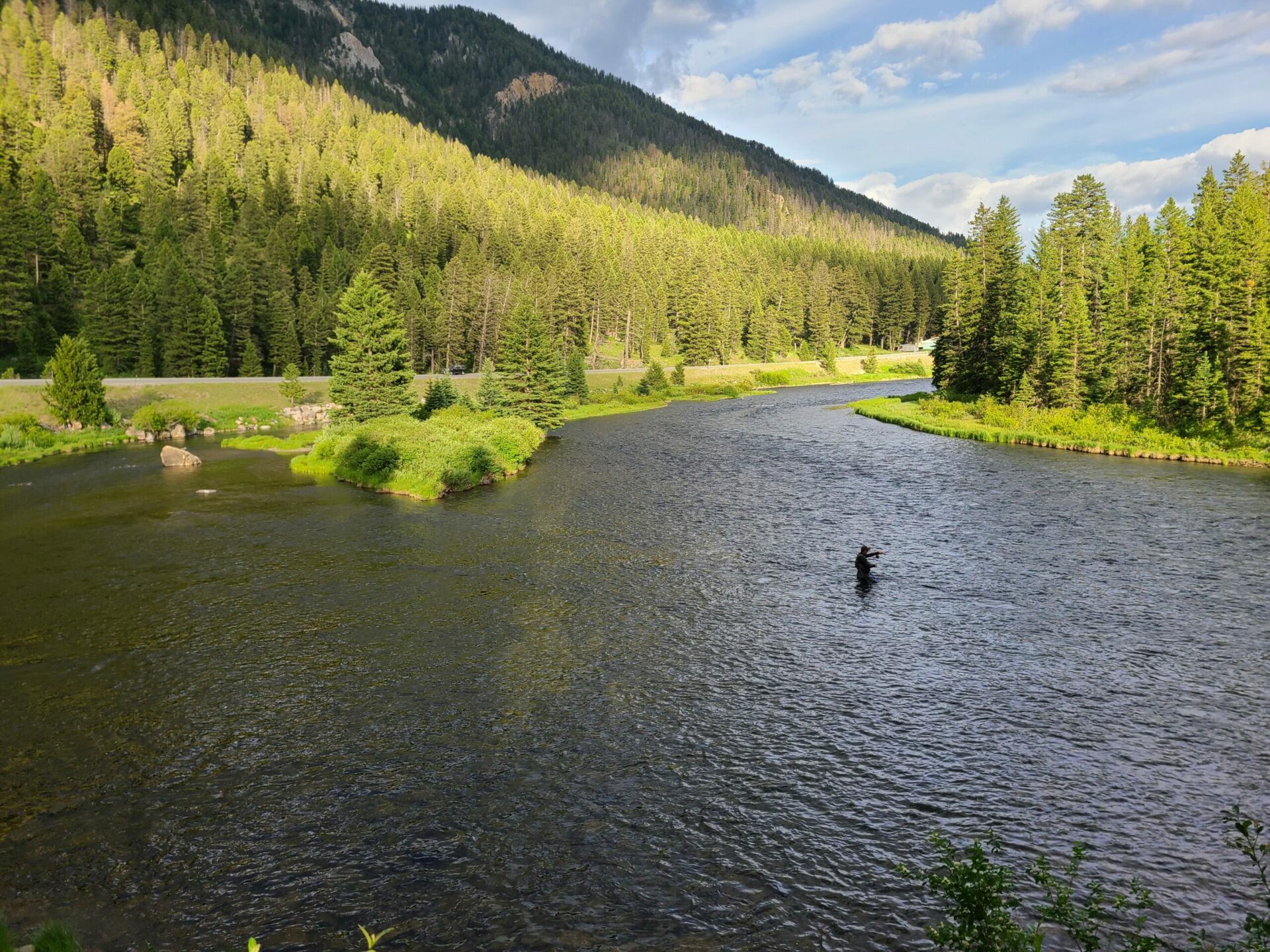 Hot Springs, Geysers, and More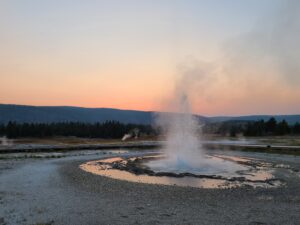 Yellowstone National Park preserves the most extraordinary collection of hot springs, geysers, mud pots, and fumaroles on Earth. More than 10,000 hydrothermal features are found here, of which more than 500 are geysers. If you have seen Old Faithful there are plenty more geysers to see, and it's not too hard to get off the beaten path and find geysers that you can enjoy by yourself or with very few people around.
Even walking the boardwalks if you get away from the most popular geysers you'll find yourself with only a few people around. We've found that some of these less popular geysers are even more incredible to see than the famous ones.
Just be sure to stay on the boardwalks or out of areas marked as dangerous if in the backcountry.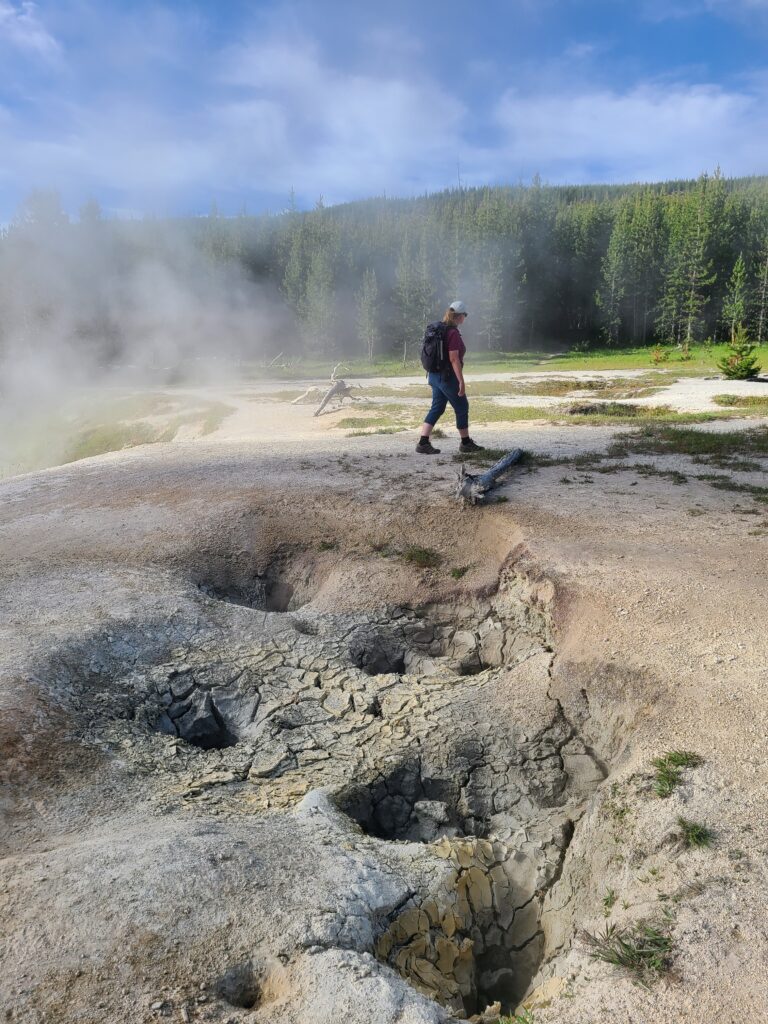 There are five types of hydrothermal features readily visible in Yellowstone:
Hot springs: Pools of hydrothermally heated water.
Geysers: Hot springs with constrictions in their plumbing, which causes them to periodically erupt to release the pressure that builds up.
Mudpots: Hot springs that are acidic enough to dissolve the surrounding rock, and typically also lack water in their systems.
Travertine terraces: Hot springs that rise up through limestone, dissolve the calcium carbonate, and deposit the calcite that makes the travertine terraces.
Fumaroles: These hot features, also known as steam vents, lack water in their system, and instead constantly release hot steam.
All these hydrothermal features are interesting in their own ways. As much as I love seeing the wildlife of Yellowstone I enjoy the hydrothermal features nearly as much.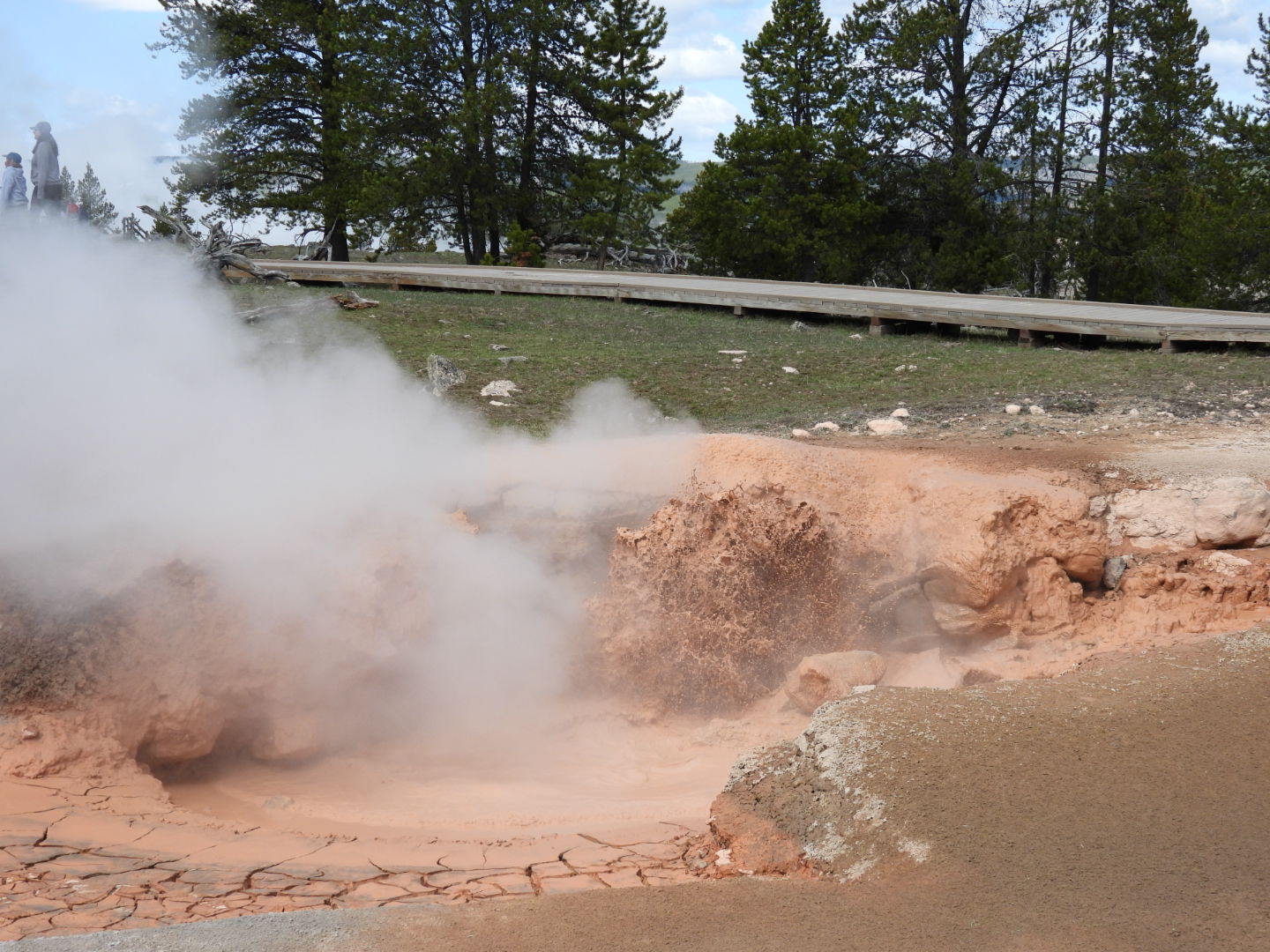 Take a Tour
While visiting this park on your own can be an excellent experience, taking a tour of Yellowstone can make your visit even better by getting you away from the crowds making for a more memorable trip. Here are some of the top reasons to take a tour of Yellowstone National Park:
See More of the Park: Yellowstone is vast, covering over 2.2 million acres of land. Taking a tour with a knowledgeable guide can help ensure that you see all of the park's top sights and attractions, without missing any must-see locations.
Learn from a Knowledgeable Guide: Yellowstone National Park is a complex ecosystem with unique geological features, diverse wildlife, and a rich cultural history. Tour guides provide valuable insights and information about the park, its history, and its unique features, adding depth and context to your experience.
Safety: Yellowstone is home to many potentially dangerous wild animals, such as grizzly bears, bison, and wolves. While it is unlikely that you will encounter these animals during your visit, a tour guide can ensure that you stay safe and avoid any unnecessary risks.
Meet New People: Taking a tour of Yellowstone National Park is a great way to meet new people who share your interests. You'll have the opportunity to make new friends, share experiences, and create lasting memories.
Convenience: A tour takes care of all the logistical details, from transportation to entrance fees and scheduling. You won't have to worry about driving, parking, or navigating the park, leaving you free to relax and enjoy the experience.
Access to Specialized Activities: Some tour operators offer specialized tours that allow you to experience the park in unique ways. For example, you can take a snowcoach tour in the winter, go on a wildlife safari, or enjoy a horseback ride through the backcountry.
Overall, taking a tour of Yellowstone National Park is an excellent way to experience one of the world's most unique and awe-inspiring natural wonders. Whether you're a first-time visitor or a seasoned veteran, a tour can enhance your experience and create memories that will last a lifetime.
Conclusion
With a little effort and patients, you can easily avoid the crowds at Yellowstone National Park or any other park for that matter. Get off the beaten path, and look for less famous places in the park, trust me they are just as amazing if not more so than standing with thousands of other people watching Old Faithful.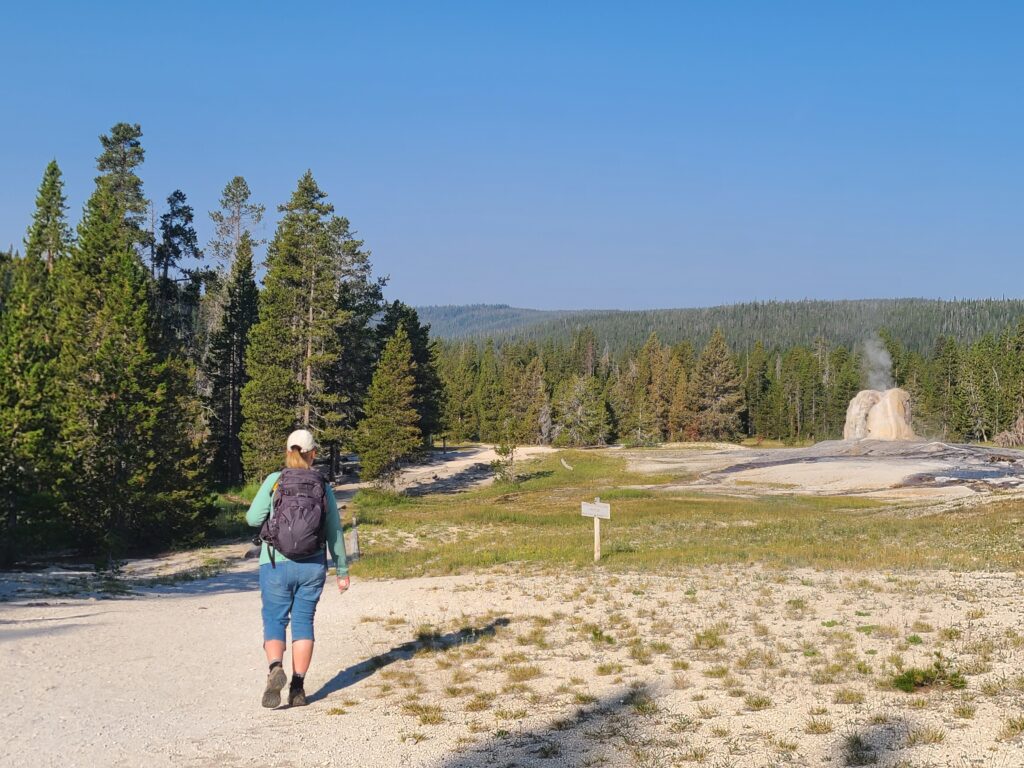 What interesting places have you been to and can recommend? We're always looking for neat out-of-the-way places to put on our list of must-sees. Thank you for reading our article. If you have any comments or questions we'd love to hear from you below.
If you're looking to build your own home-based business like we have with this webpage, check out Wealthy Affiliate.
Wealthy Affiliate is an all-in-one platform that you can build your whole affiliate marketing business on. It combines training, software, and website hosting into one. This makes the whole process of starting an online business from scratch much easier, especially if you're new to building a website.