We recently updated our microwave on our 2019 Thor Challenger 37YT when our High Pointe Convection Microwave died after only 15 months of service. We replaced it with a Whirlpool WMH78019HZ-3 Convection Microwave. This review will cover our initial experience with the Whirlpool WMH78019HZ-3 Convection Microwave. After about 8 months of use, I can say this is the best microwave we've ever had.
Note: Some of the links in this article are affiliate links.
GoFullTimeRVing.com is a participant in the Amazon Services LLC Associates Program. As an Amazon Associate, we earn from qualifying purchases linking to Amazon.com and affiliated links. When you use the links on this page to make a purchase, we may get a small commission and you may get a great bargain. You don't pay anything extra by purchasing through these links. It's a win-win all around. See our Full disclosure for more info. Thank you!
Healthcare workers, military, and veterans save an additional 10% off most products site-wide with a verified whirlpool account.
Things I love about this Microwave
Where should I start? This microwave is amazing! Everything we've cooked in it has turned out great.
Baked Potatoes – Put between 1 and 4 russet potatoes in the microwave and push the potato button. The microwave turns on and states "Sensing" then cooks however many potatoes perfectly every time. It is amazing the technology nowadays.
Microwave Popcorn – Like potatoes just put a bag of microwave popcorn in the microwave, close the door and push the popcorn button. The microwave magically uses its AccuPop cycle, to track the time between pops to prevent your popcorn from burning.
Baking – Lisa loves to bake and one of the things she really misses living in an RV is all her cake decorating stuff she got rid of when we sold our sticks and bricks home. She still loves to bake cakes and the Whirlpool WMH78019HZ-3 Convection Oven portion of the microwave does an outstanding job. The cakes come out so moist and delicious. She has baked at least a dozen cakes and each one is so moist!
pt>
Using the Oven
So far, along with being quiet, it cooks quickly and accurately (specifically with the sensing capability). We've also noticed its defrost feature is extremely good. We tossed in a pound and a half of totally frozen ground beef (defrost\meat\by weight), and it came out perfectly defrosted, with no partially cooked/brown edges, which is typical in this scenario. We've used the convection feature a few times, and it performed flawlessly with ease.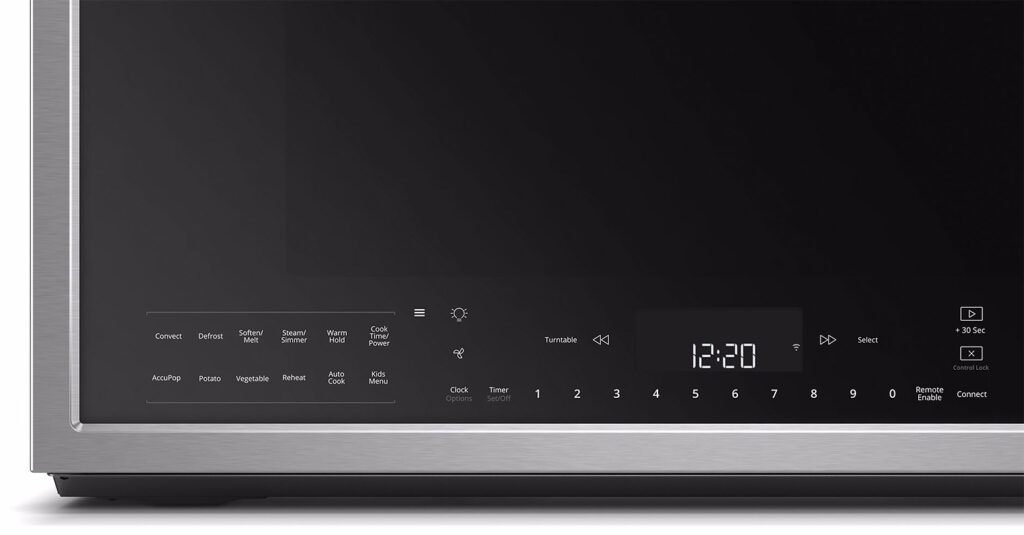 Our biggest complaint with our previous convection microwave oven was about not having good directions for convection cooking. Honestly, with the Whirlpool WMH78019HZ-3 Convection Microwave, it's really not needed. This unit walks you through all the steps. Simply press the convection button then it prompts you to choose which convection option. We always choose standard or manual convection then it tells you to put in temp, it then lets you know it's preheating and will notify you when it is ready. Put the food in to bake and set the timer. So simple it surprised me.
After doing a lot of research on similar products, this Whirlpool is in a class by itself. Pretty much every other make/model that we reviewed did not have all the features of this model (just finding one with convection is tough, these days), or was smaller in size (others maxing out at 1.7 Cu Ft.).
Along with all the cooking features on this microwave, one of the huge draws for us was the clean, no-handle front. We had to make some small modifications to our motorhome so we could use the recessed door handle on the right side of the microwave. Our previous unit had a door that opened from the left, this one opens on right. It was as simple as moving a couple of pieces of trim from one side to the other.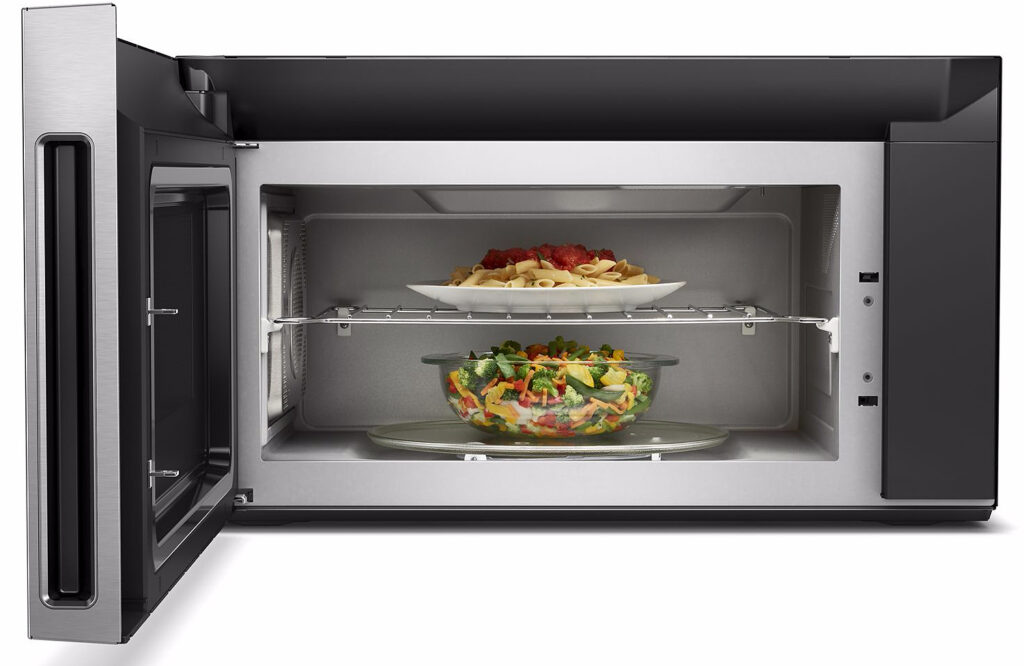 It comes with a vegetable steamer bowl, a turntable rack for stacking items when microwaving, and a rack for use with the convection oven feature.
See Other Whirlpool Microwaves
Features
This microwave has so many features many of which we haven't gotten into. We haven't tried the WiFi functions since we live in an RV and the microwave is within 15 feet of anywhere in the place.
Smart features with WiFi and mobile app when set to remote enable
Get the right settings every time with Scan-to-Cook technology
Control your appliance with simple voice commands
Scan-to-cook which allows you to scan a food bar code with your smartphone and customized cooking settings will be sent to the microwave
Tap touch controls with the backlit menu – clean controls as easily as you use them
Match the right amount of ventilation to the dish being prepared and help quickly get rid of cooking odors with four different fan speed settings – Performance varies based on installation
Guided service -keep track of scheduled appointments and make sure issues are known using the mobile app to send data from the appliance directly to Whirlpool brand customer service
CleanRelease® non-stick interior – Help prevent spills from sticking with the CleanRelease® Non-Stick Interior, which lets you easily clean up with the simple wipe of a damp cloth
AccuPop™ cycle – help prevent popcorn from burning by using a sound sensor to track the time between pops
Fingerprint resistant – resists fingerprints and smudges with steel that's easy to clean
FAQ
Can you put metal in a convection microwave oven?
Yes, you can use metal and foil safely and effectively with the convection cooking feature in a microwave convection oven.
Can you cook a pizza in a convection microwave?
Yes, we've found you can cook pizza in a convection microwave. It does really well on freshly made pizza like Papa Murphy's. For frozen pizza, we make sure to put the pizza on the rack that sits on the rotating plate. This helps to cook the pizza evenly.
Can you bake anything in a convection microwave?
Convection microwave ovens do a great job in baking, roasting, and crisping food like a conventional oven. They have an extra heating element and fan that cooks food.
Is a convection microwave like an air fryer?
Convection microwaves can cook foods similarly to air fryers. They have a larger capacity than standard air fryers so you can cook larger meals.
Is it worth buying a convection microwave?
If you love to cook, but have a small space like an RV, a convection microwave is ideal. And if you routinely cook larger meals with lots of sides, a convection microwave provides extra cooking space.
Complaints
The only complaint that we have is that the fan is loud even on the low setting. But being in an RV we just use the kitchen fan that is directly above the microwave. It's not a reason that we wouldn't buy this microwave again. I think the fan on most is probably just as loud.
Conclusion
The Whirlpool WMH78019HZ-3 Convection Microwave is by far the easiest-to-use and best-performing microwave we've ever used. Convection cooking is as close as you can get to cooking in a regular oven. Everything we've made in it came out great.
Do you have a Whirlpool WMH78019HZ-3 Convection Microwave? How do you like it? Thank you for reading our article. We'd love to hear your thoughts, comments, or questions below.