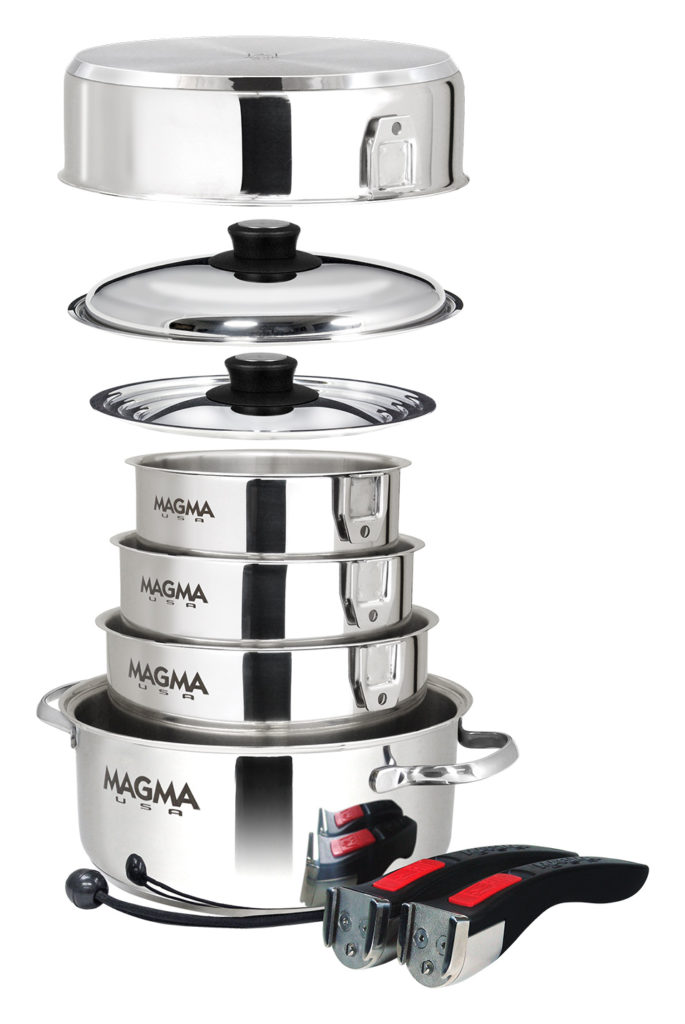 This Magma Nesting Cookware review will cover our impressions of our 10 Piece Nesting Cookware Set – A10-360L-IND. As all RV'ers and boaters know, storage space is always at a premium.
If you are planning to go for an adventure with your boat or RV and planning on cooking, then you probably need a cookware set that takes less space to store.
If you don't have much space for storage the Magma Nesting Cookware sets can be stacked in cabinets with limited space. Realize though that many of the features described here apply to all versions of Magma Nesting Cookware.
This post contains affiliate links. As a participant in Amazon Associates and various affiliate programs, we are compensated when qualifying purchases are made through our referral links at no additional cost to you. Full Disclosure
When we first purchased our RV in 2019, it came with an induction cooktop. Having never used one before, we knew we needed specialized (magnetic) cookware. One of our first purchases was a Magma Stainless Steel Nesting Cookware Set.
There are many choices you can make in finding a good induction cookware set. As anyone who has ever shopped for pots and pans knows, there is a big difference in the feel of a pan which usually relates to its usage, durability, and ability to heat evenly. A pan can feel lightweight while others, usually the more expensive ones, feel much heavier, are a lot more sturdy, and have thicker bottoms. The Magma set definitely falls in the heavy-duty, more robust classification. We're very happy with our choice to buy a Magma 10-piece set.
Key Features
18-10 Stainless Steel 18-10 stainless steel with a ferromagnetic stainless steel base for use on induction cooking systems.
Ultimate Space Saver Nests and stores in less than 1/2 ft³ (0.01 m³) of cabinet space.
Tri-Clad Encapsulated Tri-Clad bottoms (Stainless Steel, Aluminum, and Magnetic Stainless Steel) for perfect heat distribution.
Easily Removable Handle Thumb release trigger handles easily attach and detach with just one hand.
Oven Safe Cookware and lids are oven safe to 500° F (260° C) (excluding removable handles).
Variety
This ten-piece cookware set is composed of a stock pot, 3 sauce pans and a skillet/fry pan. It is great for any of your culinary needs. The flexibility is reflected through one-size-fits-all lids, as well as removable handles.
Space-Saving
This 10-piece cookware set nicely nests one into another and removable handles allow side-by-side storage. The set comes with a useful storage cord, to keep the set all together while driving down the road or sailing the high seas. Consider securing your items when nesting them or placing them into a vertical storage position. Taking up less than 1/2 ft³ you will definitely save a lot of space in your kitchen with this cookware set.
High-Quality
The Innovative triple-clad (stainless steel / aluminum / stainless steel) with milled flat bottoms allows for an even cooking process, saving nutrients and energy. Stainless steel protects food from the aluminum layer which has the role of better heat conductivity enabling even heat distribution and faster heating. This system prevents hot spots and burning parts of your food while the other parts stay under cooked. So far I haven't experienced any issues with the set.
Versatility
The Magma Nesting Cookware sets are versatile, durable and made for induction stove tops. But if you don't have an induction cook top, these pans (as well as any of the other Magma nesting sets) will also work perfectly on a regular electric stove, standard gas stoves, or ceramic cook tops too. The set, except for the handles, is even oven safe up to 500° F. They are also dishwasher safe, even though we've seen very few dishwashers in RV's. I've only used ours set on our induction cook top so far, so I can not comment on how they perform on those other cook tops.
WHAT'S INCLUDED
5 qt. (4.7 L) Stock Pot
3 qt. (2.8 L) Sauce Pan
2 qt. (1.9 L) Sauce Pan
1-1/2 qt. (1.4 L) Sauce Pan
10 in. (25.4 cm) Skillet/Fry Pan
Skillet/Stock Pot Lid
Universal Sauce Pan Lid
2 Removable Handles
Bungee Securing Cord
Pros
Space efficiency: The innovative nesting system allows for storing pans vertically saving valuable space
Uniform heat distribution: 3-layer aluminum – stainless-steel – aluminum system allows better heat conductivity and distribution. This leads to a healthy cooking process and keeping the nutrients in the food.
Cool Detachable handles: The handles are made in a way which prevents heating up during the cooking process. No protection cloth is needed. They are particularly useful for specific washing requirements and convenient separate, side-by-side storage of the set pieces
Lightweight: While this 10-piece set is heavy-duty it is not overly heavy.
Dishwasher-safe: This set is easily washed by hand but can be washed in any kind of dishwasher with a non-aggressive, mild dishwasher detergent.
Award-winning cookware set: Gear of the year, Editor's Choice from Practical Sailor, and Product of the month from the Good Sam Club are only some recognition and awards this cookware set had won.
Cons
NOT Non-Stick but fairly easy to clean nonetheless. Magma does make a set with what they call Ceramica® Non-Stick coating. It adds about $50 to the price of a set.
Other Magma Nesting Cookware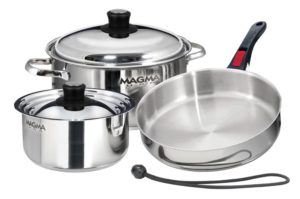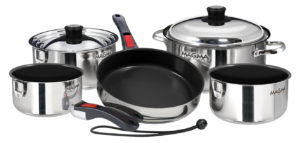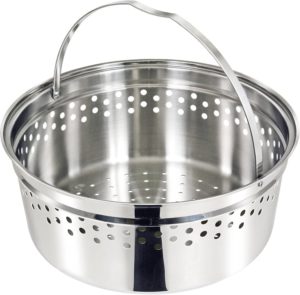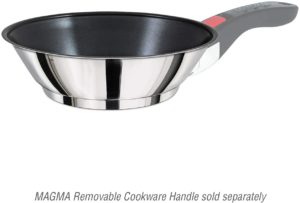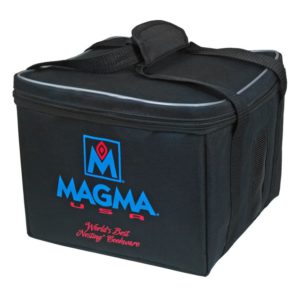 Conclusion
Even though Magma Nesting Cookware is designed for boat or RV use they are versatile enough to use every day at home too. In the three plus years we've owned the set we cooked countless meals and are always very pleased with the results.
The pans still look like new and function great. We can not say enough about how pleased we are with our Magma 10 Piece Nesting Cookware Set. If you're looking for an induction cookware set we highly recommend trying Magma Nesting Cookware.
I hope you enjoyed the review on this product. If you have any questions about our Magma 10 Piece Nesting Cookware Set, or you want to leave your own personal review, please leave a comment below.