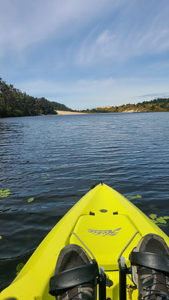 Since we've been stuck in the Florence area due to the Coronavirus Outbreak we kayaked Siltcoos Lake, Tahkenitch Lake, and Mercer Lake but haven't gone fishing.
There are 12 lakes within 12 miles of Florence Oregon so trying to decide which one to fish was a challenge. I've been aching to get out and do some fly-fishing since we've been in Oregon. Most of the lakes in the area opened last week with the easing of the Stay-In Place Orders.
This post contains affiliate links. As a participant in Amazon Associates and various affiliate programs, we are compensated when qualifying purchases are made through our referral links at no additional cost to you. Full Disclosure
Location
Looking at some lakes in the area last week I decided to try Cleawox Lake. Cleawox Lake is located about 4 miles South of Florence in Jessie M Honeyman State Park.
Cleawox Lake
This 82-acre lake is tucked between Highway 101 and the sand dunes. Most of Cleawox Lake is located on public property, and lakeside trails and dunes provide excellent access for bank anglers. There are some fishing docks available to fish from and small boats or float tubes can be launched for access to the entire lake.
Fishing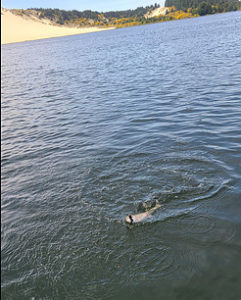 I've heard Cleawox Lake offers pretty good trout fishing. Trout are stocked regularly from February through early June. Crappie, yellow perch, bluegill, brown bullhead, and largemouth bass are available year-round. All lake fishing techniques can be productive in Cleawox Lake.
My goal was to get out on the water and try my luck fly-fishing for Rainbow Trout. I arrived and saw a few people fishing from float tubes, kayaks, and from the docks.
I got my kayak in the water and headed West into the lake. My plan was to fish chironomids since I've never really given them much of a shot. But the wind was a bit too strong to hold still and fish them.
As I passed the first float tube guy he hooked into a fish. I watched as he landed it and asked what he was using. He answered that he was using a black leech pattern. Quickly I switched out the chironomid for a black cone-head woolly bugger.
I pedaled my kayak around the corner where I saw another float tube fisherman. He asked about my Hobie Kayak and I asked him about fishing the lake. He also mentioned leach patterns, specifically olive and black. I told him I just put on a black one and he said I'd be good. Right after I talked to him I hooked into my first fish of the day, a nice 12-inch rainbow that put up a pretty good fight.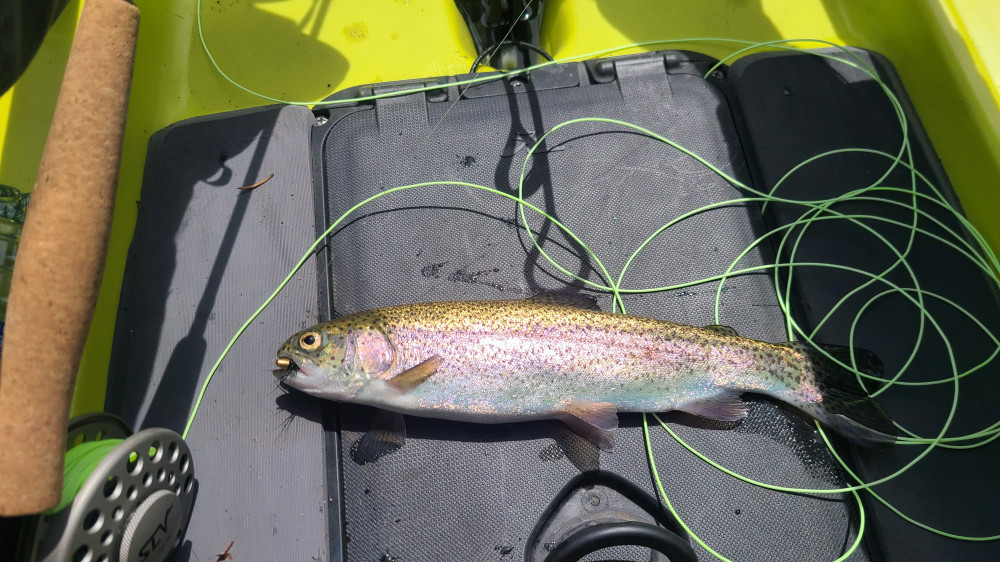 I trolled my black woolly bugger back and forth around the lake for about an hour and a half. I picked up five rainbows total and missed another five at least. Then I decided I'd give an olive woolly bugger a try. I tied on the olive one and continued trolling for about another hour. I didn't catch any on the olive fly but did have a few hits that I missed.
Other Things to See and Do on the Oregon Coast
Conclusion
All in all, it was a really nice day. Cleawox Lake is a beautiful lake that is easy to fish. If you're in the Florence area give Cleawox Lake a try. No matter what type of fishing you're used to you should do fairly well.
I hope you found this article meaningful. If you've fished Cleawox Lake or any of the other lakes near Florence I'd love to hear about your experiences. Please leave any comments or questions below. Thank you for reading.
If you're looking to build your own home-based business like we have with this webpage, check out Wealthy Affiliate.
Wealthy Affiliate is an all-in-one platform that you can build your whole affiliate marketing business on. It combines training, software, and website hosting into one. This makes the whole process of starting an online business from scratch much easier, especially if you're new to building a website.