With things starting to open up on the Oregon Coast following the Coronavirus Stay In Place Orders we decided to venture out and take a hike. We planned on Hiking the Hobbit Trail near Florence.
After looking it up on AllTrails we were planning on about a 4 1/2-mile hike. But once we got to the trailhead we discovered that The Hobbit Trail is only 1/2 mile and that to make it the 4 1/2 mile hike listed we'd have to add some other trails. We decided just to hike to the beach and back, then see if we could find some other interesting places to hike.
This post contains affiliate links. As a participant in Amazon Associates and various affiliate programs, we are compensated when qualifying purchases are made through our referral links at no additional cost to you. Full Disclosure
The Hobbit Trail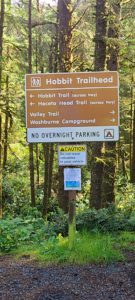 Just 12 miles North of Florence, is The Hobbit Trail, a gorgeous 1/2 mile hike to Hobbit Beach. Hiking the Hobbit Trail will make you feel like you are actually in a Lord of the Rings movie. This short hike takes you down a trail lined with octopus-like trees covered in moss everywhere.
The Hobbit Trailhead is located at a parking pull-out just north of the Heceta Head State Park, and you will need to watch closely as you can easily miss it. The Hobbit Trail is on the West side of Highway 101 across from the trailhead.
Just as you cross the road to escape traffic, you will immerse yourself in a luscious green moss-covered coastal forest. Almost as soon as you start the hike you'll come to a trail junction. To continue to Hobbit Beach you'll want to go right and stay on the Hobbit Trail. Going to the left at the junction will lead to a longer hike to Heceta Head Lighthouse and State Park.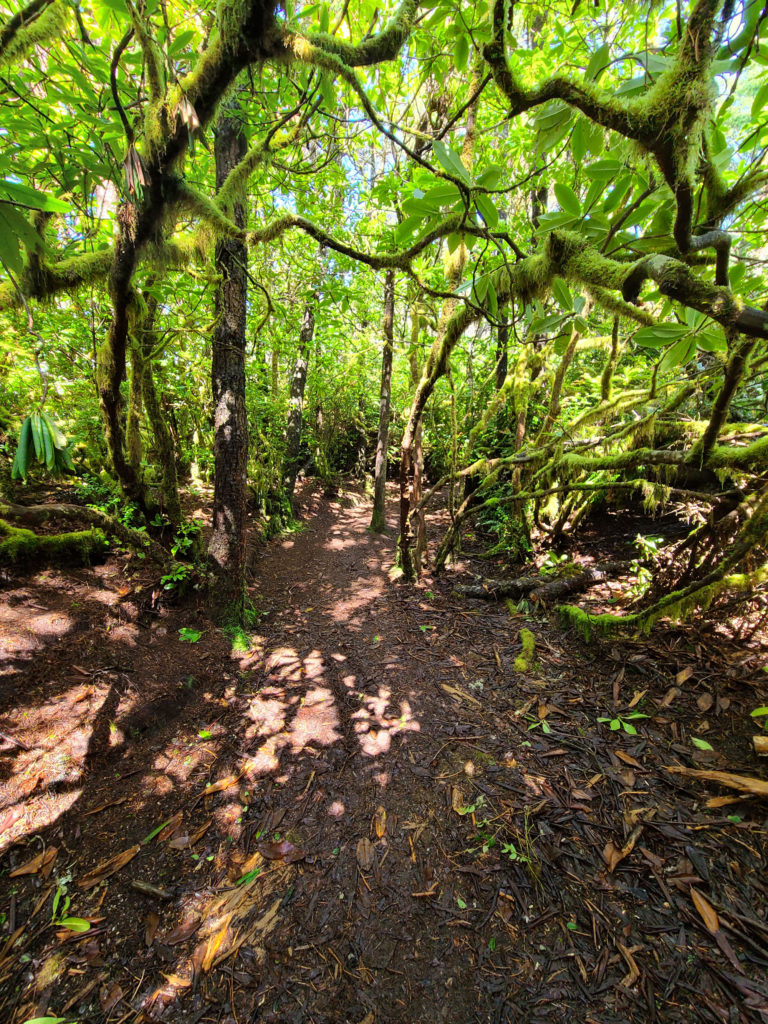 The beach, of course, is a perfect spot to relax, but the real adventure is wandering through this gorgeous forest. The end of the trail will take you underneath thick bushes, which create a little tunnel perfect for hobbits, kids, or, kids at heart. You'll be expecting a Hobbit, Gnome, or other mythical creature to jump out from under a rhododendron thicket or from behind one of the Sitka Spruce trees at any moment. I only wish this trail was longer.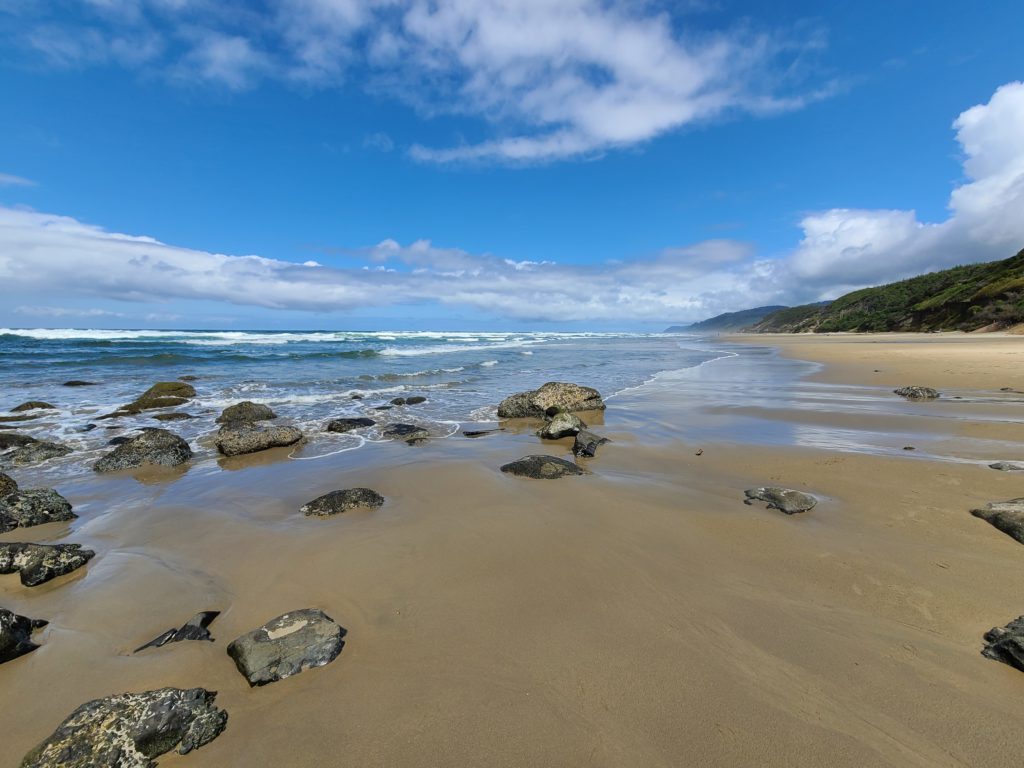 How to get to The Hobbit Trail
If you are coming from Florence you will travel 12 miles north on Highway 101. If you are coming from Yachats you will go 15 miles south on Highway 101. You will see the roadside parking approximately .5 miles from Heceta Head Lighthouse Scenic State Viewpoint.
Cape Cove Trail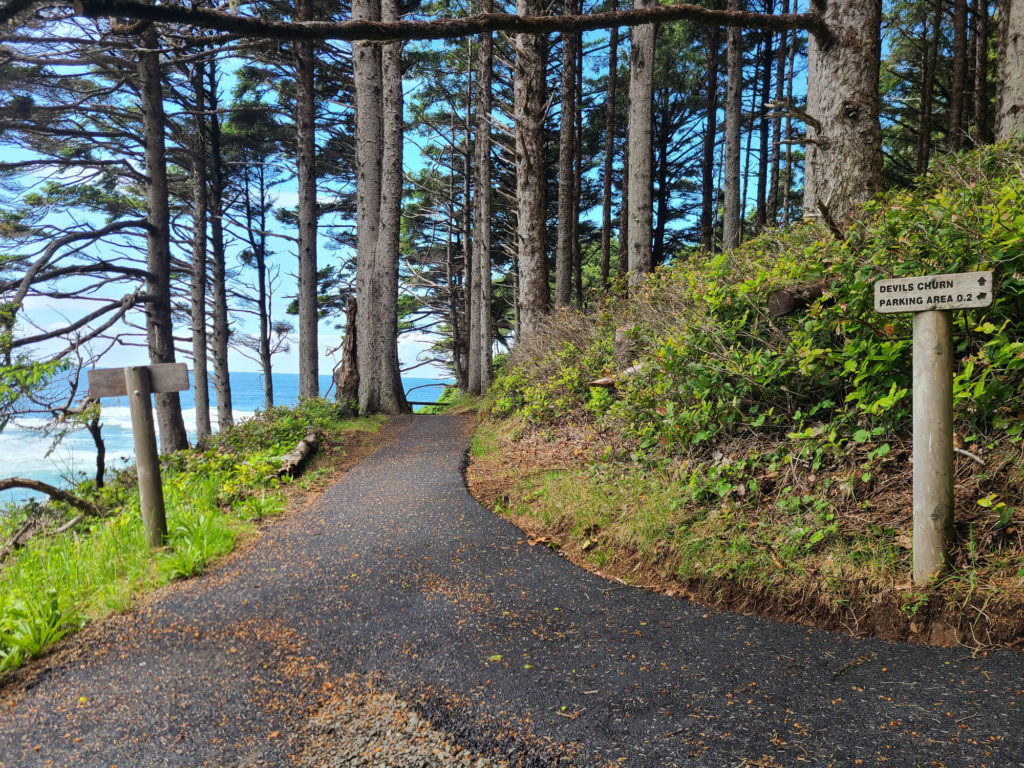 After our Hobbit Trail hike, we wanted to see if Cape Perpetua had opened back up so we could check out Devil's Churn. We were bummed that the U.S. Forest Service had not opened it or the Devil's Churn Day Use Area. We instead took a quick drive into Yachats and then came back south toward Florence.
Once we passed the Cape Perpetua Visitor Center we noticed a pullout with a trailhead. The Cove Beach Trailhead was open so we decided to take another hike and see where it went. To our surprise, the paved trail lead to Devil's Churn. It is an easy hike with amazing scenery. With a near-high tide, Devil's Churn was living up to its name. We spent a while just watching the waves crash into the rocks and churn the water in the chasm.
Cook's Chasm, Spouting Horn, and Thor's Well
Continuing our trip South toward Florence we timed a stop at Cook's Chasm perfectly near high tide. Cook's Chasm is home to, in my opinion, some of the most fascinating geological features on the Oregon Coast. If you park at the scenic viewpoint at Cook's Chasm you can easily see the Captain Cook Trail. It's a .75-mile round trip out and back where you'll get to view Cook's Chasm, Spouting Horn, and Thor's Well.
Cook's Chasm like Devil's Churn likely started as a narrow fracture or collapsed lava tube in the volcanic bedrock and is constantly churning water from the incoming waves.
Spouting Horn is a coastal anomaly, an "ocean geyser", driven by the ocean's power through a deep hole. Incoming waves funnel seawater and air into the cave, building pressure until the water explodes, looking like a whale spouting. The spouting Horn is capable of firing water 40 feet or more into the air. This geyser-like formation is the result of a sea cave that developed over a long period before collapsing, leaving the iconic openings through which the surging waves explode.
Thor's Well or "Gate to Hell" is a deep hole in the basalt around 20 feet deep. Moving upward water shoots to 20 feet high. I have seen pictures of Thor's Well for years and always wanted to visit it. Being from Oregon I had driven by it many times without actually knowing where it was. On one of our stops at Cook's Chasm a few weeks ago I just happened to see a burst of water come up through the hole and realized what it was.
Unfortunately on that day, the trail was closed due to the Coronavirus Outbreak. But now it's back open and was our final stop on our hiking journey. I was happy that we hit Cook's Chasm right at high tide. Thor's Well was pumping water back and forth with some great wave action. It's a bit scary to go out to the rocks and be so close to where the waves are pushing water up through the well.
Cautions
Use caution when exploring the rocky coast, churning, and spouting horns of water. Beware of sneaker waves and slippery rocks. Never turn your back on the ocean. Stay back from undercut chasm edges.
Other Things to See and Do
Conclusion
Oregon's Coast is an amazing place with a variety of awe-inspiring geological formations. The locations in this article are live-in-the-moment types of places. Photos don't do justice to the natural beauty found here.
I hope you found this article meaningful. Have you been to some of these places? I'd love to hear about your experiences. Please leave any comments or questions below. Thank you for reading.
If you're looking to build your own home-based business like we have with this webpage, check out Wealthy Affiliate.
Wealthy Affiliate is an all-in-one platform that you can build your whole affiliate marketing business on. It combines training, software, and website hosting into one. This makes the whole process of starting an online business from scratch much easier, especially if you're new to building a website.