Bay Landing RV Campground (Thousand Trails) in Bridgeport, Texas is a very large park area-wise. With 224 sites although only 49 offer full hookups. RV sites are about 1 1/2 miles from the entrance down a fairly rough road.
This post contains affiliate links. As a participant in Amazon Associates and various affiliate programs, we are compensated when qualifying purchases are made through our referral links at no additional cost to you. Full Disclosure
We do all our trip planning with RV Life Trip Wizard. RV Trip Planning Made Simple! RV Life Trip Wizard is by far the best RV route planner we've found. Get your 7 day Free Trial
The campground has three separate and very different areas for RV's and another area if you are staying in a cabin. Once you arrive and check in at the Ranger Station you'll be directed to choose a site in one of the three areas, the Back Forty (Section 2), Suburbs (Section 1), or Hollywood BLVD (Section 3).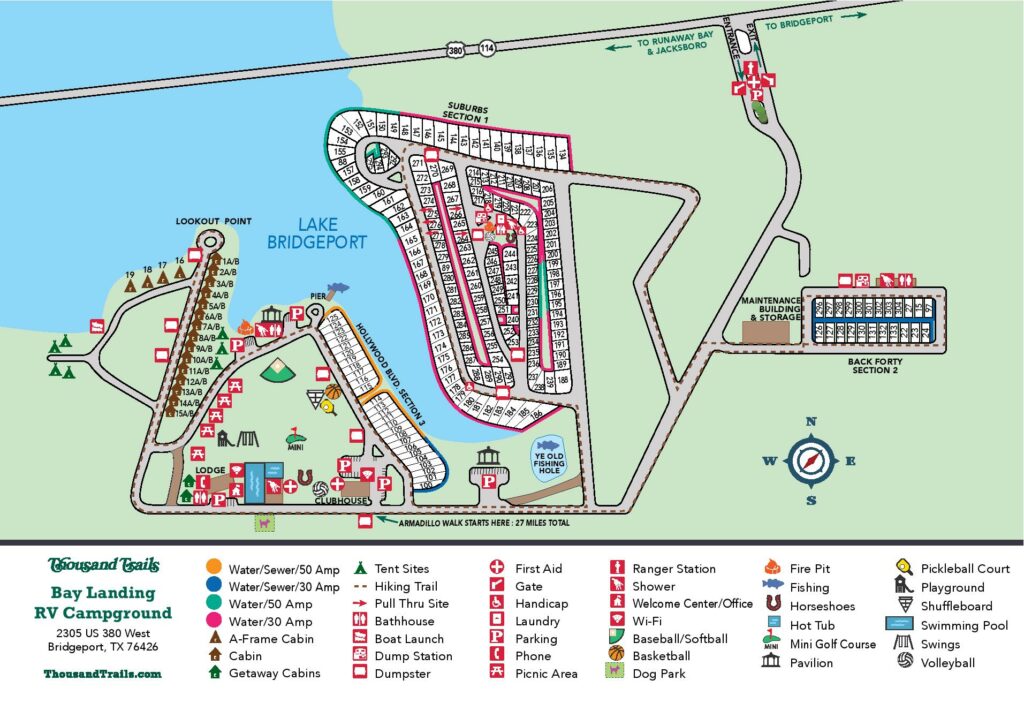 Location
Located about an hour Northwest of Fort Worth, Bay Landing is a good location for exploring the Dallas-Fort Worth area.
2305 Hwy 380 W
Bridgeport, TX 76426
Price
We spent 11 nights at Bay Landing RV Campground using our Thousand Trails membership which gives us stays of up to 21 nights. To book this campground as a non-member the price would be $50/night.
Reservations
For Reservations Non-Thousand Trails Members go to: rvonthego.com or call 888-481-6348.
For Thousand Trails Members with Trails Collection add on go to: ThousandTrails.com or call 800-388-7788.

If you're not a Thousand Trails member and would like to give it a try. Get out and camp with $100 off a Thousand Trails Camping Pass by clicking here.
Our Review
Bay Landing RV Campground is fairly dated and could use some serious upgrading to bring it back to the lovely park we're sure it once was. When we arrived we were told to find a spot and report back to the Ranger Station what site we took. I asked if there was a good spot to look for a site. The lady recommended one of the 50 amp full hook-up sites on Hollywood BLVD (Section 3).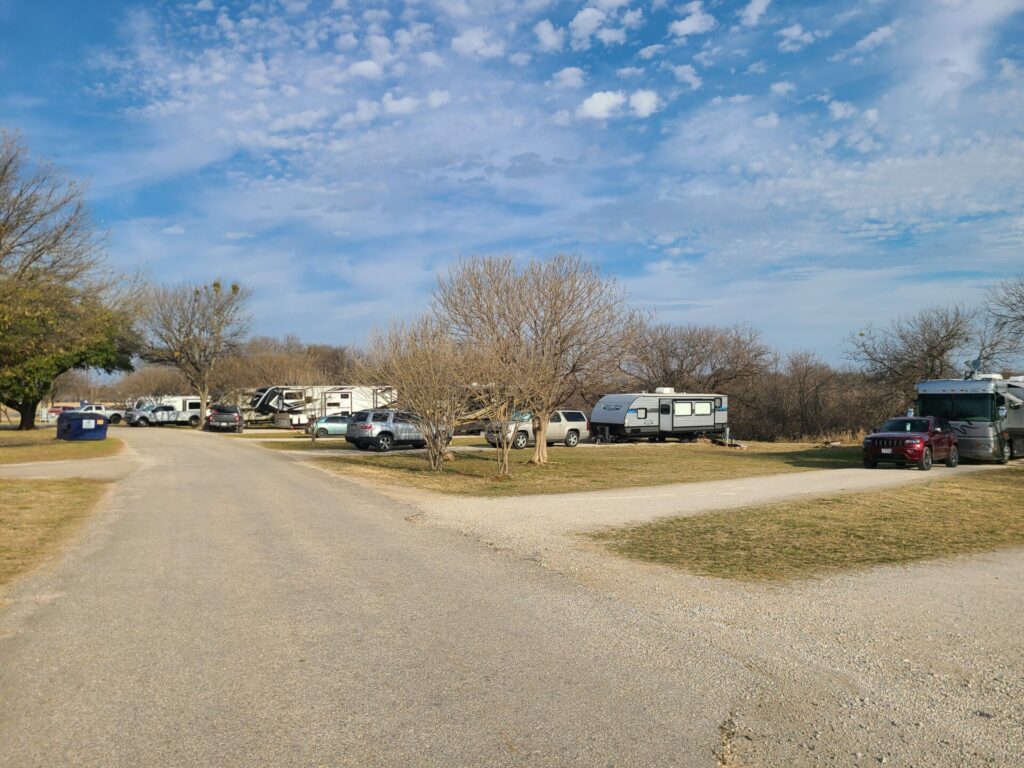 The first area you come to once you arrive is the Back Forty (Section 2). These are 30-amp full hook-up sites. This area seemed a bit sketchy to us with five run-down permanent resident trailers occupying the area. There were no short-term campers there when we drove through. This section is also directly next to the active airport runway with quite a few small planes taking off and landing daily.
Section 1 "The Suburbs", is a mix of 30 and 50-amp water and power-only sites. Still quite a few personal sites with long-term residents in run-down trailers, but seemed nicer than the Back Forty.
Hollywood BLVD (Section 3) is a mix of 30 and 50-amp full hook-up sites that back to an arm of Lake Bridgeport. This is by far the preferred section to camp in. While there are still a few personal sites with long-term residents the RVs aren't run down like the other areas.
We found a great 50 amp full hook-up site at the end of the Hollywood BLVD row. Site 125 is a long back-in site with plenty of room for our 38-foot Class A motorhome and Jeep. Its location gave us a nice view of Lake Bridgeport. There is a fishing dock just to the north of the campsite so bring your pole.
The sites on Hollywood BLVD are highly sought out. We were thankful we got one of the nicest sites in the whole park. When we were getting ready to leave we had two people waiting for our site.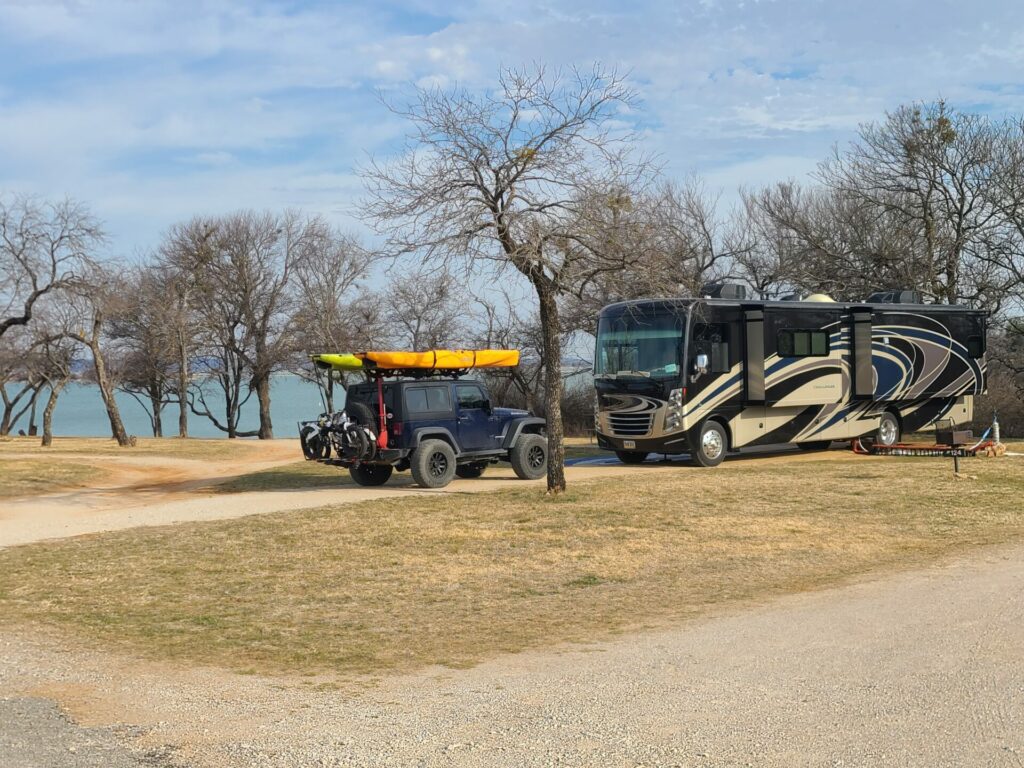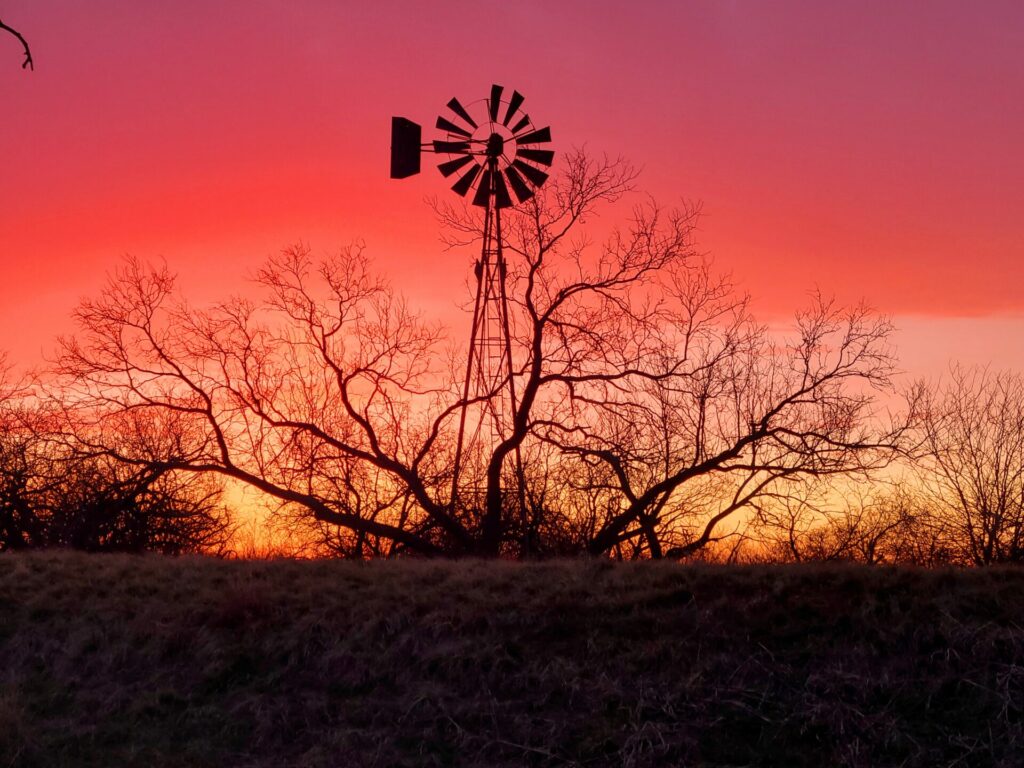 There are a variety of cabins available to rent if you don't have an RV of your own.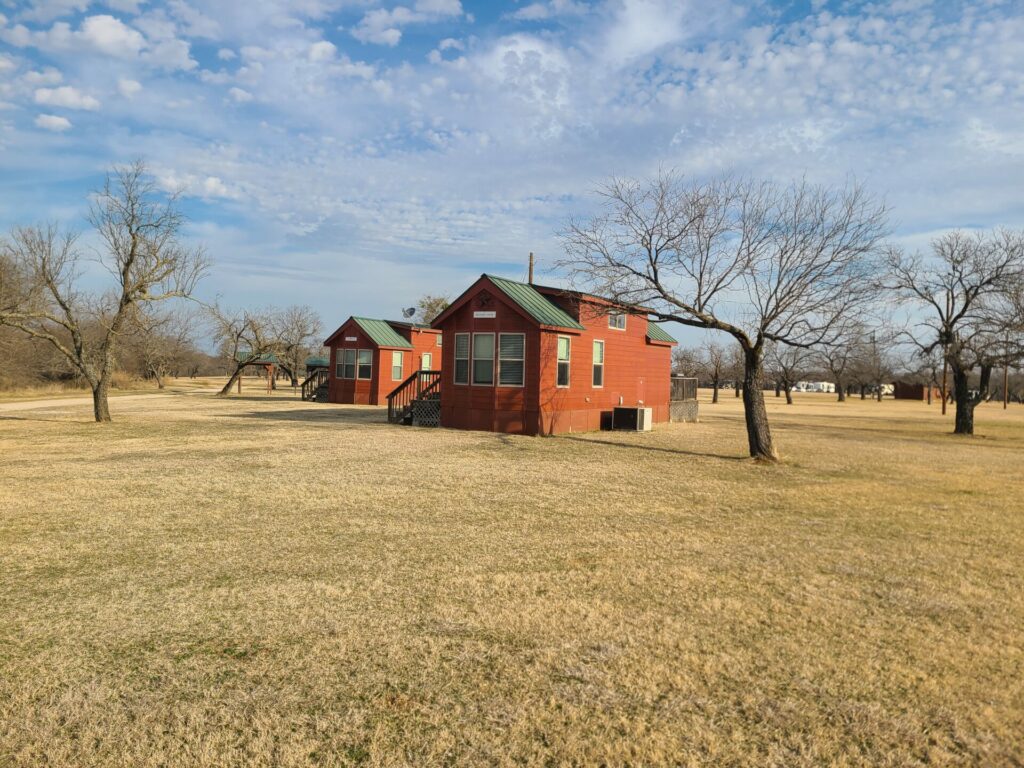 Amenities
Bay Landing RV Campground has all the amenities you'd expect at a campground and more.
The restrooms and showers needed some updating and definitely some cleaning. The walls and stall doors are OSB (Chipboard). Not very appealing to the eye and gives the place a dirty look/feel.
Located in "The Suburbs" the laundry room was also dirty and a lot of the washers and dryers were out of order. The cost was $1.50 per wash or dry.
We wouldn't recommend the laundry facility at Bay Landing and the one in town wasn't much better. Lost money in the machines. We did see as we were leaving town they have laundry at Loves Truck Stop that we thought would be nicer.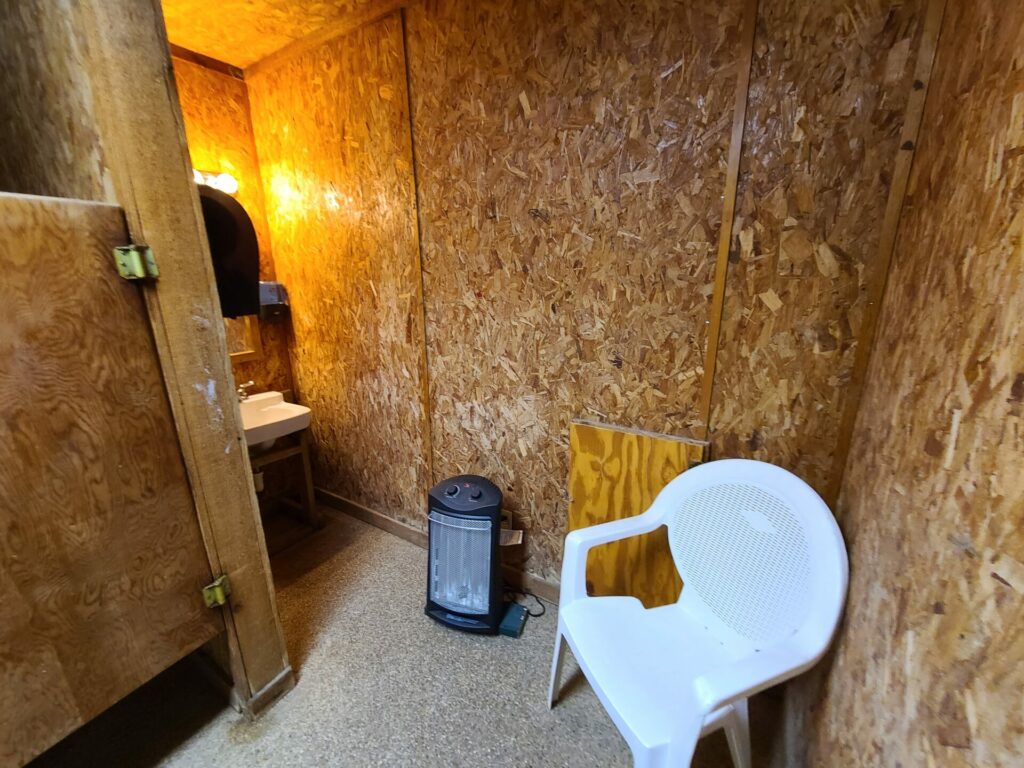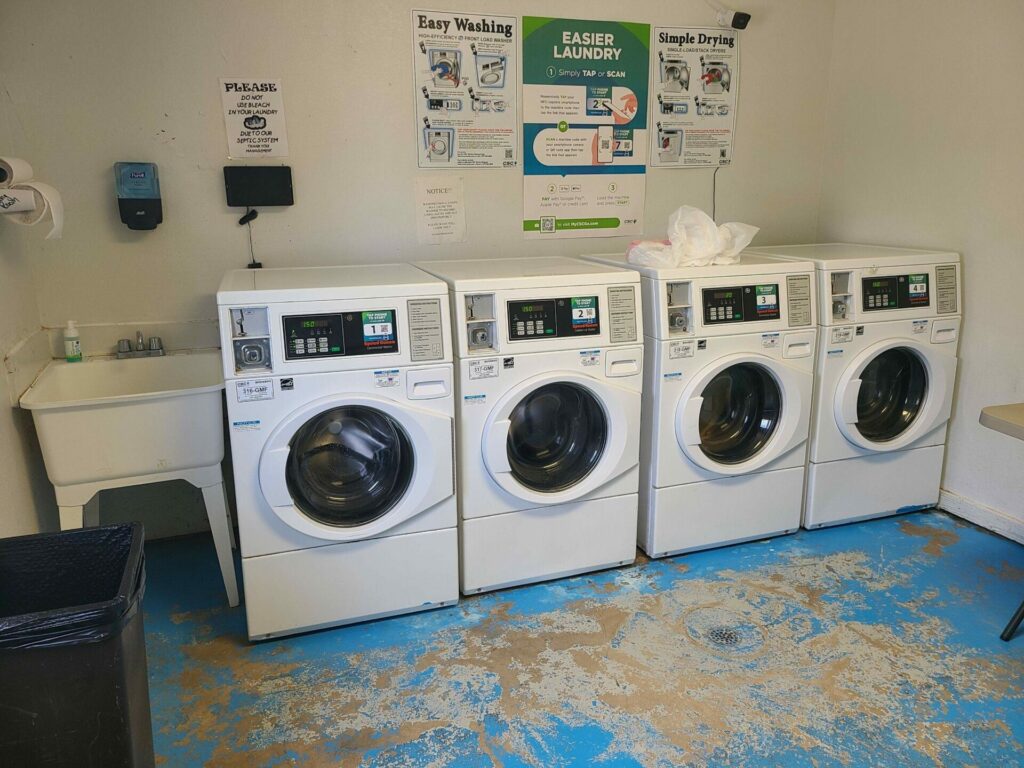 Bay Landing has a nice dog park that Sierra and Ruby enjoyed sniffing around. There is also plenty of room to walk the dogs on leashes around the campground.
The Lodge/Office has a nice lounge area with books and games. There is a pool table and TV to enjoy while hanging out. The Rec Room was nice and they have activities weekly. There is also a small café and a game room with more pool tables located in the Rec Room.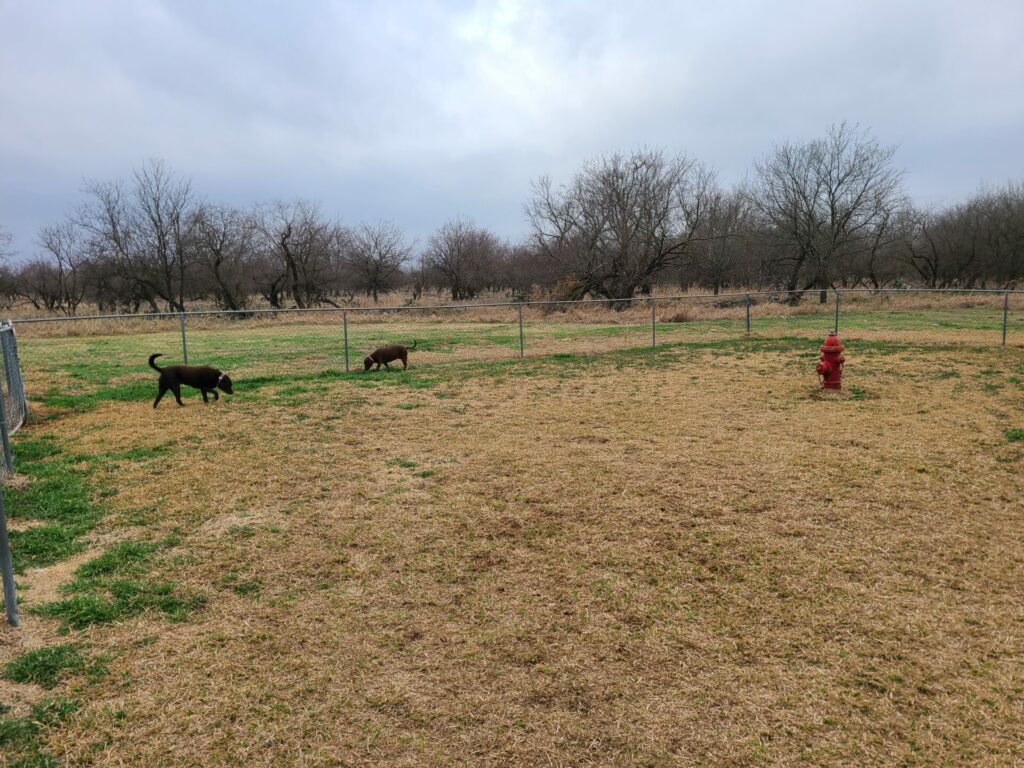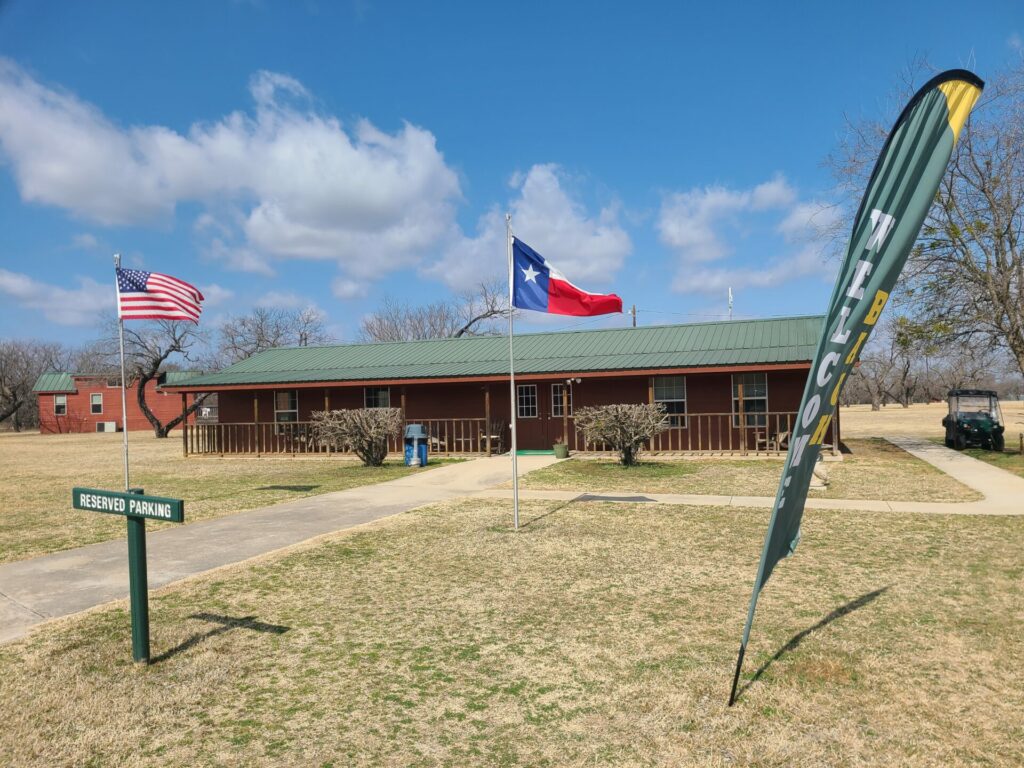 The Pool and Spa were open but very cold. We don't know if the spa actually worked or not. We thought if it worked it would have been hot.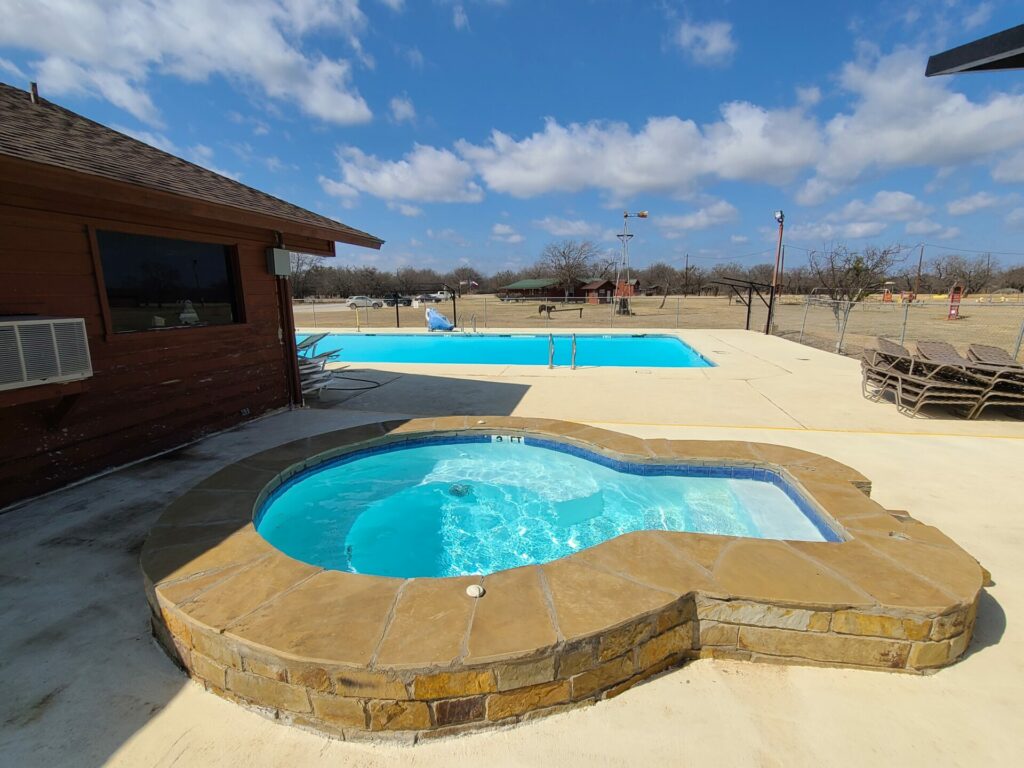 Phone and Internet Service
We use T-Mobile for our phone service. Service at Bay Landing was OK with 2 to 3 bars of service.
Our Verizon MiFi received 3 bars of service and we were able to use our Fire Stick and stream Netflix but did have to buffer especially on the weekend evenings.
You can receive UPS, FedEx, and Amazon packages at the campground. No U.S. Mail service though. We used General Delivery at the Bridgeport Post Office.
Sports, Recreation, and Playground Area
Bay Landing RV Campground has every recreation activity and playground imaginable.
Things to see/do nearby
Our stay at Bay Landing was shorter than most of our stays because we were heading North to see my Niece in Oklahoma while she was in town so we didn't do a whole lot.
PBR Global Cup and American Rodeo
There are a lot of rodeos and events in the Dallas-Fort Worth area. Lisa managed to get us tickets to see the PBR Global Cup and American Rodeo at AT&T Stadium (Cowboys Stadium) while we were in town. Thanks to VetTix for the tickets. It was a great experience both nights.
The first night was the PBR Global Cup which is a team bull-riding event. Teams from the US, Canada, Mexico, Brazil, and Australia compete in bull riding with the winner taking home the Global Cup. It was interesting to see the difference from the normal PBR events we've been to.
The second night was the American Rodeo. One of the richest single-day rodeos in the country with the opportunity for winners to take home a prize of up to 2 million dollars. Tim McGraw and Faith Hill performed during intermission and were great!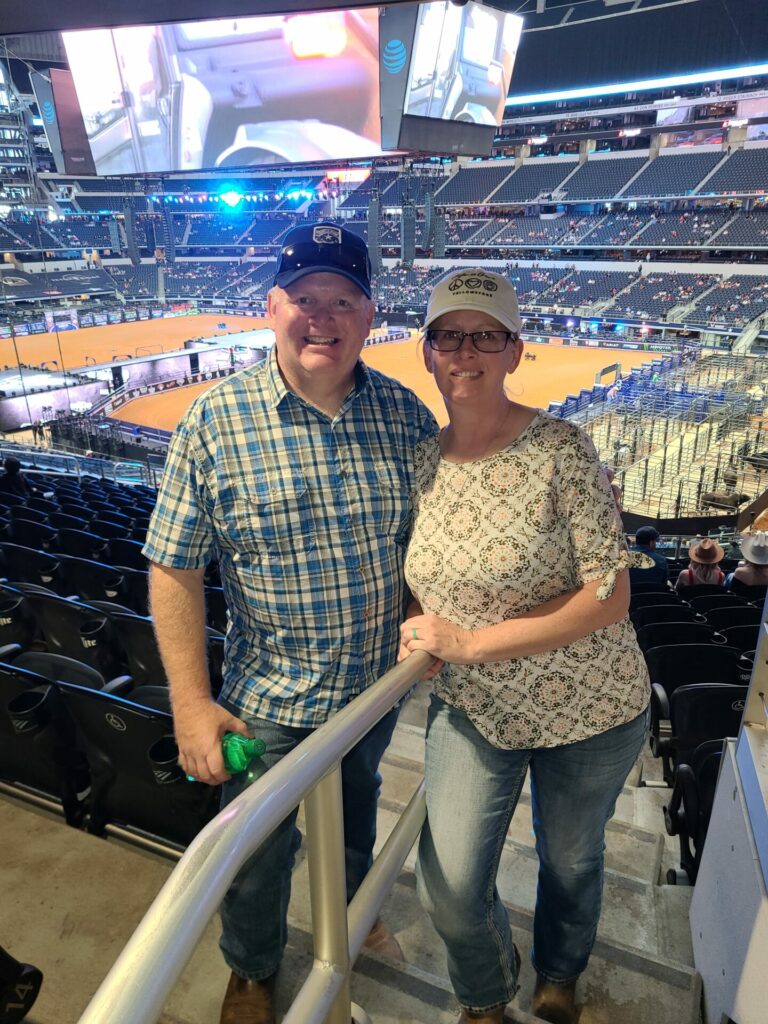 Justin Discount Boots
If you're in need of some western wear Justin Discount Boots in Justin, Texas is an amazing place with great prices. I found a $200 cowboy hat for $140 and Wrangler jeans for $19. The first building takes up a whole town block and there are two other locations across the streets.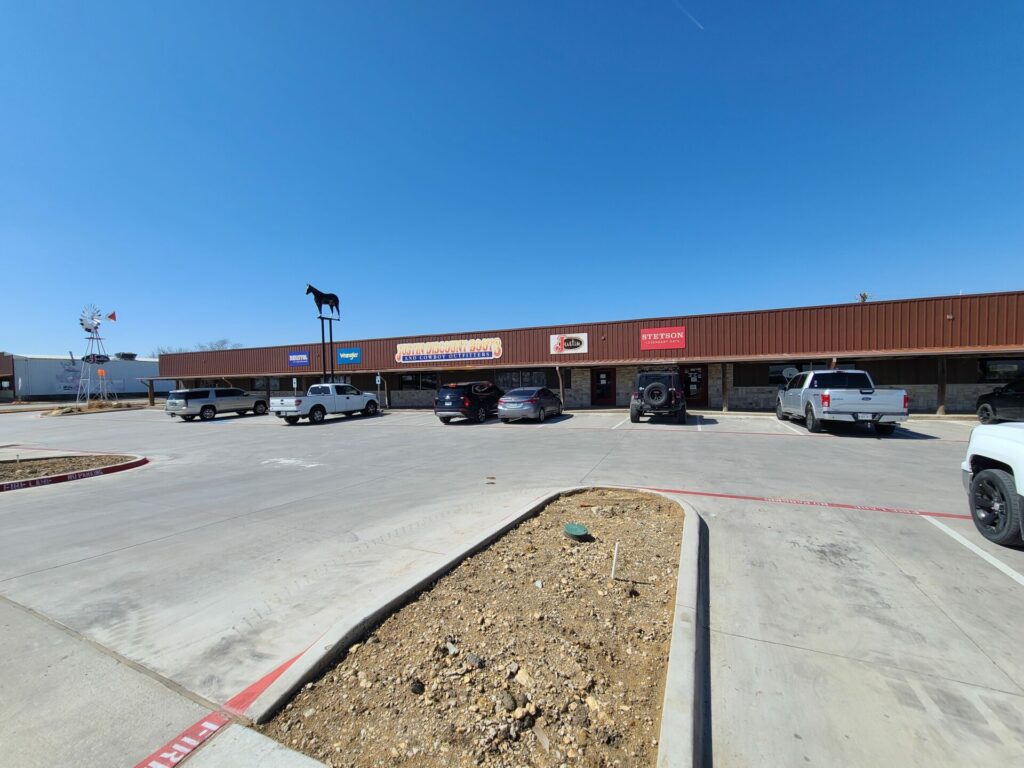 Conclusion
Bay Landing RV Campground is a lovely campground if you can get into the Hollywood BLVD (Section 3) area. I'm not sure how we would have enjoyed the other two areas. This campground is close enough to the DFW area for so many activities. Or if you prefer to just relax and enjoy the beautiful lake you can do that too.
What interesting places can you recommend? We're always looking for neat out-of-the-way experiences to add to our list of places to visit. Thank you for reading our article. If you have any comments or questions we'd love to hear from you below.