Blue Cut RV Park is a basic campground with 20 full hook-up sites. It's been a family-owned business since 1976. The park also is home to Price City's first jail, which was saved from demolition by the owner's grandfather.
Initially, we were planning to visit Dinosaur National Monument April 19-23 but couldn't get tickets to the Dinosaur Quarry Exhibit Hall so we made plans to reroute our trip North. After looking for other things to do between Moab and Salt Lake City I discovered Carbon County and the area around Price.
This post contains affiliate links. As a participant in Amazon Associates and various affiliate programs, we are compensated when qualifying purchases are made through our referral links at no additional cost to you. Full Disclosure
We do all our trip planning with RV Life Trip Wizard. RV Trip Planning Made Simple! RV Life Trip Wizard is by far the best RV route planner we've found. Get your 7 day Free Trial
Location
Blue Cut RV Park is located in the center of Carbon County, between Price and Helper in Carbonville. The park is located on a level site adjacent to the Price River. Steep cliffs are located to the east, providing a nice backdrop.
2500 North Carbonville Road
Helper, Utah 84526
Prices
Full Hook-up sites are $40/night.
Reservations
For Reservations call 435-820-0081
Our Review
This is a nice little park that has a really good feel to it. The owner Michelle is very nice and helpful. She has lived in the area her entire life and knows so much history. She gave us many ideas for things to see and do in the area. Michelle's father started the park in 1976 and you can feel a family has cared for it for a long time. There are several permanent sites but all are neat and clean. All the long-term residents we met or observed seemed genuinely happy.
This is an older park and wasn't initially designed for today's large rigs. But the park has taken the back-to-back sites in the middle of the park and made them pull-through sites. Our site 12/23 was plenty long for our 38′ Motorhome and Jeep Wrangler toad. Our site was fairly close to the neighboring site but wasn't an issue for us. The site had Full Hook Ups and 20/30/50 amp service that worked well with no issues. Overall the park is clean and very well-kept.
There is a train track above the campground and across the road. The trains are pretty quiet and just cruising by. No whistles going through Helper.
Amenities
Blue Cut RV Park doesn't have many amenities, but the location makes up for it.
The Restrooms/Showers have a code-locked door that we didn't have the combo for so we didn't check them out.
The Laundry room is located in the restroom/shower building. The cost to wash was $1.50 and the cost to dry was $1.00.
Phone and Internet Service
We use T-Mobile for our phone service. Service at Blue Cut RV Park was good with 4 bars of service.
Our Verizon MiFi received 3 bars of service and we were able to use our Fire Stick and stream Netflix with no problems.
We didn't have any mail or packages sent to us while at Blue Cut RV Park. I'm sure you could get mail using General Delivery in Price or Helper.
Things to see/do nearby
Nine Mile Canyon – This was the number one thing Michelle recommended that we do. We love petroglyphs and this trip didn't disappoint. Some of the most spectacular rock art in Utah is to be found in Nine Mile Canyon northeast of Price. The canyon is actually 46 miles long, do not let the name deceive you. Nine Mile Canyon is remote, hostile, unblemished, and roughly beautiful. Called "The World's Longest Art Gallery" it is home to numerous rock art panels, including the famous "Great Hunt". Most of the rock art was created by the Fremont Indians who occupied this area some 1,000 years ago. We spent 6½ hours searching for petroglyphs. There are so many we found and many more we couldn't/didn't find.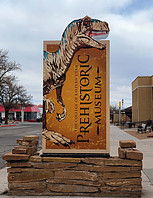 Price Prehistoric Museum – Central Utah's Prehistoric Museum in Price houses fossils from more dinosaur species than any other museum in the country. World-class exhibits of the region's unique paleontology, archaeology, and geology can all be found under one roof.
Visit Helper – Helper is named for the extra engines historically required to help trains up the steep mountain grade to Soldier Summit. On Main Street, there are several art galleries, many murals on the walls of historic brick buildings, cute coffee shops, a quaint book store, restaurants, cute stores, and two antique renovated gas stations. Many buildings retain their prior signage even if there is a newer business in the locations. The antiqueness, (is that a word), is something I love to see in these small towns.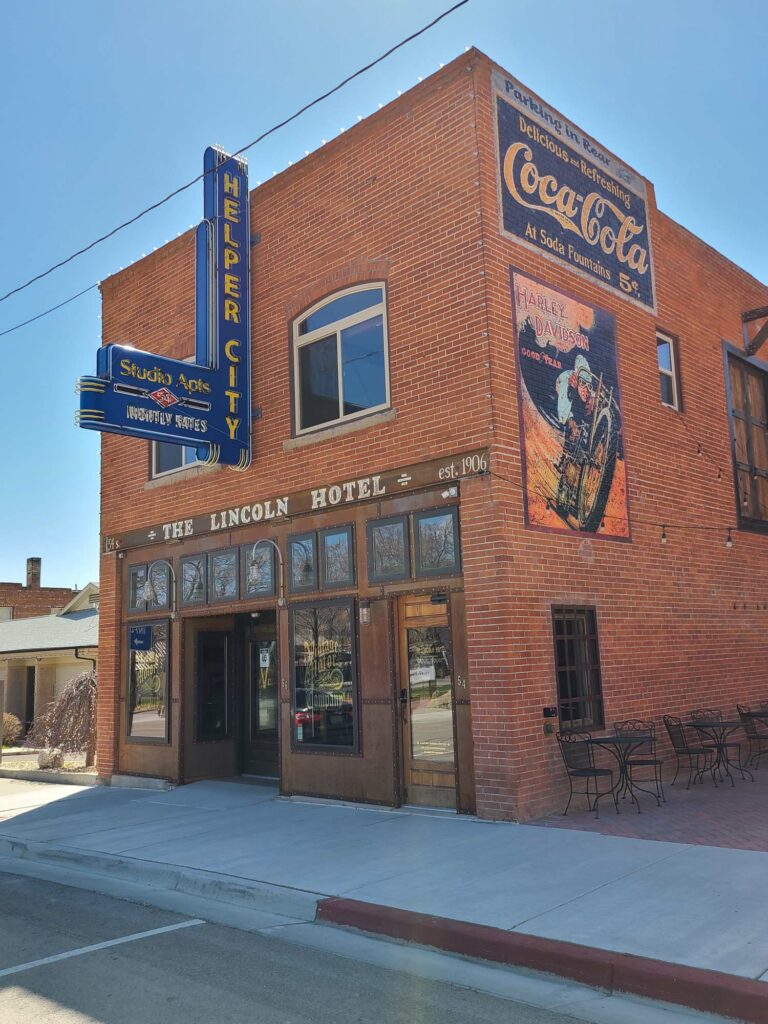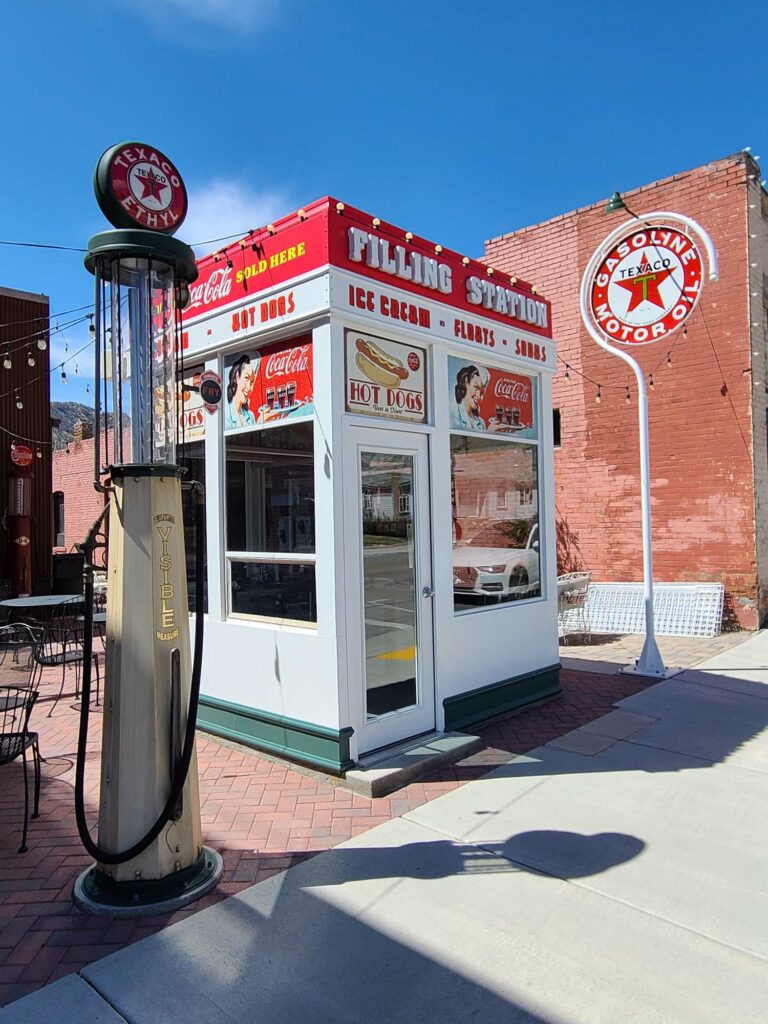 See Big John – While in Helper, you can't miss the chance to pose with the world's largest coal miner statue. Big John, the 18′ fiberglass miner statue greets you as you enter downtown. Big John commemorates the mining history of Helper. He was created in 1964 and received his name from the 1961 country music song of the year "Big Bad John" obviously a song about mining.
Cleveland-Lloyd Dinosaur Quarry – Originally we were going to go to Dinosaur National Monument but couldn't get tickets to the Quarry Exhibit Hall so we changed our plans to come to Carbon County. Then we discovered that they have dinosaurs here too. Jurassic National Monument, at the site of the Cleveland-Lloyd Dinosaur Quarry, is one of the world's foremost dinosaur fossil sources. More than 12,000 individual bones and one dinosaur egg have come from this prolific fossil bed.
Conclusion
When visiting Carbon County, Blue Cut RV Park makes a great base camp to explore the area. This is definitely an area we want to return to in the future and when we do we'll stay at Blue Cut RV Park.
What interesting places have you been to and can recommend? We're always looking for neat out-of-the-way places to put on our list of must-sees. Thank you for reading our article. If you have any comments or questions we'd love to hear from you below.