Vehicle theft is a serious issue in today's world, and car owners are rightfully concerned about the security of their vehicles. However, there are many anti-theft devices available that can help prevent car theft, and one of the best options we found is the CarLock GPS Tracker.
Something kept popping into my head while I slept or telling me throughout the day that I needed to get a GPS tracker for our motorhome and Jeep. After searching for the perfect GPS Tracker we purchased CarLock for both of our vehicles. We wanted something that was out of the way and that we didn't need to continuously remember to charge.
This post contains affiliate links. As a participant in Amazon Associates and various affiliate programs, we are compensated when qualifying purchases are made through our referral links at no additional cost to you. Full Disclosure
What is a CarLock GPS Tracker
The CarLock GPS Tracker is a compact and easy-to-install device that uses GPS and other sensors to monitor your vehicle in real time. Using your vehicle's OBD connector the CarLock can be installed in minutes and is powered from the vehicle battery. Once the device is installed, it will send alerts to your smartphone or other device if it detects any unusual activity, such as vibrations, engine starting, or movement of the vehicle.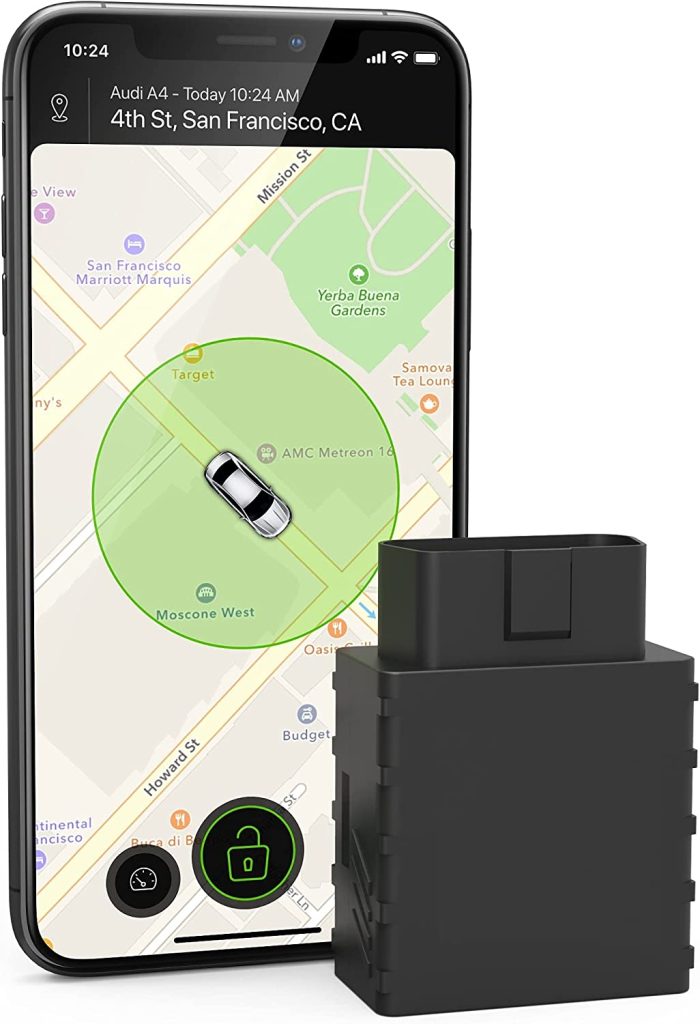 One of the key benefits of the CarLock GPS Tracker is that it provides you with peace of mind knowing that your vehicle is secure at all times. Whether you are parked in a high-risk area or traveling long distances, you can rest assured that you will be notified immediately if anything happens to your vehicle.
Another advantage of the CarLock GPS Tracker is that it is very easy to use. You can set up the device in just a few minutes, and once it is activated, it will work silently in the background, without any need for further input from you.

In addition, the CarLock GPS Tracker is highly customizable, so you can set it up to suit your individual needs. For example, you can set up different alert settings for different times of the day, or you can choose to receive notifications only if your vehicle moves more than a certain distance.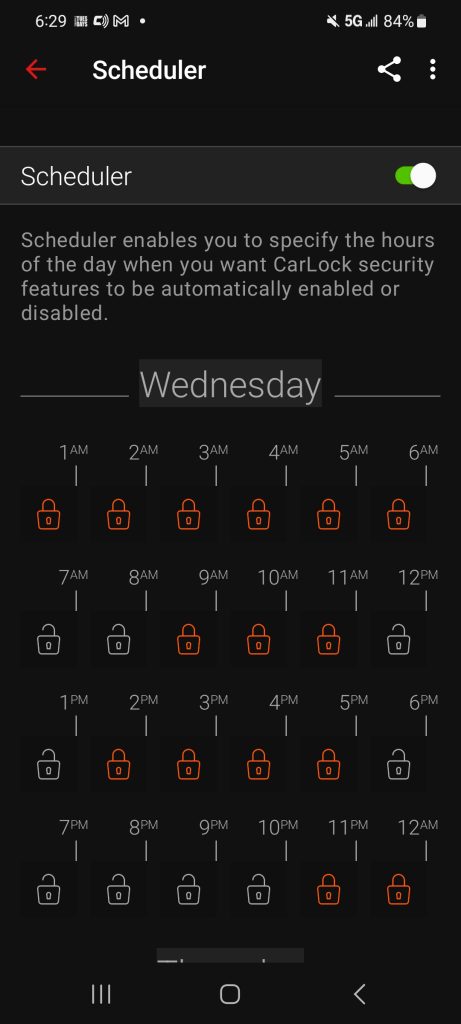 With two vehicles we wanted them set up differently and CarLock allows us to do that. With our Jeep, we wanted to be notified if it notices vibrations (someone getting in), starts, or moves. Since we live in our motorhome the main notification we need is if it moves. We don't want to be notified of vibrations (like walking around in it), and we found out that when the coach battery charges from shore power the CarLock thinks the engine started so we needed to turn that off too.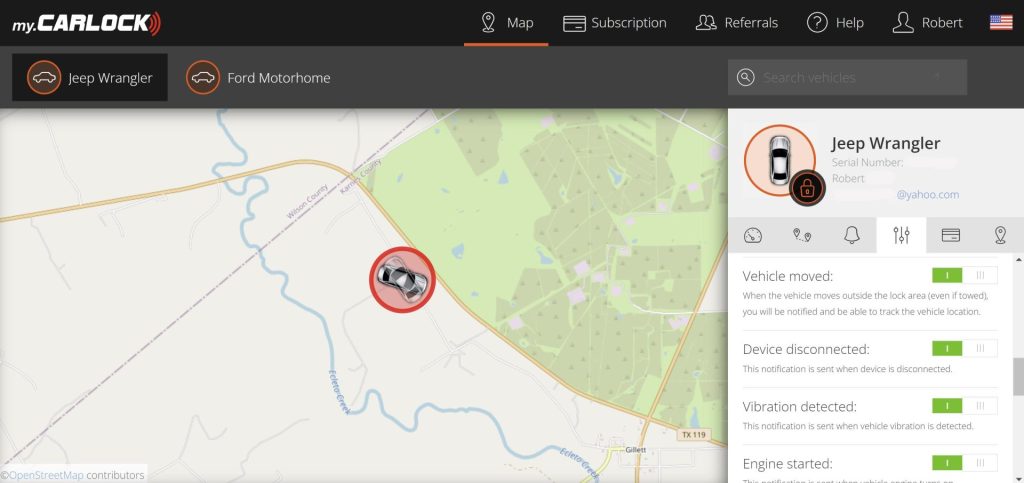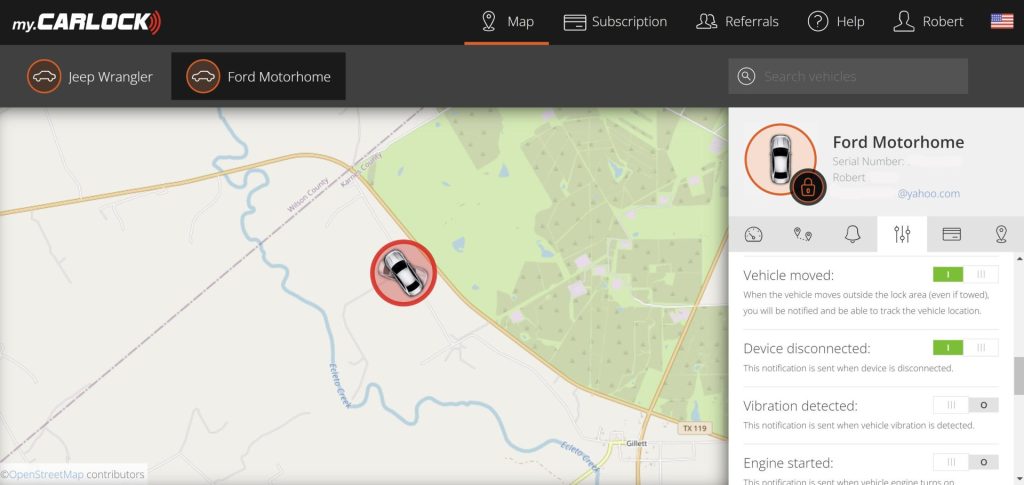 Overall, if you are concerned about the security of your vehicle, the CarLock GPS Tracker is an excellent investment. With its advanced features, ease of use, and customizable settings, it is a highly effective way to protect your vehicle from theft and ensure you have peace of mind wherever you go.
Features of the CarLock GPS Tracker
The CarLock GPS Tracker comes packed with a range of features designed to enhance your vehicle's security and provide real-time tracking and monitoring. Some of these features include:
Real-time tracking: The CarLock GPS Tracker provides real-time tracking of your vehicle's location, enabling you to monitor its movements and identify any suspicious activity.
Geo-fencing: The device allows you to set up geofences around your vehicle, which triggers an alert whenever the car leaves or enters the designated area.
Car monitoring: The CarLock GPS Tracker monitors your vehicle's battery voltage, and other vital information to help you keep your car in top condition.
Mobile app: The CarLock GPS Tracker comes with a user-friendly mobile app that enables you to monitor your vehicle's location, status, and health from anywhere. It can also help you find your vehicle when you forget where you parked it.
Notifications/alerts: The device sends you notifications and alerts whenever the vehicle exceeds a certain speed limit, leaves a geofenced area, or experiences unusual vibrations or movements.
Stolen vehicle recovery: The device enables you to track and recover your stolen vehicle with ease.
Driver behavior monitoring: The CarLock GPS Tracker tracks and monitors driver behavior, including harsh acceleration, braking, and cornering, enabling you to improve driver safety and reduce wear and tear on your vehicle. This is a great feature if you have teenage drivers.
Insurance discounts: Using the CarLock GPS Tracker can help you save money on your insurance premiums, as many insurance companies offer discounts for vehicles equipped with anti-theft devices.
Installation
Installation is plug-and-play with no tools required. Unless you need a screwdriver to remove the piece around the steering column to access the OBD connecter as we did on our motorhome.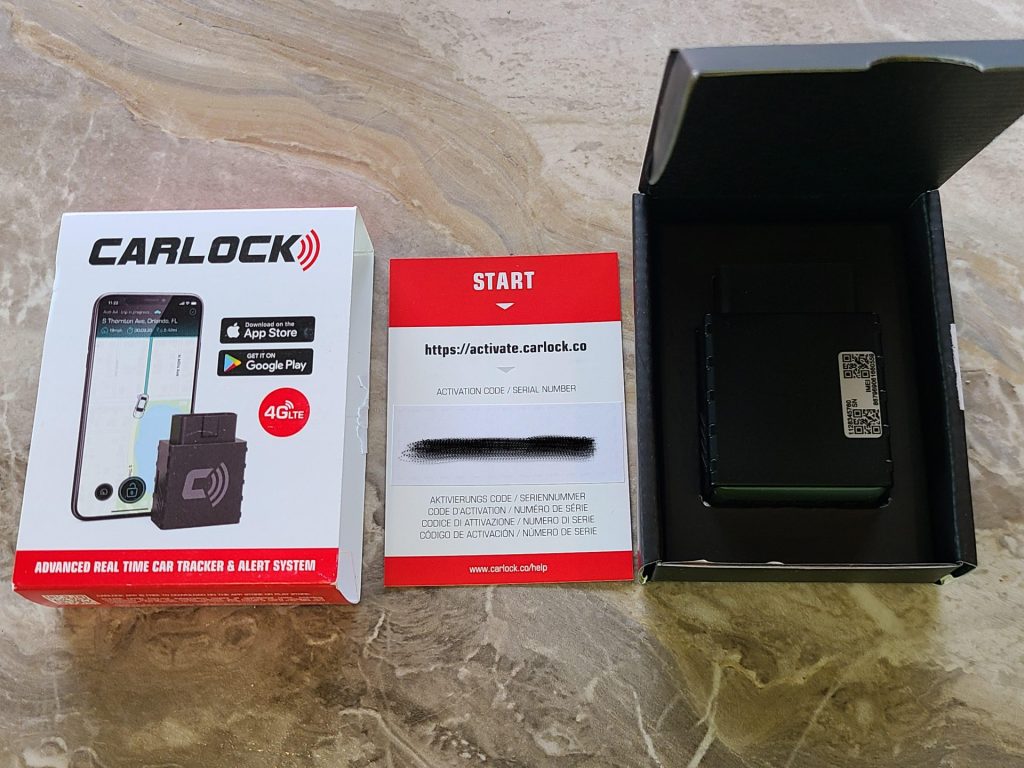 Once you receive your CarLock GPS Tracker it comes with a 30-day free subscription. You'll need to set up the profile through the CarLock app on your phone or the CarLock web app online. After the 30-day free trial, you can pay for the CarLock Standard Plan at $9.60/month or $113.00/year. The GPS refresh rate for this plan is 30 seconds.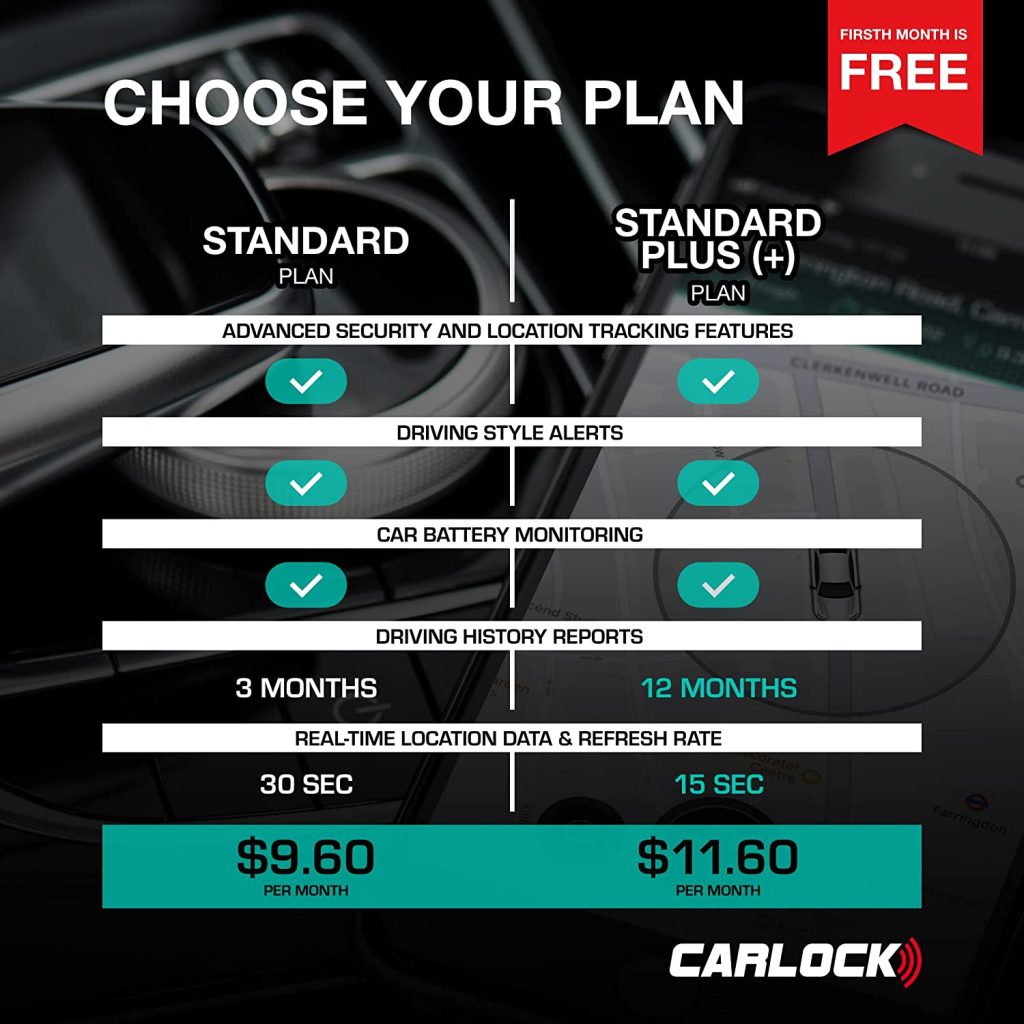 If you want a faster refresh rate they have the CarLock Standard Plus Plan with a 15-second GPS refresh rate. The price of the Standard Plus Plan is $11.60/month or $139.00/year.
Once your subscription is activated it's as easy as plugging the CarLock adapter into the OBD port on your vehicle. How do you know your vehicle has an OBD port? All vehicles manufactured since 1996 have an OBD port.
For our motorhome, the OBD port is behind a cover near the steering column. We had to remove the cover to plug in the CarLock adapter. I like that the OBD port is hidden it makes it more unlikely that a thief would go looking for a tracker connected to it while in a hurry trying to steal our motorhome.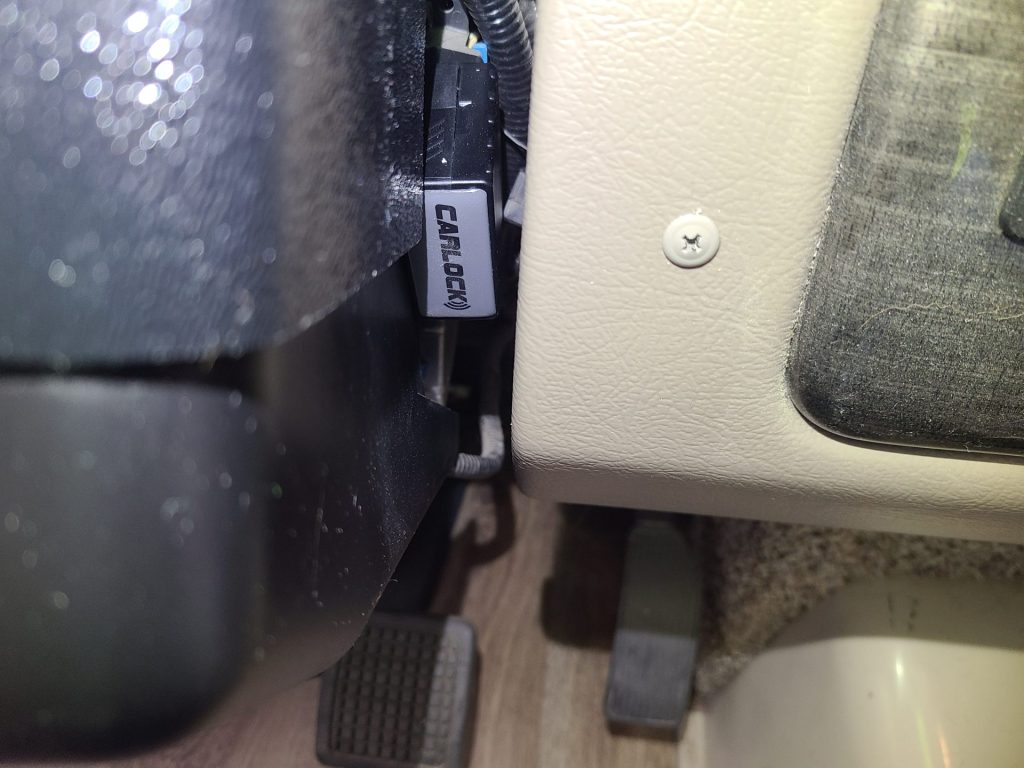 On the Jeep, the OBD port is out in the open under the dash which can have major disadvantages. As soon as someone got into the Jeep they could see there was something plugged into the OBD port, unplug it, toss it out the window, and be on their way with only us being notified that the CarLock was unplugged.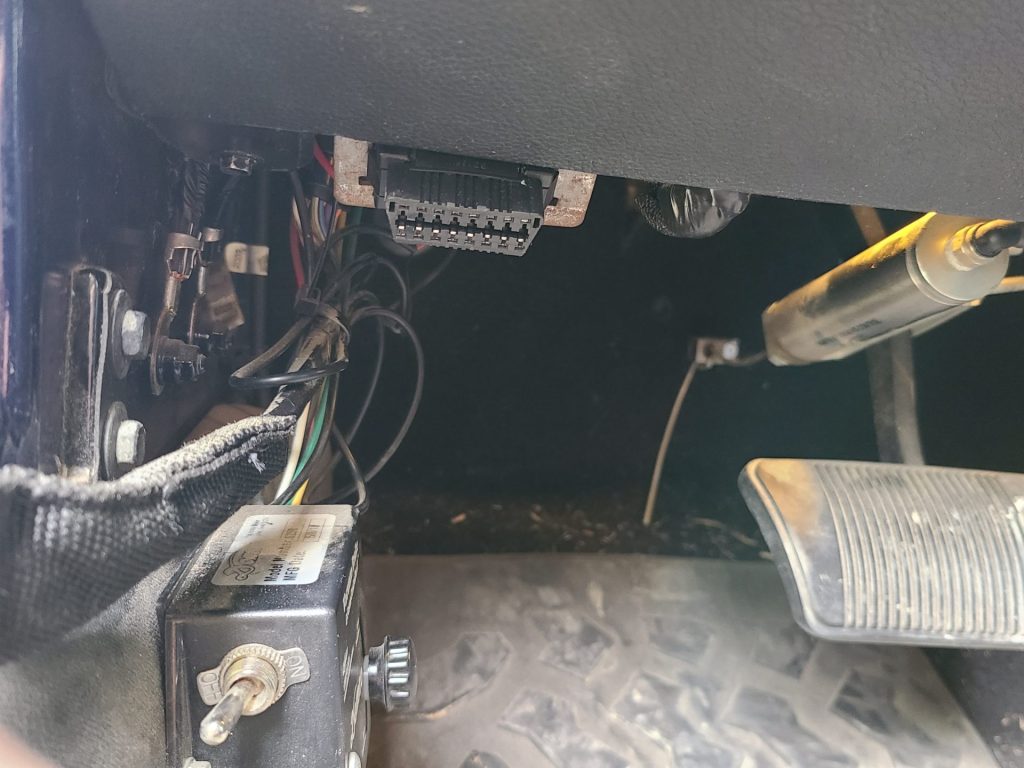 So for the Jeep, I also purchased an OBD Y-splitter cable. This cable allows me to make it look like the OBD is unused while providing an additional plug for the CarLock to be plugged into and hidden under the dash. This is the splitter we purchased, what you need for your vehicle may vary.
Frequently Asked Questions (FAQs)
How does the CarLock GPS Tracker work? The CarLock GPS Tracker uses advanced GPS technology to track the location of your vehicle in near real-time. The location of the vehicle is updated every 30 seconds when it is moving and every 30 minutes when it is stationary. It also has a built-in accelerometer that detects any movement or impact, sending alerts to your phone if someone tries to break into or steal your car.
How easy is it to install the CarLock GPS Tracker? The CarLock GPS Tracker is very easy to install. You simply plug it into your car's OBD port, which is usually located under the dashboard. The device comes with detailed installation instructions, and you can also find video tutorials on the CarLock website.
What happens if my car is stolen? If your car is stolen, you can use the CarLock mobile app to track its location in real time.
Can I use the CarLock GPS Tracker on multiple vehicles? Yes, you can use the CarLock GPS Tracker on multiple vehicles. You simply need to move it between vehicles or purchase additional devices and install them in each vehicle. You can then monitor all of your vehicles from a single mobile app.
What kind of alerts does the CarLock GPS Tracker send? The CarLock GPS Tracker sends a variety of alerts, including vehicle movement, engine started, vibration detection, loud vibration, device disconnection, signal loss, real-time location tracking, geo-fencing, driver behavioral, impact, and battery level alerts. You can customize the alert settings to suit your needs and preferences.
How can I order CarLock? You can easily order the CarLock device on Amazon.
CarLock Portable
Another CarLock Product is the CarLock Portable. It is a stand-alone battery-powered portable version of the CarLock GPS Tracker. This one does not need to be plugged into a vehicle and can be used in a vehicle, trailer, luggage, or anything else you need to track the location of. CarLock Portable monitors and alerts you immediately through the phone app just like the CarLock GPS tracker in this review. It has a battery life of up to 14 days.
You can even use this tracker to keep your children safer. In addition to location tracking, Carlock Portable includes an "SOS" button that immediately notifies you of an emergency and your child's current whereabouts.
Conclusion
Car theft is a serious problem that can have devastating consequences for vehicle owners. Investing in a reliable vehicle tracking and security system is essential to prevent theft and increase the chances of recovering your vehicle if it's stolen. The CarLock GPS Tracker is an affordable and easy-to-use device that provides real-time tracking and advanced security features that can help you protect your car and give you peace of mind.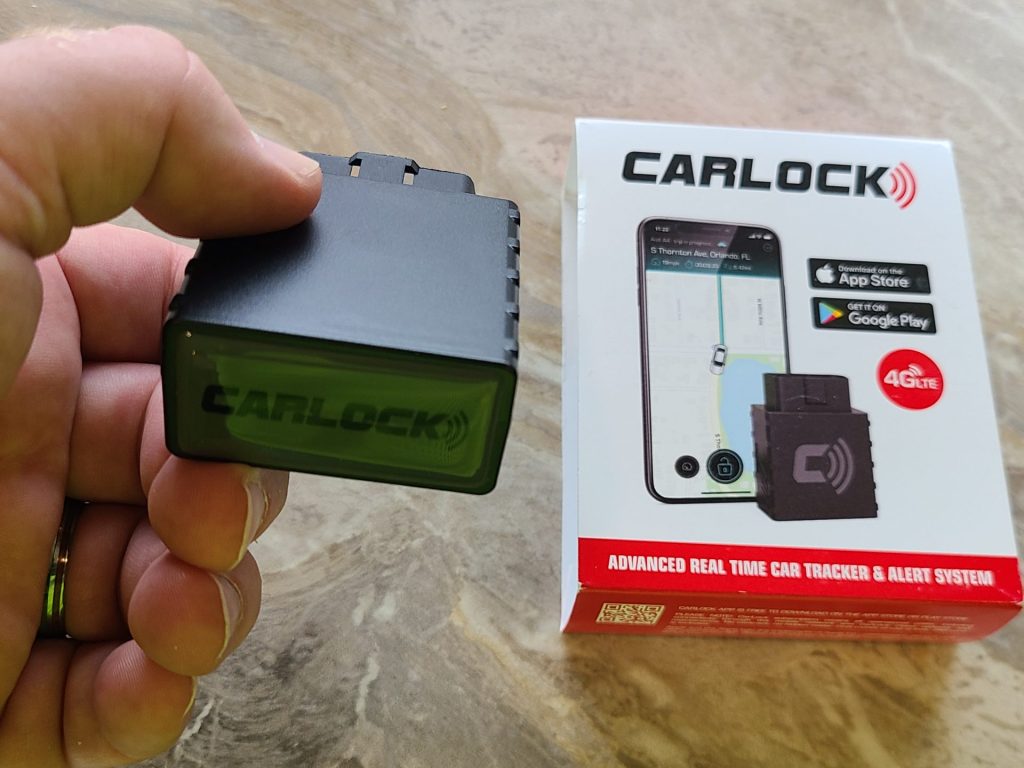 Whether you're a full-time RVer like us, a small business owner, or a busy mom, investing in a CarLock GPS Tracker is a smart choice that can save you time, money, and stress in the long run. So why wait? If you're looking for a reliable vehicle tracking and security system, the CarLock GPS Tracker is definitely worth considering. Order your CarLock GPS Tracker today and start enjoying the benefits of enhanced vehicle security and management.