Like most people, we love taking walks on the beaches when we get a chance. Along the Pacific Coast, we've explored many beautiful sand or gravel beaches in hopes of finding some little treasure.
While most of the time we end up empty-handed, the joy of an amazing day in the fresh air is enough to keep our minds at ease.
On most beaches that I know of along the Pacific Ocean, you'll find an occasional sand dollar here and there but usually, they have been broken by seagulls. I knew of a beach that has quite a few sand dollars on it from my time stationed at Naval Air Station Whidbey Island. So this day we went to Clayton Beach in search of Sand Dollars. We weren't disappointed.
This post contains affiliate links. As a participant in Amazon Associates and various affiliate programs, we are compensated when qualifying purchases are made through our referral links at no additional cost to you. Full Disclosure
What is a Sand Dollar?
The term sand dollar (also known as a sea cookie or snapper biscuit in New Zealand, or pansy shell in South Africa) refers to a species of extremely flattened, burrowing sea urchins belonging to the order Clypeasteroida. Some species within the order, not quite as flat, are known as sea biscuits.
How to get there
Located about 7 miles South of Bellingham, Washington along Chuckanut drive, Larrabee State Park is a 2,748-acre camping park that has 8,100 feet of saltwater shoreline on Samish Bay.
A Discover Pass is required for vehicle access to state parks and recreation lands managed by the Washington State Parks and Recreation Commission, the Washington Department of Fish and Wildlife (WDFW), and the Washington State Department of Natural Resources (DNR). One pass can be transferred between two vehicles.
Annual pass: $30
One-day pass: $10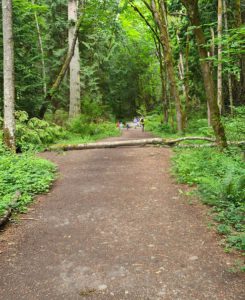 Clayton Beach Trail is a 1.5-mile out-and-back trail that features a great forest setting. The trail is rated as moderate and primarily used for hiking, walking, trail running, and nature trips. It is located across from the parking at Larrabee State Park Day Use Area.
Please note: Access to Clayton Beach via private property owned by Burlington Northern Santa Fe is prohibited because of inadequate sight lines for pedestrians to see oncoming trains when crossing the rails to access the beach area. But that doesn't seem to stop anyone. Supposedly Washington State Parks is planning on building a pedestrian overpass over the railroad tracks at some point.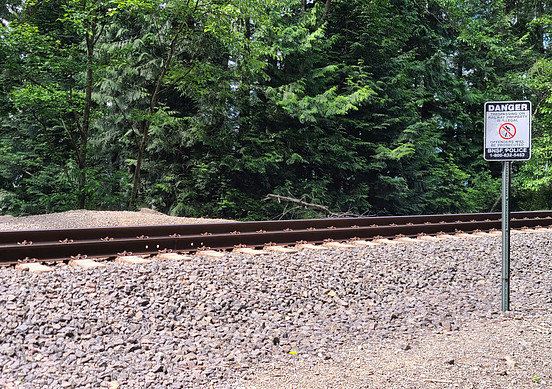 Once on the beach, we found only a few people around. It's a beautiful beach backing up to the forest. The beach is covered with sand, gravel, and seaweed.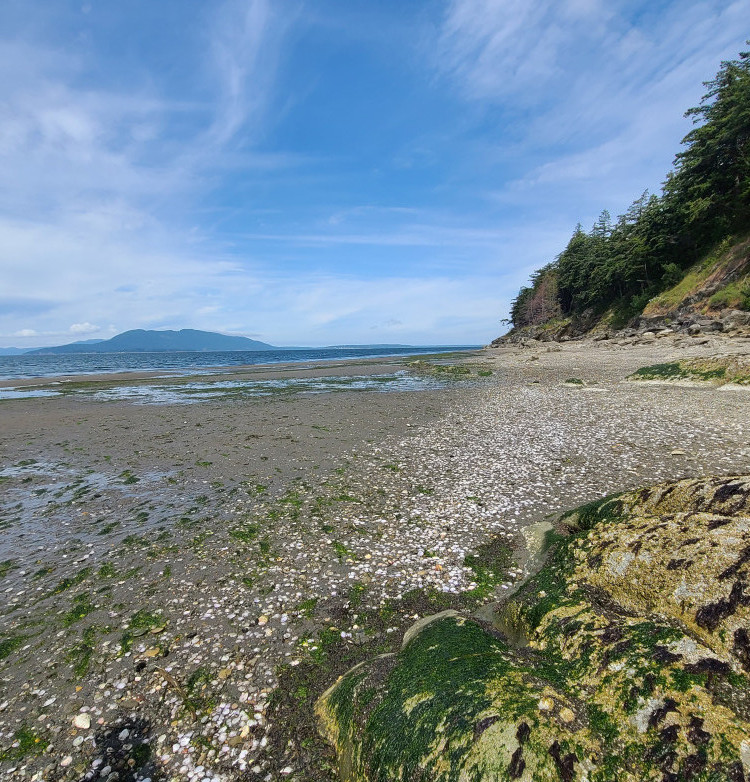 There were a lot of sand dollars many of them living still.

Best time to find treasures
Like most beaches, the best time to find beach treasures is during low tide or right after a storm.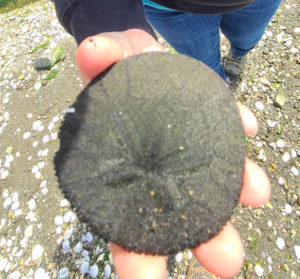 Clayton Beach is no exception. We arrived at Clayton Beach just before low tide and discovered a beach filled with sand dollars, living and in various degrees of decay, other amazing shells, and a few crabs.
I was amazed that there weren't seagulls everywhere picking at the sand dollars. I guess there is enough, more accessible dining in the area for them.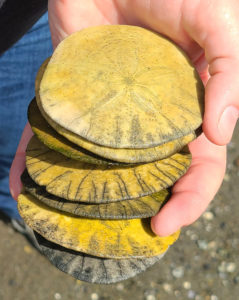 First things first: Don't take the living sand dollars. Only take the "skeletons" that have washed up on the beach. How can you tell? The dead ones are light beige or white.
When you pick them up they are hollow inside. Sand dollars that are still alive have little spines that look like hair sticking up from all over their bodies, and the spines move.
The ones on this beach were a grayish-black color. But they may come in other colors as well. There were a lot of sand dollars that were still alive on the beach as well as many skeletons.
What to do with Sand Dollars?
So, you've scooped up a motherload of sand dollars from the beach, and now you're looking to do something creative and crafty with them. What to make? Some people make ornaments, memory jars, wreaths, or other art forms out of them.
Lisa recently started painting rocks as a hobby on the road. She wanted to collect a few sand dollars to paint little murals on.
Other Things to See and Do
Conclusion
If you like searching the beaches for little treasures to remember your trip, Clayton Beach is a place where you can find sand dollars. Make sure to only take what you need and leave the living ones to be.
Thank you for taking the time to read our article on Clayton Beach Sand Dollars. If you have any questions or comments please leave them below.