You just spent a ton of money on your new, or new to you RV. Oddly, you don't have everything you need to go camping immediately. There are some must-haves and some nice-to-haves you'll need to get going. With our 3+ years of full-time RVing, we've come up with our Top 10 RV Accessories You Definitely Need to get started. Whether you are going full-time or are a weekend warrior these items will get you on the road sooner than later.
This post contains affiliate links. As a participant in Amazon Associates and various affiliate programs, we are compensated when qualifying purchases are made through our referral links at no additional cost to you. Full Disclosure
Surge Protector/Electrical Management System (EMS)
First, before you do anything else purchase a Surge Protector at a minimum, or preferably, an Electrical Management System (EMS) for your RV. You want to defend your gadgets against voltage surges, shore power problems, or any other electrical failures. There is no item more important for keeping your RV's electrical system safe.
While on the expensive side, think of it like an insurance policy for your RV. Surge Protectors can really pay off if there's an electrical or voltage issue at the campground.
Modern RVs contain many essential items, including refrigerators, washing machines, TVs, and other entertainment systems. A high-quality surge protector can protect your electronics and RV from damage, meaning you can just focus on your next adventure.
What's the difference between a Surge Protector and an Electrical Management System (EMS) you ask?
In simple terms, an RV surge protector protects your rig from power surges. Pretty simple right? Power surges can occur for various reasons from lightning strikes to faulty campground power poles. You'll see RV surge protectors typically cost around $100. They only protect against increases in power. However, there are many more things that can go wrong with electricity. That's where the EMS comes in, and why we recommend one over a basic surge protector.
Electrical Management Systems are technically still surge protectors, but they have many additional protective features. High voltage (power surges) is just one issue you can run into with electricity. Other problems you might run into at a campground include low voltage, faulty shore power wiring, open grounds, reverse polarity, or damaged power poles. An EMS will protect against all these things.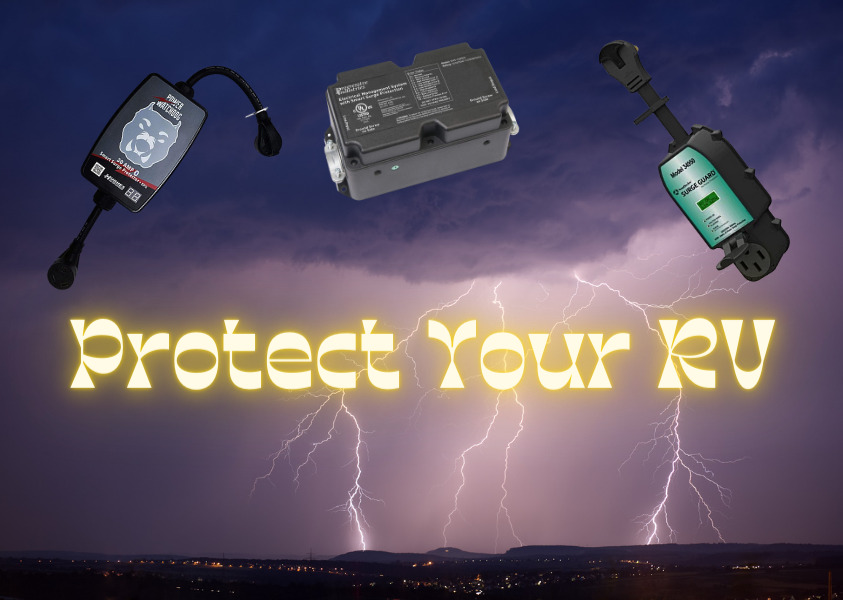 The item we've run into most at campgrounds is low voltage. With the stress of all the air conditioners running at the same time on a hot summer day, many older campground electrical systems can't handle the load. This might lead to low voltage. It may not seem like a big deal, but low voltage causes increased resistance in your electrical system.
This increased resistance means your electrical system is working harder, which can damage electrical components or lead to fires. It also causes things like air conditioners to run hot, which puts a tremendous strain on AC compressors causing an expensive repair when they go out much sooner than they should have. Typically EMS cost between $200-$300.
The systems can be plugged-in style or hard-wired directly into your RV. The hard-wired models give added protection from being stolen, although there are items to protect the plugged-in style from theft too. We've never talked to anyone that had their plugged-in surge protector stolen.
There are many brands that offer surge protectors and EMS. While this list doesn't name them all, there are three leading brands to look at. If you go with any surge protectors or EMS from Southwire, Hughes Autoformers, or Progressive Industries, you'll be purchasing a quality product.
The next thing you're going to need to know about your RV is if it is 30-amp or 50-amp. You'll want your new surge protector to match up with your coach.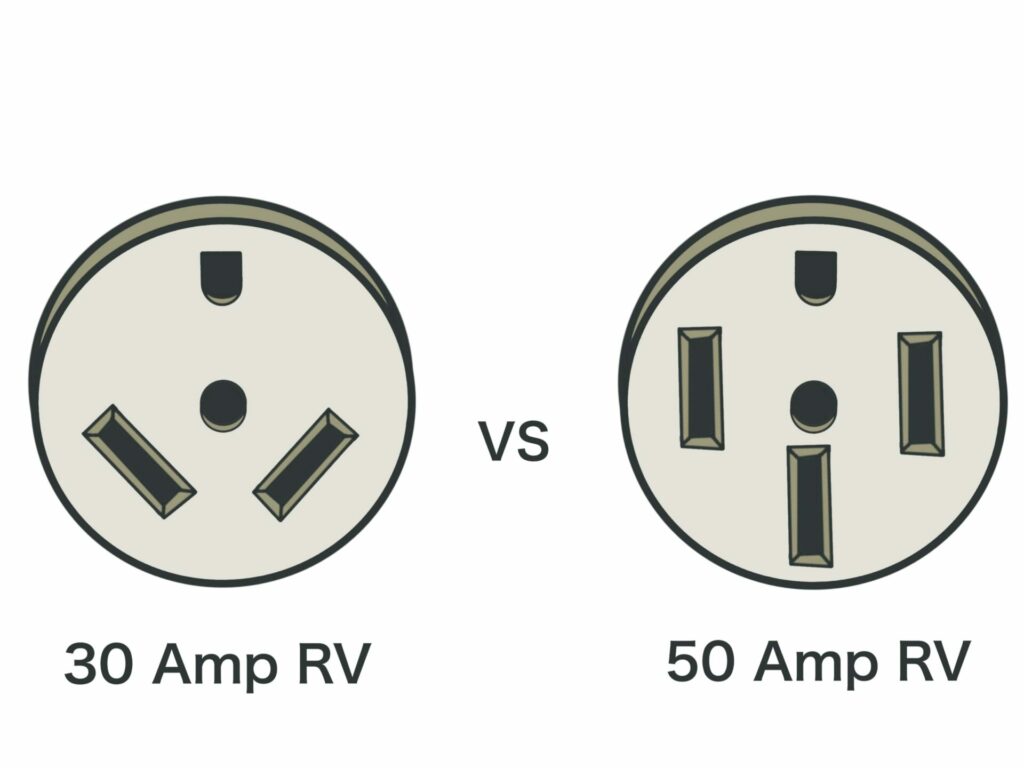 See a list of 30-amp Surge Protectors Here.
And see 50-amp Surge Protectors Here.
For our Class A motorhome we went with the Southwire Surge Guard – Full Protection Portable with LCD Display, 50A. In the years we've been on the road full-time it has saved our motorhome a few times. At least twice we've run into campgrounds with low voltage and once we ran into a site with an open ground. The Surge Guard did its job flawlessly all three times, shutting down power to our coach until the proper voltage returned or we had the issue resolved.
Power Cord
Now that you have your Surge Protector or EMS figured out, you need to get the power to your RV. Your coach may or may not come with a power cord. Ours did come with one. If your RV didn't come with a power cord, or you need a replacement you can find one to work here.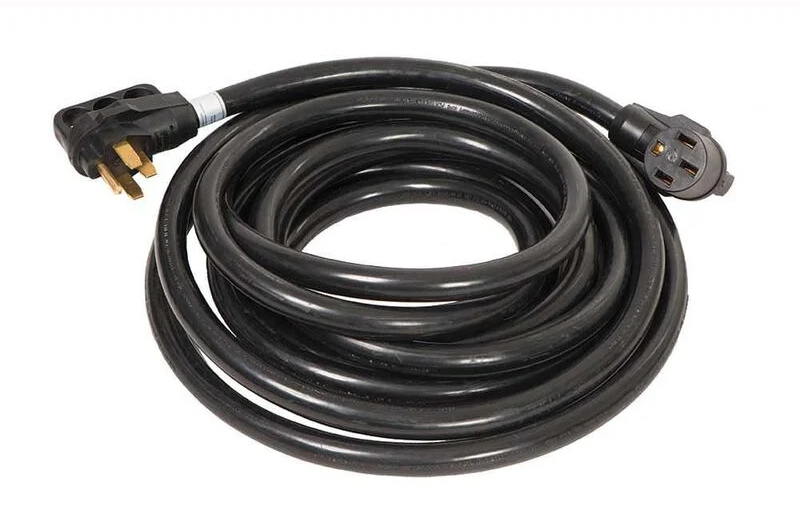 We recommend having at least 25 feet of power cable but that may not be enough. A few times we've run into issues where we were parked too far away from the power pedestal. It's usually not by too much, so a 10′-25′ extension cord comes in handy. We went with a 15-footer and have always had plenty to reach.
You may also need a variety of "dogbones", these come in handy when you come to a park that doesn't have an adequate power supply for your coach. Say your RV uses 50-amp service, but the campsite only has 30-amp. You need a 30-amp to 50-amp dogbone to connect your 50-amp coach to the 30-amp power supply. The same goes if you're moochdocking (staying in a friend's driveway), or camping in your driveway. You may need a 15-amp to 50-amp or a 15-amp to 30-amp dogbone to plug your RV into the house.

Drinking Water Hose
Next on the list of must-haves is a quality drinking water hose. You'll need to get fresh water into your RV, for this you need a water hose that is safe for drinking water. You can't just go use the old green garden hose like you and I may have done when we were kids. But wasn't that just the best water back in the day? Green garden hoses are not made for potable water and can leach toxic chemicals into your water supply.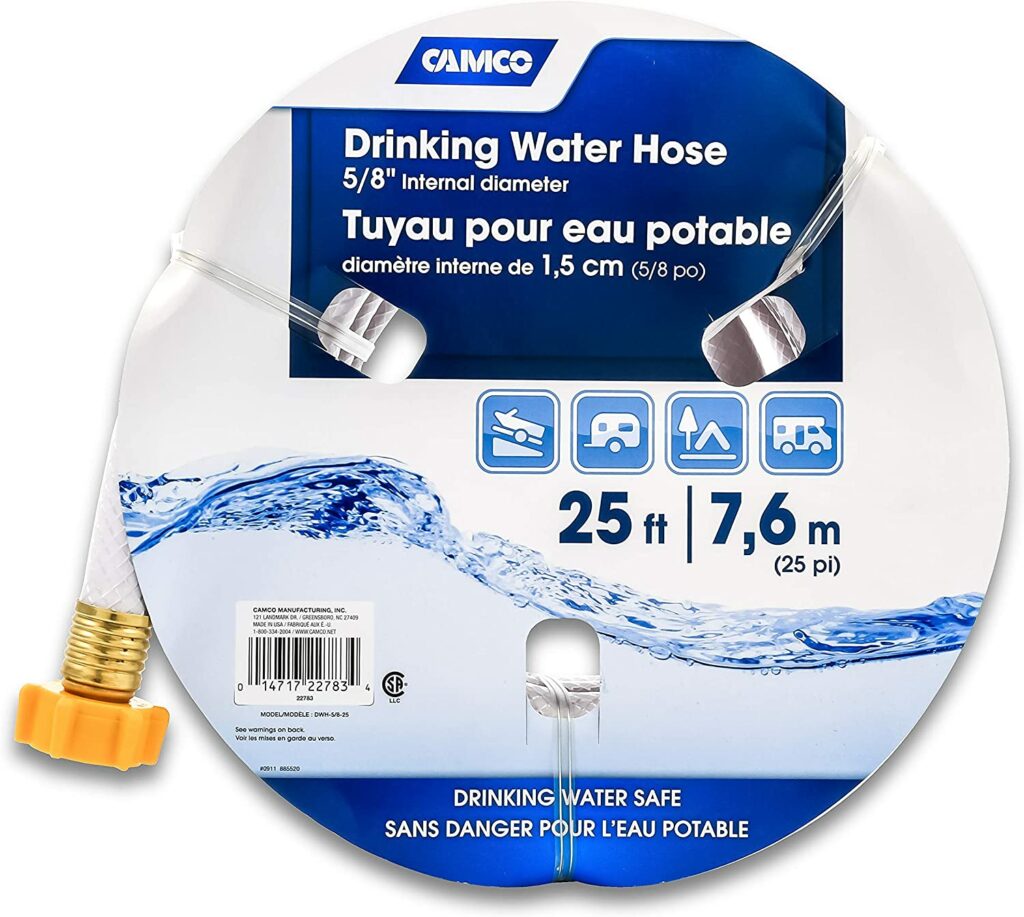 Again like the power cord, you'll more than likely need at least a 25′ hose. 25′ will get your RV hooked up most of the time. We have a 25′ hose and a couple of 10′ hoses. This configuration has worked for us every time.
As well as the hoses above, if you're going to do any winter camping, you'll want to have a heated water hose to protect your system from freezing.
Sewer Hose
Your next must-have item and everyone's least favorite item is the Sewer Hose or Stinky Slinky. This important item allows you to dump your grey and black tanks. When we purchased our motorhome the parts guy at the dealership recommended the Camco RhinoFLEX Sewer Hose. We purchased the 20′ kit. The kit gets good reviews and works well for a while. If you're a weekend camper then this system will work great for you, but if you full-time RV like we do, full-time use is too much for the plastic hose. Our RhinoFLEX started cracking about 8 months into our full-time lifestyle.
We recommend spending a bit more money on the Camco RhinoEXTREME Hose Kit. This Sewer hose uses TPE technology that protects against pinholes and offers superior abrasion resistance and crush protection. TPEs are a family of rubber-like materials that combine the characteristics of rubber with the recyclability and processing advantages of plastics. We upgraded to the Camco Rhino Extreme Sewer Hose nearly three years ago and have had no problems with cracks or leaks since then. You can purchase this hose in a 20′ kit that comes in two 10′ sections, we find it is sometimes just a bit short. So we got a 20′ kit and purchased a 15′ kit too.
Tire Pressure Monitoring System (TPMS)
No matter if you have a Travel Trailer, 5th Wheel, or Motorhome you should make sure you have a Tire Pressure Monitoring System (TPMS) for your setup. By constantly keeping tabs on all the tires as you travel, a TPMS can let an RV owner know the instant a tire starts to lose pressure and address the problem before it gets catastrophic.
An unexpected tire blowout in an RV is a dangerous thing. RVs have a lot of momentum and losing control not only puts your RV at risk of additional damage, but it also threatens your life, the life of anyone riding with you, and everyone in the vicinity of your rig.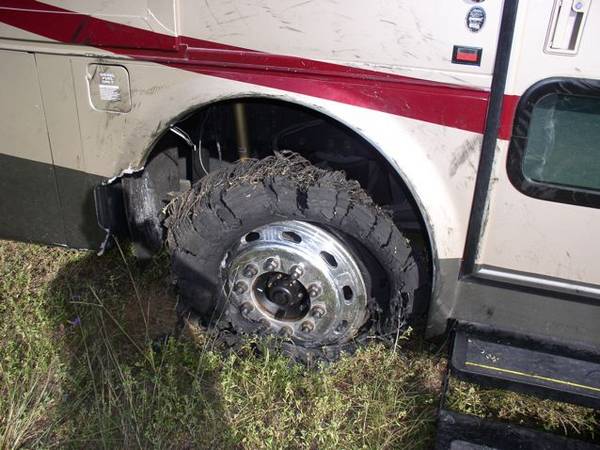 At the very least, a good TPMS can save owners a lot of money, especially if the tire can be fixed rather than replaced. At more than $400 a piece for some motorhome tires, you can easily see how a TPMS system can pay for itself in just one instance.
For our motorhome, we use the TST 507 Tire Pressure Monitoring System with 6 Flow Thru Sensors and added on 4 cap sensors for our Jeep toad.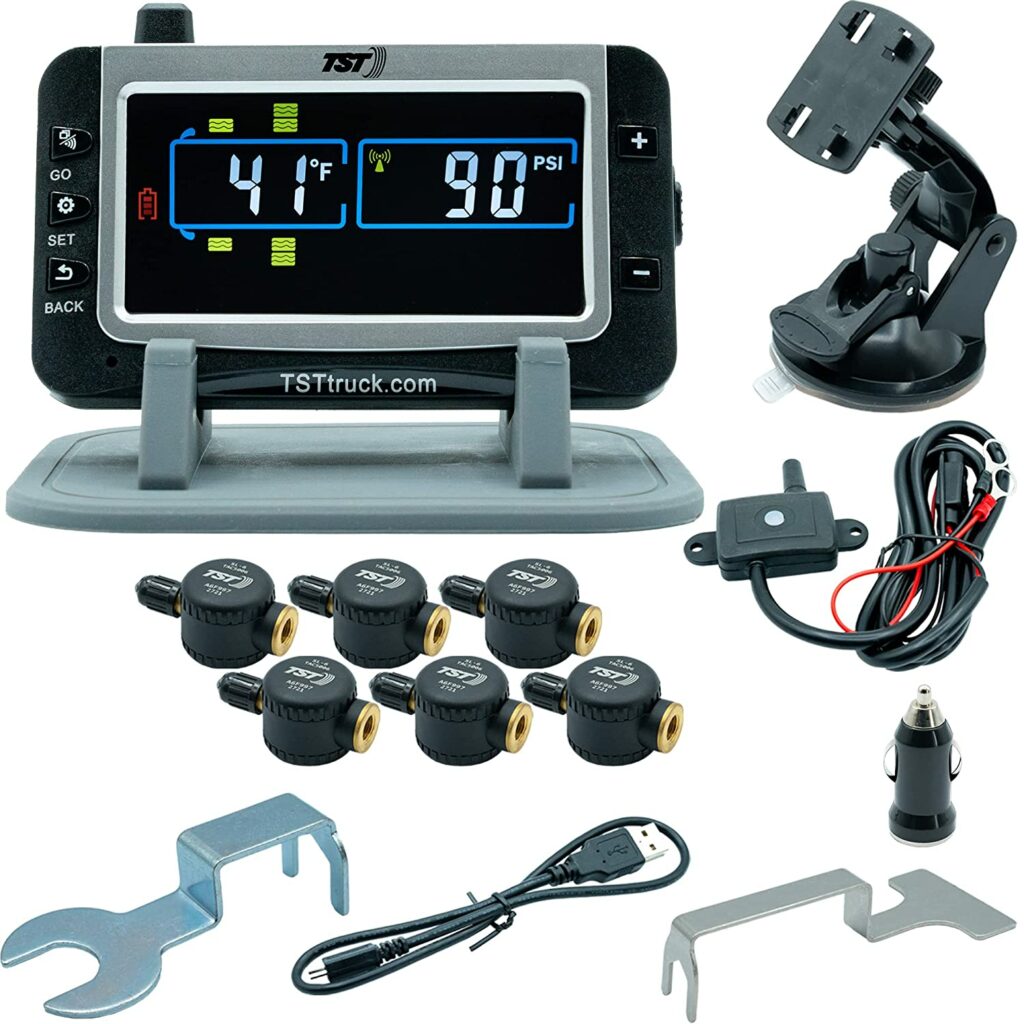 Upgraded Mattress
One thing about RVing is that you want to be comfortable. There is nothing worse than waking up with a sore back or sore anywhere else. If you're getting older like we are it happens, you wake up and can't figure out how you hurt yourself by just sleeping. You might as well be sleeping on the ground in a tent.
RV's aren't known to have the best mattresses. The mattress that came in our RV we thought was good but 2 years in it was done! It got a dip on both sides where we slept. It had to go. We looked for a better mattress, one that we hoped would last longer and be more comfortable than what came in our RV. We found Wilderness Mattresses and purchased a Montana Hybrid Mattress from them and couldn't be happier. After two years of use, it's still a great mattress. It's the most comfortable mattress I've ever owned, even more than our sticks and bricks mattress.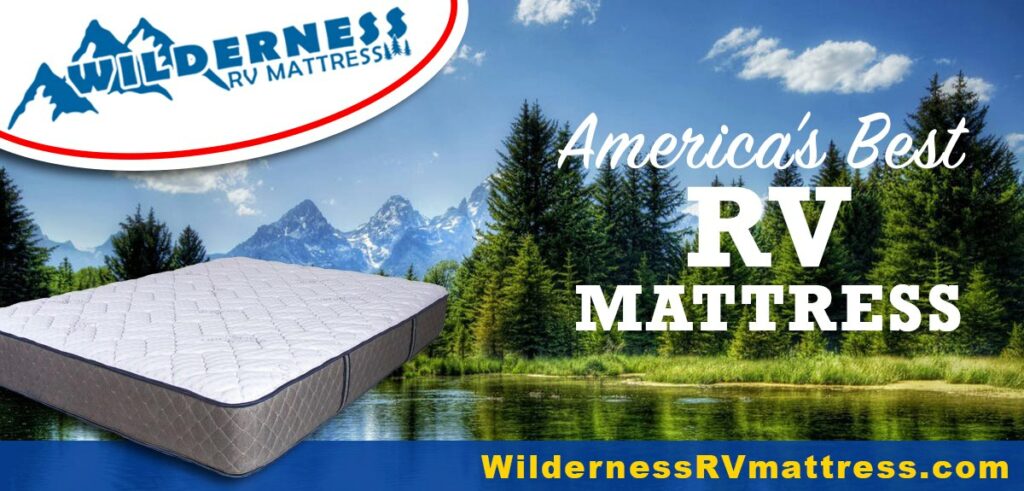 GPS
An RV-specific GPS is something every RVer should have. In a world where everyone has a smartphone and access to mapping software like Google Maps in their pocket, it may sound crazy to say that an RV GPS is an essential gadget for RV travel. But we're saying it because we can't image driving an RV without an RV-specific GPS.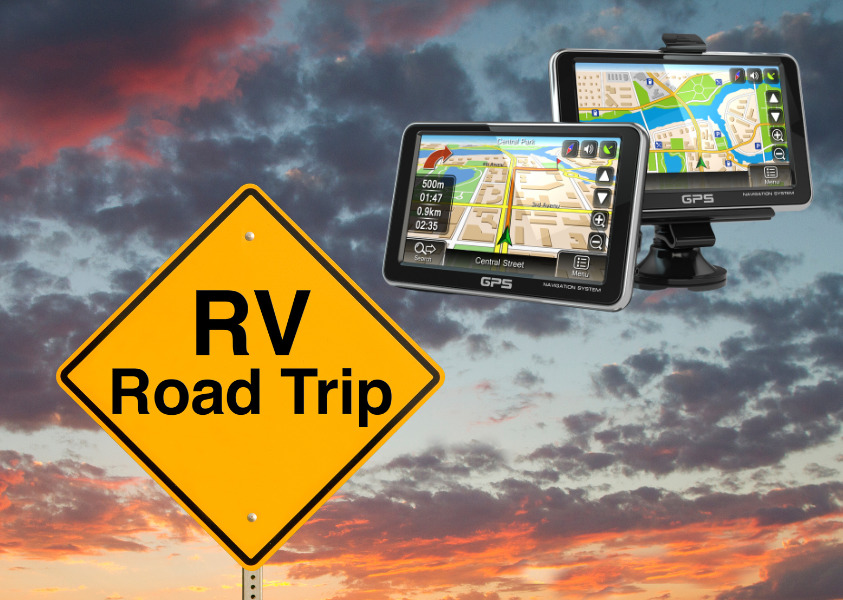 Yes, we use Google Maps on our phones when traveling around in our Jeep but when it comes to the RV, Google Maps can get you in trouble quickly. Google Maps doesn't account for the length, height, or weight of your RV so it can route you to areas where you may not fit, like a low overpass, or take you over a bridge with a low weight rating.
Even small RVs are bigger than your average sedan. An RV GPS takes your vehicle size into account when it calculates the route. If you've ever been heading toward a low bridge and thought, too late, "I wonder how tall my rig is," you know how important the dimensions of your RV are when it comes to routing.
Leveling Blocks
If you've been RVing for a while there will come a time when you'll have to set up camp on a site that's not level. If you haven't yet, trust us, you will eventually. When that time comes you'll need leveling blocks to make sure your RV is level. You may start with a single set but will probably want to carry two or three sets.
RV leveling blocks (sometimes called jack pads, stacker blocks, or stabilizer pads) are useful tools that let you level your RV even on sloped surfaces. RVs need to be level for equipment to work properly. For example, it's not recommended that you put your slides out if your RV is at an angle. Additionally, safe RV refrigerator operation depends on your rig being level. RV fridge problems can lead to a fire which could cause a total loss of your rig and even death. It's simply not something you want to take lightly.
For our motorhome, we have our normal jacks for leveling, but there are times when the ground is so unlevel that they won't level us properly. At that point, we use the Camco Fasten Leveling Blocks to either drive one side or the other up to make the coach level. We also occasionally use them to set our jack pads on which helps stabilize our coach. 10 interlocking blocks that look like large Legos stack to the desired height for customizable leveling; each block adds a full inch to stack height. They come in 2×2 and 2×4 models. We carry two sets of 2x2s and one set of 2x4s.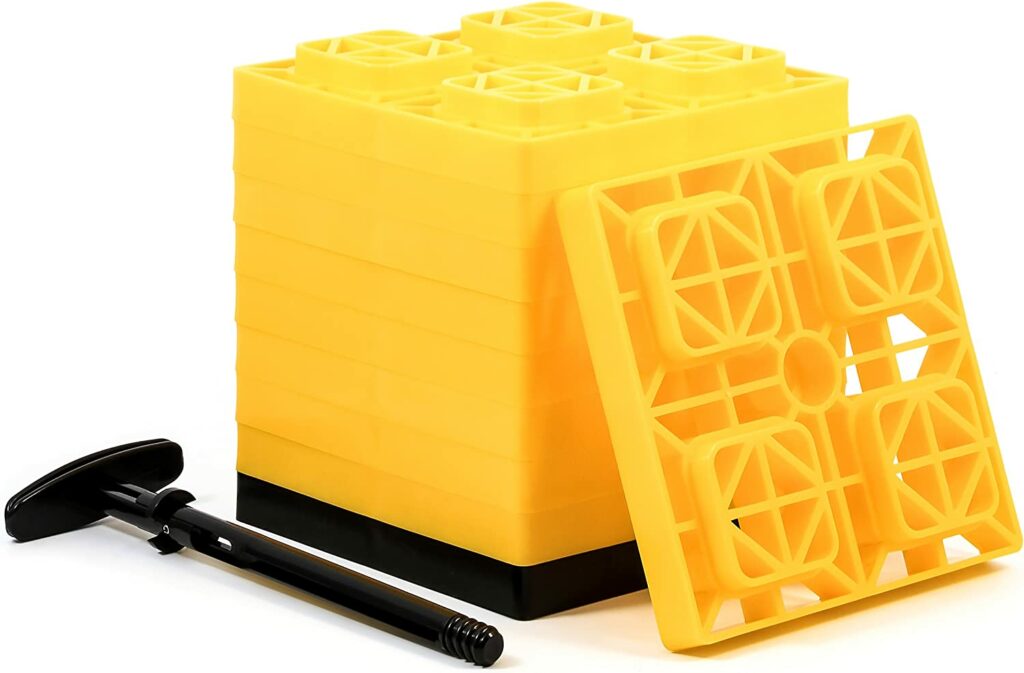 The other item we have for our motorhome are RV SnapPads. RV SnapPads are permanent jack pads made from durable rubber (recycled tires) that grip any terrain. No more popping jacks or slipping in high winds or slick surfaces like ice. And say goodbye to climbing under your rig every time you set up.
RV SnapPads increase stability in 3 ways: a larger footprint, more vibration dampening, and by conforming to uneven terrain like gravel. If you're thinking of getting SnapPads for your RV check out which ones you need here then come back and make a purchase through our Amazon links. It is much appreciated.
Camp Mat
Now on to the Nice-To-Have items. The first on our list is a Camp Mat. There are so many styles, sizes, and designs to choose from. An RV Camp Mat not only can expand your living space to the outside, but it helps keep your rig clean by reducing the amount of the outside you track inside.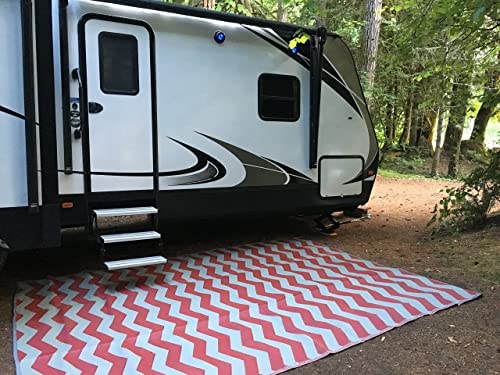 One of the least favorite things about camping is tracking in dirt and sand into the RV. It seems you're constantly sweeping and vacuuming and mopping to keep it clean. But, laying out good RV outdoor rugs or campsite mats will allow you to enjoy camping instead of painstakingly scrubbing the floor. When deciding on which RV mat to buy, you're probably wondering about how easy they are to clean, their effect on the grass, as well as how durable they are.
When choosing your outdoor camping mat, make sure you get one that is:
Good quality
Durable
Reversible
Compact and easy to store
Easy to clean
Dries fast
Our choice of Camp Mat is the Stylish Camping 9'x18′ Reversible Mat. We have two of these mats that nearly stretch the length of our coach. They give us a large outdoor living area to enjoy the outdoors, watch tv, barbeque and chill out.
Chairs
If you're going to spend any amount of time outside you're going to need a place to sit. Finding the right chair for your campsite can be a daunting task. There are so many options out there.
You don't have to break the bank to get a great camping chair, but we find that spending a little more is often well worth the cost for the increase in comfort, durability, and convenience.
While weight and packability aren't as important for camping chairs as they are for backpacking chairs, it's still good to consider these specs for storage and portability.
The whole purpose of packing a camping chair is to get you up off the ground so you can sit comfortably. But not everyone's idea of comfort is exactly the same. For some, firm support is critical. For others, having a headrest and being able to recline is key.
If you want a chair that will last for the long haul or you need a chair with a higher weight capacity. Sturdy chairs are often a bit heavier and bulkier, so they aren't quite as easy to carry. But this tradeoff is well worth it in the way of comfort and value.
During our 3+ years of full-time RVing, we've used a couple of different types of camp chairs. Currently, we have Zero Gravity Reclining Lounge Chairs and Padded Camp Chairs.
Grill
A full-size grill is best for most home barbecuing, but when it comes to camping adventures and parking lot tailgates before a game or concert, you'll want a smaller, portable grill to keep the gang fed. There are plenty of great tailgating grills to choose from. Portable camping grills are a great cooking companion to bring along even when traveling with an RV!
Grilling out is one of our favorite ways to cook. We use a Blackstone Tailgater Grill Griddle Combo for a lot of our outdoor cooking. This propane grill works great for a variety of items. We love that you can use the grill and griddle at the same time. The other grill we use is a Traeger Ranger Portable Pellet Smoker. Some of the smoked foods we've cooked on this grill have been amazing.
Conclusion
These RV camping accessories make your RV experience much more comfortable.
Many people consider these to be must-have camper accessories, but we will leave it up to you to decide.
Everyone's situation is unique, so you decide which of these RV camping supplies are must-haves for you. We use many of the products listed here and consider them 10 RV Accessories You Definitely Need.
We hope these items will help you get a great start on your RVing life.
Are there any items we missed on this list? If you have any comments or questions we'd love to hear your thoughts below.
If you're looking to build your own home-based business like we have with this webpage, check out Wealthy Affiliate.
Wealthy Affiliate is an all-in-one platform that you can build your whole affiliate marketing business on. It combines training, software, and website hosting into one. This makes the whole process of starting an online business from scratch much easier, especially if you're new to building a website.