I had quite a variety of toolboxes when we lived in our sticks and bricks home. Three-drawer, eight-drawer, 15-drawer, metal and plastic old school tackle box type toolboxes, tool bags, and even cheap plastic storage boxes. But living in an RV space is a premium. There is hardly enough room for one toolbox let alone a bunch of large toolboxes with drawers.
We found that we needed something a little more versatile for our RV and Jeep adventures. These products from Atlas 46 provide that versatility and hold an unbelievable amount of tools. This Atlas 46 Tool Bag Review is for the Yorktown Tool Roll® and their Tool Roll Pouch.
This post contains affiliate links. As a participant in Amazon Associates and various affiliate programs, we are compensated when qualifying purchases are made through our referral links at no additional cost to you. Full Disclosure
Atlas 46
For over 40 years Atlas 46 has been the world leader in the production of top-quality individual equipment products for the military, homeland security, and law enforcement agencies.
In 1974, they began operations in St. Louis, Missouri, where they produced nylon gear for motorcycle racing, including assorted bags, fanny packs, motocross pants, and a variety of other packs.
In 1977, the company redirected its product focus to fill a noticeable void in the availability of quality tactical nylon products for military and law enforcement.
And now they bring the highest standards of quality and innovative design to the consumer by producing products conceived and produced with the end user's wants and needs in mind. With locations in Fenton, MO, and Hillsboro, IL, Atlas 46 designs, develops, and manufactures innovative, premium workwear and gear for the construction, carpentry, electrical, maintenance, off-roading, DIY, and woodworking industries.
The company was established in 2013 by founder and owner John Carver and is well-known nationally and internationally for its innovative work gear and patented system that allows users to arrange and rearrange pouches based on their needs.
Yorktown Tool Roll®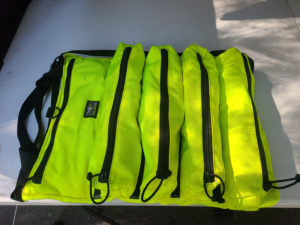 This product from Atlas 46 is a lot more versatile than most general-purpose tool rolls I have seen. It can be tailored to suit whatever combination of wrenches, sockets, screwdrivers, pliers, or any other tools you'd like. The double-sided design makes it easy to find tools, laying out the combination wrenches logically. You won't lose that notorious 10mm socket at the bottom of this roll.
Offering the ultimate convenience for RVing and also off-road adventurers, the Atlas 46 Yorktown Tool Roll is the perfect 'throw 'n' stow' tool roll to keep handy in the back of your vehicle.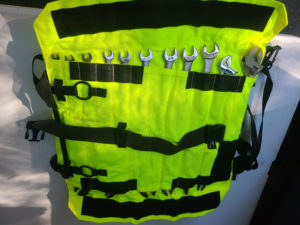 With four 16″ large front pockets, 1 Low-profile all-purpose pocket, 11 wrench slot organizers, and seven multipurpose tool slots, not to mention two carrying handles, you won't need to waste any time looking for the right tool – simply unroll the pouch and all will be neatly laid out before you so you can get to work right away.
Hand-crafted in the USA with 1000D Cordura® nylon, a tough, wear-resistant material born out of World War II, and American Made YKK® zippers, the Yorktown Tool Roll® comes with a lifetime guarantee, so you can be assured of a top-quality product.
With their 46-Day Trial, you can Test It, Review It, and Inspect It. And if you're not completely satisfied with the purchase, return the USED product for a full refund. They are confident in their product, enough to let you try it out risk-free for 46 days. I don't think you'll be disappointed.
This tool roll is made from Cordura®, It has similar properties to canvas, but being synthetic nylon won't hold moisture and rot. There's a heap of Velcro and YKK zippers providing functionality and endurance. The big 1.5″ buckles save your fingers from fumbling too.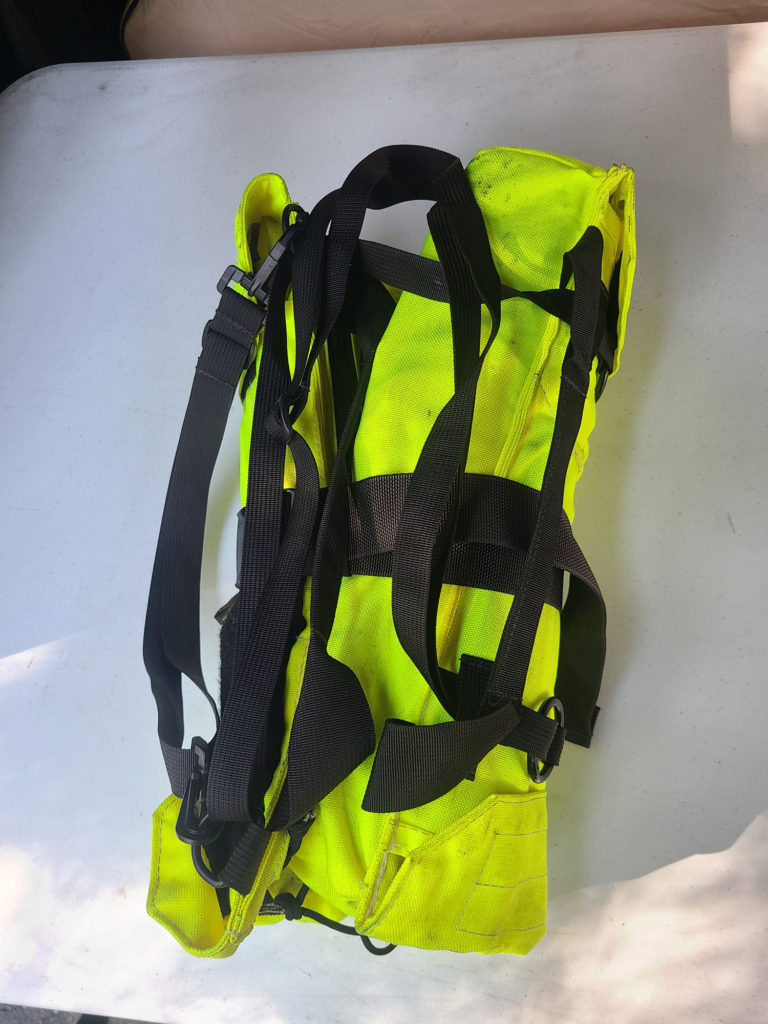 The Yorktown Tool Roll® comes in four colors: black, coyote, orange, and chartreuse. I went with chartreuse for the visibility factor.
Moving from a home to our RV the Atlas 46 Yorktown Tool Roll is amazing considering its size and compact looks. You can stow most of your necessary tools all in one place. Once filled, you simply unhook the main buckle and lay it flat.
On one side you have 5 pockets and on the other side, you have the 18 tool slots covered by a Velcro flap. It's very rugged with strong zippers and the seams are sturdy enough to handle a large load of tools.
It is the perfect item to hold my standard and metric combination wrenches, screwdrivers, pliers, vise grips, and a variety of other hand tools. About the only thing that I wasn't able to put in the Yorktown was my three socket sets. I put those in my Atlas 46 Tool Roll Pouch that I'll cover next.
Tool Roll Pouch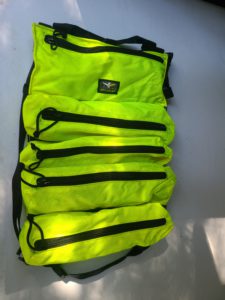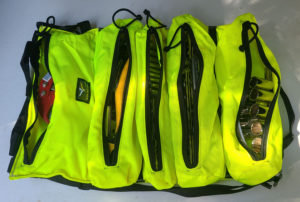 Similar to the Yorktown Tool Roll® without the 11 wrench slot organizers and seven multipurpose tool slots the Atlas 46 Tool Roll Pouch is also Hand-crafted in the USA with 1000D Cordura® nylon and YKK® zippers. The Tool Roll Pouch comes with the same lifetime guarantee and 46 Day Trial.
With four zippered large pockets and one Low-profile all-purpose pocket it made the ideal location to hold my 1/4″, 3/8″, and 1/2″ socket sets each with standard and metric sockets. I put each socket set in its own individual zippered large pocket leaving me room for miscellaneous tools in the other two pockets.
The set then rolls like the Yorktown Tool Roll into a compact size. It can be thrown behind the seat of your vehicle or like us and keep it rolled out and stored in our RV basement.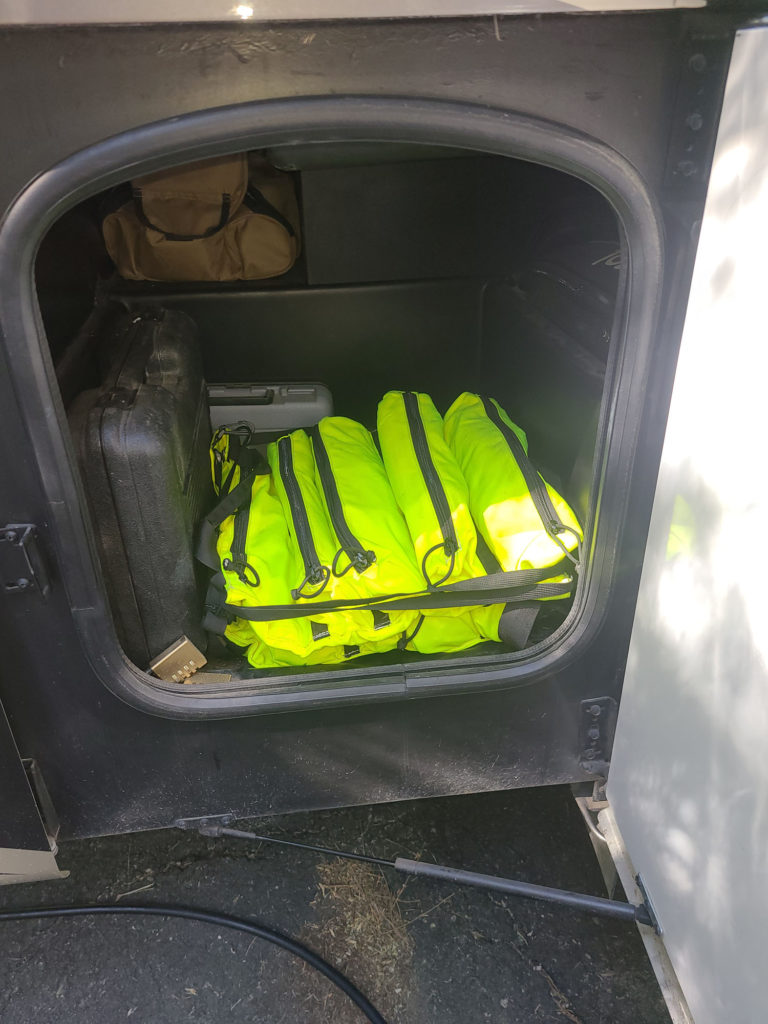 The Tool Roll Pouch comes in two colors: black and coyote. When I bought mine they also came in multi-camo, orange, and chartreuse. Since these items are handmade they may bring back the other colors later.
Conclusion
I've only covered the tip of the iceberg here. Atlas 46 has a laundry list of tool belts, work gear, aprons, and bags. And all made with pride right here in the good ole' US of A. Take a few minutes and check out the Atlas 46 website and support these American workers making high-quality products for the working professional.

Thank you for taking the time to read our reviews on Atlas 46 Yorktown Tool Roll® and Tool Roll Pouch. If you have any questions or comments please leave them below.
If you're looking to build your own home-based business like we have with this webpage, check out Wealthy Affiliate.
Wealthy Affiliate is an all-in-one platform that you can build your whole affiliate marketing business on. It combines training, software, and website hosting into one. This makes the whole process of starting an online business from scratch much easier, especially if you're new to building a website.