Workamping this summer was not on our radar. Our plan was to spend the summer traveling around Alaska taking in the sights, attending festivals, and fishing. We planned on leaving Washington State to cross into Canada on May 26th, returning about the end of September. But with the Coronavirus Pandemic, the Canadian Border was closed and not scheduled to reopen for nonessential travel until first June 21st and now July 21st, who knows if it will even open then? So with our plans stopped we decided to make some changes to how we spend the summer.
Initially, we wanted to do some Workamping this winter when we returned from Alaska. But with our blown plans we figured now would be a good time to find a job and save money and try to do Alaska next summer.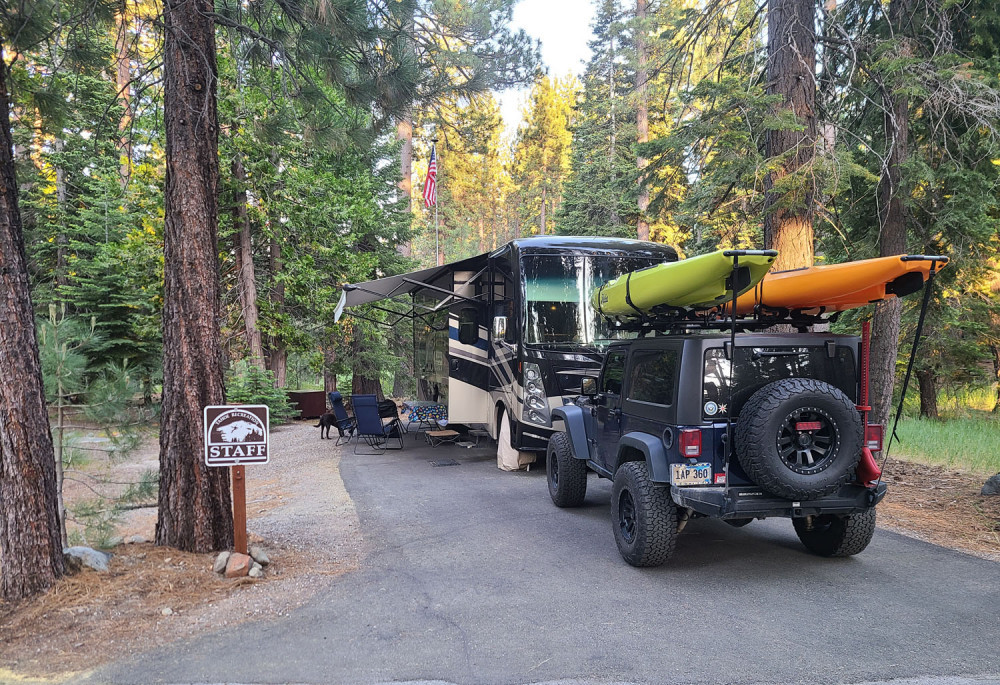 This post contains affiliate links. As a participant in Amazon Associates and various affiliate programs, we are compensated when qualifying purchases are made through our referral links at no additional cost to you. Full Disclosure
Shop Camping World Products on Sale Now!
What is Workamping
The term "Workamping" was coined by the founders of Workamper News and they made it their trademark in the 1980s. Therefore, I will give credit where it is due and use their own words from the web page "What Is Workamping?" to define the term.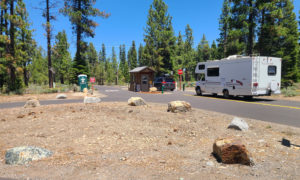 "Workampers are adventurous individuals, couples, and families who have chosen a wonderful lifestyle that combines ANY kind of part-time or full-time work with RV camping. If you work as an employee, operate a business, or donate your time as a volunteer, AND you sleep in an RV, you are a Workamper!"
Please note that the definition says nothing about "retirement" or "campgrounds". If you sleep in an RV at night and you conduct any activity in exchange for anything of value, you are a Workamper!
The jobs come in a wide variety of positions ranging from campground host to outdoor hospitality to working for Amazon or beet harvest worker. They offer a variety of different compensation structures that will include a basic trade of hours for a free RV site, free campsites + pay, straight pay, as well as many others.
Why Workamping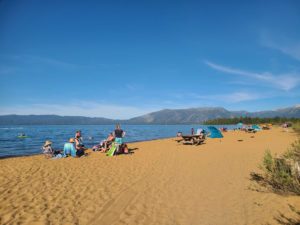 There is a common misconception that Workamping is primarily for retirees looking to supplement their retirement. This isn't entirely true. While it is true that many retirees are also Workampers, this does not mean that Workamping is not for non-retired RVers. People of all ages who love the freedom to travel slowly throughout the USA while still earning an income are using Workamping as a means to make money and travel along the way.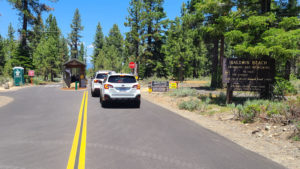 For people who wish to travel and see the country, without starting a small business or taking their remote jobs on the road, Workamping is the answer to your travel income needs.
Sometimes Workamping is a way to escape the hustle and bustle of the 9-5 world that does not allow for location independence, sometimes this is to make money and travel while living in an RV full-time, and for others, it's an easy way to earn money after retirement.
Finding a Job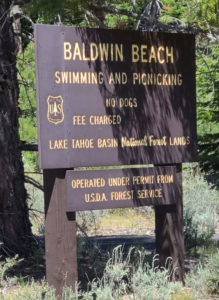 The first thing we did once we decided to go Workamping this summer was to create an Awesome Applicant Resume on workamper.com. The resume is a simplified version that includes both mine and Lisa's skills, qualifications, backgrounds, where we want to work, and when we can start. We included pictures of us, our RV, and our dogs. It seems that a lot of employers want to see those things included.
Next, we searched the Hotline Ads on workamper.com. We found plenty of jobs available in Oregon, Washington, and California. To apply for them is as simple as sending the employer an email with the resume attached. We sent emails to about five employers and got responses quickly from everyone.
Once you create and save your online resume it will be added to the database that is searched by employers. They will contact you directly if they are interested. We received emails from three or four employers that found our resume online at workamper.com.
It seemed like we could have had our choice of jobs when we started getting emails back from employers. Everyone wanted to interview with us and basically had job offers available to us after talking on the phone.
Our First Job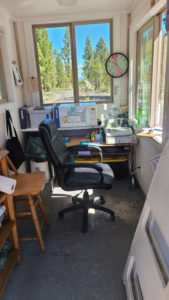 Our first job is working at beach entrance kiosks at Pope and Baldwin Beaches on Lake Tahoe. For our work, we get a free full hookup campsite and each of us makes $13 per hour. We're staying at Fallen Leaf Campground near a lake by the same name. The campsite assigned to us is one of the nicest we've been at since we hit the road. The 50 amp full hookup campsite is huge and has a paved pad, picnic table, fire pit, and bear box. We are looking forward to seeing the bears in the area.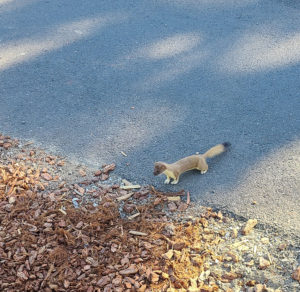 We've been scheduled to work 32 hours per week giving us plenty of time to explore the area. Although Lisa has picked up a couple of extra shifts here and there. Our work location is the kiosk where guests come in to go to the beach. We take payments for beach access and check and sell season passes. The work itself is fairly easy but fast-paced making the days go by quickly.
At the kiosks, we've had a few wildlife sightings. On my first day, I saw a local coyote come running by, a little too quickly for me to get a picture of. And I had a visit from a cute weasel that ran by the kiosk. I saw him out of the corner of my eye and went to the door to get a picture of him he was coming back to pick up a mouse that he dropped and I got a quick picture of him.
There is supposed to be a good-sized black bear that frequents the Baldwin Beach area but I haven't seen him yet. On July 11th I did finally see a black bear go running across the road in front of my kiosk. I snapped a couple of quick pictures but they aren't very good as I took them through the window screen. Hopefully, I'll see him again and can get a better picture.
Things to See and Do
Conclusion
There are jobs all over the country looking for full-time RVers like us to come work for them for a few weeks, a season, or longer. Regardless of how much you've saved to start the RVing adventure you may likely need or want to supplement your income while on the road.
You can easily do this with just a little creativity, a lot of flexibility, and an adventurous spirit with regard to jobs for RVers and Workamping! Workamping can be a great way to travel and see the country while earning a living along the way. We highly recommend giving it a try.
We hope you enjoyed this article. Have you done any Workamping yourself? What was your experience like? Please let us know below. Also, if you have any questions about Workamping just ask them in the comments below.
Our Other Workamping Jobs
Workamping 5.0 Gate Guarding in Texas
Workamping 4.1 Yellowstone Camera Store, West Yellowstone, Montana
Workamping 3.0 Yellowstone Grizzly RV Park, West Yellowstone, Montana
Workamping 2.0 JCPenney Distribution Center Reno, Nevada