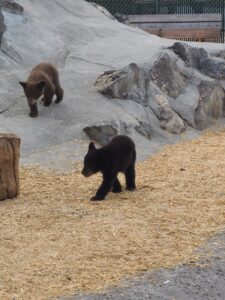 We stopped in Rexburg, Idaho a few years back to spend a day at Yellowstone Bear World to feed the baby bears and drive through their wild life park. Back then we stayed at a hotel in Rexburg. This time we're making our way to West Yellowstone where we'll be Workamping for the summer. We knew we wanted to visit Bear World again on our way North so I started looking on RV Trip Wizard for a campground nearby.
I came across a number of RV parks, resorts and campgrounds. I clicked on one and Beaver Dick Park came up. After a quick chuckle, curiosity kicked in and I looked into it more. Having only one $ on the listing peaked my interest. But there were only two 5-star review from 2014 so I had more investigating to do before we decided to stay.
I found out that the park is named after "Beaver Dick" (Richard Leigh) who was one of the last of the real mountain men of the valley.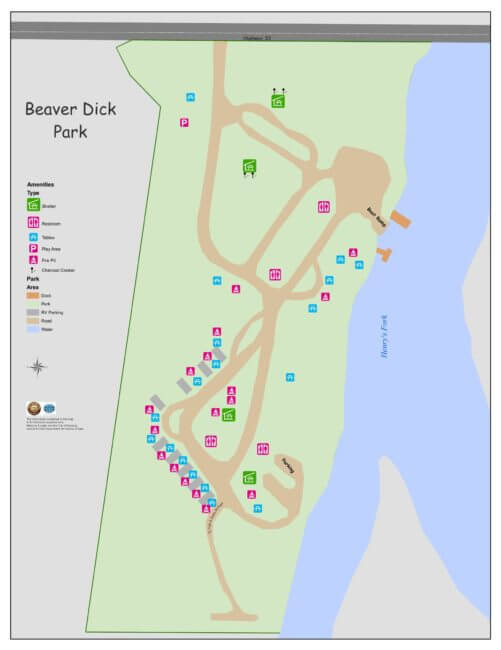 The park is maintained by Madison County Parks and Recreation Department. And was a project of the Idaho Transportation Department and the Rexburg Rotary Club.
This post contains affiliate links. As a participant in Amazon Associates and various affiliate programs, we are compensated when qualifying purchases are made through our referral links at no additional cost to you. Full Disclosure
We do all our trip planning with RV Life Trip Wizard. RV Trip Planning Made Simple! RV Life Trip Wizard is by far the best RV route planner we've found. Get your 7 day Free Trial

Location
Located 7 miles west of Rexburg on Highway 33. When you cross Henry's Fork the park will be on your left.
Prices
Campsites are $10 per night or $40 for five nights. Camping is limited to five nights in a 30-day period.
Reservations
This is a First Come First Served Campground. Once you arrive they have a pay box at the front of the park, but while we were there it was labeled as out of order (we don't know how a box with slots that you slide your money into is out of order, but oh well). Once you pick your spot you call 208-356-3139 to pay by credit card.
Our Review
We arrived around 1 pm on Wednesday, April 28, 2021. As we were driving in we worried that we arrived too late for a First Come First Serve campsite. Passing a 5th wheel heading east on Highway 33, we joked that they probably didn't get a campsite at Beaver Dick Park.
Crossing over Henry's Fork of the Snake River we made the next left and pulled into the park. Instantly impressed by the well-manicured grass (that they'll fine you $300 if you drive on), and the nice playground for the kids. We stopped to get our bearings. I walked over to the pay station to read the rules and figure out where the campsites were at. There were a few cars parked nearby, a couple eating lunch overlooking the river, and some guys playing disk golf.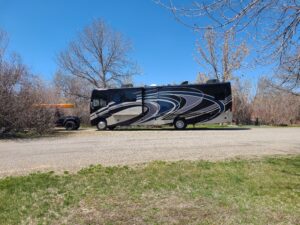 The pay station was out of order and a number was listed to call and pay by phone. We drove down to the camping area and were pleasantly surprised to see just one RV backed into a site. I walked around a bit to see which site we wanted and found a nice one in the corner of the park. B6 was our choice.
Over our five nights at Beaver Dick Park, there were always campsites available. Friday night had 6 of the 12 sites still empty which amazed us. Saturday had eight available sites and Sunday had 10.
The sites are level and big rig friendly. Some have trees nearby that hang over the pad so you may have to negotiate around a bit.
The campsites are really nice, far enough from the highway to be quiet, each with a large picnic table and a fire ring.
While there were plenty of campsites available during our stay, the picnic pavilions got lots of use daily. Gatherings of all sizes were held on-site.
Amenities
Beaver Dick Park is a basic park with picnic shelters and some campsites.
Each campsite has picnic tables and campfire rings and garbage can
No power, water, or sewer is available, this is a boondocking campground
Small floating swimming dock for advanced swimmers
Use life jackets and only swim during lower water flows
Beaver Dick Park is open to the public seven days a week
It is occupied on a first come first served basis
Shelter reservations can be made by calling 208-356-3139 and paying a fee for shelters
Restrooms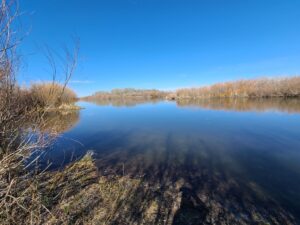 There are pit toilets located throughout the park. The one closest to our campsite was not very clean. Another one I went to near the front of the park was clean and well-stocked.
Phone and Internet Service
We use T-Mobile for our phone service. Service at Beaver Dick Park was OK with 2 to 3 bars of service.
Our Verizon MiFi received 2 bars of service and we were able to use our Fire Stick and stream Netflix with some buffering. It worked a bit better with our WiFi Booster on our motorhome.
Sports, Recreation, and Playground Areas
There are a couple of nice play areas for the kids. There is also Disk Golf, Horseshoe Pits, and a Volleyball court.
Things to see/do nearby
Cartier Slough Wildlife Management Area is located next to Beaver Dick Park along Henry's Fork of the Snake River and provides a habitat for waterfowl and over 200 wildlife species. There are hiking trails throughout the area to explore.
Yellowstone Bear World – This is the main reason we chose to come back to Rexburg. When you visit this beautiful region don't miss Idaho's #1 wildlife attraction. On the last trip, we got to feed baby bears, it was so much fun. This trip we are a bit too early for feedings but we'll come back later in the summer for that.
Kayaking or Fishing Henry's Fork – We managed to get our kayaks on the water for a day trip upriver. Unfortunately, our dogs had different ideas. Both kept jumping into the water and swimming and wouldn't sit still on the back of our kayaks like usual. After about an hour we called it quits and went back to the boat ramp in the park.
Farnsworth TV and Pioneer Museum in Rigby- Driving by we wondered why would they put TVs and Pioneers together in a museum. Then we found out that Philo T. Farnsworth, the inventor of television grew up in the small town of Rigby. The museum is currently only giving tours by appointment due to Covid. We didn't visit while we were in town but plan to next time.
Conclusion
Beaver Dick Park in Rexburg, Idaho is a hidden gem that shouldn't be missed when in the area. If you're in need of a campsite for a few days in the Idaho Falls, Rexburg area you can't beat this park for the price. Next time through the area this will be a place we stay at again.
What interesting places have you been to and can recommend? We're always looking for neat out-of-the-way places to put on our list of must-sees. Thank you for reading our article. If you have any comments or questions we'd love to hear from you below.
If you're looking to build your own home-based business like we have with this webpage, check out Wealthy Affiliate.
Wealthy Affiliate is an all-in-one platform that you can build your whole affiliate marketing business on. It combines training, software, and website hosting into one. This makes the whole process of starting an online business from scratch much easier, especially if you're new to building a website.