When we first purchased our Class A Motorhome we knew nothing about Flat Towing a Jeep Wrangler but thankfully Giant RV, where we made our purchase set us up with the Demco Stay in Play DUO Braking System. They could have easily set us up with a system that is bulky and needs to be put in and taken out each time we set up the Jeep to tow.
Note: Some of the links in this article are affiliate links.
GoFullTimeRVing.com is a participant in the Amazon Services LLC Associates Program. As an Amazon Associate, we earn from qualifying purchases linking to Amazon.com and affiliated links. When you use the links on this page to make a purchase, we may get a small commission and you may get a great bargain. You don't pay anything extra by purchasing through these links. It's a win-win all around. See our Full disclosure for more info. Thank you!
The Demco Stay in Play DUO is so simple to use. Once installed on the vehicle simply turn on the switch and you're ready to tow your vehicle.
An ideal supplemental braking system for every car and motorhome with a hydraulic braking system, the Stay-IN-Play DUO uses Demco's patented technology to create a dual-signal system (brake lights and inertia) for progressive brake activation. This results in faster, more precise signals between the motorhome and towed vehicle for additional safety, longevity, and easy handling.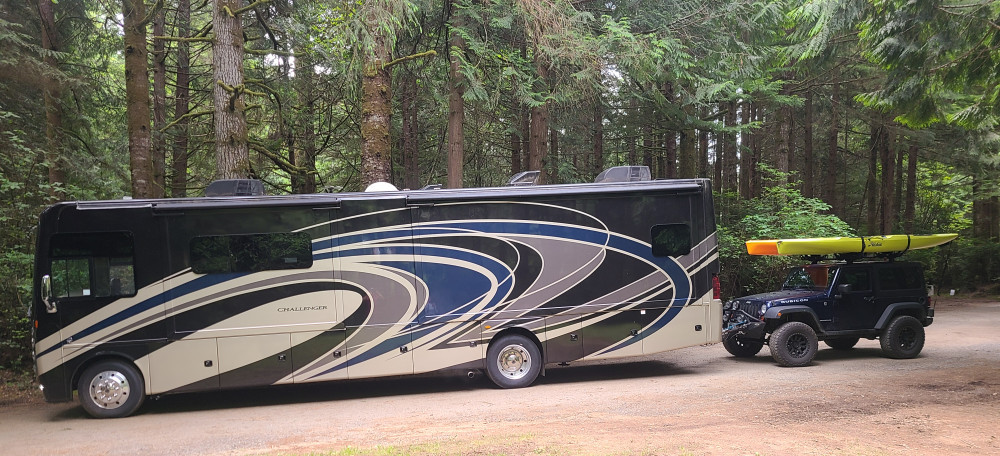 Features
From the Demco Website; DUO combines the power of air pressure and the gentleness of vacuum to give you the fastest most powerful self-contained supplemental brake ever. Duo uses the power and speed of air pressure to activate your towed vehicle brake pedal while creating a vacuum for the power brake system.
These two features combine to create the only progressive and proportionate vacuum-assisted system with total control. Duo requires BOTH deceleration AND coach brake lights to apply the towed vehicle brakes. Combining two separate signals eliminates the need for complicated electronics, which provides a more reliable, long-lasting system. In addition, DUO is the pioneer in user-friendly operation; "Just Turn it on…and Tow."
This simple technology was first introduced in 2003. Tried and true, DUO does not have to be taken in and out for normal operation of the towed vehicle. Unhook the car and drive off, that's all. No box, no wires, and in fact, no physical connection to the motorhome at all.
Patent-pending air cylinder applies your towed vehicle's power-assisted brakes AND automatically applies proportionate and progressive brake effort. Only 10 pounds of force on your brake pedal in normal braking.
"Panic Stop Braking" – only Demco brings you additional stopping effort in a panic… up to three times the normal effort.
Coach notification of brakes applied with every unit.
The Stay-IN-Play DUO creates a vacuum to provide a totally reliable and consistent brake application.
Two signals are required to activate the Stay-IN-Play DUO system. The coach brake must be applied, AND there must be sufficient G-force. Stay-In-Play Duo should not activate while the coach or towed vehicle is not moving. No unwanted or unnecessary brake activations on grades or over bumps. And best of all, it is all automatic.
"Zero" set up for towing – the Stay-IN-Play DUO is always ready to tow.
Simple installation mounts the small operating unit under the hood of the towed vehicle so you never know it is even installed.
The air cylinder is so small it fits in the palm of your hand. No other system offers this much control and this much power all combined with a simple install.
On/off operation means you are tow ready in less time.
Our Review
With Stay in Play DUO, brake lights and deceleration are required so false or unwanted activations are eliminated. In addition, with two signals necessary to activate, there is no need for the delay technology found in all the box brakes.
What We Like About The System
1. Ease of Use! The system couldn't be easier to use. There is no big box to install in front of the seat to push the brake peddle like in other types of brake systems. Just flip the switch, adjust the sensitivity and go!
2. "Coach Notification" Without question, the most important thing when towing a vehicle is the status of the braking system. Are the brakes actually working? There is only one way to obtain reliable information about the towed vehicle's brakes and we believe this to be through the towed vehicle's brake light switch. The Coach Notification LED on the dash of our Jeep indicates if the light is on, the brakes are on.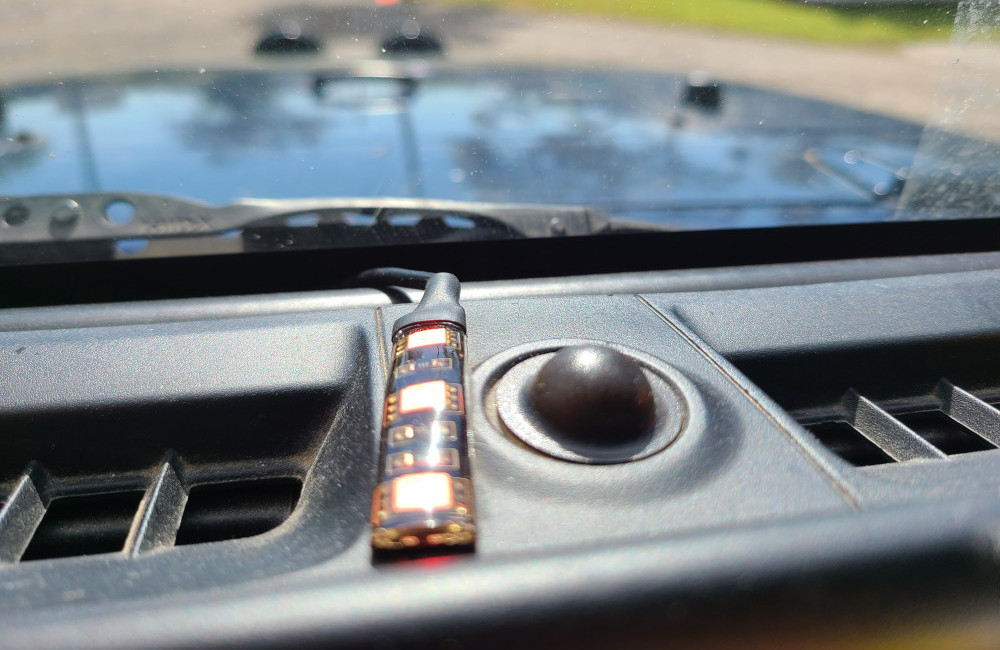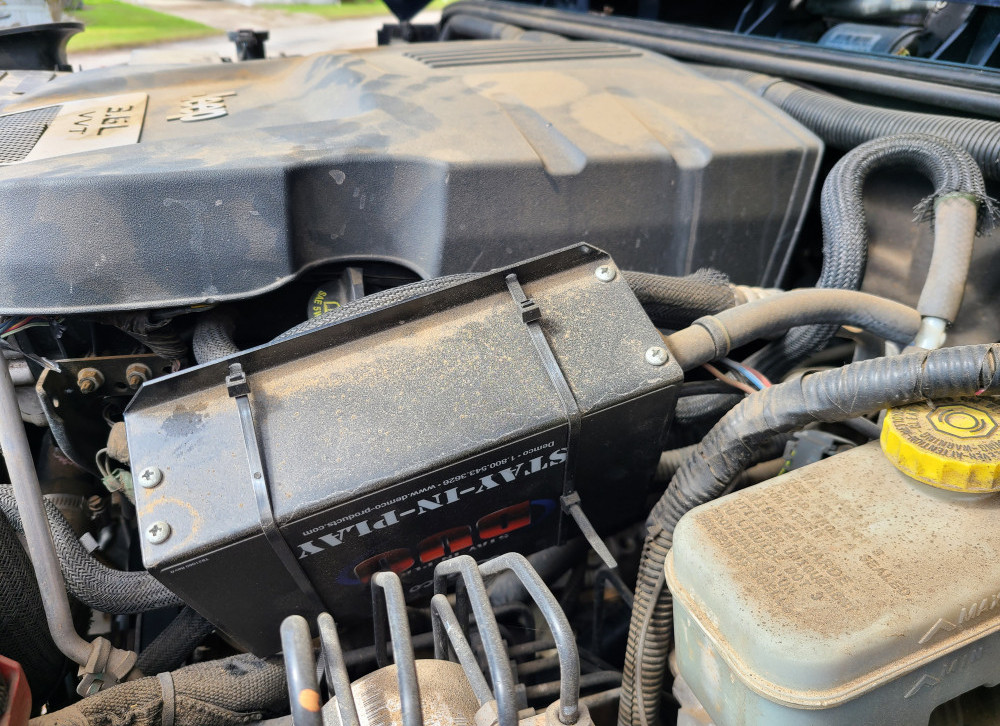 3. They call it DUO because two systems are better than one. DUO uses both air pressure and vacuum. A vacuum is created to energize the towed vehicle's power brakes and the air pressure to apply them. Secondly, DUO requires two separate signals to activate the towed vehicle brakes. Using two activation signals is the best method for eliminating complicated electronics and controlling unwanted or unnecessary activation of the towed vehicle brakes. Thus going back to Ease of Use.
4. Can be used on any vehicle. If we trade in our Jeep for some other vehicle, which is highly unlikely, we can take the Stay In Play DUO and install it on the next vehicle no matter what it is.
What We Don't Like About The System
1. The self-tapping screw used to hold the cable for the actuator to the firewall of the jeep pulled out upon actuation of the brakes. We recommend using a bolt with fender washers to attach the cable to the firewall. Simple fix!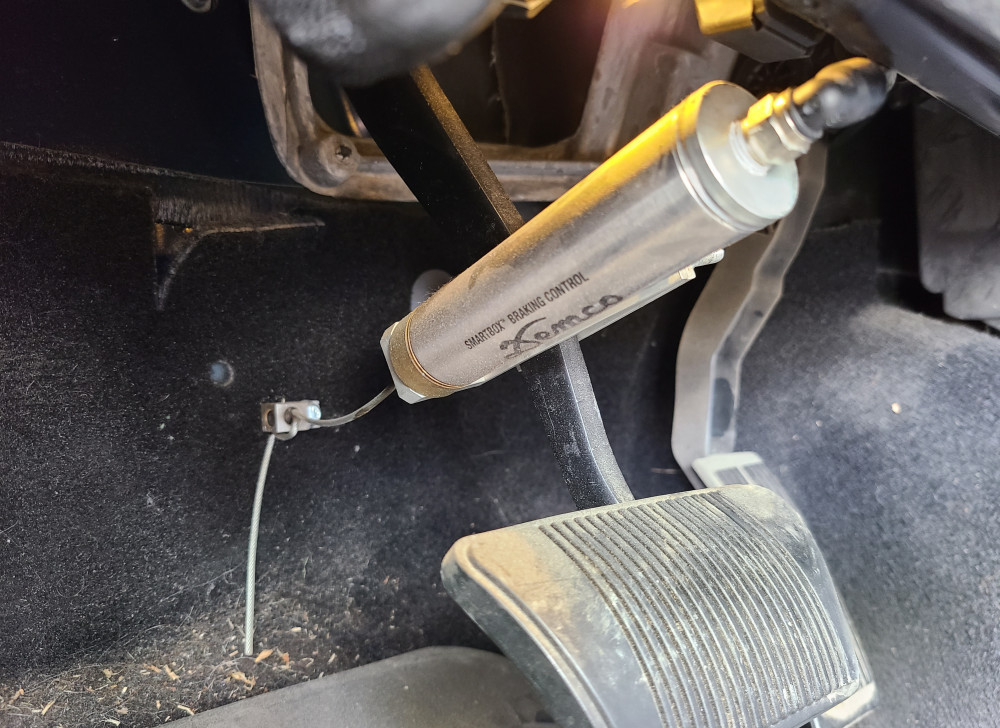 2. "Coach Notification" We love the coach notification but three little LED lights on the dash of the Jeep are hard to see in the rearview camera screen, especially during daylight. At night, it's no problem but we don't do much driving at night while towing.
We talked to a fellow RVer that ran the wiring for the Coach Notification back to the front of their motorhome and put the lights on the dash so they can see them. This is something we would like to do but haven't gotten around to it and keep faith that our brakes are working properly when we can't see the lights.
Conclusion
We couldn't be happier with the Stay In Play DUO. Its ease of operation and peace of mind that everything is working properly behind us makes us glad this is the system we got even though we didn't know it at the time. If we were going to install a brake system on another vehicle it would be Demco's Stay In Play DUO.
What type of brake systems have you looked at or have? Thank you for reading our article. If you have any comments or questions we'd love to hear from you below.
If you're looking to build your own home-based business like we have with this webpage, check out Wealthy Affiliate.
Wealthy Affiliate is an all-in-one platform that you can build your whole affiliate marketing business on. It combines training, software, and website hosting into one. This makes the whole process of starting an online business from scratch much easier, especially if you're new to building a website.