I used to Fly Fish Pass Lake a lot when I was stationed at Whidbey Island Naval Air Station. I learned to tie flies and would try them out on this lake. It was the first lake I caught a fish using one of my own flies. Pass Lake is where I first caught the fly-fishing bug. I love this lake and felt so fortunate to have had such a great trout fishery so close to where I lived.
Yes, the road along the south side of the lake is noisy, but I guess that doesn't bother me too much, the fishing is great!
Location
The 95-acre lake, located along Highway 20 just north of the Deception Pass bridge, has a graveled parking area and boat launch just off the highway at Rosario Road. The location is also the beginning of a 3.5-acre loop trail along the lake and into Deception Pass State Park.
A Discover Pass is required for parking.
This post contains affiliate links. As a participant in Amazon Associates and various affiliate programs, we are compensated when qualifying purchases are made through our referral links at no additional cost to you. Full Disclosure
Pass Lake
Main Species: Rainbow trout, Cutthroat trout, Brown trout
Size: Approx 95 acres
Public Access: Yes
Boat Launch: Yes, no motors allowed
Bathrooms: Yes
Opening Date: Open year round
Closing date: None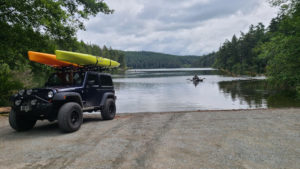 Special rules: Fly Fishing Only. Catch and Release. Barbless Hooks are Required.
It has been probably 15 years since I fished Pass Lake. On this trip back to Washington we're staying in La Conner and I was itching to get out on the water and try to catch some of Pass Lake's Trophy Trout. Although the day called for rain the overcast skies kept it to themselves. It was an awesome day to be on the lake and the number of cars in the parking lot definitely was a sign that I wasn't the only one that was thinking that way.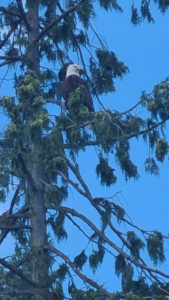 I rolled into the parking lot at about 11:00 a.m. and was in the water 30 minutes later after unloading and setting up my Hobie Outback. Talking with a guy just coming in he had a couple of fish he caught on a burnt orange leach pattern. I tied on a burnt orange cone head woolly bugger and set out trolling an area near the middle of the lake where I caught fish in the past. Trolling the area for about an hour watching and listening to a few eagles in the area I had no luck.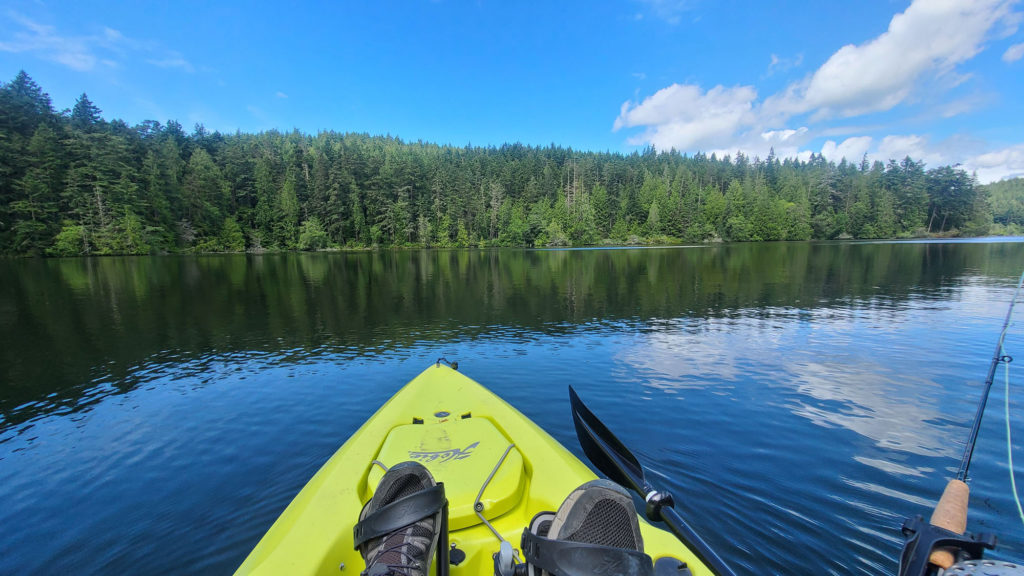 The sun started coming out and I decided it was time to change things up. I've had luck in the olive-colored water fishing an olive woolly bugger pattern so I tied one on. Within 10 minutes I hooked into my first fish of the day. A nice 12+ inch rainbow that put up a fairly good fight. Unfortunately, while I messed around videoing the fight I lost him right as I got him to the side of the boat. It was still a fun fish to play.
I continued on and a few minutes later I hooked into another fish. This one slammed the olive woolly bugger and took it down deep peeling some line off my reel. I fought it for a minute or so then the fish made a run at me and spit the hook. I think it must have been a fairly good brown trout the way it fought.
The last of the fish I hooked into this day was another rainbow that also hit the fly pretty hard. When this fish hit it came flying out of the water doing its acrobatics. The second time it came out of the water the fly came flying back at me.
I had a couple more hits in the next hour or so on the water, but it didn't matter. A family of otters was swimming ducking and diving around the grassy area on the Northwest side of the lake. Trying to get closer for a better view I missed one fish. The otters played around for a bit, but I wasn't able to get a good picture of them before they disappeared.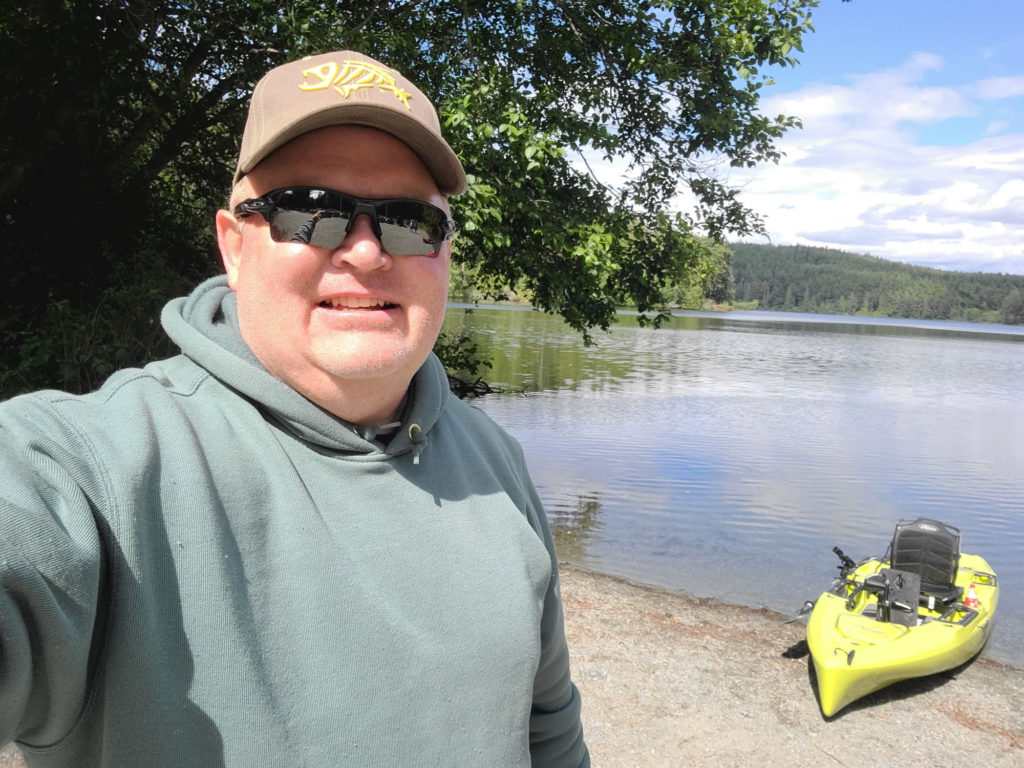 Other Things to Do in the Area
Conclusion
The only thing that could have made the day better is if I had landed a couple of the trout I hooked into. A beautiful day with bald eagles watching over the lake, otters playing in the water, and fighting a few fish only to have them win made for a great day on Pass Lake. I look forward to heading out there again over the next week of our stay in Northern Washington.
When I finished fishing for the day I donated my flies to the local Flybrary, hopefully, someone else can use them and catch a few Pass Lake Trophy Trout.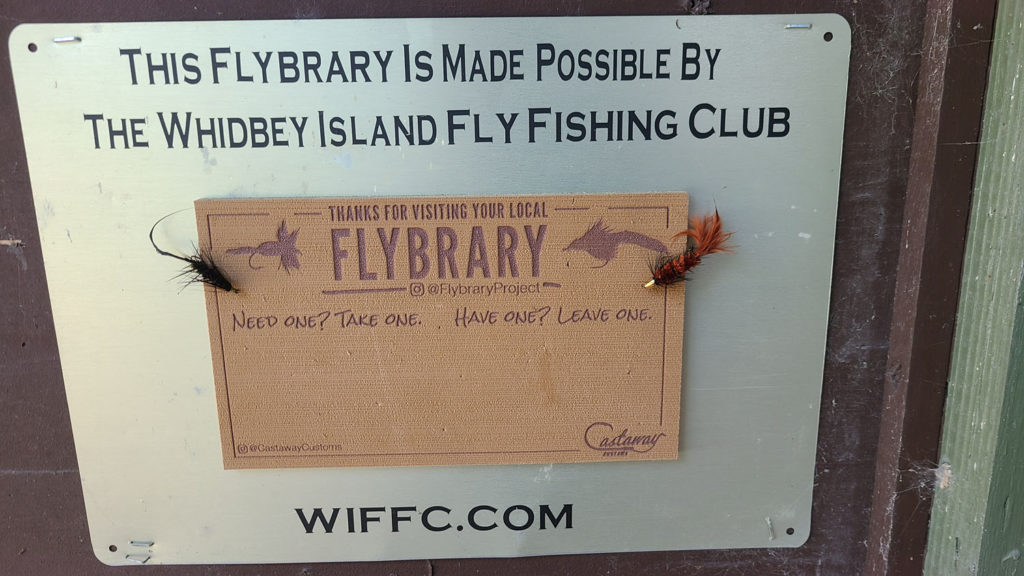 Thank you for taking the time to read our article on Fly Fishing Pass Lake. If you have any questions or comments please leave them below.
If you're looking to build your own home-based business like we have with this webpage, check out Wealthy Affiliate.
Wealthy Affiliate is an all-in-one platform that you can build your whole affiliate marketing business on. It combines training, software, and website hosting into one. This makes the whole process of starting an online business from scratch much easier, especially if you're new to building a website.