La Conner RV and Camping Resort have 316 campsites, 68 of which are full hook-up sites but only 30 amp service. There are sites along Skagit Bay that are water and electric-only sites, they have some amazing views.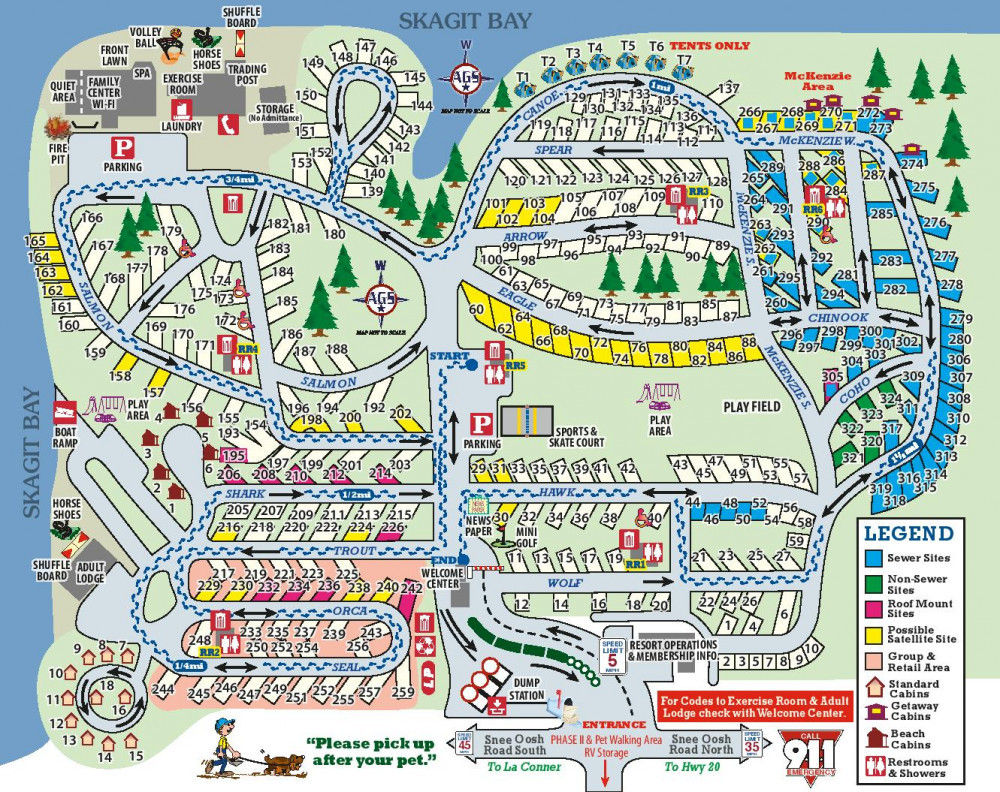 This post contains affiliate links. As a participant in Amazon Associates and various affiliate programs, we are compensated when qualifying purchases are made through our referral links at no additional cost to you. Full Disclosure
We do all our trip planning with RV Life Trip Wizard. RV Trip Planning Made Simple! RV Life Trip Wizard is by far the best RV route planner we've found. Get your 7 day Free Trial
Location
Located on Fidalgo Island in Washington State the campground is on Swinomish Reservation land. From I-5 take Hwy 20 west at Burlington toward Whidbey Island and Anacortes. Turn left at Reservation Rd then Right at Snee Oosh Rd. La Conner Thousand Trails is about 3.5 miles down Snee Oosh Rd.
Prices
RV sites start at $67 per night during the time of our stay June 1-21, 2020. Prices may vary at other times of the year.
These beautiful forested back-in sites with gravel pads are equipped for RVs up to 40′. They offer water and 30 amp electricity. You select your site upon arrival.
With a Thousand Trails Membership, the stay is free. If you're not a Thousand Trails member and would like to give it a try. Get out and camp with $100 off a Thousand Trails Camping Pass by clicking here.
Pull-thru sites are based on availability at check-in.
Reservation
Reservations (Member): 1-800-388-7788
Reservations (Non-member): 1-888-481-6348
Or visit their website to book online
Our Review
The area here is beautiful but the park needs some work and general upkeep. What this park has going for it is its unbeatable location.
The park is on a point that juts into Skagit Bay. It is so quiet and beautiful. The staff seemed friendly enough but we never really saw anyone doing any work other than mowing the grass a couple of times during our stay.
We'd see them riding around on a golf cart talking on the phone but never saw one cleaning a restroom or anything else.
Upon arrival, we looked for a full hookup site. Finding two open we took the better of the two. A site on Hawk that is a bit out of level sloping to the back and in need of some gravel. The other site which was narrower and not in a great location in the park was bagged the next day for some power issue.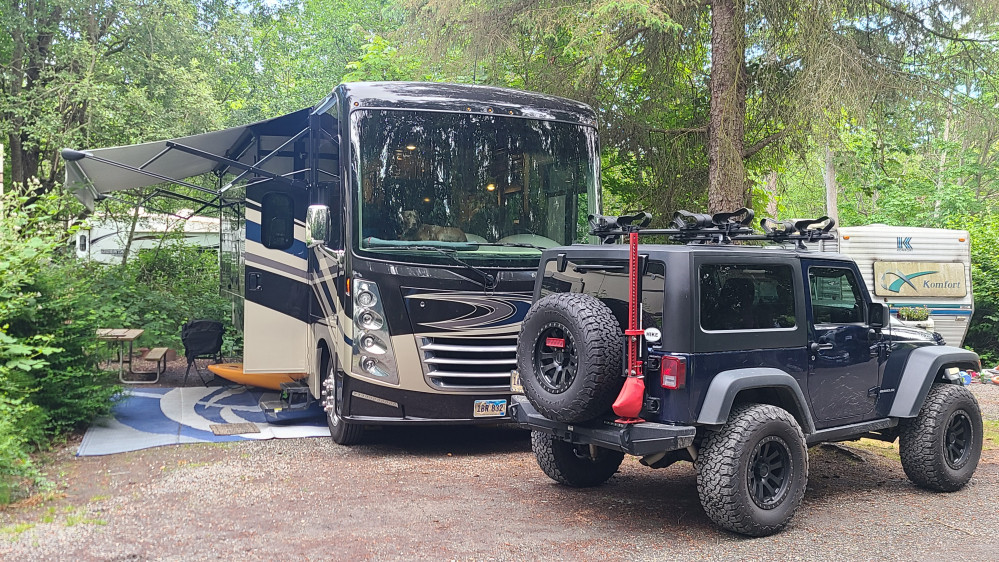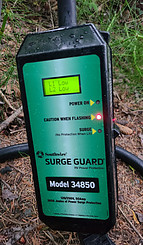 We were here for 11 of our 21 days when the power at our site had low voltage causing our EMS device to shut off power to our rig. We talked with a person at the Welcome Center and were told that we'd have to move because they only have an electrician come out when they get a bunch of sites with power issues.
It is a Thursday evening before everyone started showing up for the weekend we decided to stay put and just use the 20 amp service until we can move. We tried multiple times to plug back into the 30 amp service only to get the same 90 volts, low voltage reading on our EMS. Ending up moving to the site next door when our neighbors moved on.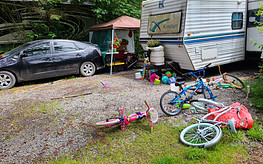 The restrooms and laundry room were the only amenities open while we have been here, due to the Coronavirus. While this is a nice park it shows a lack of upkeep.
Some annual sites are simply trashed. These campgrounds need to enforce their own rules when it comes to annual site holders. And Thousand Trails needs to invest a bit of money on this campground to bring it back to what it should be.

Amenities
La Conner RV and Camping Resort has a full list of amenities you'd want from a campground. We just wish things would have been open so we could have enjoyed the park more.
Restrooms/Showers
Most of the restrooms are dated and need a good cleaning. The one nearest our site had the shower out of order in the men's restroom.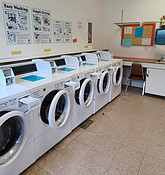 The laundry room was open the first week or so we were here but now says out of order on the door. My girlfriend asked a lady at the office about the laundry and was told it was closed because the machines were full of quarters and someone needed to come out to get them out. We were told they have a company contracted that take care of the machines but they haven't sent anyone over to empty the quarters. By the way, bring quarters, when the laundry was open we tried to get quarters from the Welcome Center and were told they don't handle quarters.
The cost to wash was $2.00 and the cost to dry was $2.00 for 60 minutes.
There is no dog park but plenty of places to walk them on a leash. There is room for a dog park and we wish they had a place to let the dogs run a bit.
The Lone Tree Lodge and Crab Shack Lodge were both closed during our stay due to the Coronavirus Outbreak. There is also a small store with necessities but it was closed too.
Pool/Spa
La Conner RV and Camping Resort does not have a pool, but they do have a spa. It is located in the Lone Tree Lodge area but was closed and empty during our stay.
We used General Delivery at the La Conner Post office to receive mail sent from our mail forwarding service.
Phone and Internet Service
We use T-Mobile for our phone service. Service at La Conner Thousand Trails was ok with 2 to 3 bars of service.
Our Verizon MiFi received 3 bars of service and we were able to use our Fire Stick and stream Netflix with no problems.
Sports, Recreation, and Playground Areas
La Conner RV and Camping Resort normally has plenty of sports and recreation activities available but like everything else, they were closed due to the Coronavirus Outbreak. The campground has Basketball, Tennis/Pickleball, and Volleyball Courts. Horse Shoes, Shuffleboard, Miniature Golf, Gym, and a couple of playgrounds. There is also a boat ramp to launch your boat or kayak. Along with the great beach to walk.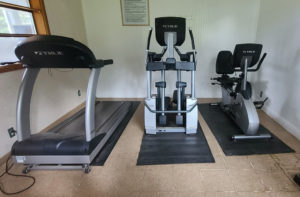 Things to see/do nearby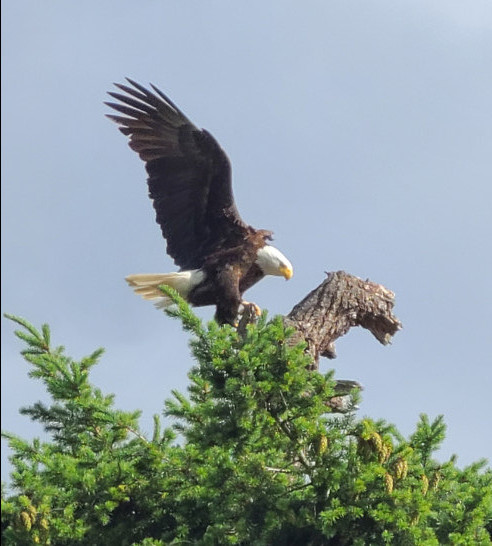 There is plenty to see and do around the area. La Conner is a cute little town with nice shops and restaurants. Venture out to Anacortes and catch a ferry to the San Juan Islands or go fishing on one of the many lakes or in Puget Sound.
We took a drive up Chuckanut Drive which is a beautiful scenic route between Burlington and Bellingham. Check out Larrabee State Park and go find some sand dollars on Clayton Beach.
While in Bellingham we also checked out Whatcom Falls a beautiful park with lots of hiking trails and a nice waterfall.
On Whidbey Island, you can see Deception Pass as the tides move through at about 7 knots.
It's quite impressive to see the water pass through the narrow gap between the islands. While at La Conner we saw a beautiful Bald Eagle sitting on Lone Tree! We watched him for about 30 minutes before we went on our way.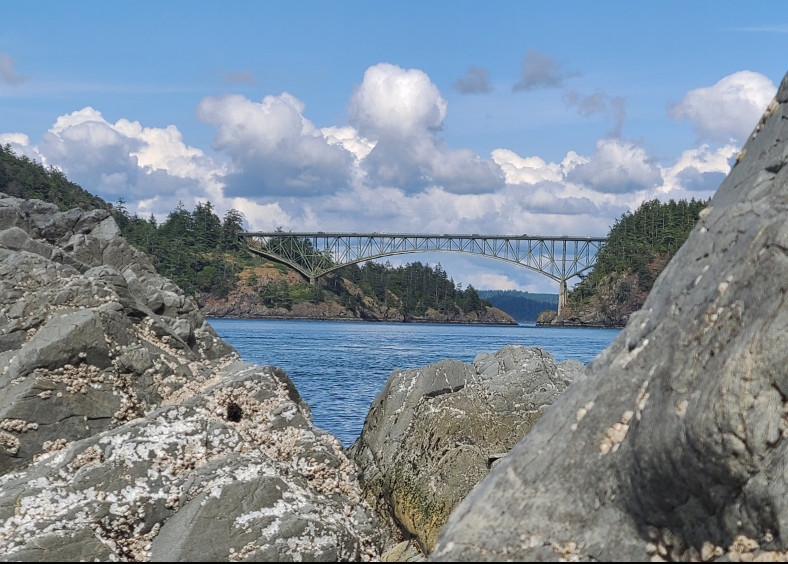 Conclusion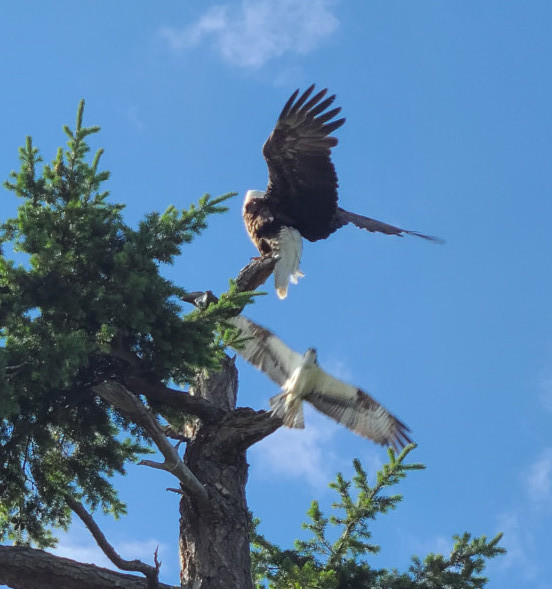 La Conner RV and Camping Resort is a beautiful campground that Thousand Trails has allowed to get run down.
With a little investment put back into upgrades, this could be an amazing place to visit. For now, it is a good location to see the surrounding areas and enjoy the beautiful Puget Sound Region.
We hope you enjoyed this review. If you have any questions about La Conner Thousand Trails or want to leave your own personal review please comment below.
If you're looking to build your own home-based business like we have with this webpage, check out Wealthy Affiliate.
Wealthy Affiliate is an all-in-one platform that you can build your whole affiliate marketing business on. It combines training, software, and website hosting into one. This makes the whole process of starting an online business from scratch much easier, especially if you're new to building a website.