Fort Amarillo RV Resort in Amarillo, Texas is a beautiful resort with 119 pull-thru sites with 30/50 amp service and full hook-ups. Enjoy an authentic western setting, complete with a stream-fed fishing pond, illuminated walking paths, and sunsets so breathtaking, even the most eloquent cowboy poets don't do them justice.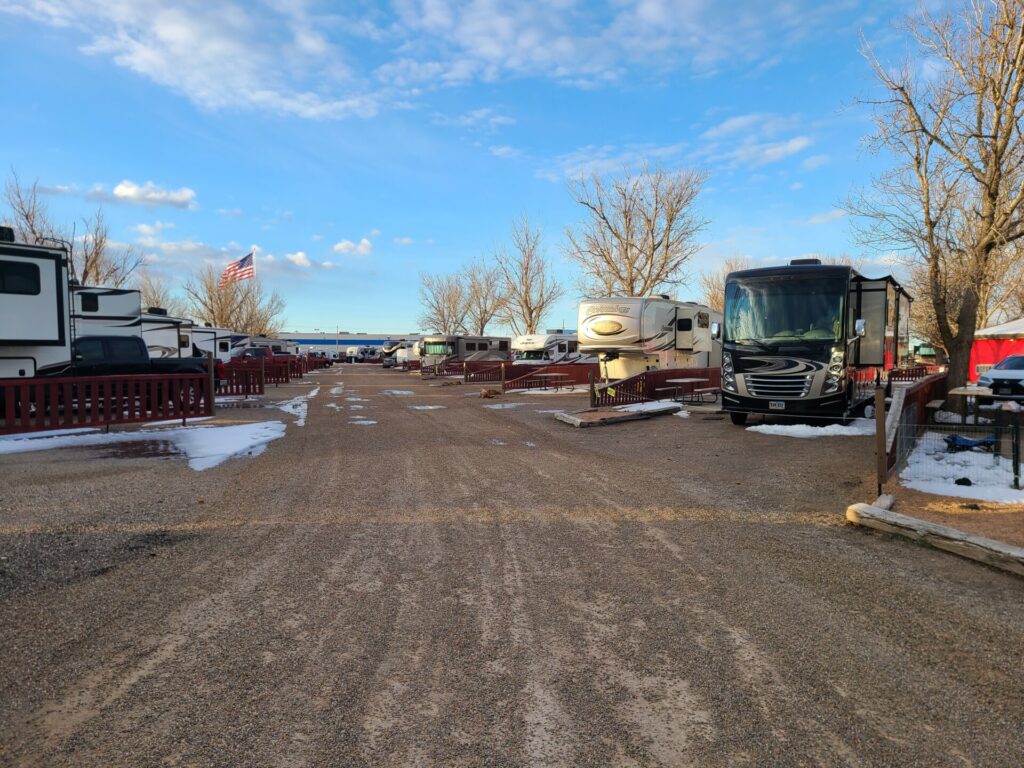 This post contains affiliate links. As a participant in Amazon Associates and various affiliate programs, we are compensated when qualifying purchases are made through our referral links at no additional cost to you. Full Disclosure
We do all our trip planning with RV Life Trip Wizard. RV Trip Planning Made Simple! RV Life Trip Wizard is by far the best RV route planner we've found. Get your 7 day Free Trial
A beautiful RV Resort with a nice gift shop and plenty of activities.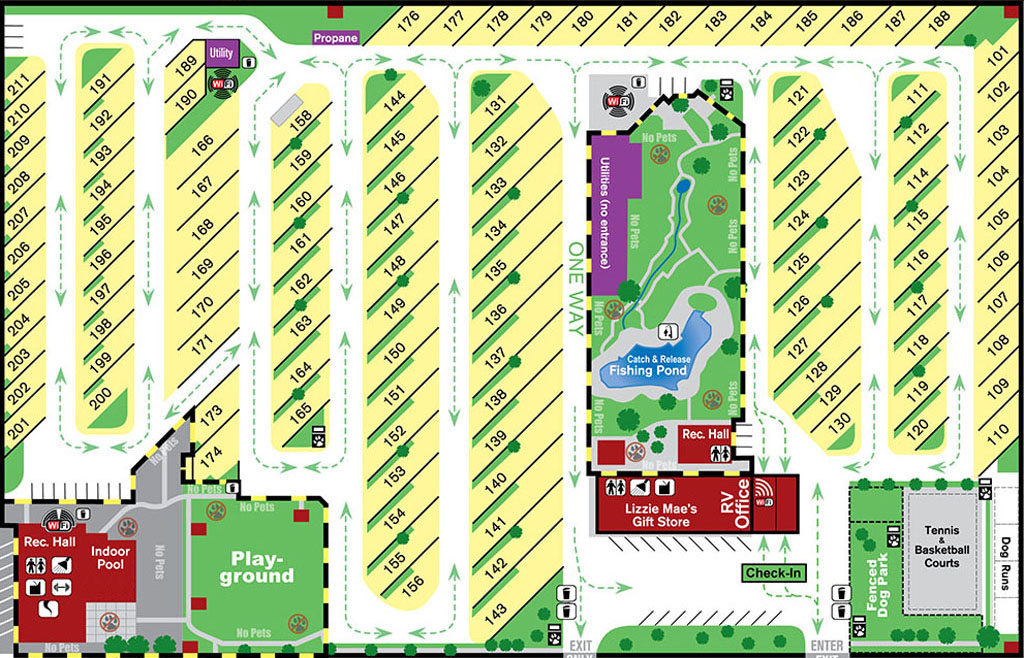 Location
10101 Business Interstate 40
Amarillo, TX 79124
Price
Daily Rate: $48 | Weekly Rate: $240
If you need more than 2 weeks, call for price and availability.
10% discount to members of Good Sam, AAA, AARP, KOA, FMCA, TACO, and the Military. Take advantage of the discounts. I was able to stack our Good Sam discount and Military discount which I thought was great!
Reservations
For reservations Click Here or call (806) 331-1700
Our Review
When we left Lake Elmer Thomas Recreation Area and headed West knowing we had a 30% chance of rain once we arrived in Amarillo, Texas. We got to town and checked into Fort Amarillo RV Resort about 10 minutes later the wind picked up and hail started falling. Once the hail stopped we decided to run over and check out Cadillac Ranch before we set up camp.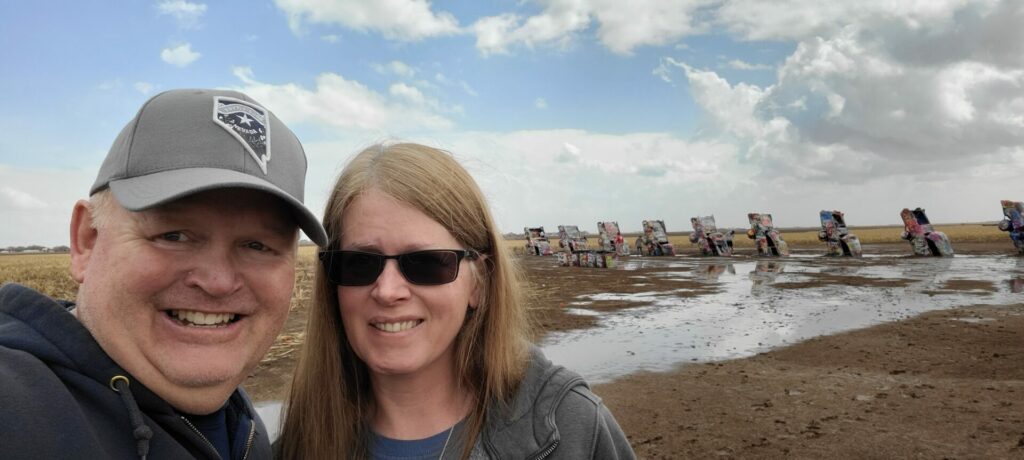 When we got to Cadillac Ranch it had rained quite a bit but we trekked through the mud and had fun checking out the cars. By the time we were done the wind started picking up so we headed back to the campground.
Once back at the campground with the wind whipping I looked at an updated weather report to find out that there was now a blizzard warning in effect for Amarillo and the surrounding areas, with five inches of snow predicted.
The weatherman didn't lie!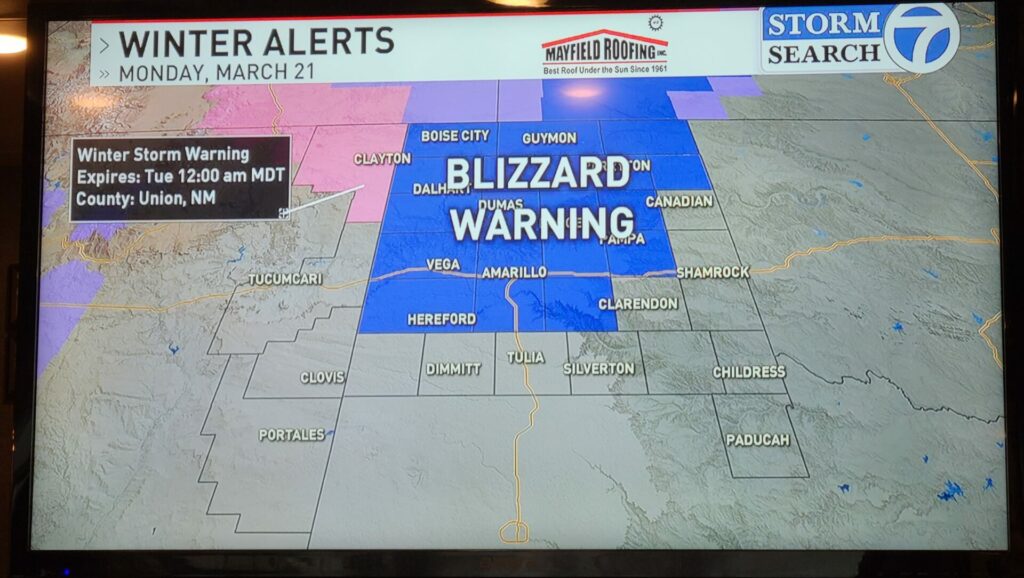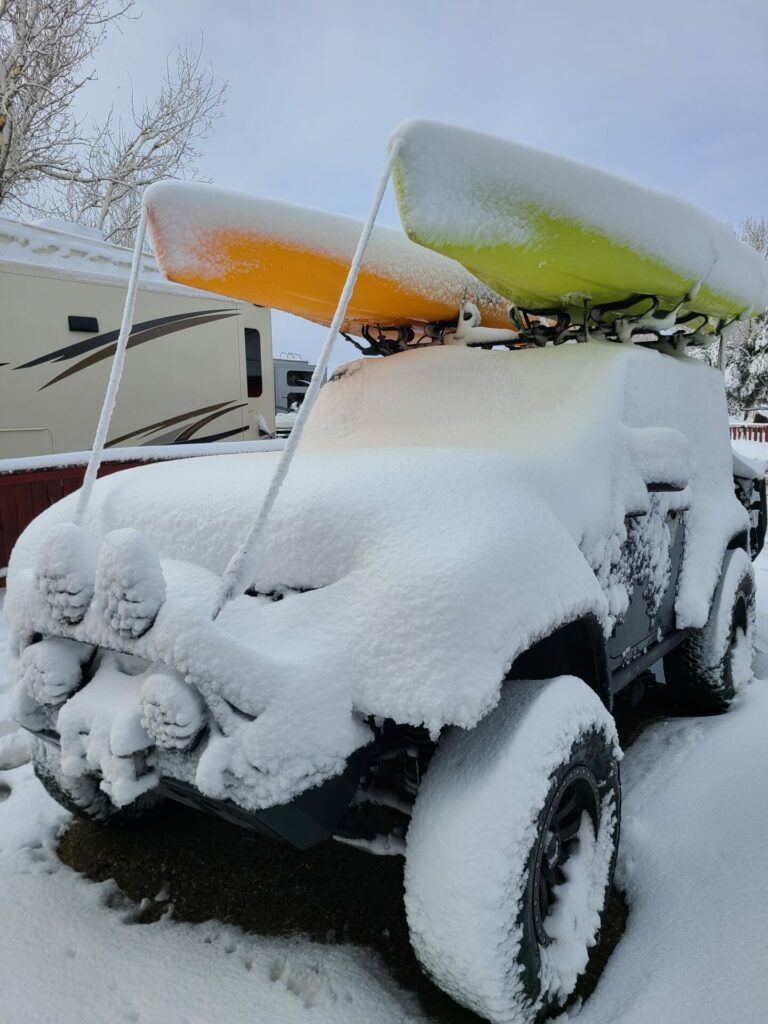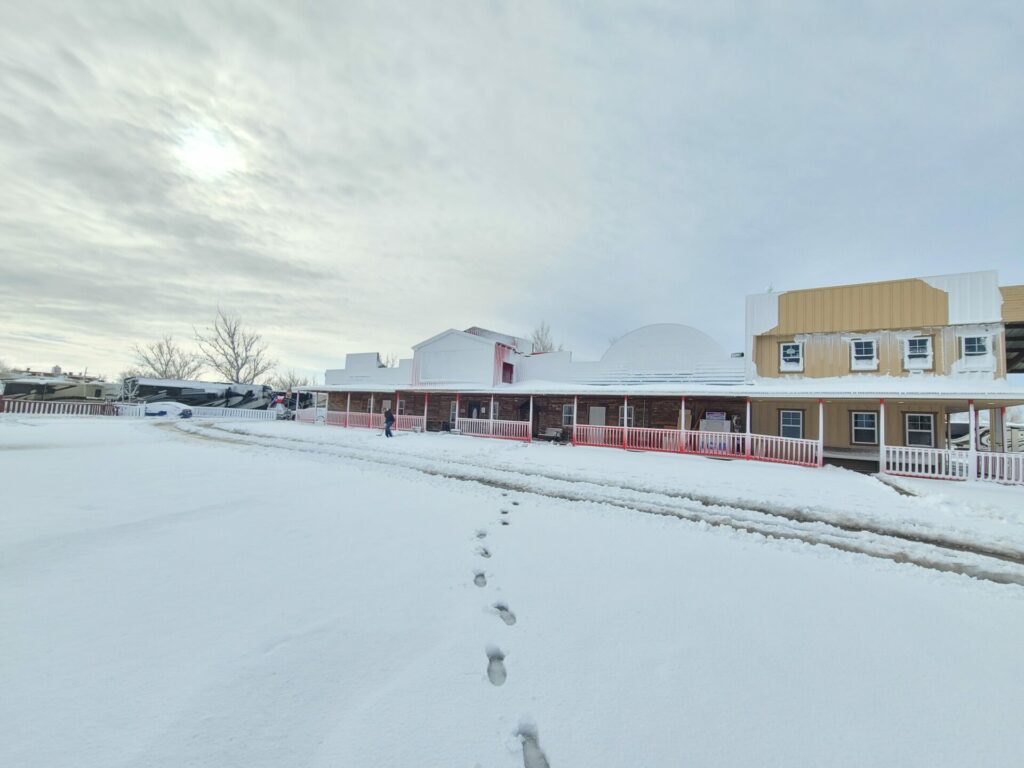 With the weather and running around we did we didn't spend much time checking out the campground. It does seem like a nice campground and the gift shop, Lizzie Mae's Mercantile is well stocked. We would definitely stay here again when in the area.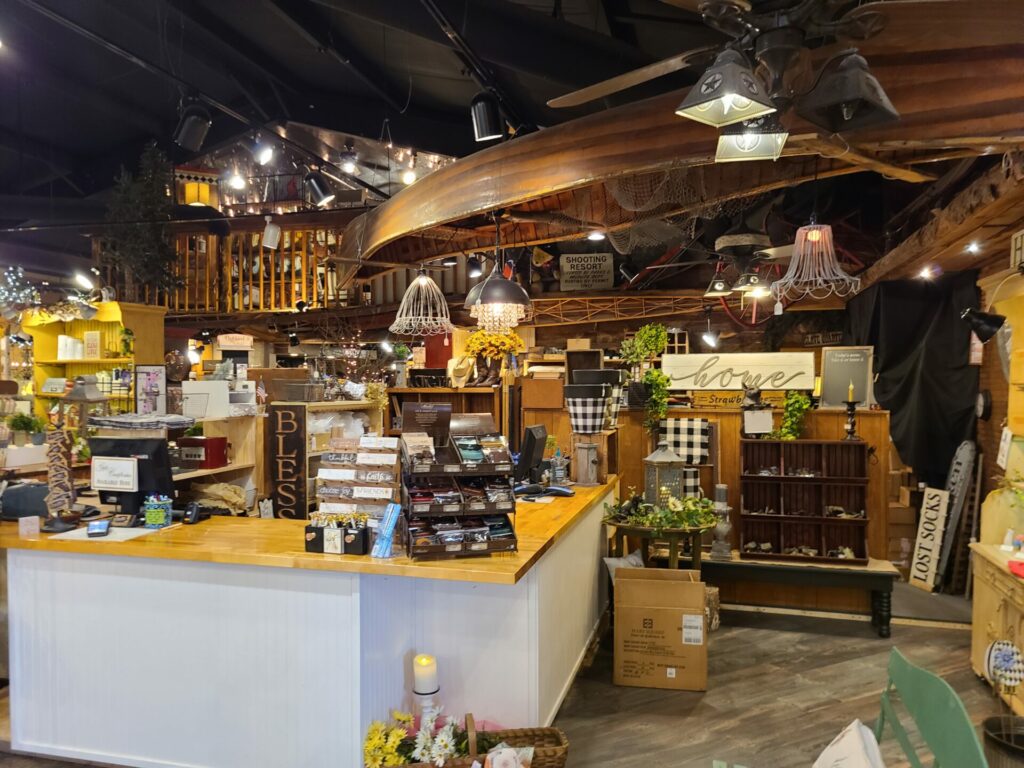 Amenities
Pull-thru Sites
Pets Allowed
Dog Park
Electric 50 amp
Electric 30/20/15 amp
Restrooms
Showers
Indoor Pool
Game Room
Gym
Kids Playground
Fishing Pond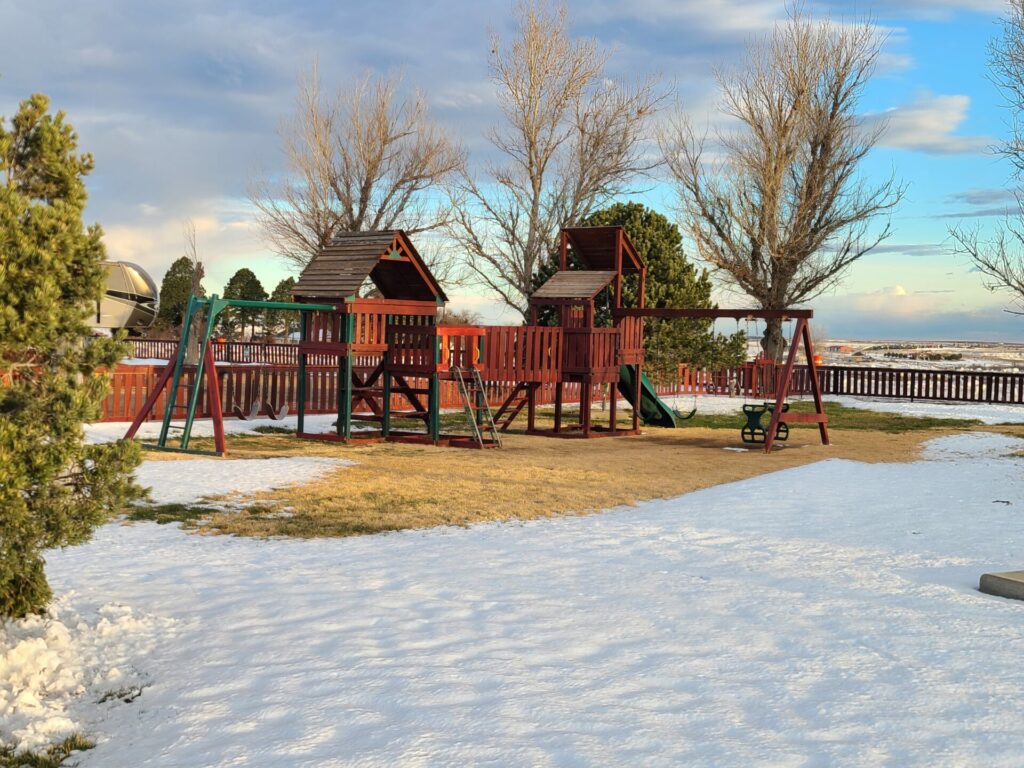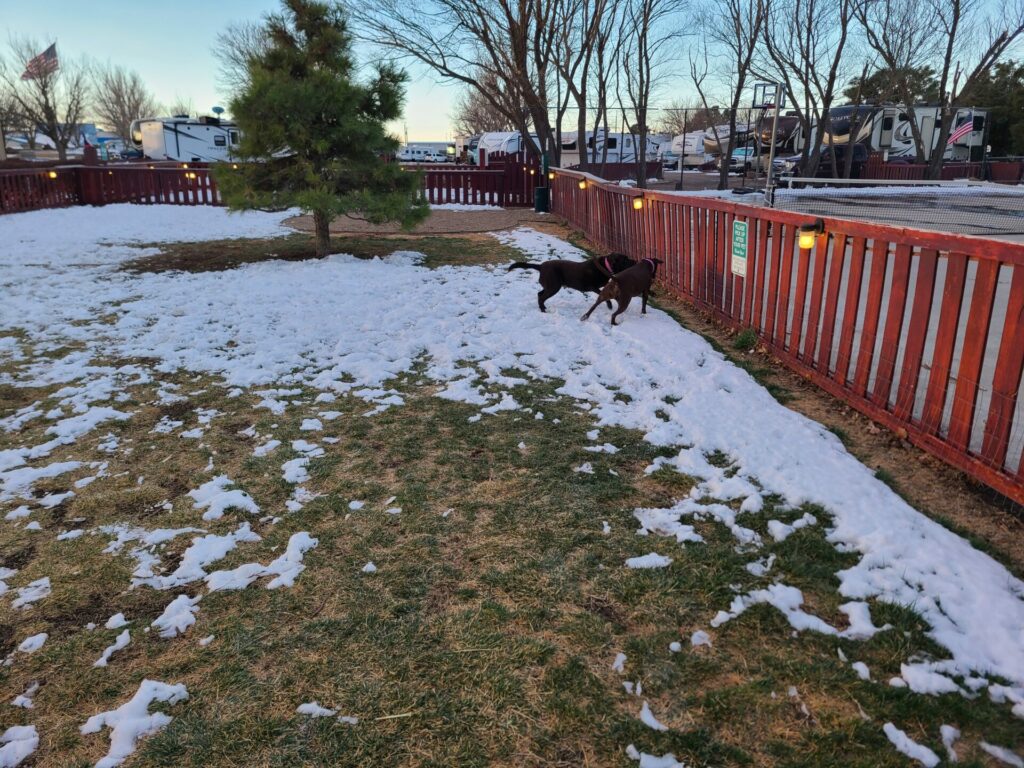 Things to see/do nearby
Jack Sisemore RV Museum – As full-time RVers, RV things always catch our eyes. The Jack Sisemore RV Museum is a fun place to check out some vintage RVs.
Alibates Flint Quarries National Monument – Located about 35 miles north of Amarillo, Texas along the rugged Canadian River Breaks, Alibates Flint National Monument is one of the coolest places we visited in Texas. It was interesting to learn about the flint found here.
Alibates flint is agatized dolomite, or chert, created when silica-rich waters replaced the minerals in the dolomite layer with quartz crystals so small that most microscopes cannot see them individually. This small crystalline structure is the reason this flint is stronger than steel.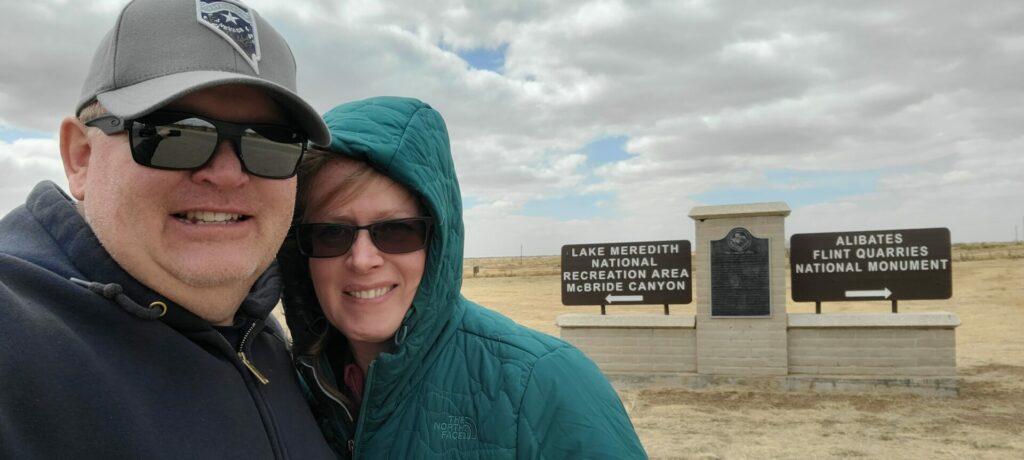 More than 700 small pits, 10 to 20 feet across, now dot the landscape around the national monument and adjacent lands where the Antelope Creek people quarried flint. As pieces of flint came out of the ground, they were evaluated and crudely worked, as the people sought the finest pieces to be used for tool making.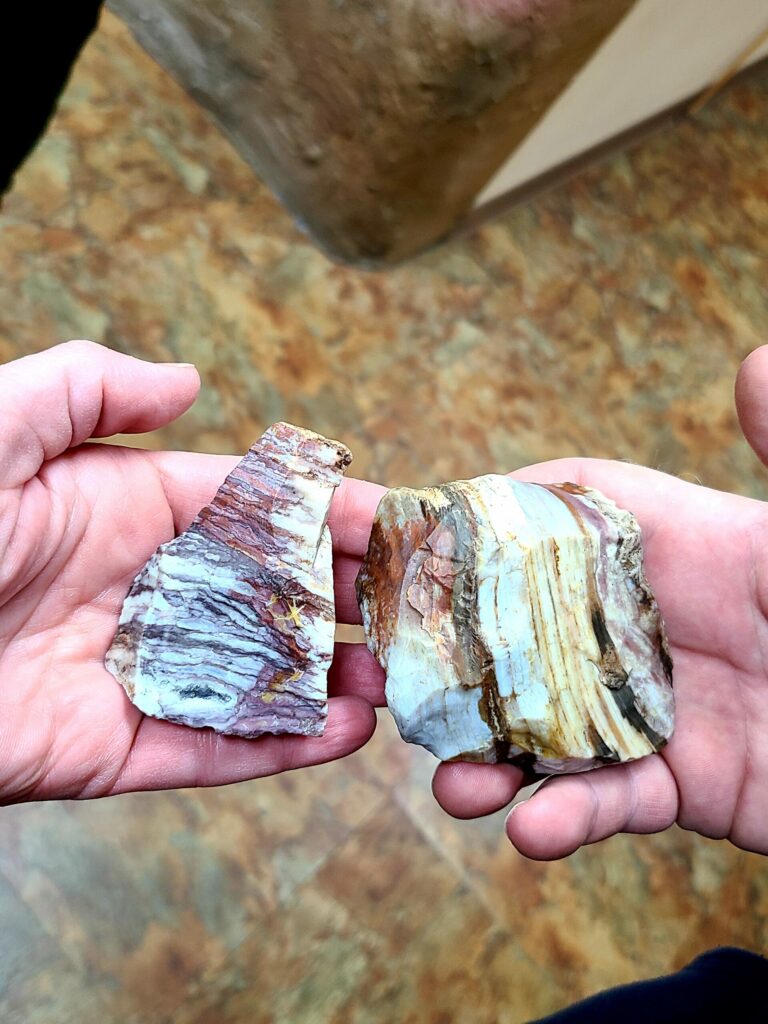 Working flint is known as knapping, which means "to break with a sharp blow." Initially, the stone knives, scrapers, and spear points were made from flint that was found on the ground's surface. Its tight crystalline structure makes it break in a predictable manner.
We found it interesting that the flint was traded by the local indigenous people to others on the Pacific Coast, as far north as Minnesota, and south into Mexico and the northern regions of South America. Making finished tools for trading was time-consuming and, given how sharp the pieces turned out, also dangerous to transport. It was much more efficient to create blanks for trading and let others work the flint into whatever tools they desired.
If in the area check out Alibates Flint National Monument and if you collect National Park Stamps don't miss Lake Meredith National Recreation Area, also a National Park Site.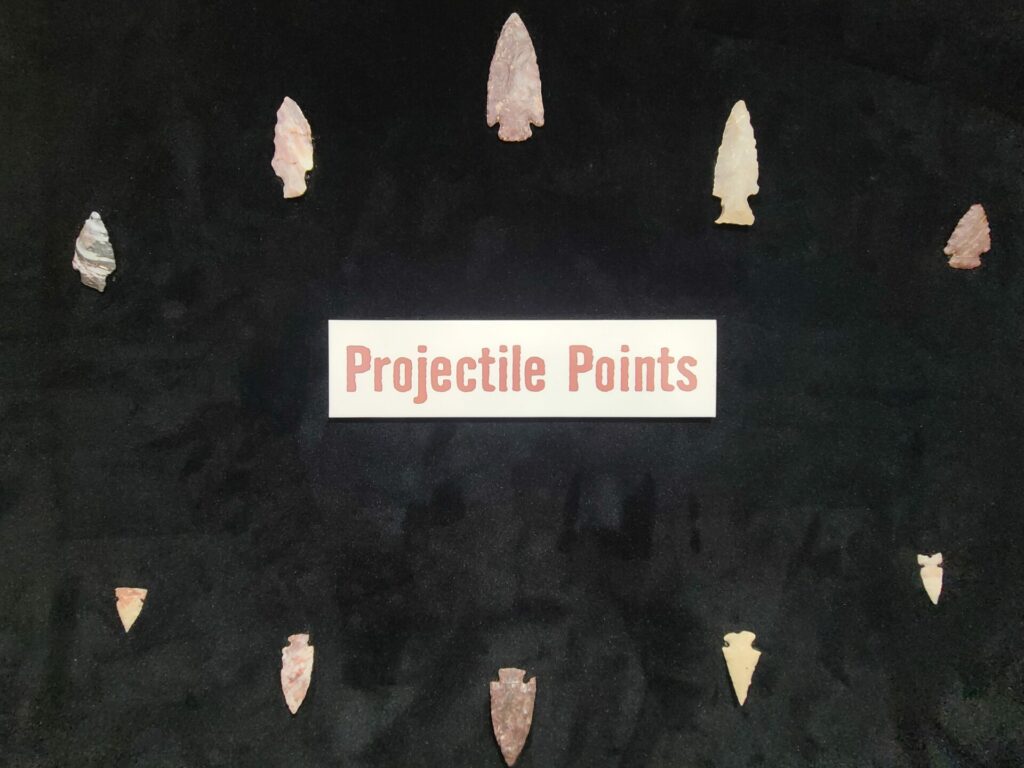 Cadillac Ranch – Probably one of the most overrated places we've been to in our travels. But with that said it is just one of those places you must do when traveling through Amarillo. We did have fun even though it was a massive mud pit with some of the stickiest mud I've ever encountered.
Grabbing a can of spray paint and adding our names to the cars and having a good time getting pictures was a good way to kill an hour or so.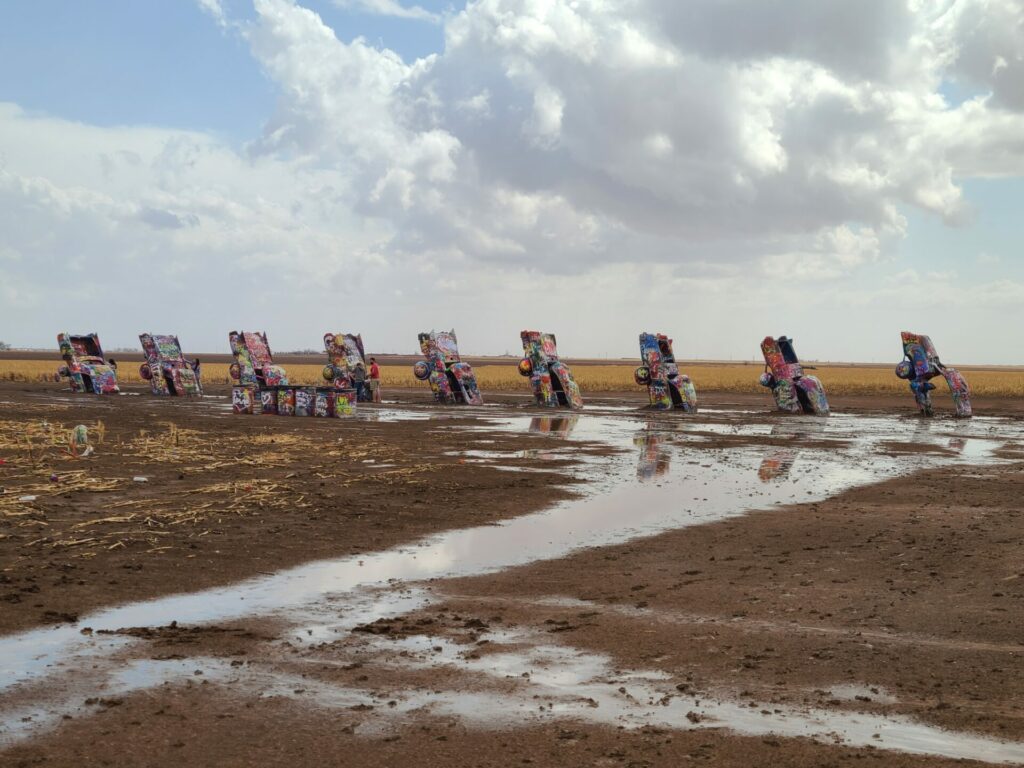 Palo Duro Canyon State Park – We got recommendations to go visit Palo Duro Canyon State Park from friends and family. The Grand Canyon of Texas. Said to be the second-largest canyon in the country.
Being from the Southwest we weren't as impressed by Palo Duro Canyon as we probably would have been if we hadn't been to the Grand Canyon, Zion, Brice Canyon, or one of the other amazing parks of the Western U.S.
It is a beautiful park, but we were disappointed that the hiking trails were closed when we visited so we couldn't get to a lot of the scenic places you see in the pictures. The second time we visited Amarillo the trails were back open so we hiked the Lighthouse Trail.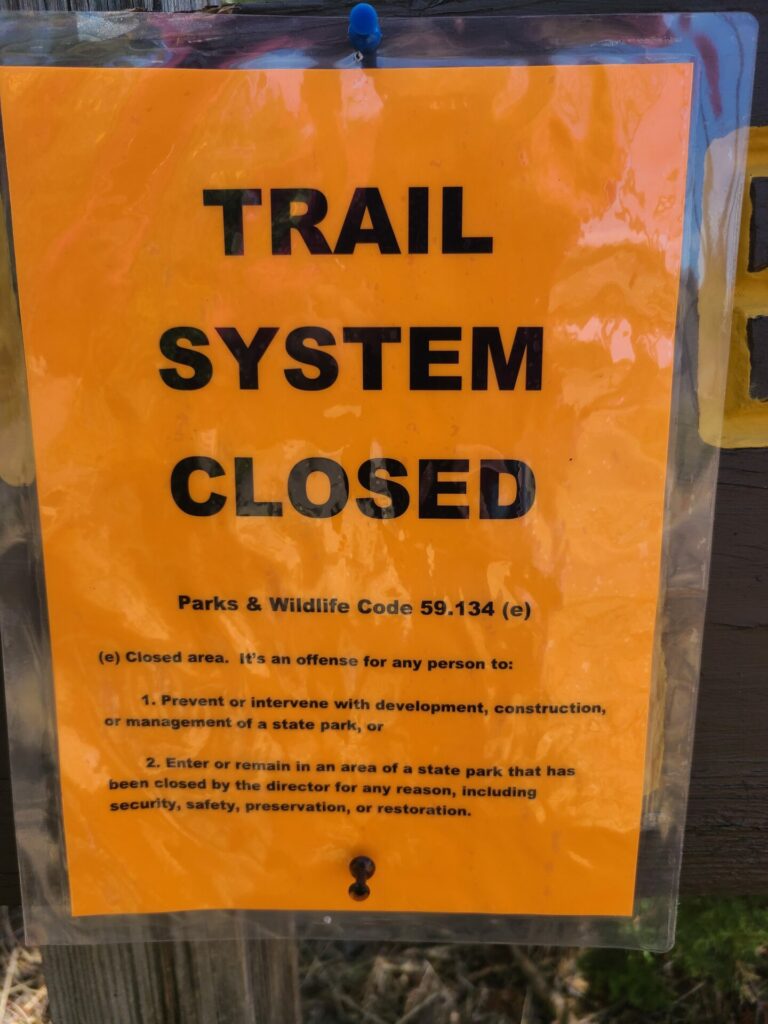 Eat at The Big Texan Steak Ranch – The Big Texan Steak Ranch, is world famous for the free 72oz steak challenge. This Historic Route 66 landmark and Texas icon is a must-stop at place in Amarillo. Even if you don't try the challenge give this place a try.
Conclusion
Fort Amarillo is a great park in a town we want to go back to and spend more time in. We enjoyed the Texas Panhandle except for the freak blizzard while we were in town.
What interesting places can you recommend? We're always looking for neat out-of-the-way experiences to add to our list of places to visit. Thank you for reading our article. If you have any comments or questions we'd love to hear from you below.
If you're looking to build your own home-based business like we have with this webpage, check out Wealthy Affiliate.
Wealthy Affiliate is an all-in-one platform that you can build your whole affiliate marketing business on. It combines training, software, and website hosting into one. This makes the whole process of starting an online business from scratch much easier, especially if you're new to building a website.