Space is at a premium when living in an RV. Everything you have takes up valuable space. Nowhere is it more important to find items that save that space than in the kitchen. When we were looking for space-saving kitchen items for our new motorhome we stumbled across Joseph Joseph Kitchenware.
Joseph Joseph's space-saving designs are a perfect match for many of our tiny kitchen needs. We've purchased quite a few Joseph Joseph items for our motorhome. Below are all the Joseph Joseph items currently in our kitchen.
This post contains affiliate links. As a participant in Amazon Associates and various affiliate programs, we are compensated when qualifying purchases are made through our referral links at no additional cost to you. Full Disclosure
Nest 9 Nesting Bowl Set
The first item we found when searching for kitchen items for our new motorhome was the Nest™ 9 Plus Bowl Set. This space-saving nesting bowl set allows the individual components to be stacked and snapped securely together. It is a great set with only one thing we wished was different.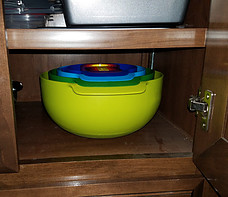 Make a rainbow in your cupboard when stacked together each item is a different vibrant color. This handy set is not only practical, but it also looks great too.
Nest 9 Nesting Bowl Set includes:
5 measuring cups- from 1 teaspoon up to 1 cup
1 small non-slip mixing bowl with measurements
1 stainless steel mesh sieve
1 colander/strainer
1 large non-slip mixing bowl
Each item has plenty of useful features. The mixing bowls have non-slip bottoms and carry handles, while the small mixing bowl includes measurements inside and a spout for accurate pouring and added convenience. A large colander and stainless steel mesh sieve complete the collection.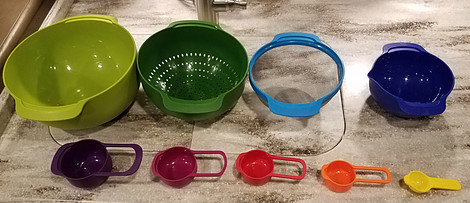 To us the set feels like it is missing one piece. We wish that Joseph Joseph included one more mixing bowl somewhere between the size of the stainless steel mesh sieve and the colander. Maybe someday they will create the Nest™ 10 Plus. At least we can hope.
Nest 12-Piece Food Storage Container Set
With an innovative nested design, this compact food storage container set from Joseph Joseph takes up less room in your kitchen cupboard. Featuring airtight silicone lids help to keep food fresh.
The containers nest neatly inside each other while the lids snap together for convenient storage. During the writing of this article we just discovered that the lids snapped together. That has made us like this set even more than we did before. The lids are color-coded to allow for speedy pairing with the proper container.
Nest 12-Piece Food Storage Container Set includes:
8-oz. Covered storage container
18-oz. Covered storage container
37-oz. Covered storage container
63-oz. Covered storage container
101-oz. Covered storage container
152-oz. Covered storage container
CounterStore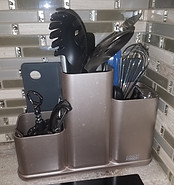 Make the most of your limited counter space with this amazing kitchen organizer that lets you store all your essentials in one convenient place. This compact organizer has separate compartments for each tool type and includes a knife store with non-scratch slots that grip blades safely and securely.
It also comes with a non-slip chopping board that stores neatly in the back. The Joseph Joseph CounterStore™ is a stylish storage solution that is very functional for people with limited space in their kitchen.
Since we have Joseph Joseph DoorStore™ Knives we knocked out the center knife storage on the CounterStore™ to make more room for our collection of utensils. This small change improved our use of this item. With plenty of room for all our utensils the CounterStore™ is a functional item we highly recommend. It stays put while traveling which also saves time on moving days.
DoorStore Knives
We have an excellent solution to maximize your storage space with the Joseph Joseph DoorStore™ Knives set. This knife set has a convenient storage case that fits neatly inside cupboard doors and in other tight spots.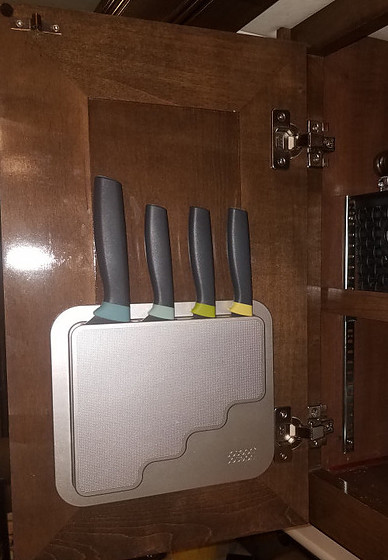 DoorStore™ Knives includes:
6-inch chef's knife
5-inch Santoku knife
4-inch serrated knife
3.5-inch paring knife
4-slot flat storage case
3M VHB adhesive tape for installation
Each knife is stainless steel with nonstick, silicone-coated blades. The handles are ergonomically designed and feature a tool rest to keep knife blades from touching work surfaces when not in use. We have been happy with this knife set. The blades come very sharp but have needed sharpening a few times in the year we've owned the set.
DrawerStore Compact Cutlery Organizer
One really tight storage space in our motorhome are the three small drawers in our kitchen. When we first got the motorhome we didn't have a good way to store our cutlery. We tried a couple of other cutlery organizers that wouldn't fit or needed modifying. Then we came upon the simple design of Joseph Joseph's DrawerStore™ Cutlery Organizer. With its revolutionary way to store your cutlery, and non-slip feet on the base, it keeps your drawer neat and organized.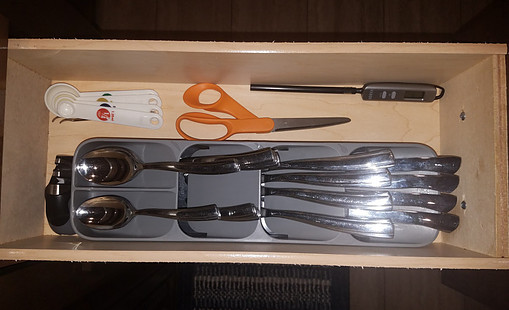 The DrawerStore™ Compact Cutlery Organizer is the ideal solution for those short on kitchen drawer space. It frees up room for many of your other utensils and gadgets. The compartments have a cutlery icon to help you remember what cutlery goes where. Although thoughtful the cutlery icons were not useful for us and we store different items in each space. There is plenty of space in the organizer to insert your cutlery either handle first or head first
Pop™ Chopping Mats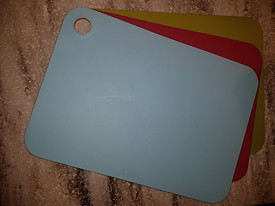 The Joseph Joseph Pop™ Chopping Mats are a colorful three-piece set that are ideal for a range of food preparation tasks. For easy storage the hole detail is designed to allow the boards to be snapped together. It also provides an ideal hanging point for the mats.
Each mat has a double-sided, knife-friendly cutting surface and is clearly color-coded, making it easy to keep specific mats for specific tasks.
With a flexibility that allows the mats to be bent to direct chopped food into a pan or food waste into a bin. The mats are dishwasher safe but for best care it is recommended that they are washed by hand. We use these mats daily and they have held up very well over the year we've had them.
Conclusion
Joseph Joseph has some great space-saving kitchen items. Each one we've purchased has worked well for us although we have had to make a few minor changes to a couple of them to suit our needs. We would highly recommend if you have a small space in your kitchen that you need specific tools for, that you'd check out Joseph Joseph products. They more than likely have something to fit your needs.
I hope you enjoyed the reviews on these products. If you have any questions about Joseph Joseph products or want to leave your own personal review, please leave a comment below.
If you're looking to build your own home-based business like we have with this webpage, check out Wealthy Affiliate.
Wealthy Affiliate is an all-in-one platform that you can build your whole affiliate marketing business on. It combines training, software, and website hosting into one. This makes the whole process of starting an online business from scratch much easier, especially if you're new to building a website.