Ken's Lake Campground is a BLM Campground with 31 sites with no drinking water or electricity hookups at this campground. This campground is comprised of Loops A and B. Loop A has no vegetation providing shade and is closed during the low-use season. Loop B stays open year-round and has a variety of sites with juniper and cottonwood trees providing shade and privacy.
Loop A is popular with visitors that have large motorhomes and trailers, this is the Loop we stayed at with our 38′ Motorhome. Loop B has smaller sites and it is difficult for large motorhomes and trailers to turn around.
This post contains affiliate links. As a participant in Amazon Associates and various affiliate programs, we are compensated when qualifying purchases are made through our referral links at no additional cost to you. Full Disclosure
We do all our trip planning with RV Life Trip Wizard. RV Trip Planning Made Simple! RV Life Trip Wizard is by far the best RV route planner we've found. Get your 7 day Free Trial
Location
Located 10 miles south of Moab, Ken's Lake is surrounded by red rock fins to the east, sagebrush flats to the south and west, and a reservoir to the north. Distant views from the campground also include the La Sal Mountains and red rock Moab Rim.
Prices
Sites start at $22 per night. Senior, Golden Age, and Access Pass Holders save 50% on camping.
Pass discounts only apply to the recreation (or use) fee for the facility. Other charges such as reservation or other fees are not eligible for a discount.
Reservations
ATTENTION: From March 1 – November 15, 2021, Ken's Lake Campground Individual sites will be available for reservation through Recreation.gov. Sites that are not reserved will be available on a first-come, first-served basis.
Every day there were people driving around looking for sites that were not reserved. Even though there were plenty of empty sites they seemed to be booked as no one was able to get the empty sites.
For Reservations go to Recreation.gov or Campground Views
Our Review
If you're looking for a place to stay while exploring Moab and don't want to break the bank you can't beat Ken's Lake Campground. It's a very nice campground for boondocking. This is a beautiful campground with amazing views, we dry camped for 7 days.
We camped at site 21 which was plenty big and flat for our 38′ Class A Motorhome and Jeep Wrangler Toad. Our site was well away from other campsites. While this site was big and flat there are other sites much smaller and that is on a slope. When booking your reservation be sure to look at the Allowable Vehicle / Driveway Details. This will give you information on Driveway Entry, Driveway Grade, Driveway Length, Driveway Surface, If Equipment is Mandatory, Max Number of Vehicles, Max Vehicle Length, Site Length, Site Width, Tent Pad Length, and Tent Pad Width.
This site is located at 5,085 feet elevation, similar to Moab. Be prepared from October to March for lows below freezing, (Actually, make that April, we were there April 12-19 and woke to snow on April 16th), and from June to August highs from 95 to above 100 degrees Fahrenheit.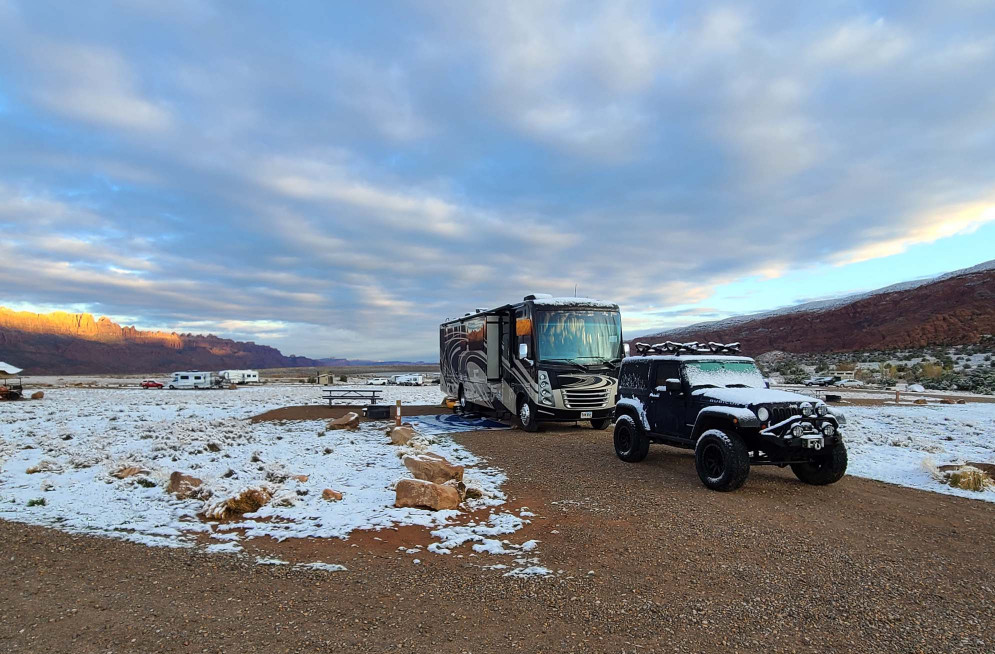 The site has a gravel pad, picnic table, and fire pit. Dogs must be kept on a leash, which you'd want to do anyway. There are a lot of small cacti around the campground you wouldn't want your dogs getting into them.
Phone and Internet Service
We use T-Mobile for our phone service. Service at Ken's Lake Campground was OK with 2 bars of service.
Our Verizon MiFi also received 2 bars of service and we were able to use our Fire Stick and stream Netflix only a couple of times.
Mail/Package Service
We didn't use any mail service while in Moab. But would imagine you can use General Delivery at the Moab Post Office.
Things to see/do nearby
Jeeping – Moab is a Jeepers paradise! There are 100's and 100's of miles of Jeep Trails in the area. We did some of the easier Jeep Trails while we were in town. One day we did Shafer Trail and one day we did Gemini Bridges OHV Trail. Both were a lot of fun. Next time we'll try some harder ones.
The south end of the Steel Bender Jeep Safari Route runs next to the campground, so Off-Highway Vehicle (OHV) users are also drawn to this area. Other popular activities originating from the campground or day-use area include hiking, horseback riding, fishing, and non-motorized boating. There are over 3 miles of trails in the lake vicinity with views of the Moab Valley, Faux Falls, La Sal Mountains, and Ken's Lake.
Exploring the Parks. Arches and Canyonlands National Parks, as well as Dead Horse Point State Park, are all just a short drive from Ken's Lake Campground.
Conclusion
If you don't want to spend the big bucks to stay at one of the full-service campgrounds in Moab, you might think about staying at Ken's Lake Campground. For less than it would cost you to spend one night at some of the campgrounds in the area, you can stay at Ken's Lake for a week. There is so much to see and do in the Moab area and Ken's Lake Campground makes a great base camp for your adventures.
What interesting places have you been to and can recommend? We're always looking for neat out-of-the-way places to put on our list of must-sees. Thank you for reading our article. If you have any comments or questions we'd love to hear from you below.
If you're looking to build your own home-based business like we have with this webpage, check out Wealthy Affiliate.
Wealthy Affiliate is an all-in-one platform that you can build your whole affiliate marketing business on. It combines training, software, and website hosting into one. This makes the whole process of starting an online business from scratch much easier, especially if you're new to building a website.