Wahweap RV Campground is operated by Aramark Management Services an authorized concessioner of the National Park Service, Glen Canyon National Recreation Area. The campground has 287 campsites on a hillside overlooking Lake Powell. There are 139 sites with full hookups, 112 dry campsites, and 36 tent-only campsites.
This post contains affiliate links. As a participant in Amazon Associates and various affiliate programs, we are compensated when qualifying purchases are made through our referral links at no additional cost to you. Full Disclosure
We do all our trip planning with RV Life Trip Wizard. RV Trip Planning Made Simple! RV Life Trip Wizard is by far the best RV route planner we've found. Get your 7 day Free Trial
Location
Centrally located at Wahweap Marina about ¼ mile from the shore of Lake Powell. Wahweap offers plenty of fun with a wide variety of powerboats and water toys from which to choose.
100 Lakeshore Dr., Page, AZ 86040
Prices
Prices Vary. Our full hook-up campsite in Loop F was $68 per night before our Access Pass Discount. With the discount, it came to $62 per night.

Reservations
To make reservations for full hook-ups, group or dry camping please visit www.lakepowell.com or call 800-528-6154. The Wahweap camping store is 928-645-1059. Fees vary.
Park Entrance Fees
There is a $30 entrance fee that admits one single, private, non-commercial vehicle and all its passengers and is valid for 7 consecutive days. The funds collected from entrance fees stay within the park and are used to enhance the experience of visiting the lake. National Park Service fee information is available online at https://www.nps.gov/glca/planyourvisit/basicinfo.htm.
Our Review
This was our third trip to Wahweap RV Campground but the first in our motorhome. Our previous two trips were tent camping.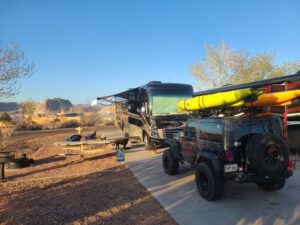 Wahweap RV Campground is a huge and well-designed facility. This park is a beautiful place to stay, however, the price is high for what little services they provide. Unlike other government campgrounds that give a 50% discount to Senior and Access Pass Holders, the concessionaire only gives 10%.
Overlooking Lake Powell this campground offers great views of the lake and surrounding mountains. There are several loops and they all seem good, with well-spaced sites and central facilities. There are toilet facilities on each loop, but showers and the laundry are at the registration area, and there is a $2 charge for showers. Check-in was quick and easy. The sites are very roomy and in excellent shape.
Our pad was concrete, level, with full hookups conveniently located, and as the camping loops are tiered, we had a great view of the lake. This is a National Recreation Area, so there is an entrance fee for those who do not have a National Park Pass.
Due to the price, we would probably boondock at Lone Rock Campground or one of the other BLM areas on our next trip.
Campground Amenities
Coin-operated laundry and shower facilities are located at the store.
Wahweap Swim Beach is within walking distance from Campground for swimming. Please keep in mind the pool at Lake Powell Resort is for hotel guests only.
Free WiFi was installed at the campground. Connectivity varies due to our remote location, usage, weather, and location in the park. WiFi is also available in the Lake Powell Resort lobby.
Restrooms are centrally located in each loop.
Picnic Tables
Fire Rings/Grills
Pet-Friendly
Phone and Internet Service
We use T-Mobile for our phone service. Service at Wahweap RV Campground was OK with 2 to 3 bars of service. Although we had trouble making calls from our site.
Our Verizon MiFi received 2 bars of service and we were able to use our Fire Stick and stream Netflix with some buffering.
Mail/Package Service
We didn't receive any mail or packages during our stay but I'm sure you could use General Delivery at the Page Post Office.
Campground Information
Full Hook-Up Sites (139) – Loops A, B, C, D, F
30 and 50-amp service, water, and septic
Sites accommodate up to 45' – very limited sites over 70'; only two vehicles per site; some double-wide spaces available
Tent Only Sites – Loop 1
36 sites – 27 sites with parking, 9 outlying sites located between 20-80 yards from the parking area. Guests must pack in their equipment.
Tent or Self-contained RV Sites – Loops 2, 3, 4
Some sites can accommodate up to a 25 ft. RV, there is limited extra parking space in the campground.
Group Tent Area – Loop G
Sites can accommodate 9 to 25 people or 8 to 10 tents depending on the size, per site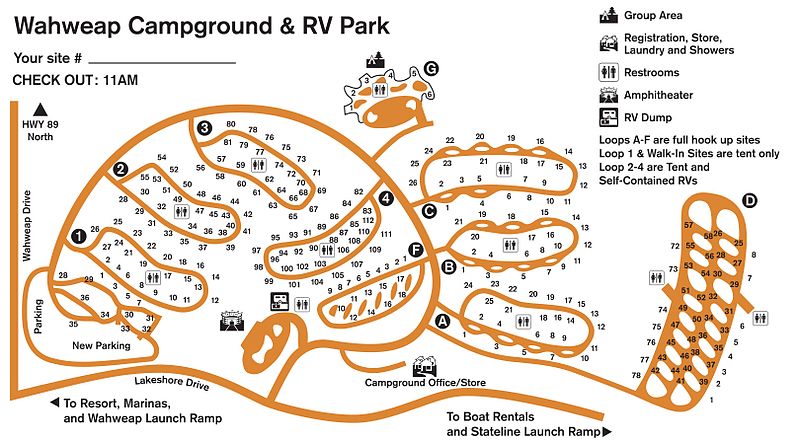 NOTE: Registration is required for all campers. Check-in at the Campground Store for site assignment. The convenience store and gift shop are found at the campground registration office. For late arrivals, a map with directions to your site will be posted on the store door.
Things to see/do nearby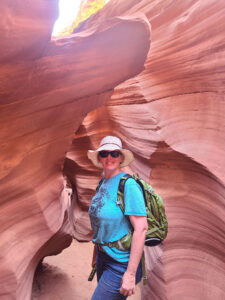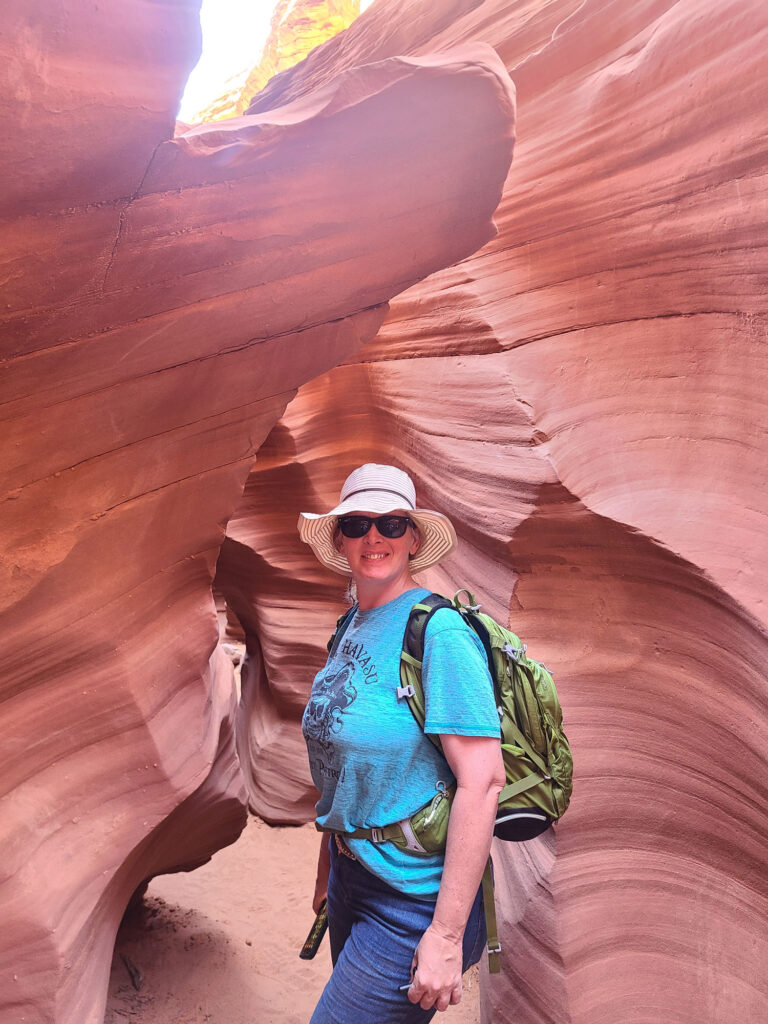 Since this campground is at Lake Powell any water sports would be the number one thing on the list. Bring your boat or rent one from the marina. You can rent power boats or houseboats.
Hiking- There are countless hiking options nearby. During our visit, we spent a lot of time in Vermilion Cliffs National Monument, home to The Wave. We didn't even attempt to get permits this time. We've been blessed and each have gone to The Wave three times.
On this trip, we hiked Buckskin Gulch, White Pockets, Paw Hole, and the Maze Art Rock. Since Upper and Lower Antelope Canyon was closed due to Covid we decided to Kayak to Antelope Canyon on Lake Powell and do the hike from the bottom of the canyon. It was truly amazing!
Glen Canyon Dam- Rising 710 feet above bedrock within the steep, rust-colored sandstone walls of Glen Canyon. It was constructed to harness the power of the Colorado River in order to provide for the water and power needs of millions of people in the West. Glen Canyon Dam is the second highest concrete-arch dam in the United States, second only to Hoover Dam which stands at 726 feet.
Horseshoe Bend- is a horseshoe-shaped incised meander of the Colorado River. Its popularity is overwhelming. The first two times we went to Horseshoe Bend there were a few cars and maybe a tour bus in the parking lot. It was free back then. Now they have built a new larger parking area, and are charging $10 per car, and thanks to Instagram and other social media sites it is very crowded.
Note: The City of Page has passed an emergency ordinance prohibiting passenger drop-offs and pickups at the Horseshoe Bend entrance or along the Highway 89 corridor.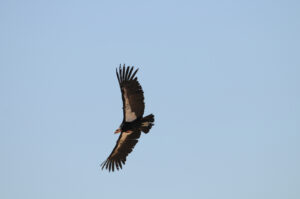 Lees Ferry and Navajo Bridge- Lees Ferry is considered the official beginning of Grand Canyon National Park on the Colorado River and is used as a fishing area and river rafting launch site. The only place within Glen Canyon where visitors can drive to the Colorado River in over 700 miles of canyon country, right up to the first rapid in the Grand Canyon. Right before Lees Ferry, Navajo Bridge crosses the Colorado River. We spent part of a day watching the California Condors that make their home in the area. It was so cool to watch these huge birds fly and land right on the bridge girders.
Conclusion
While the price to camp at Wahweap is high it is a great place to make a base camp when in the Lake Powell area. Not only can you visit the lake but you're a short drive from some other great National Parks/Monuments countless hiking opportunities and amazing scenery.
What interesting places have you been to and can recommend? We're always looking for neat out-of-the-way places to put on our list of must-sees. Thank you for reading our article. If you have any comments or questions we'd love to hear from you below.