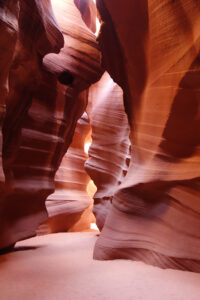 Antelope Canyon is probably the most popular slot canyon in all the Southwestern U.S. and for good reason! It is on every tourist's sightseeing list when visiting Page, Arizona. Most people visit Antelope Canyon by arranging a guided tour only to be rushed through the overly crowded sections of Upper Antelope Canyon, or Lower Antelope Canyon. However, most people don't realize that you can also go Kayaking and Hiking Antelope Canyon by yourself or as part of a tour.
Since the Upper and Lower Canyons are closed until further notice due to Covid, kayaking or boating in is the only way to see a part of the canyon.
We have done both the upper and lower sections of Antelope Canyon previously and we're definitely not saying don't do them! Absolutely DO THEM! They are both amazing experiences. But for a more laid-back approach to canyon kayaking, there is so much more fun and enjoyable.
This post contains affiliate links. As a participant in Amazon Associates and various affiliate programs, we are compensated when qualifying purchases are made through our referral links at no additional cost to you. Full Disclosure
Why You Should Kayak Antelope Canyon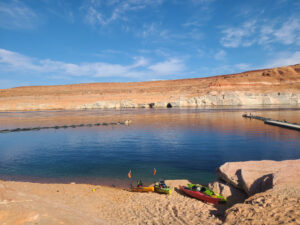 Having your own kayaks you can take your time and enjoy the day. Not feeling rushed like on a tour made the experience for us more enjoyable. If you don't have your own kayaks you can rent some from several different vendors in Page. There are also tours that will guide you to the canyon if that is something you would prefer.
Getting There
Antelope Canyon is located in Northern Arizona, right on the border of Utah in a small town called Page. The canyon is fairly large and has a few different access points. The one we're doing here is from Lake Powell!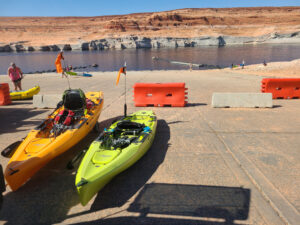 From Page, you will head toward Antelope Point Marina, a short 15-minute drive from the center of town. Continue straight past the Glen Canyon Recreation Area Antelope Point entrance, (where you'll flash your National Park Pass or pay for a day pass) and continue straight. After a short distance, you'll find that the road turns into a massively long sloped boat ramp.
The water was so low that only non-motorized vessels can launch as the ramp doesn't even reach the water.
Feel free to head down the ramp to drop your gear off, if you're confident that you can make the climb back out! We unloaded our kayaks and gear at the furthest point possible on the ramp. And then parked in the parking lot at the top of the hill. It was a bit of a hike to get the Jeep when we returned.
You will kayak both in the main area of Lake Powel and in the slot canyon area until the water gets shallow enough for you to park the kayak and walk into the canyon.
Kayaking and Hiking Antelope Canyon
Kayaking to Antelope Canyon
Kayaking Antelope Canyon is FAR less crowded! You get to walk the slot canyon on your own, without crowds, without a tour guide, and without any time constraints. Free to take as much time as you want to enjoy the canyon!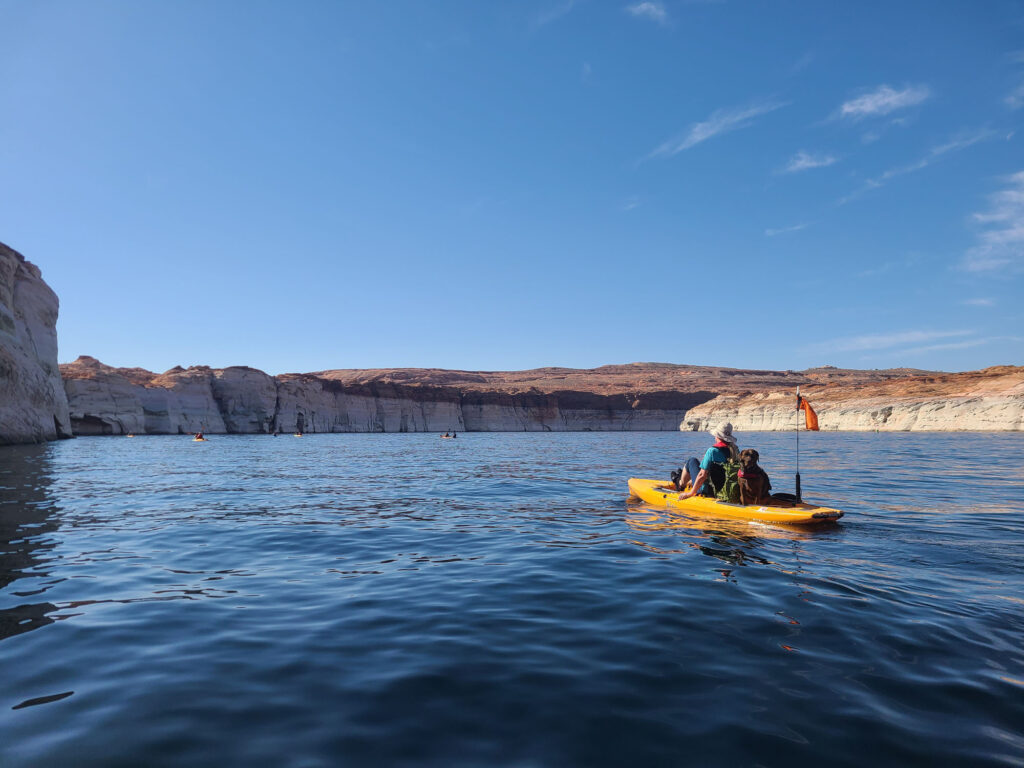 Once you launch your kayak you'll go left downriver. (Yes Lake Powel is actually a river, the Colorado River) Almost one mile exactly into the paddle you will reach the entrance to Antelope Canyon on the left side of the lake. The area is quite easily visible and is marked with a buoy with a sign indicating Antelope Canyon in the middle of the channel. It's likely you won't be alone at this point in your paddle.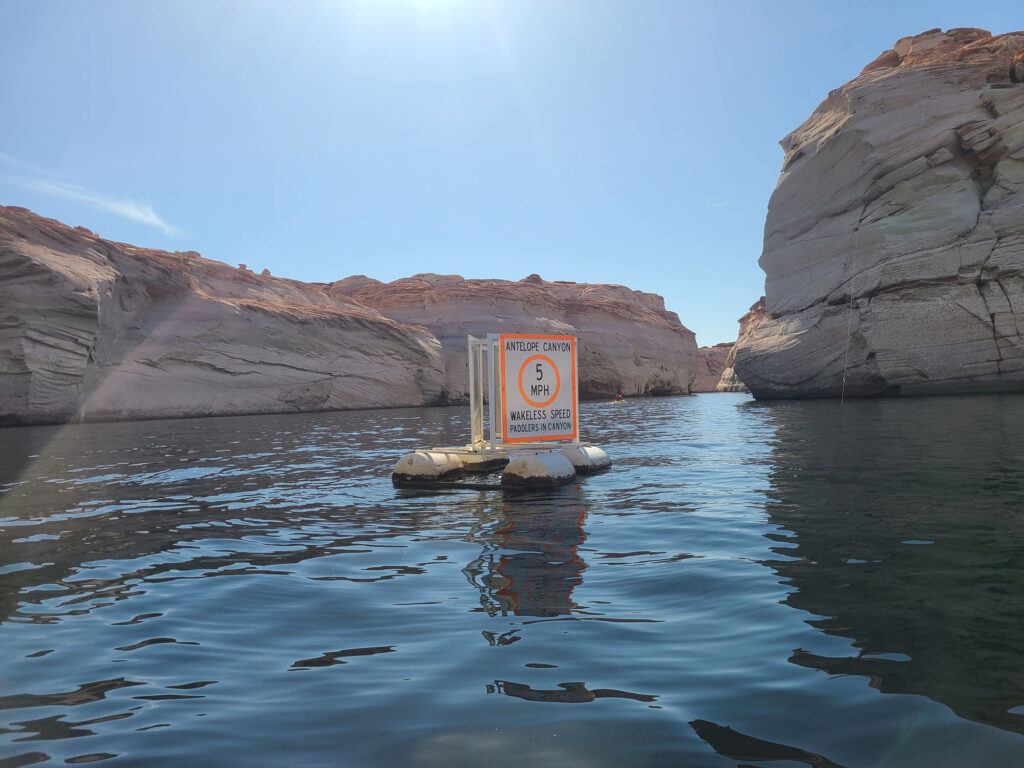 Head into the canyon and enjoy the mile or so as you kayak Antelope Canyon's magnificently carved walls. As you paddle you will notice that the canyon changes and becomes narrower with time. You'll start to find yourself in more shade.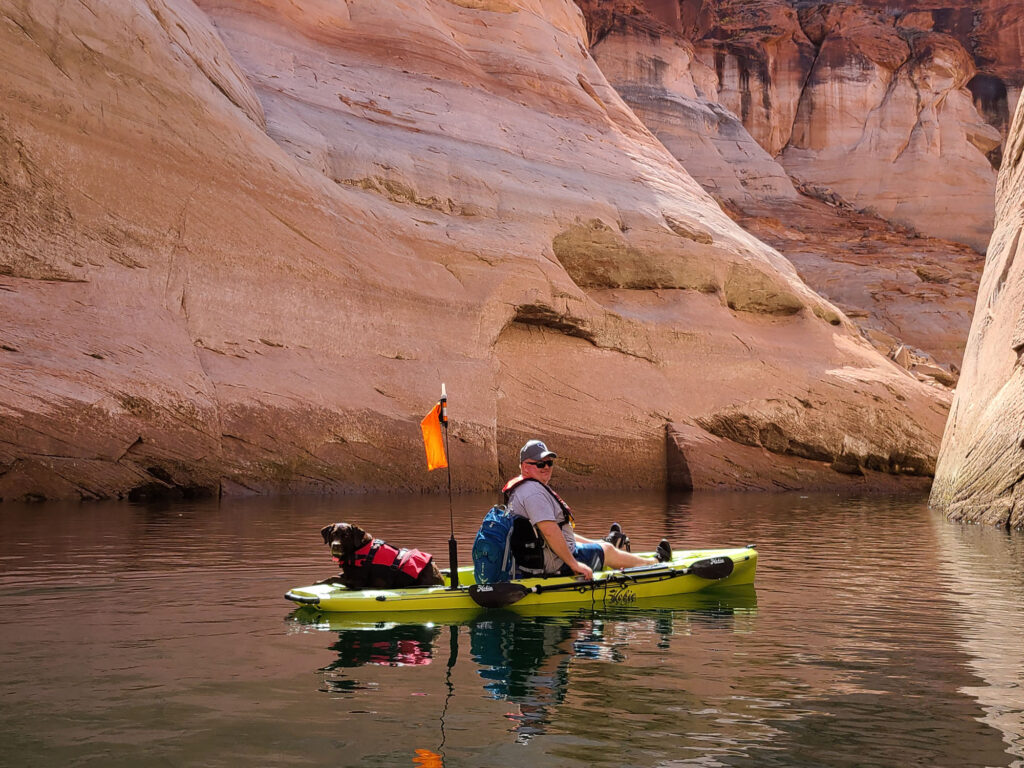 You'll be able to hear echoes off the canyon walls.
And if you are like us, you'll begin to get more and more excited about taking your kayak all the way into Antelope Canyon.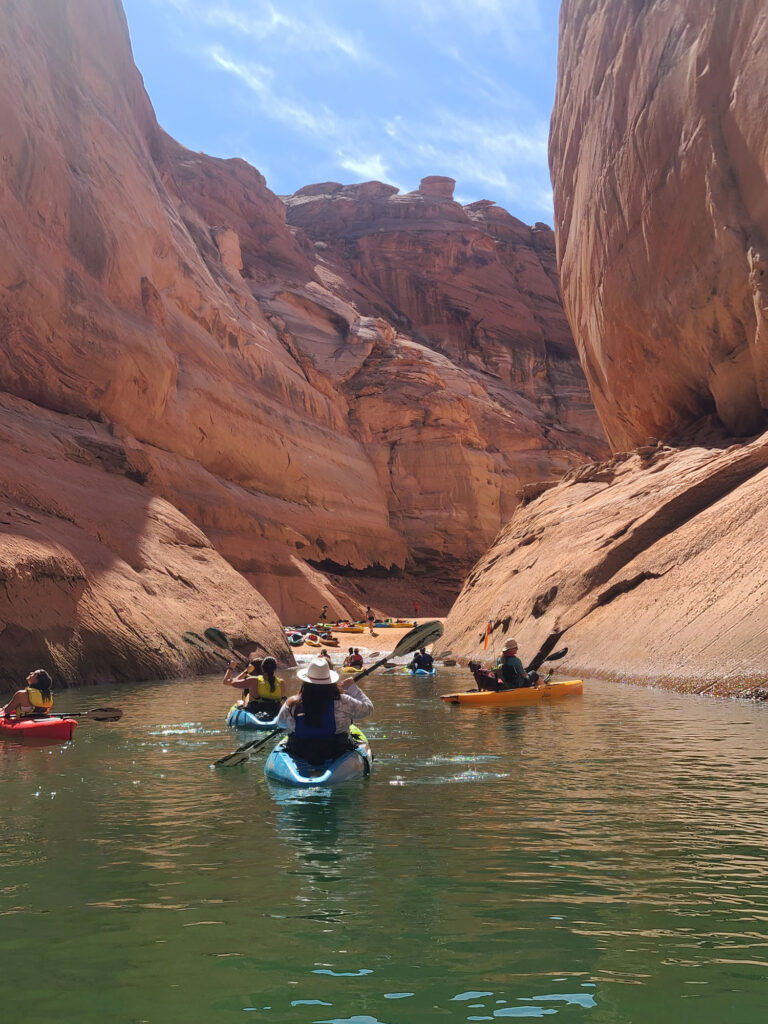 Note: Part of the kayaking route is through a wake zone in Lake Powel so in the afternoon on our way back there were some waves. It's on the main channel meaning, boats and jet skis are flying past you. The waves just bounce back and forth on the canyon walls and create a wavy mess. The waves are fairly intense (at least to Lisa) and will make you feel like your kayak is about to tip over at times! It also can be more strenuous kayaking, because on the way back to the marina you will be paddling through the waves and going upstream.
Hiking Antelope Canyon After Kayaking
Depending on the time of year and the rainfall that will change the takeout point, you will reach the end of your paddle and will pull your kayak securely to shore. Once you beach your kayak you are ready for the next portion of the adventure. Antelope Canyon is an out-and-back trail, meaning you hike in as long as you want, turn around, and hike the same way back out. The canyon is deep and you can hike into the canyon for several hours before turning around!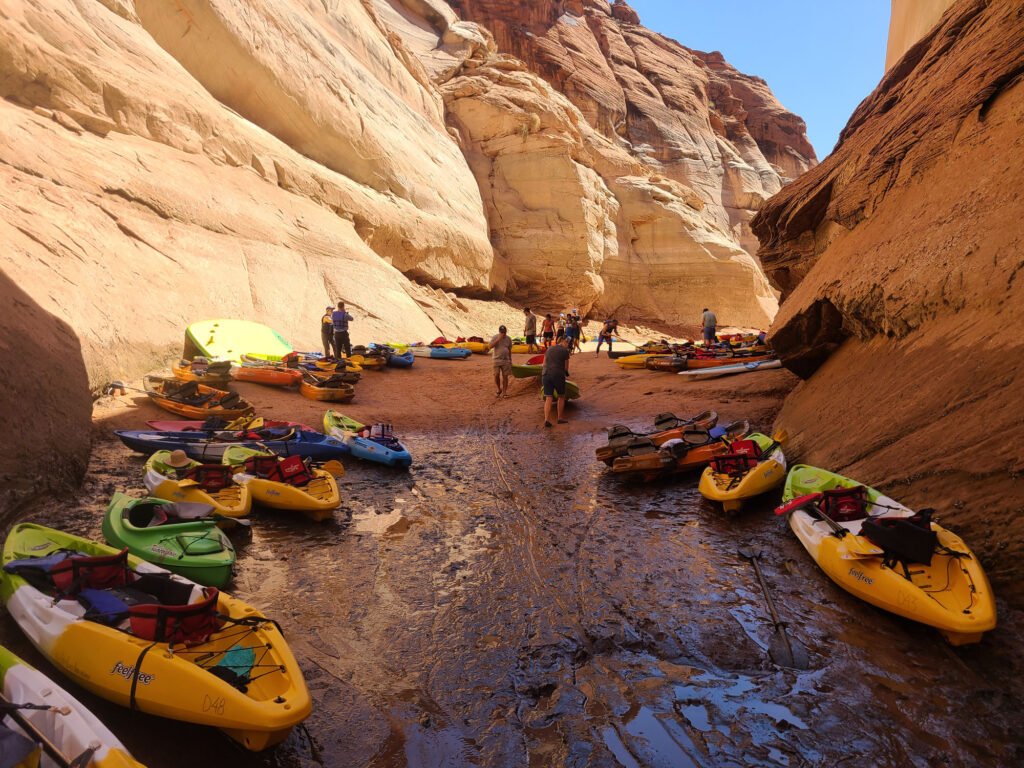 From here an entirely new adventure begins – one in which seemingly few people begin. We love hiking the Utah slot canyons and Antelope Canyon is one of the best.
Your gear is quite safe among like-minded adventurers, so head off up the canyon on foot. You'll need some sort of shoes for the hike. We passed a couple of people that were going barefoot. Even flip-flops were common sights for people. But while hiking I prefer actual shoes. I wore water shoes for the hiking section.

Our Trip
We got to the boat ramp at about 8:15 am for our kayaking trip to Antelope Canyon. It was a beautiful day with low winds and an expected temperature of about 75 degrees. Perfect weather for kayaking, hiking, and slot canyons.
After unloading the kayaks, loading gear on them, and realizing we forgot the dog's leashes we had to make use of some parachute cord I had in my backpack. With our makeshift leashes, we got on the water at about 9:00 am. The mile trip downriver was beautiful and relaxing. As we turned into Antelope Canyon it became even more relaxing.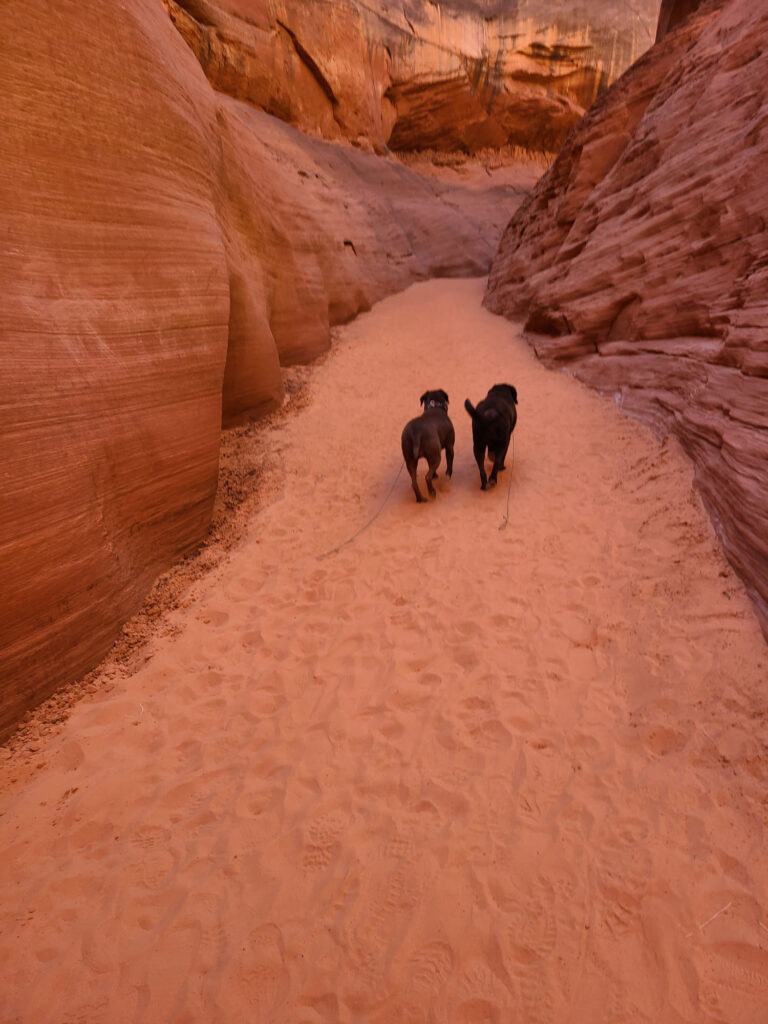 We had a few other kayakers going into the canyon at the same time we were. Most seemed more rushed than us and passed us by. Unfortunately, some were blaring their music taking a bit away from the gorgeous day.
The canyon narrowed as we peddled deeper in. After a short while, we rounded a corner and could see the landing area filled with colorful kayaks. While not overly crowded there were plenty of people there. Once we got our kayaks on the beach and took a break for a few minutes we were ready to head out hiking the canyon.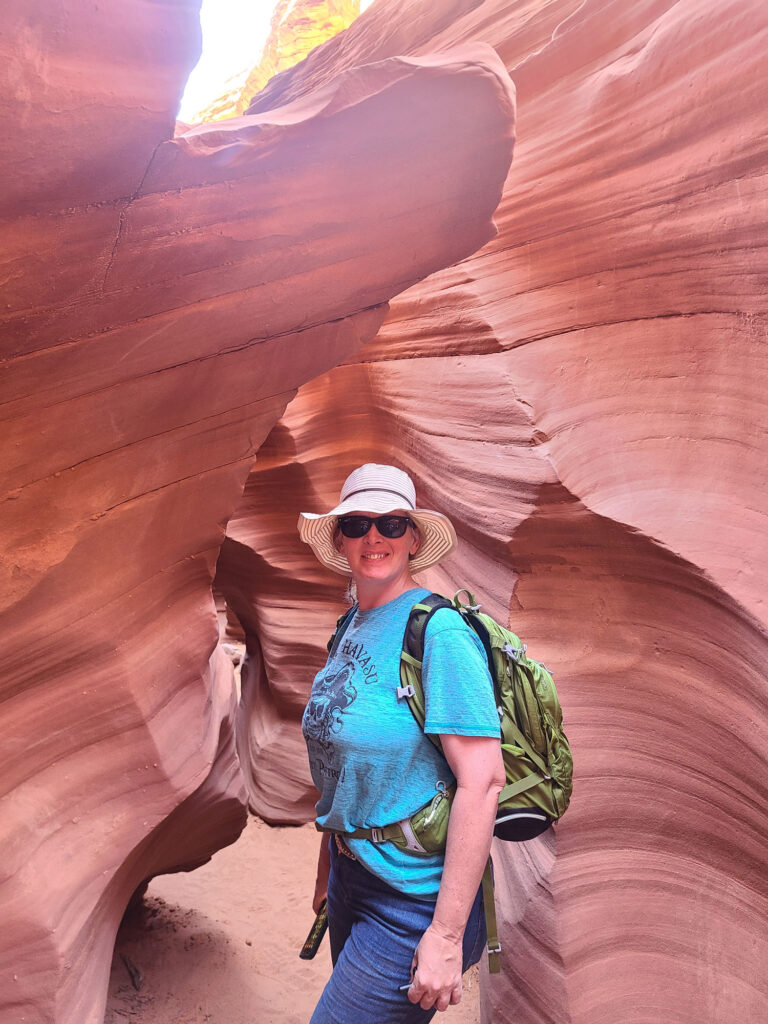 While the first part of the canyon is not as impressive as the walking tour, it is still REALLY amazing! I guarantee you will be extremely impressed whichever way you see the canyon. Like the river portion of Antelope Canyon, this part starts wide and then quickly narrows the further back you go.
After about half a mile, we entered the super narrow slot canyon. The walls were only a few feet wide and 10x that in height. The afternoon light filtered in as bright orange, pink and purple. The canyon walls were carved in smooth wave patterns and we hiked through pink sand.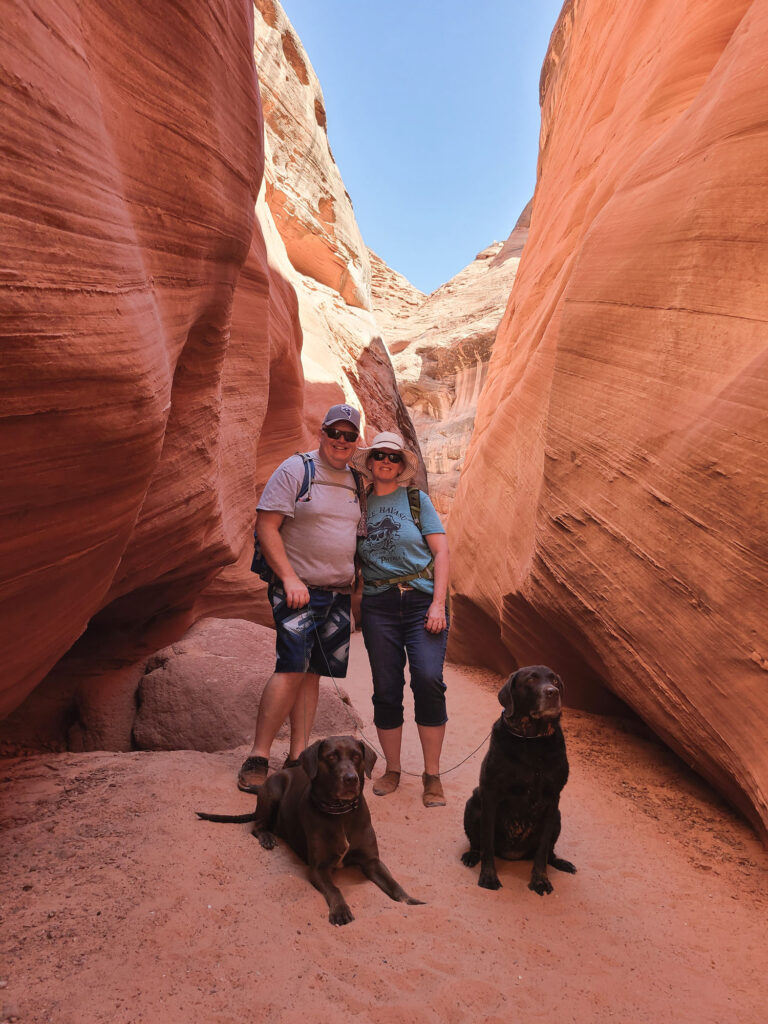 We were able to walk several miles into the canyon, just shy of where the tourist section of the canyon begins, we guess. While we saw clear signs that people had been this far in their adventures, no markers or signs were telling us how far we could or could not go, at least that we saw. Essentially we hiked until we reached the point where the canyon forks and decided it was a good time to turn around.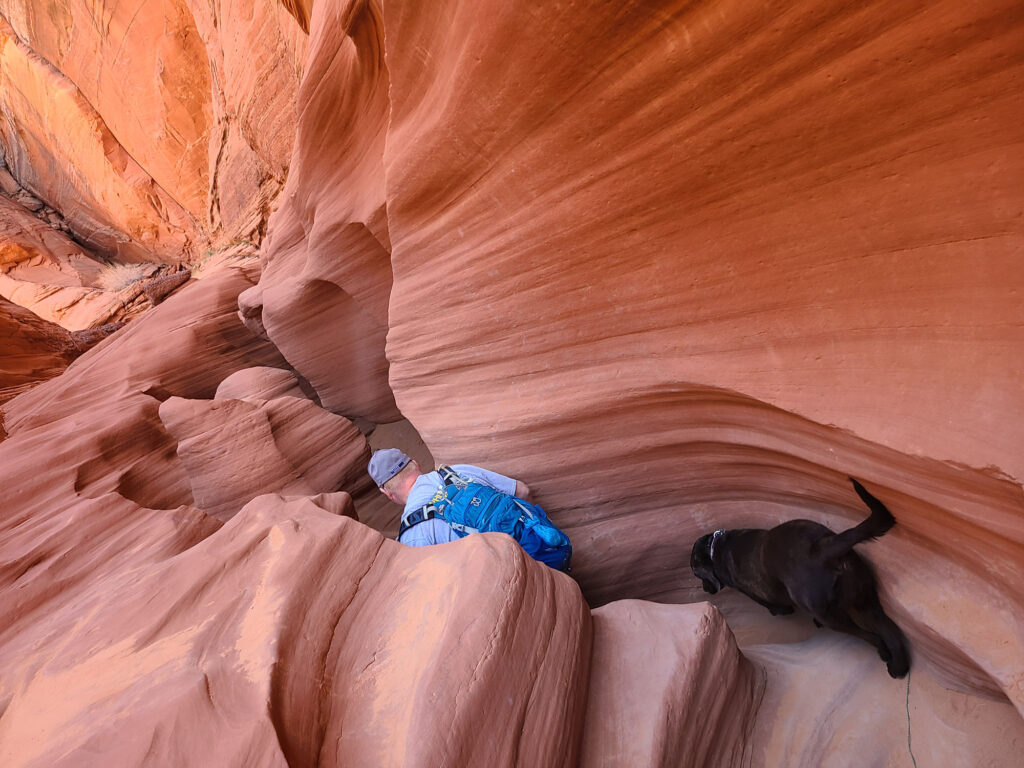 We did pass plenty of people in the canyon but it didn't seem to be overcrowded. When the canyon narrows down to single-lane sections you must wait in wider areas to let others pass.
Once you are done exploring the canyon, it's time to jump back in your kayak and head back to the marina! Keep in mind that the lake will likely be busier as the day goes on (meaning more waves) and you will also be kayaking upstream.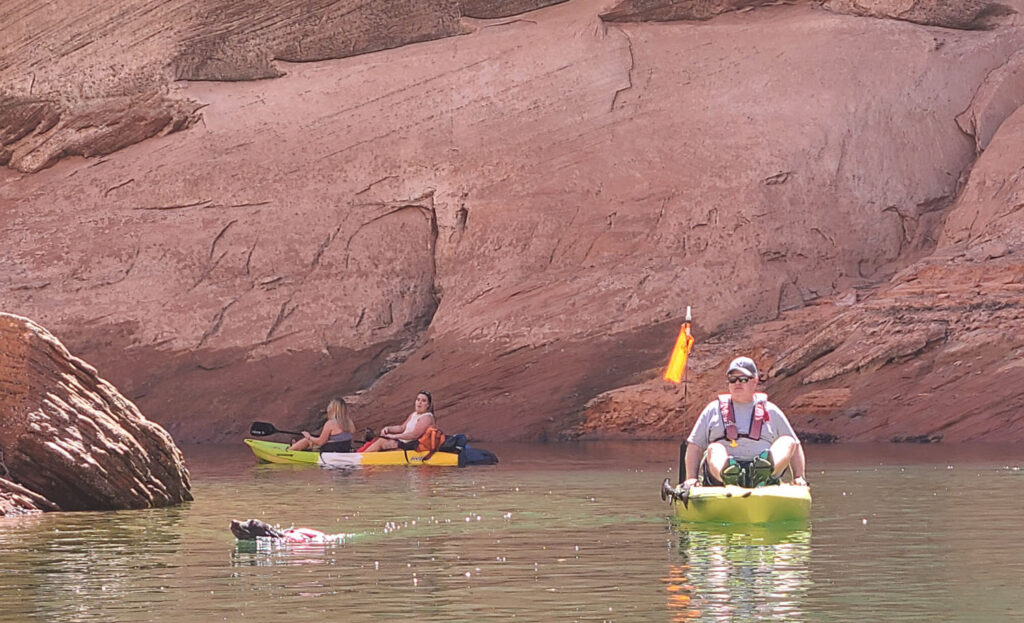 Be Prepared
Adventures on the water are so much fun but can be unpredictable and your safety relies on how smart you are when planning. So make sure you:
Check the weather: Canyons are affected by the weather dramatically, Storms occurring many miles away can still cause a flash flood in your area! For these reasons, it is imperative to check the local weather report and ensure that there's virtually zero risk of rain. Be smart, keep an eye on the wind and weather before you go and while you are on the water. If the skies appear to be gray, thundery, and ominous, paddle back or wait it out on the shore.
Budget a full day to kayak Antelope Canyon – it will take roughly 2 hours to reach the part of the canyon where you park your kayak and hike into the slot canyon. I say roughly because if it is a windy day or a lot of boats at Lake Powel, it will take you a long time to get through the wake zone. Our total trip time was 5.5 hours.
Over-pack food and drink: As always, I packed way too much food but I see this as a gift rather than a curse as it means I will always be well-fed.
Put your gear in a dry bag: If you aren't already using dry bags on your road trip – where have you been?! They are the best invention for adventurers and keep your possessions safe while you're on the water.
Pack out whatever you pack in – trash, toilet paper, etc. You will find not so pretty places where human waste and toilet paper are left in crevices in the canyon. If nature calls, try to carry the trash out, or at least bury the waste and use biodegradable paper.
Bring plenty of sunscreen to re-apply. There is little shade on the water and some places in the canyon itself remain sunny through the middle part of the day.
Bring shoes: If you are planning on hiking to the slot canyon after kayaking, bring shoes for this. I am all bare feet on the kayak, but this is the wild west and you can't be sure who/what is hiding in the sand or rocks.
Common questions about Antelope Canyon:
Is Antelope Canyon a difficult hike?
The Antelope Canyon hike is fairly easy and not super difficult. Lower Antelope Canyon is a little more rigorous than Upper as there are stairs to climb.
Can you go to Antelope Canyon without a tour?
Antelope Canyon is protected by the Navajo Parks and Recreation and only authorized tour companies can take visitors to the canyon. That is unless you do the trip in this article, then you can go on your own as we did.
Which is better Upper Antelope Canyon or Lower Antelope Canyon?
Lower Antelope Canyon is far better for a more relaxing tour. Upper Antelope Canyon is smaller, runs a lot more tours, and has a two-way system that exacerbates the problem.
Our Other Kayaking Trips
Conclusion
While you may not see some of the award-winning shots professional photographers get you will see some lovely scenery on this trip.
How many people do you know that can say they have kayaked through aqua blue water into a slot canyon and then hiked the same canyon? On this trip, you will see a part of the country that few people see and it will be well worth your time to wander this amazing and beautiful slot canyon.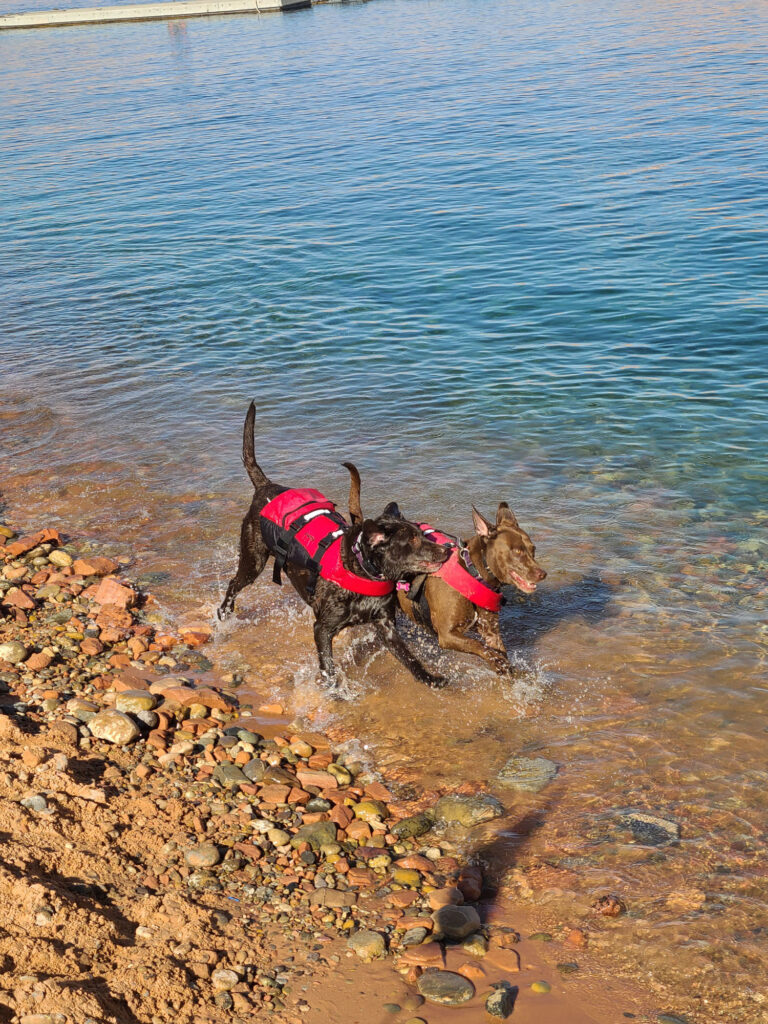 What interesting places have you been to and can recommend? We're always looking for neat out-of-the-way places to put on our list of must-sees. Thank you for reading our article. If you have any comments or questions we'd love to hear from you below.
We do all our trip planning with RV Life Trip Wizard. RV Trip Planning Made Simple! RV Life Trip Wizard is by far the best RV route planner we've found. Get your 7 day Free Trial