Kayaking is one of our favorite pastimes. Although we haven't had many opportunities this winter we finally got a chance to go. We decided to go Kayaking Watson Lake near Prescott, Arizona and we're so glad we did. It's about an hour's drive from Verde Valley Thousand Trails where we are staying but well worth the trip.
This post contains affiliate links. As a participant in Amazon Associates and various affiliate programs, we are compensated when qualifying purchases are made through our referral links at no additional cost to you. Full Disclosure
Kayaking Watson Lake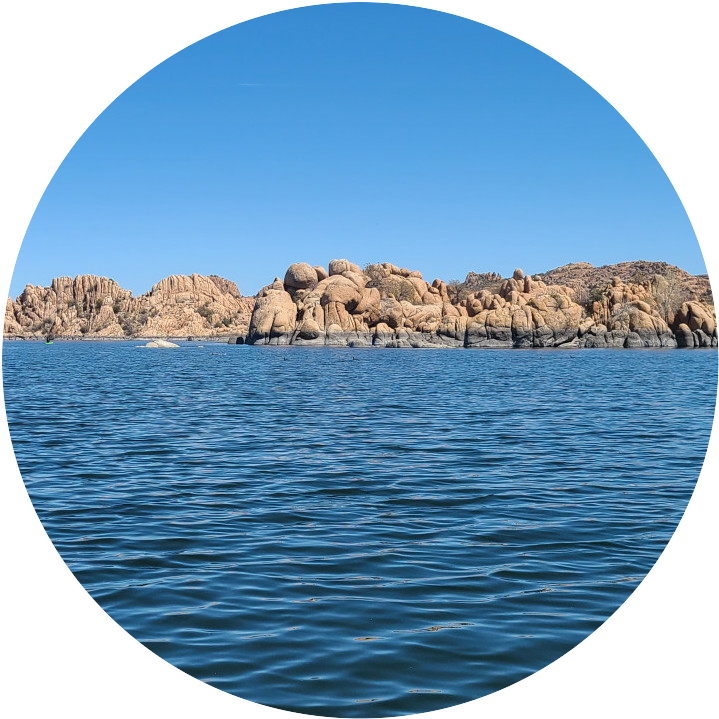 There are many small reservoirs in the hills of central Arizona, but none are quite as unusual and photogenic as Watson Lake. This bright blue lake and most of the shoreline and surrounding areas are formed with huge rounded granite boulders, some of which are semi-submerged forming tiny islands and narrow passages.
Watson Lake is one of two reservoirs at the Granite Dells, in Prescott, Arizona. It was formed in the early 1900s when the Chino Valley Irrigation District built a dam on Granite Creek.
Watson Lake is managed as a city park, complete with such park-like facilities as a playground, BBQ area, horseshoe pits, restrooms, and a campground (summer only).
Although swimming is prohibited, there are many other fun activities to do at Watson Lake including fishing, boating, kayaking, canoeing, hiking, and camping.
Location
Located just 4 miles from Prescott along AZ 89 (1.2 miles north of the junction with Prescott Lakes Parkway), this beautiful lake is an oasis when you are looking to escape the desert heat.
Past the self-service entrance station, several short side roads lead to overlooks, shoreline access points, and boat launches.
Visitor Information for Watson Lake
3101 Watson Lake Rd, Prescott, Arizona
Summer Hours: 7:00 AM to 10:00 PM
Winter Hours: 7:00 AM to Sunset
Parking Fees: $3.00
Our Trip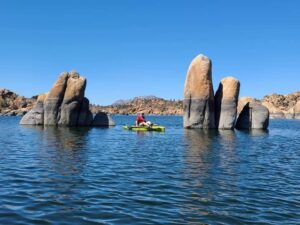 We've been in the Cottonwood, Arizona area for about 7 days now and finally had decent weather. The past week has been cold, wet, and dreary. Near where we are staying is the Verde River which has some good kayaking but our 13-foot kayaks are too big and with the pedal power to them, the water is too shallow for us.
So with a nearly 70-degree day, we decided taking the kayaks out has been long overdue! Being in the desert of Arizona there hasn't been too many opportunities for us to take out the kayaks. Finding this gem made up for the long winter with the kayaks parked.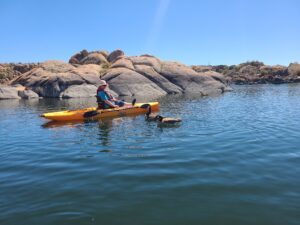 The granite boulder piles extending all around the northwest and northeast shores make a beautiful backdrop for this lovely lake. The first thing I thought of when approaching the area was that the rocks are similar in shape, color, and form to the outcrops in Joshua Tree National Park and many other places in the Southwest.
We launched our kayaks from the Southwest boat launch and peddled North toward the outcrops. The lake is not too large so it only took us a few minutes to make our way across. Spending a couple of hours on the water weaving in and out of the granite formations, taking pictures, and feeding the ducks and geese made for a fun day trip.
We left the dogs home as we were unsure if they were able to go into the lake. We talked to a couple of people with dogs and would bring them next time.
Our Other Kayaking Trips
Conclusion
If you're anywhere near Prescott, Arizona, and want to get outdoors whether it's kayaking, hiking, fishing or camping take a look at Watson Lake. It's a beautiful place and truly an oasis in the desert surroundings. With the unusual formations, it makes an interesting visit.
Do you have a favorite lake to kayak on? What interesting places have you been to and can recommend? We're always looking for neat out-of-the-way places to put on our list of must-sees. Thank you for reading our article. If you have any comments or questions we'd love to hear from you below.
If you're looking to build your own home-based business like we have with this webpage, check out Wealthy Affiliate.
Wealthy Affiliate is an all-in-one platform that you can build your whole affiliate marketing business on. It combines training, software, and website hosting into one. This makes the whole process of starting an online business from scratch much easier, especially if you're new to building a website.