Kayaking Quake Lake in Montana is a remarkable and exceptional one-of-a-kind experience. The formation is a natural wonder with a compelling yet tragic tale of geological events that occurred in 1959 when a massive earthquake induced a landslide that impeded the Madison River, causing a catastrophic flood that resulted in the formation of the lake. Despite this traumatic past, Earthquake Lake is a coveted destination for nature lovers, adventure-seekers, and those that love scenic beauty.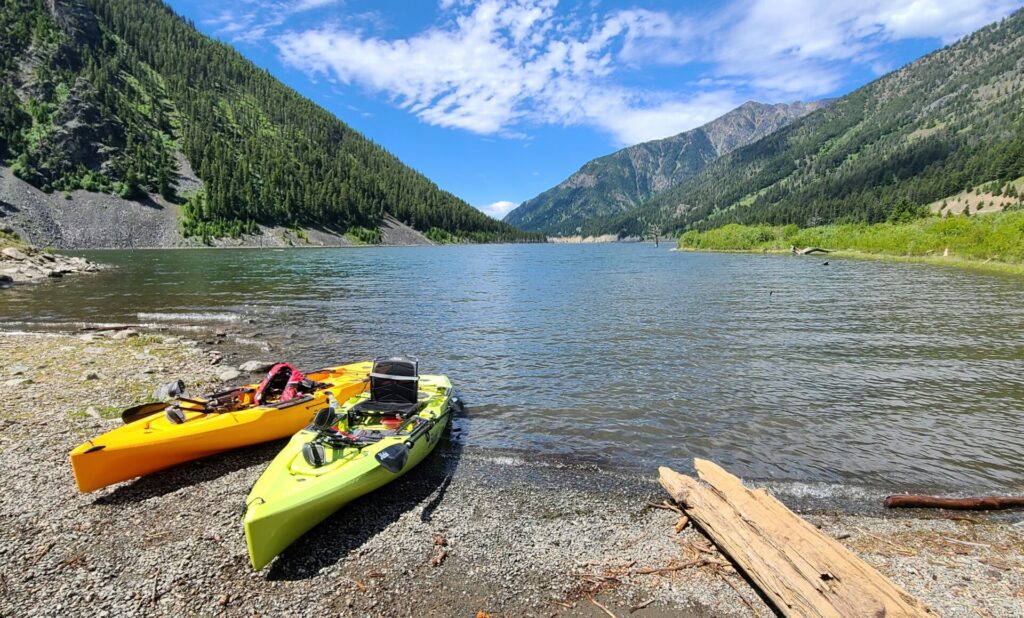 This post contains affiliate links. As a participant in Amazon Associates and various affiliate programs, we are compensated when qualifying purchases are made through our referral links at no additional cost to you. Full Disclosure
Location
Located along Hwy 287 between West Yellowstone and Ennis, Montana.
History of Quake Lake
Quake Lake is a fascinating geological formation with a tragic backstory. On August 17, 1959, Montana's largest recorded earthquake, a 7.3 magnitude shaker at Hebgen Lake in the Madison River Canyon Area caused a landslide that blocked the Madison River. At the time it was the second-largest earthquake to occur in the lower 48 states.
Twenty-eight people lost their lives in the event. The earthquake created a massive landslide that left a jagged scar on the mountainside across the canyon. About 80 million tons of rock, trees, and earth slid from the mountainside, stopping the flow of the Madison River and burying 19 people.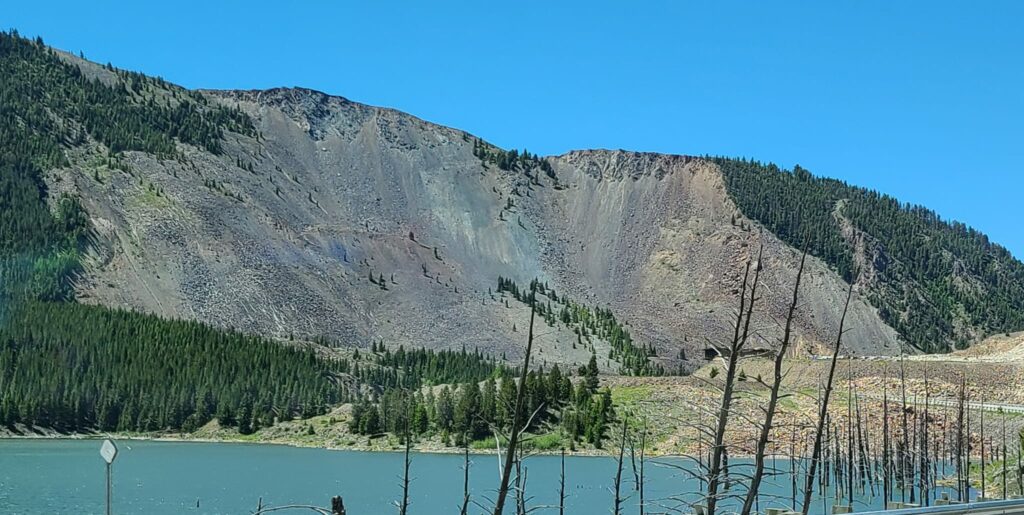 The rising water behind the dam eventually created Quake Lake. After only three weeks the damned river created a lake more than 170 feet deep. As the water rose behind the new dam, the Army Corps of Engineers rushed to cut a spillway through the landslide debris. Today, Quake Lake is a peaceful and serene spot, but its tragic history is a reminder of the power of nature.
Ghost Trees
In addition to its tragic history, Quake Lake is also home to a haunting natural phenomenon known as the "ghost trees." These trees were killed by the rising water and remain standing in the lake, their bare white trunks contrasting eerily against the dark blue waters. The ghost trees serve as a chilling reminder of the power of the earthquake and the devastation it wrought. Visitors to Quake Lake can witness this eerie sight either from shore or while kayaking or boating on the lake.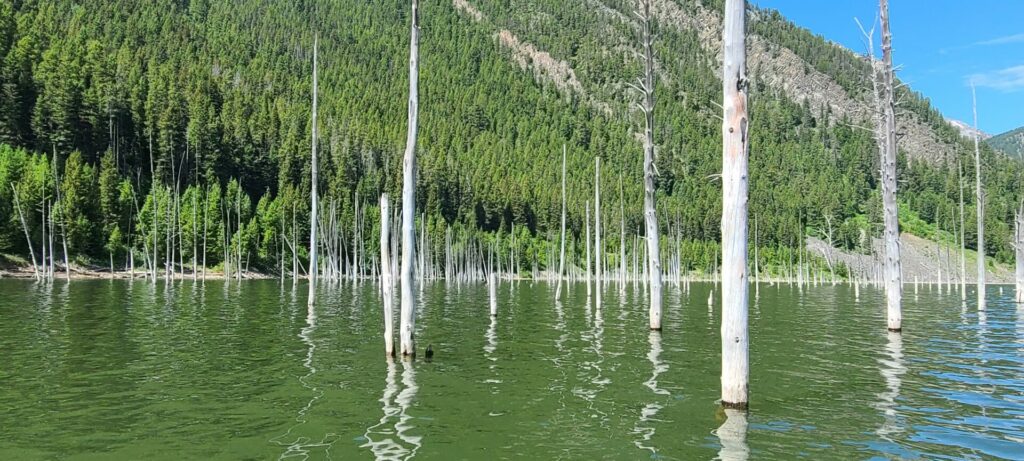 Best time to see the ghost trees: While the ghost trees at Quake Lake can be seen year-round, the best time to see them is in the early morning or late afternoon when the sunlight casts long shadows on the water, creating a hauntingly beautiful scene.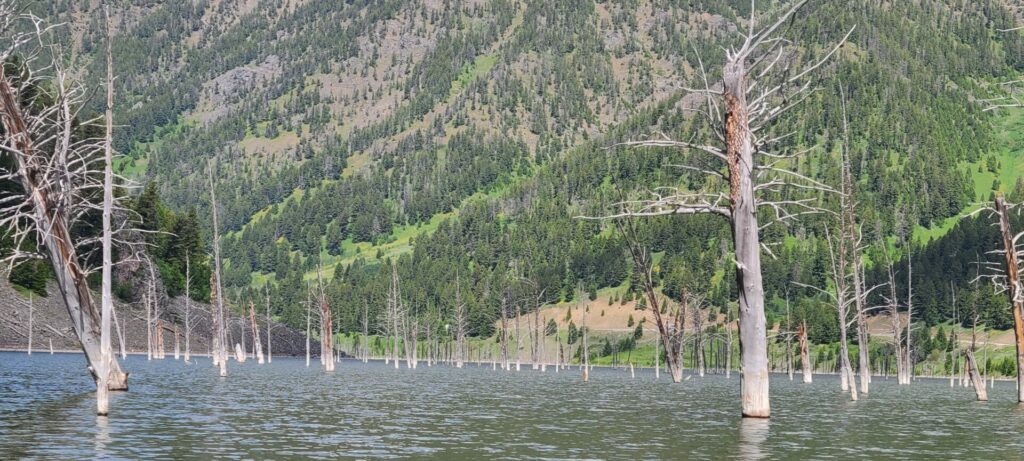 Kayaking at Quake Lake
Kayaking Quake Lake is one of the best ways to experience the beauty of the area. It is one of our favorite places to kayak in the Yellowstone Ecosystem. The lake is moderately sized, being a 1/4 mile wide and about 6 miles long it's easy to explore by kayak. There are several different kayaking routes available, ranging from easy to challenging.
Get All Your Kayaking Supplies Here
If you're a beginner kayaker, the easiest route is from the boat launch to the inlet. This is a gentle route that's suitable for all skill levels. Even though we're not beginner kayakers this is the route we took since we think it's the more interesting area of the lake. For a more challenging experience, try the route from the inlet to the dam. This route has more obstacles and faster currents, making it a great option for experienced kayakers.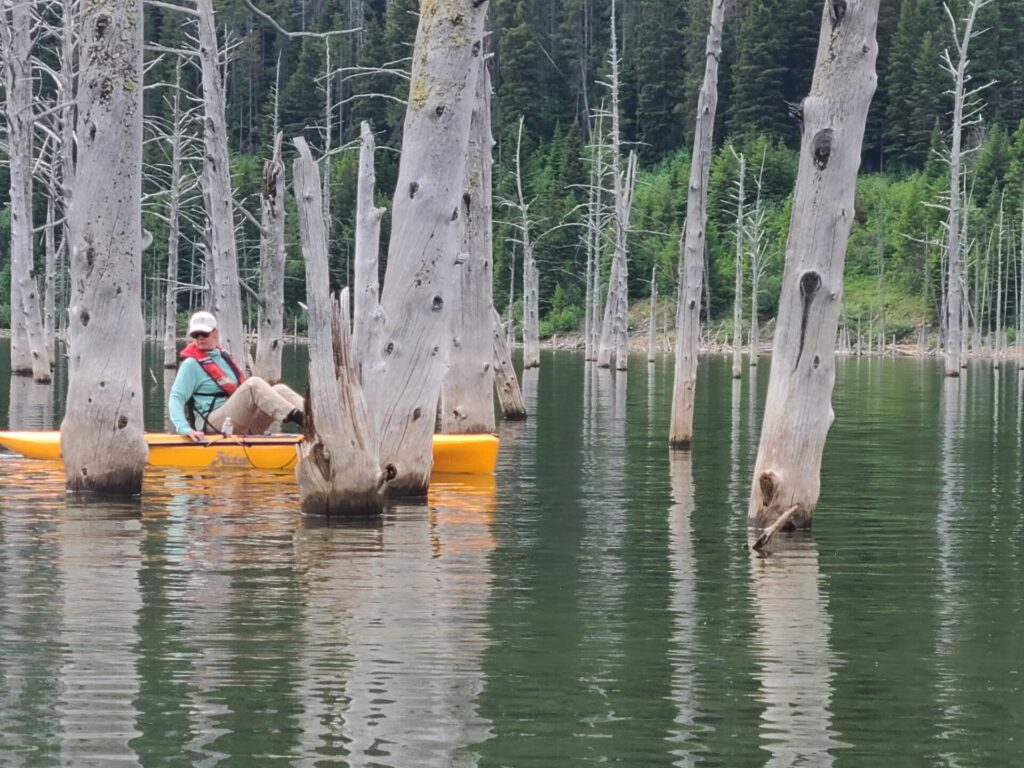 We loved weaving in and out of the ghost trees, exploring the shallows along the shoreline, and observing the birds making the area their home. Quake Lake is a great area to spend a few hours kayaking, fishing, or just floating around.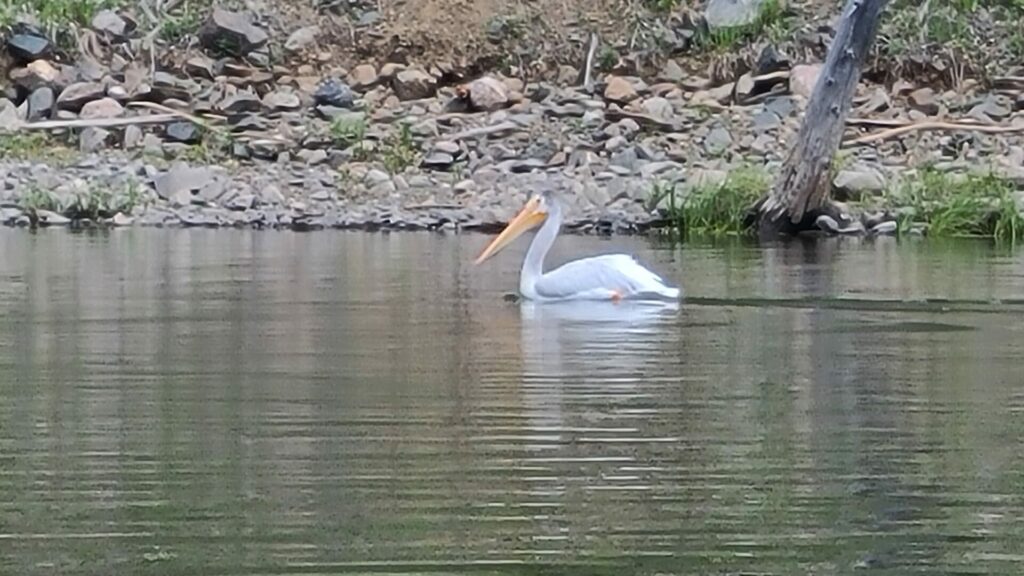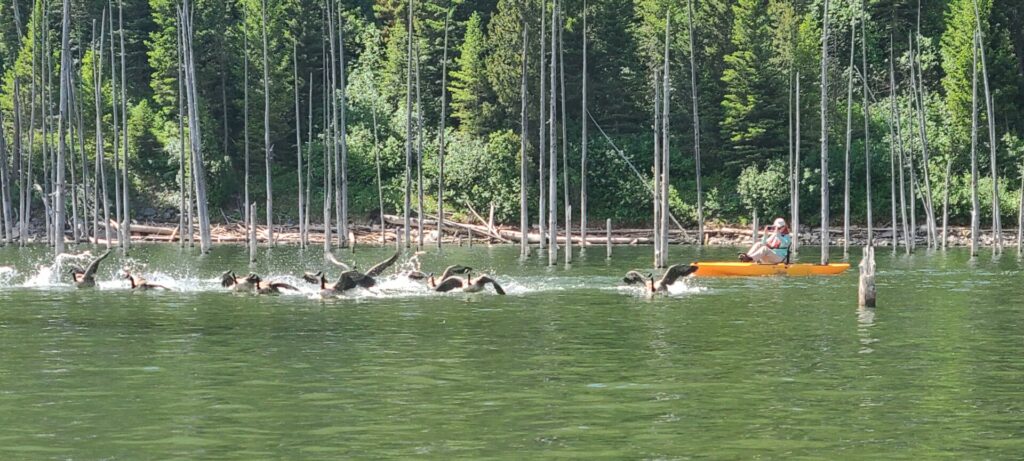 The best time to go kayaking at Quake Lake is in the summer when the weather is warm and the water is calm.
Safety tips for kayaking at Quake Lake: While kayaking at Quake Lake can be a fun and exciting experience, it's important to remember that safety should always be a top priority. Some safety tips to keep in mind include wearing a life jacket, staying alert for changes in weather or water conditions, bringing plenty of water and snacks, and paddling with a buddy.
Wildlife and Scenery
Quake Lake is not just a kayaking destination, as it offers a diverse range of wildlife and scenery. Bald eagles, ospreys, moose, big horn sheep, mountain goats, and grizzly bears are among the wildlife that visitors can see while kayaking. We even heard a mountain lion was spotted in the area. The lake is surrounded by mountains that provide stunning views, and the "quake lines" on the mountains are a unique geological feature. Also along the shoreline, you can spot the remains of a few cabins that were destroyed by the earthquake.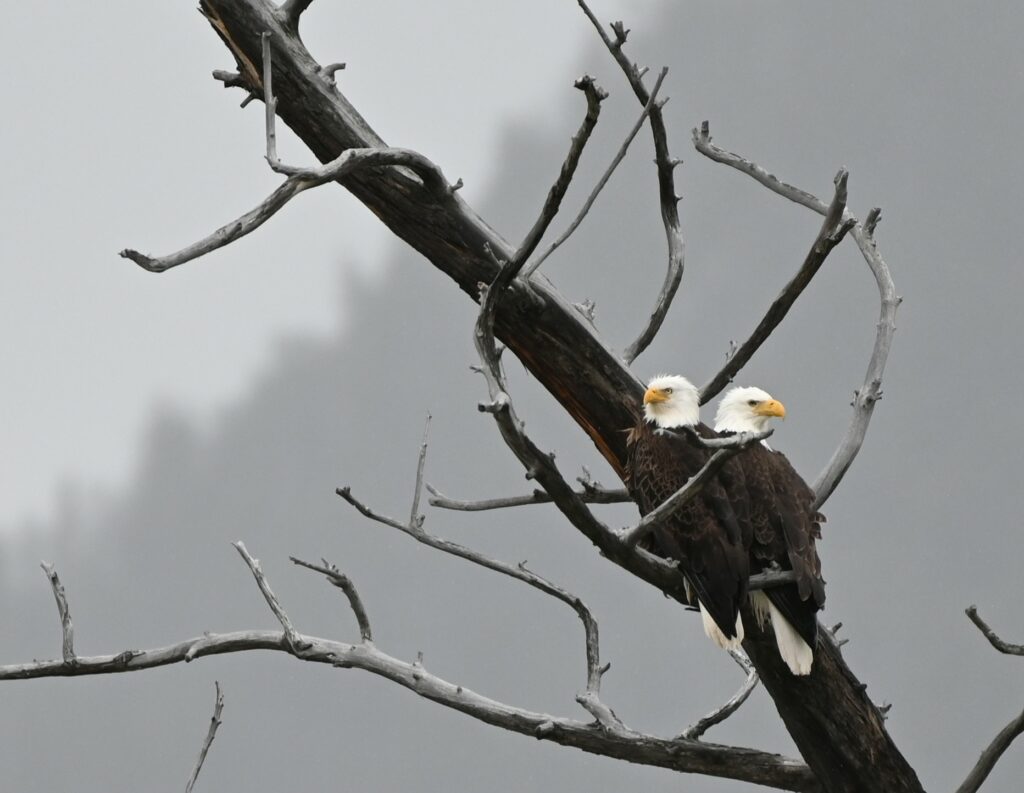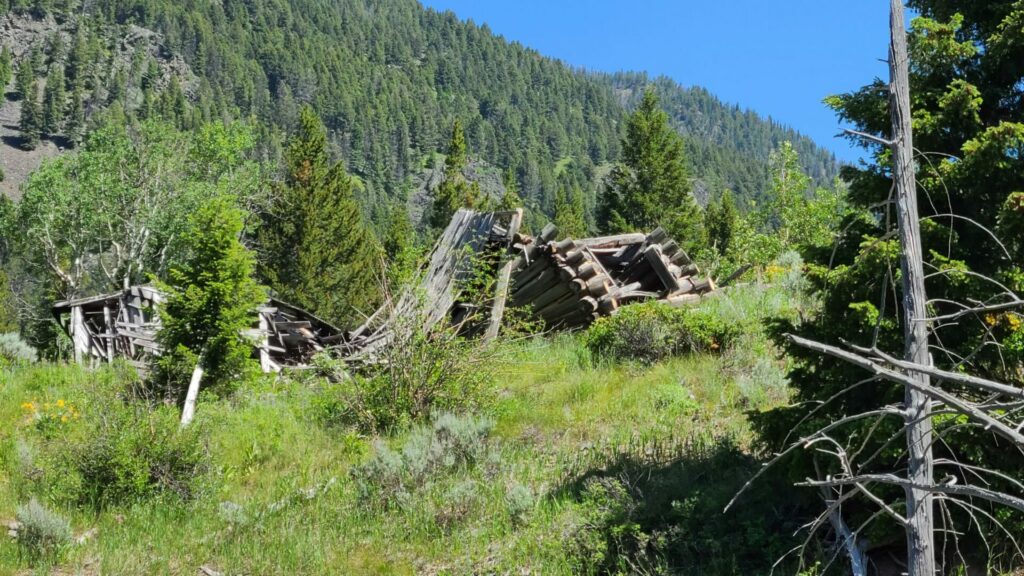 Other Activities at Quake Lake
While kayaking is undoubtedly the highlight of a visit to Quake Lake, there are plenty of other outdoor activities to enjoy. Fishing is a popular pastime, with cutthroat, rainbow, and brown trout abundant in the lake making it a popular spot for anglers. With the Madison River being one of the premier flyfishing rivers in the world it is understandable that Quake Lake would be a great place to fish also. Camping and hiking also stand as viable alternatives, with numerous campgrounds and trails dispersed throughout the vicinity.
Quake Lake Visitor Center
Tourists to the region have the opportunity to visit the Earthquake Lake Visitor Center, located 27 miles north of West Yellowstone along US Highway 287. The center provides informative exhibitions on seismic activities, plate tectonics, and a fully operational seismograph, coupled with a breathtaking, panoramic view of the collapsed mountain.
Patrons can also indulge in an array of documentaries and lectures at the center's observatory, which enlighten the audience on the history of the calamitous earthquake. The Memorial Boulder, a tangible memento of the earthquake, bears a bronze plaque with the names of all 28 individuals who perished during the disaster.
The Earthquake Lake Visitor Center welcomes visitors daily from 10 a.m. until 5 p.m. during Memorial Day through mid-September, although precise dates may vary depending on the year. Call 406 682-7620 for additional details or to verify the schedule.
Other Things to See and Do
Quake Lake is located near several other popular attractions in Montana, including Yellowstone National Park, Hebgen Lake, and the towns of West Yellowstone, Ennis, Virginia City, and Nevada City. Visitors to Quake Lake can easily spend several days exploring the area and enjoying all that Montana has to offer.
Book The Best Yellowstone Wildlife Tour Now!
Our Other Kayaking Trips
Conclusion
Quake Lake is a unique and beautiful destination that's perfect for kayaking enthusiasts. The lake's tragic history adds a somber note to its natural beauty, making it a truly memorable experience. Whether you're a seasoned kayaker or a beginner, Quake Lake is a must-visit destination in Montana. So pack your bags, grab your kayak, and get ready for an unforgettable adventure.
With its fascinating history, unique geological features, and diverse wildlife and scenery, Quake Lake offers visitors an unforgettable experience. Whether you prefer kayaking, fishing, camping, hiking, or learning about geology and natural disasters, Quake Lake has something for everyone. So, plan your trip to Quake Lake today and explore the wonders of this remarkable and exceptional natural wonder.
What interesting places can you recommend? We're always looking for neat out-of-the-way experiences to add to our list of places to visit. Thank you for reading our article. If you have any comments or questions we'd love to hear from you below.
If you're looking to build your own home-based business like we have with this webpage, check out Wealthy Affiliate.
Wealthy Affiliate is an all-in-one platform that you can build your whole affiliate marketing business on. It combines training, software, and website hosting into one. This makes the whole process of starting an online business from scratch much easier, especially if you're new to building a website.