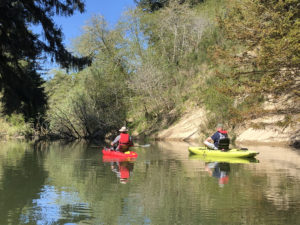 We planned on Kayaking Oregon as much as possible during our visit to the state. One of our favorite outdoor activities is kayaking and on the Oregon Coast, we knew there were a number of beautiful lakes as well as the Siltcoos Canoe Trail to get out on. With over a dozen lakes within a dozen miles of Florence, we knew we'd have a blast with the kayaks.
If you've ever been to the Oregon Coast one thing you'll notice is practically everywhere you look is a U.S. Forest Service Park or State Park. Unfortunately, the Forest Service Parks and State Parks are the same places the lakes are located.
I say unfortunately because during the Stay In Place orders with the Coronavirus the Governor of Oregon closed all the State Parks and the Forest Service did the same with theirs. This put a huge damper on our plans to enjoy as many lakes as we could during our stay.
This post contains affiliate links. As a participant in Amazon Associates and various affiliate programs, we are compensated when qualifying purchases are made through our referral links at no additional cost to you. Full Disclosure
Where there's a will there's a way… Out driving around one day we saw a pickup pulling a boat turn off of Hwy-101. We turned following him and totally by accident found a private boat launch on Siltcoos Lake. Darlings Marina and RV Resort was open and allowed launching from their boat ramp so we planned to hit the lake a few days later.
Getting there: Follow U.S. 101 to Darlings Marina and RV Resort, about six miles south of Florence. Turn east onto Clear Lake Rd then turn right on Darlings Loop Rd. The destination will be on both sides of the road with the boat ramp on the right. The day-use fee is $5.
What to bring: The weather changes quickly along the coast. Make sure to bring plenty of warm layers, and shoes so you can get wet. Always wear a life jacket. Kayak rentals are available at Darlings Marina and other places near the lake and in Florence.
Get All Your Kayaking Supplies Here
Siltcoos Lake
Fed by runoff from a basin of about 68 square miles in Land and Douglas counties. The lake lies about 7 miles south of Florence. Its name comes from a Lower Umpqua people, a variant of which is Tsiltcoos.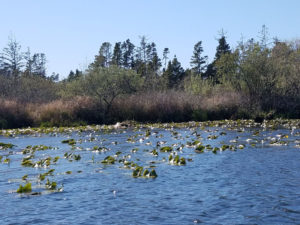 When we arrived at Dunes City in the Northlake area, both Darlings Marina and the boat dock seemed half asleep (partly because of the Coronavirus Stay in Place orders or maybe that's just the way it is). Siltcoos Lake itself, the largest on Oregon's coastline at 3164 acres, barely even stirred.
We talked with the attendant at the marina where we paid $5 to launch our kayaks. He told us that the lake can get rough when the wind picked up in the afternoon, so he recommended we head to the Siltcoos Canoe Trail where the Siltcoos River heads toward the ocean.
After launching at the Darlings boat dock, it's a short, half-mile paddle south to the lake outlet. You will navigate past lily pads, cattails, and willow thickets to reach the river. Alternatively, you can start at Dunes City in the Westlake District on the east side of Highway 101 or Tyee Campground.
When launching at Dunes City, follow Pacific Avenue to the Lane County boat ramp with dock and parking lot on the community's north side; the $4 day-use park fee includes the use of the boat launch. This launch actually gets you a bit closer to the river trail than Darlings Marina. Either way, it is a nice paddle.
Siltcoos Canoe Trail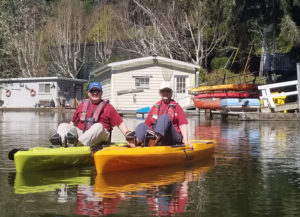 The Siltcoos River, a meandering three-mile waterway also known as the Siltcoos Canoe Trail, cuts its way through the Oregon Dunes National Recreation Area just south of Florence before it empties into the Pacific.
The river trail reveals a vastly different world than could ever be experienced on foot. With no rapids, the trail draws kayakers, canoers, and paddle boarders from far and wide although we had the river all to ourselves. We drift past boat houses, homes with docks, and a quaint little marina with yurt rental at the water's edge.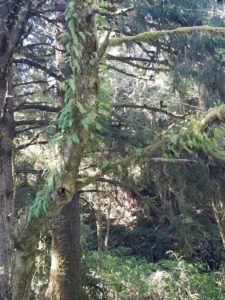 Tucked into a kayak or canoe, you mix right in with the Oregon Dunes National Recreation Area's scenery and wildlife. When you're in a kayak, you feel more like you're a part of the river, because you're just gliding down at the same level as all the other animals.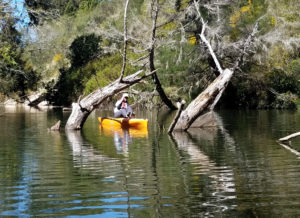 Downed trees, humped rocks, and tangled limbs in the river looking like half-submerged hippos and alligators ready to take a bite out of you. Large, fallen trees can block the channel until cleared away by someone with a chainsaw. Sitka spruce trees, bend low over the water like menacing giants with their moss and fern-covered branches.
In addition to birds, the area is home to a number of mammals, including river otters, mink, black bears, deer, raccoons, and beaver.
As you approach the ocean, you may spot sea lions and harbor seals. If you do decide to kayak below the dam be aware of an area at the mouth of the river that is restricted snowy plover habitat for the period from March 15 through September 15. You are not able to land your kayak in the restricted area. On our trip, we didn't encounter any wildlife but maybe next time.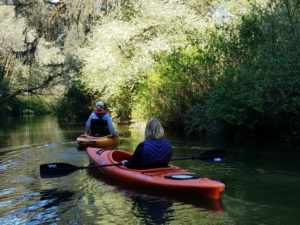 Not far downstream from the marina, after passing under a concrete Highway 101 bridge, signs of man are soon gone, and the river feels both intimate and wild. At the dam, you can pull your kayaks to the side and snack away. International Paper, which once operated a sawmill on the lake, built the dam now owned by Industrial Harbor USA. A fish ladder, namely for Coho salmon, operates year-round.
Portage is pretty easy around a concrete dam about halfway down the trail. A ramp with parallel plastic runners makes it easy to skid your kayaks back into the river below the dam.
We decided to stop at the dam and make our way back to Darlings. An easy three-hour round trip that could be made quicker if wanted. On our relaxing journey, we were in no hurry to get anywhere fast. We had this beautiful Oregon Coast treasure all to ourselves and enjoyed being out on the water all alone.
Other Things to See and Do on the Oregon Coast
Our Other Kayaking Trips
Conclusion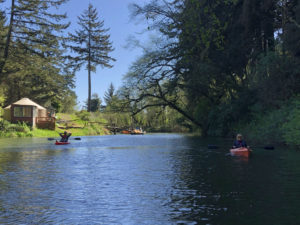 If you're on the central Oregon Coast and kayaking is something of interest to you, exploring Siltcoos Lake and the Siltcoos Canoe Trail is a beautiful way to spend a relaxing day on the water.
We hope you can make it out to enjoy a day on Siltcoos Lake or the Siltcoos Canoe Trail! If you have any questions or comments please post them below.
If you're looking to build your own home-based business like we have with this webpage, check out Wealthy Affiliate.
Wealthy Affiliate is an all-in-one platform that you can build your whole affiliate marketing business on. It combines training, software, and website hosting into one. This makes the whole process of starting an online business from scratch much easier, especially if you're new to building a website.