Our initial plans for this year were to travel to Alaska for an amazing summer of nearly endless daylight, wildlife, and natural beauty. Then mid March the Coronavirus outbreak hit the U.S. and put a damper on our plans.
While we're still hoping to make it to Alaska we are thankfully in a great campground on the Central Oregon Coast. We got here on March 18th and were scheduled to be here 21 days before moving up the coast to Pacific City. With the Stay in Place orders mandated by Oregon's Governor, we're now going to be here until the middle to end of May.
Alaska keeps looking further away as the time in lockdown continues. While all of Oregon's National Forest and State Parks are closed we have been doing our best to not get too stir-crazy locking ourselves away in our motorhome. Our feelings are that the great outdoors is one of the best places to social distance while getting some fresh air and exercise.
This post contains affiliate links. As a participant in Amazon Associates and various affiliate programs, we are compensated when qualifying purchases are made through our referral links at no additional cost to you. Full Disclosure
We get out a few days a week to explore things we can with the social distancing rules that go along with the SIP orders. As we learn more about the area, we manage to find quite a few things to keep us occupied during the pandemic.
Besides the things listed below, I've been trying to work on articles like this one and learning about Affiliate Marketing on Wealthy Affiliate. It's a cool place to learn what it takes to make some side income online. Maybe someday this blog will make a bit too.
Kayaking
Kayaking is one of our go-to activities when we want to get outdoors. We've managed to find quite a few locations where we can get out on the water. Although the boat ramps and lakes in the State and National Forest Parks are closed we have found a few well-hidden locations and county parks that have access areas open still. Below is our list of kayaking locations near Florence Oregon that we've found access to.
Siltcoos Lake and Siltcoos Canoe Trail – 6 miles South of Florence Siltcoos Lake and the Siltcoos Canoe Trail Can be accessed at Darlings Marina & RV Resort in the North Beach area or from West Lake County Park. Launching from Darlings costs $5. Launching from West Lake County Park by using the Passport Parking App Zone 97101 costs $4.
Tahkenitch Lake – While the boat ramp along Hwy 101 and at Tahkenitch Landing are closed due to the COVID-19 outbreak we did find a place to launch boats or kayaks from Five Mile Rd on the Southeast side of the lake. Go about 2.5 miles down Five Mile Rd to a small turnout with a dirt boat ramp access point that has not been blocked off. The day we went there were a few boat trailers parked along the road but we didn't see any other boaters while we were on the water.
Elbow Lake – About 15 miles South of Florence on Hwy 101 lays Elbow Lake. A hard-to-see dirt road off Hwy 101 leads down to a place where kayaks can be launched. We have not gone to this lake but have seen people in kayaks and small pontoon boats fishing on the water.
Mercer Lake – Located about 9 miles North of Florence, 359-acre Mercer Lake can be accessed from a boat ramp at Mercer Lake County Park. To get to the Park from Hwy 101 take Mercer Lake road and go about 4 miles to the boat ramp. Parking is a bit further up the road and costs $4. Pay by using the Passport Parking App Zone 97117.
Munsel Lake – Munsel Lake is a 110-acre lake located about 3 miles North of Florence off Hwy 101. Take Munsel Lake road east about 1 mile to the lake. A Lane County Parks boat ramp is available with a small parking lot. Parking is $4 using the Passport Parking App Zone 97104
Tide Pools
Even with the Oregon State Parks, National Forest Lands, and beach access all along the Oregon Coast closed we've had some luck in finding a few tide pools in the area to explore.
Yachats Oregon – Tide Pools are insanely abundant here but the Yachats Ocean Road State Natural Site is closed due to the Coronavirus pandemic. But not to miss out there are a few places to access some great tide pools. From Hwy 101 turn west on 7th St at the end of the street turn left on Ocean View Dr. There is a pullout on the right side near 6th St with room for a few cars to park. The tide pools are accessed by climbing down the boulders to the beach and then heading to the right to the tide pools. This section of tide pools is not the greatest but getting out and enjoying the ocean while looking for some critters is a good way to spend a few hours out of the house. On our second trip, we had just made it to the sand when some guy started yelling at us that the tide pools and Yachats were closed to visitors. We pretty much ignored him knowing he had no authority. Going on our way we had fun exploring the tide pools and didn't bother anyone with our social distancing.
Seal Rock – Protected by large rocks out in the surf the tide pools at Seal Rock create a haven for an amazing abundance of sea creatures in some of the best tide pools along the Oregon Coast. Be sure to look along the underside of rocks for an amazing array of starfish. They are plentiful and come in a variety of colors. Seal Rock offers great exploring opportunities. While some of the best tide pools in Seal Rock State Recreation Site are closed due to the Coronavirus pandemic there is still at least one area you can access with the closures. Access to a great stretch of tide pools from the Little Creek Cove Scenic Point wayside. A small trail from the overlook winds its way down to the beach.
Beachcombing
Many beaches along the Oregon Coast are located in State Parks and National Forest Lands. As we've stated earlier those are all closed due to the COVID-19 pandemic. But like Kayaking and Tide Pools we've found a few places to access beaches.
Heceta Beach County Park – A Lane County Park beach access point with access to a beautiful, long sandy beach in front of Driftwood Shores Beach Resort and private beach cottages. A popular location for families and leisurely beach strolls. Walk south toward the Harbor Vista Park and North Jetty. Look for whales and sand dollars. Paid Parking is $4 using the Passport Parking App Zone 97103
Seal Rock – Along with the tide pools mentioned above Seal Rock boasts a nice little beach to explore.
Sightseeing
Along with the sites seen with our Kayaking, Tide Pools, and Beach Combing we've found some other places that are not totally open but are fun to explore and see what you can see.
Newport Sea Lion Docks – There are lots of interesting things to see in Newport but so many places are currently closed. A popular attraction that is still open with social distancing in order is watching the male sea lions that congregate on a dock in Yaquina Bay at Port Dock One in Newport's Historic Bayfront District. It's fascinating to watch them as they seem to play a game of "King of the Hill" by barking and growling at other sea lions that try to slide onto the dock or snuggle up close to them. See Oregon State University's Sea Lion Webcam Here.
Whale Watching from Depoe Bay – When people think of whale watching, they think of Depoe Bay. The self-proclaimed as whale watching capital of Oregon, Depoe Bay is the premier destination for those seeking to catch sight of the great whale migration. Home to the world's smallest harbor and amazing whale-watching tours. Even though the tours and Depoe Bay Whale Watching Center are currently closed you can still watch for whales at the pullout parking area along Hwy 101 in downtown Depoe Bay. Look out for the small puffs of water vapor of surfacing whales less than a mile from shore.
Sand Dunes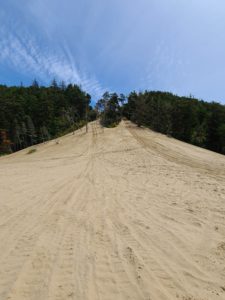 Stretching nearly 40 miles from Florence to Coos Bay the Oregon Dunes National Recreation Area is a haven for Off-Road enthusiasts. The Oregon Dunes are a unique area of windswept sand. They are the largest expanse of coastal sand dunes in North America and one of the largest expanses of temperate coastal sand dunes in the world, with some dunes reaching 500 feet above sea level. With the Coronavirus pandemic, the dunes have been closed by the U.S. Forest Service. But we found a place you can still play in the sand.
Winchester Bay Umpqua Dunes Area – Located South of Winchester Bay this riding area is home to the tallest sand dunes in the Oregon Dunes NRA. While most areas of Oregon Dunes are closed we were out looking to get a picture of the Umpqua Lighthouse. When we returned to our Jeep a State Trooper pulled up to us and told us the area where we were was open to Off-Road vehicles. You still need a flag and to pay for the Oregon OHV permit to play there but at least someplace is open for off-roading. It's something we plan on doing in the near future.
Other Things to See and Do on the Oregon Coast
Conclusion
We feel that many of the orders put into place by the Governor of Oregon are a bit much. We should have the ability to get outside. Get some fresh air and keep at a safe distance from others.
There are so many places closed due to the COVID-19 outbreak, but with some searching, you can find many activities to get you out of the house, keep you safe with social distancing, and keep you sane during the mandated Stay in Place orders.
We'd like to find someplace to go hiking but everywhere we've looked so far has been closed. If we find someplace open we'll update our list here.
If you have any questions, comments, or places you've found to enjoy while the Coronavirus pandemic is ongoing we'd love for you to leave a comment below.