Having a Jeep and not being able to take it out to the sand dunes for nearly two months has been hard. On Day 1 of Phase 1 of Oregon opening back up after the Coronavirus Pandemic Stay In Place orders we were finally able to get our Jeep out on the sand.
We are camped at Thousand Trails right outside the Oregon Dunes National Recreation Site at South Jetty in Florence. The dunes at South Jetty like a lot of the State Parks are still closed even though the Governor has opened up others.
So we decided to take a short drive to the Winchester Bay Sand Dunes to go play. It's been great seeing places open and people getting back outside and having fun. The dunes at Winchester Bay were fairly busy on the first day the stay-in-place orders were lifted.
This post contains affiliate links. As a participant in Amazon Associates and various affiliate programs, we are compensated when qualifying purchases are made through our referral links at no additional cost to you. Full Disclosure
The Dunes
Oregon Dunes National Recreation Area is operated by the U.S. Forest Service and covers approximately 40 miles along the Central Oregon Coast from Florence to North Bend. They are the largest coastal sand dunes in North America. Some dunes reach a height of 500 feet above sea level.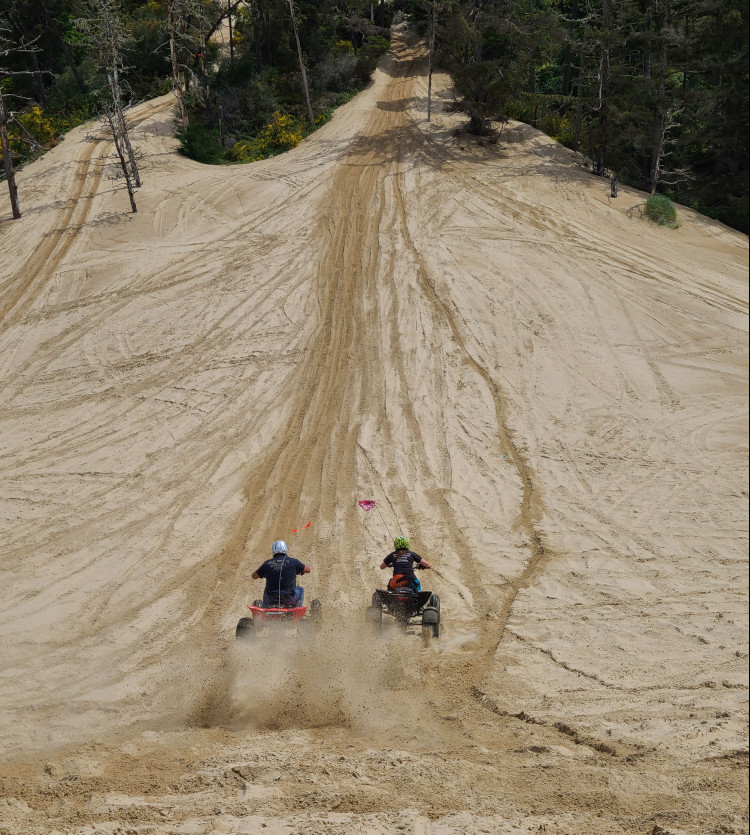 The Umpqua Dunes or better known as the Winchester Bay Dunes where we went have some of the tallest dunes in the Recreation Area. No matter what type of OHV or ATV you have there is a place for your level of expertise and a place for you to play. While we were on the dunes we saw a lot of 4-wheelers, motorcycles, and side by sides. They can really fly up the steepest of dunes.
As for us, we like to take it fairly easy in our Jeep. We don't like to take any chances that are going to damage it. I hit a slip face that I slid my Jeep down about 20 feet scaring me a bit.
Preparing your ride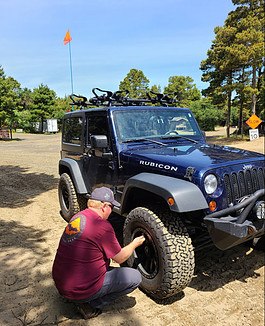 Before heading out on the sand you want to ensure your ride is ready to go. For us, that meant a full tank of gas and lowering the air pressure in our BF Goodrich All Terrain T/A tires for better traction in the sand.
We went from our normal running pressure of 37 psi down to 25 psi. We've heard of people going as low as 10 psi. That seemed a bit extreme for us and would be a lot of air to have to fill back up when we were done playing in the sand.
Before you hit the sand you must have an Oregon ATV Permit and Flags are required on dune vehicles. They must be red or orange, 9 feet above ground level, and measure 8" x 12". Be seen and watch out for others. Both can be purchased at many ATV stores or gas stations in the area.
Keep your machine in good shape. Always inspect your ride before each trip to ensure it is in good mechanical shape.
Where to access the dunes
Along Umpqua Access Road there are three staging areas where you can prepare your ride and access the sand dunes.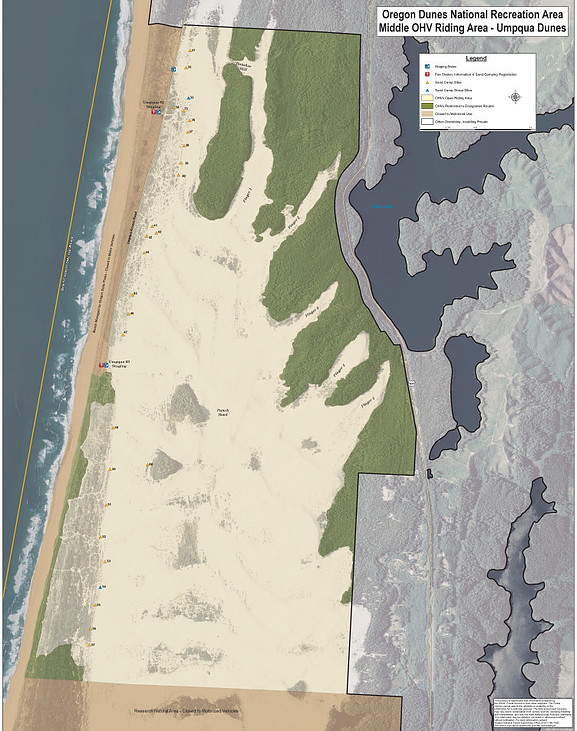 Sand Hazards and Safety Precautions
Be aware of slip face hazards: Located on the downwind sides of dunes where loose sand creates steep drop-offs (also known as "razorbacks").
Be aware of deep depressions: Typically located within hillsides, also known as a "witch's eye." Be careful approaching dune crests: Turn parallel along the crest to avoid steep drop-offs or collisions with other riders.
Maximize the visibility of terrain: Wearing orange or yellow colored lenses can help you see better during the day.
Watch out for downed trees, lakes, streams, and soft or saturated sand.
Never override your sight distance: The faster the speed, the less time you have to safely react to hazards in your path.
Jumping – Always have a spotter at the top of the dune to make sure the area is clear of other riders and vehicles.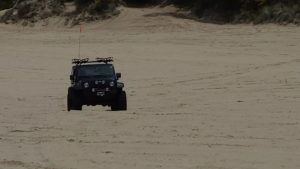 Heat haze and midday "whiteout" can distort or hide terrain, making the ground look flat when it's not. You may be unable to judge distances or drop-offs due to poor depth perception. Wear amber, orange or yellow lenses in your goggles for better terrain visibility. Slow down to allow yourself more time to react.
Do what you can to prevent rollovers. Be aware of steep terrain, turning momentum, and speed. A vehicle rollover is the most common type of incident.
On windy days with shifting sand, use stationary landmarks to help find your way.
Heavy traffic around staging areas and campsites may create berms that are hard to see and can be hazardous. Keep speeds low in all camping and staging areas.
Tools to have on hand
Basic Hand Tools for any breakdown you may have
Air Compressor for re-airing your tires when you're done
Tire Gauge
Tow Straps in case you break down on the sand.
Gas Can full of gas if you plan on playing all day.
Other Things to See and Do on the Oregon Coast
Conclusion
No matter what type of Off-Road Vehicle you have there are places on the Oregon Dunes National Recreation Area to have some fun playing in the sand!
We hope you found this article useful. If you've been to the Oregon Dunes Recreation Area we'd love to hear about your favorite areas or feel free just to leave a comment or ask a question.
If you're looking to build your own home-based business like we have with this webpage, check out Wealthy Affiliate.
Wealthy Affiliate is an all-in-one platform that you can build your whole affiliate marketing business on. It combines training, software, and website hosting into one. This makes the whole process of starting an online business from scratch much easier, especially if you're new to building a website.