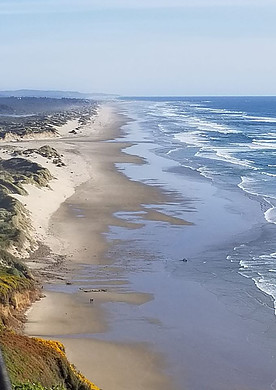 The Oregon Coast is home to some of the most amazing beaches anywhere in the United States. Stretching miles and miles many Oregon beaches capture the imagination of locals and visitors from around the world.
Even more fascinating than miles of sandy beaches are fabulous tide pools of otherwise hidden beauty among the rockier areas that can be found intermingled near or between many beaches along the 235-mile Oregon coastline.
In our opinion, the Best Tide Pools on the Oregon Coast are located at Seal Rock. With their abundant sea life, they are the most colorful and enticing treasures of the Oregon Coast.
This post contains affiliate links. As a participant in Amazon Associates and various affiliate programs, we are compensated when qualifying purchases are made through our referral links at no additional cost to you. Full Disclosure
Seal Rock Tide Pools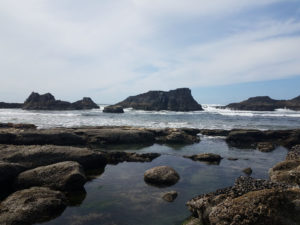 Located south of Newport, Seal Rock State Recreation Site has some of the best-known and easily accessible tide pools in Oregon.
This beach area features large offshore rock formations that provide protection from the pounding surf and a great habitat for seals, sea lions, seabirds, and other marine life. The beach includes interesting tide pools that are located in some of the closer rock formations.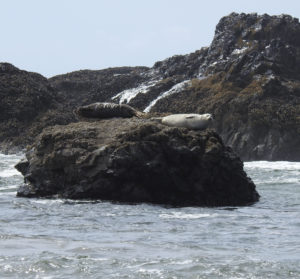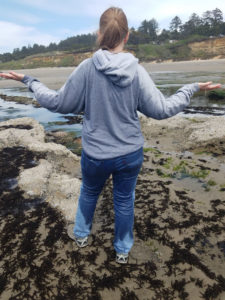 During our day exploring we had the whole beach and tide pools to ourselves. There were some footprints in the sand but no one was around while we were. It was great social distancing! We wandered along the rocks and pools observing anemones looking under the overhangs to see the sea stars. So many nooks and crannies to look in and find sea life. If you're lucky like we were this day you may get to see a seagull eating a crab or some other morsel they've found in the tide pools.
You definitely want to watch your step. Lisa slipped on some seaweed losing her balance and fell backward into one of the pools. It was a cold and expensive slip that ruined her new camera and nearly new iPhone.
Exploring Tide Pools
Tide pools are fun to explore, and offer adults and children an opportunity to experience marine ecosystems. Low tides expose the rocky areas and leave behind the tide pools that are full of sea life and allow us to get a close view of these amazing ecosystems.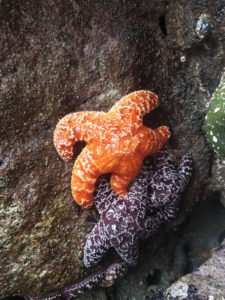 When exploring tide pools it's best to start several hours before the low tide is at its lowest point. At low tide there is a bit of slack tide where the water is neither coming nor going, then it starts back in for high tide. Reference local tidal charts for the area you plan to go to.
Leave No Trace principles apply as much to tide pools as to trails. Be respectful of fragile marine life and encourage children to do the same. Only touch or poke gently without moving sea life.
If you pry something from its rock, it will die. With so much life growing on every surface, rocks and shells may be homes or protection for other living things attached or hiding underneath. If an animal isn't attached to anything, picking it up is an okay choice, and it is generally acceptable to pick up animals on the sand.
Look for sea anemones, sea squirts, sea stars, sand shrimp, urchins, crabs, barnacles, mussels, snails, octopuses, and fish. You may also see rockweed, sea lettuce, sea palm, kelp, gulls, oystercatchers, shorebirds, and harbor seals or sea lions. Keep an eye on the ocean for humpback whales that may be migrating by.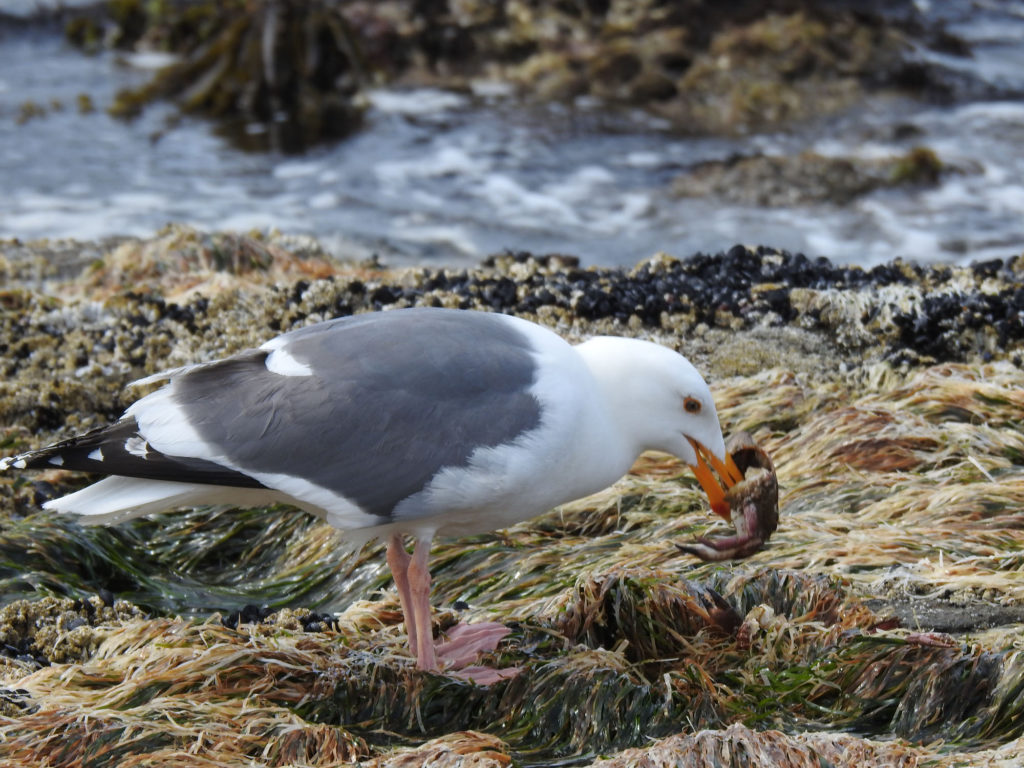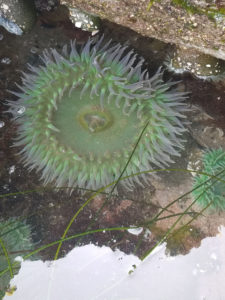 Feel free to poke around the water's edge and climb over rocks to observe marine life. Be mindful of treading carefully to protect living organisms. Try to step only where there is bare rock or sand to avoid crushing delicate organisms. Barnacles, mussels, snails, and even hermit crabs may be present on the tops of exposed rocks, and seaweed may also hide delicate soft-tissue tidal animals.
Exploring on bare rock whenever possible protects animals exposed above the water line. Applying gentle steps on hard-shelled animals is better than taking leaping or twisting steps.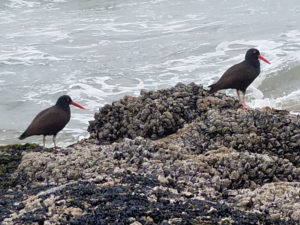 While visiting the coastline, make sure to keep beach safety in mind. Always be aware of what's going on in the ocean. Whatever the tide, sneaker waves can still be a problem depending on your location, even during low water.
These waves, which are larger than normal, come unexpectedly and can come farther than expected, sweeping you off your feet. Assuming high waves can reach you, wherever you are on the beach will keep you safer.
Observe all posted notices and stay back from cliffs and rough shore breaks. Steep and overhanging cliffs can collapse due to erosion, landing on the beach.
Pets require special consideration in tidal areas. The sharp rocks, mussels, and barnacles can easily cut delicate paws.
Other Things to See and Do on the Oregon Coast
Conclusion
Among the amazing beaches of the Oregon Coast, you can find the hidden gems tide pools offer. They are a great distraction from the endless sandy beaches. Get out and see what you can see.
We hope you found this article useful. If you've explored the tide pools we'd love to hear about your favorites or feel free just to leave a comment or ask a question.