I picked up the Logitech M330 Silent Plus Wireless Mouse to replace a clicky, aging, and dying Microsoft mouse that I've been using for years.
This mouse saved my life! My girlfriend would have killed me if I continued to use my previous Microsoft Wireless Mobile Mouse 3500. One million loud clicks per minute that I do while surfing the internet, was enough to drive a person insane.
I have to admit that clicking from the Microsoft mouse was starting to get on my nerves too! That and the wheel was about worn out and wouldn't turn. It was time for something new.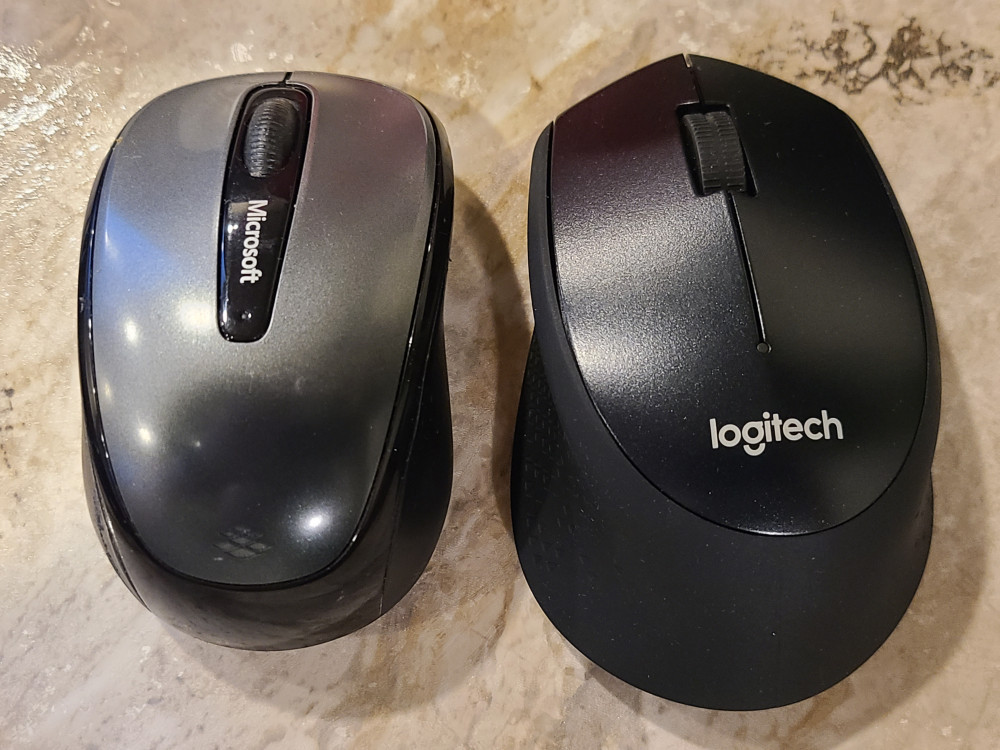 This post contains affiliate links. As a participant in Amazon Associates and various affiliate programs, we are compensated when qualifying purchases are made through our referral links at no additional cost to you. Full Disclosure
While searching for a mouse that was silent, or at least semi-quiet, I found the Logitech M330 Silent Plus Wireless Mouse. The Logitech M330 is ergonomically designed, with an angled thumb groove along the left-hand side where your thumb sits very comfortably.
As a right-hander, this feels natural to me, but it's not mirrored on the other side, so southpaws' may not find the mouse useful. The rubberized texture on both sides offers good grip, as does the track wheel, which scrolls as smoothly as you'd hope.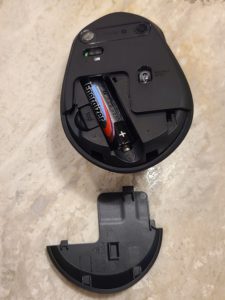 There is nothing flashy about the M330 Silent Plus. It is a simple looking three button mouse, like every standard mouse. Left and right clicks along with the center click which is located in a scroll wheel. It's a good mouse, but what about its main selling point: the silent click? Logitech hasn't managed to make an entirely silent mouse, but the M330 is certainly on the way there.
Press down on the left or right buttons and rather than the distinctive 'clicking' sound we all know, the M330 produces what I would call a muffled click. In a quiet room, you can hear a click if you listen real closely, but if you have your ear that close to the mouse, I think it's fair to say you're going to hear something with any mouse. The scroll wheel feels smooth and is actually nearly silent. All in all, the M330 is admirably quiet and would be great for any office environment.
It takes a single AA battery, which Logitech promises 24 months of use. We'll see how it does with real-life use.
The Good: A simple design, comfortable materials, and a reliable performing mouse. Best of all, it works as advertised and drastically reduces the sound compared to other mice.
The Bad: Keep in mind that the Logitech M330 silent plus is not designed for both left and right-hand users. It is best suited for right-hand users only. Unfortunately, lefties are out of luck.
The Bottom Line: Logitech has built a very good & affordable mouse here. If you're looking to create the least amount of noise possible, pick up one of these.
Technical Specifications
Connection Type: 2.4GHz wireless connection
Wireless range: 33 feet
Connect / Power: Yes, on/off switch
Battery Details: 1 x AA
Battery Life (not rechargeable): 24 months
DPI (Min/Max): 1000±
Sensor technology: Yes, 2D, mechanical
Sensor resolution: 1000 dpi
Scroll Wheel: Yes
Number of buttons: 3
Standard and Special Buttons: Middle click
Package Contents
Mouse
Nano receiver
1 AA battery (pre-installed)
Conclusion
The Logitech M330 Silent Plus Wireless Mouse is a great product that I would definitely purchase again in the future. If you are looking for a mouse that will fulfill all of your computing needs in a non-boisterous way, buy this one. It's totally worth it. It will save your sanity and may save your relationship.
I hope you enjoyed the review of this product. If you have any questions about the Logitech M330 Silent Plus Wireless Mouse, or you want to leave your own personal review, please leave a comment below.
If you're looking to build your own home-based business like we have with this webpage, check out Wealthy Affiliate.
Wealthy Affiliate is an all-in-one platform that you can build your whole affiliate marketing business on. It combines training, software, and website hosting into one. This makes the whole process of starting an online business from scratch much easier, especially if you're new to building a website.