Treasure hunting is a great way to add a little adventure to your next road trip without great expense. Oregon has a number of treasures you can hunt for. It also gives you or the kids something to look forward to at each stop as you explore more of what Oregon has to offer. On the Oregon Coast you can hunt for antique Japanese glass floats that find their way onto the beaches during storms or that local glassblowers place for people to find. Some Oregon beaches are filled with beautiful agates or sea glass that some feel are treasures. Another treasure you may want to hunt for are the little charms that some towns along the coast have available for purchase.
Note: Some of the links in this article are affiliate links. When you use the links on this page to make a purchase, we may get a small commission and you may get a great bargain. You don't pay anything extra by purchasing through these links. It's a win-win all around. See our Full disclosure for more info. Thank you!
Florence Charm Trail
Put on by the Florence Chamber of Commerce, the idea of the Charm Trail is that you stop at various local businesses and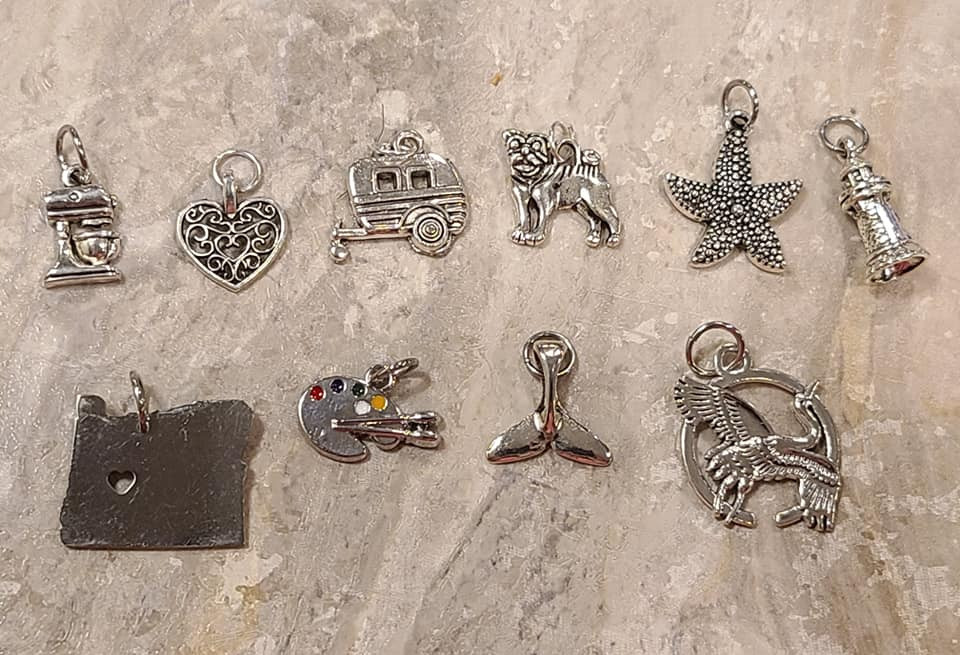 purchase a charm representing each place. It's a neat way to learn about local businesses, maybe find something unexpected and make a personalized keepsake along the way.
The Florence Charm Trail extends from the Sea Lion Caves in the North to Dunes City in the South with 34 charms inspired by each business. Pick up a bracelet at the Chamber of Commerce or one of the other four "Trailheads" for $5.00. Charms are $2.00 each.
Exploring the Charm Trail is a fun way to spend a day checking out businesses that you may have otherwise passed by. You might just meet someone interesting or find something else that you can't live without. Hunting for the charms is great for tourists or locals alike.
Other Oregon Charm Trails
Once you have collected the charms from the Florence Charm Trail or if you are in one of these other areas you may want to check out their charm trails.
We hope you found this article useful. If you've done any of the charm trails we'd love to hear about your experience. Or feel free to leave a comment or ask a question.