South Jetty RV and Camping Resort has 184 sites, 51 with 30 amp and full hookups. There are also sites 30 and 50-amp sites with water and electricity only. There are also cabins and yurts to rent.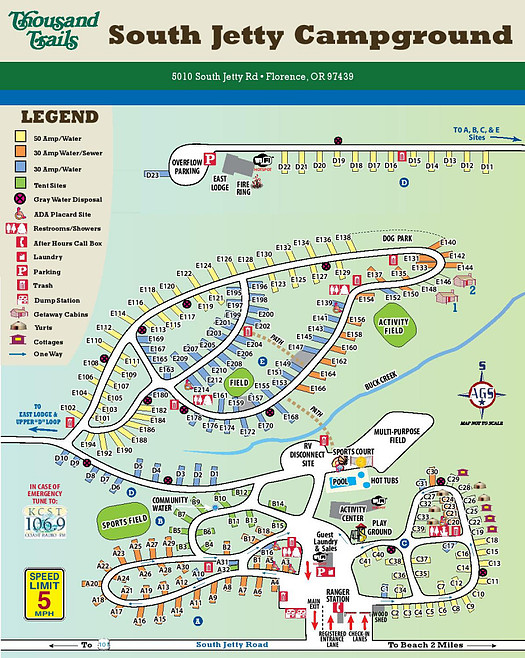 This post contains affiliate links. As a participant in Amazon Associates and various affiliate programs, we are compensated when qualifying purchases are made through our referral links at no additional cost to you. Full Disclosure
We do all our trip planning with RV Life Trip Wizard. RV Trip Planning Made Simple! RV Life Trip Wizard is by far the best RV route planner we've found. Get your 7 day Free Trial
Location
Located a short drive South of downtown Florence. The campground is just off of Hwy 101 at 5010 South Jetty Rd, Florence, OR 97439. This is a great starting point for all your Central Oregon Coast adventures.
Prices
Tent sites start at $40/night. RV sites $44-55/night. These back-in sites offer lots of shade with water and 30 amp electricity. You select your site upon arrival. 50 amp service is based upon availability at check-in.
Cabins and Yurts are priced between $82-$166 per night.
Thousand Trails Members RV Site rentals are free with your membership.
If you're not a Thousand Trails member and would like to give it a try. Get out and camp with $100 off a Thousand Trails Camping Pass by clicking here.
Reservations
For Reservations Visit South Jetty's website or call 877-570-2267.
Our Review
The campground is in a lovely forest area near the Oregon Dunes National Recreation area.
We arrived at South Jetty in the midst of the Coronavirus Pandemic on March 18, 2020, just three days before Oregon's Governor issued her Stay at Home recommendations.
Sierra happily greeted us upon our arrival while keeping her distance. She was pleasant and helpful in recommending a possible full hookup site while pointing us to a good location to unhook our toad.
After unhooking our toad we drove around the park looking for a suitable site. While the site Sierra recommended was already taken, luck was upon us as we found a nice secluded full hookup site. The back in 30 amp full hook-up site is surrounded by woods and a nice open lot for walking the dogs. Mostly level our site did need a bit of blocking on one front tire to get our motorhome level.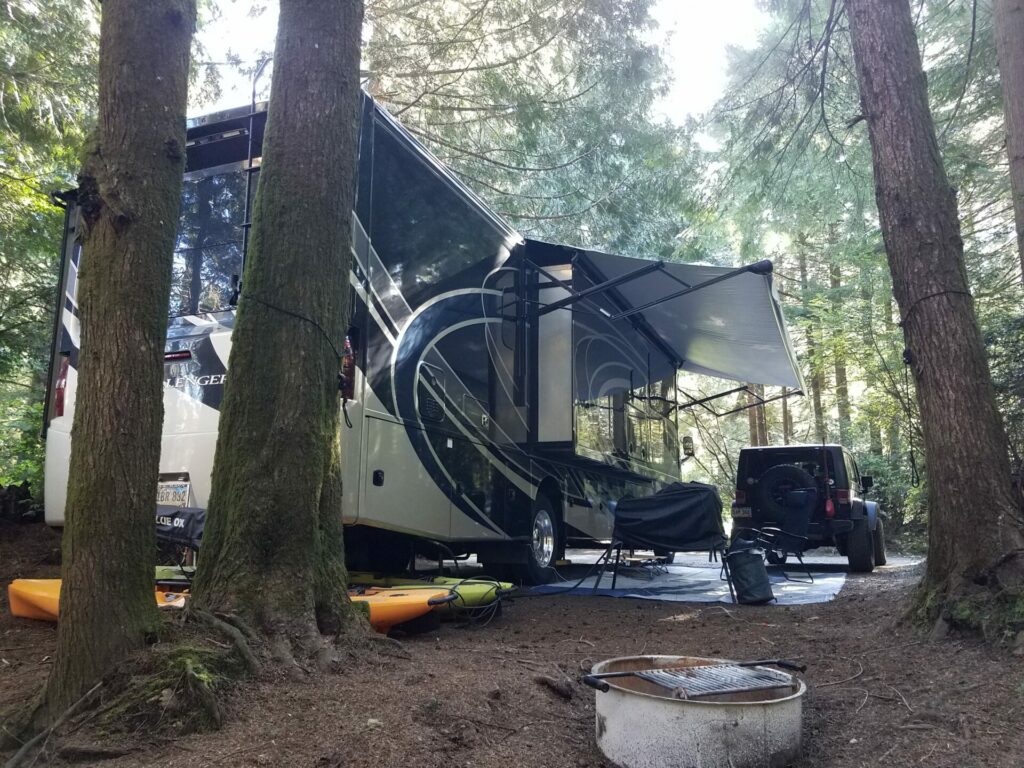 We were originally scheduled to stay at South Jetty RV from March 18 thru April 8. With the Stay at Home orders in place, we started to get worried about our upcoming reservations when our Oregon State Park reservation for the end of April was canceled.
Deciding to stay in place we used one of our membership's two "Buy Weeks" and bought an extra week pushing our stay until April 15th. The Stay at Home orders were extended thru April 30th and our reservations for our next stop at Pacific City Thousand Trails were canceled.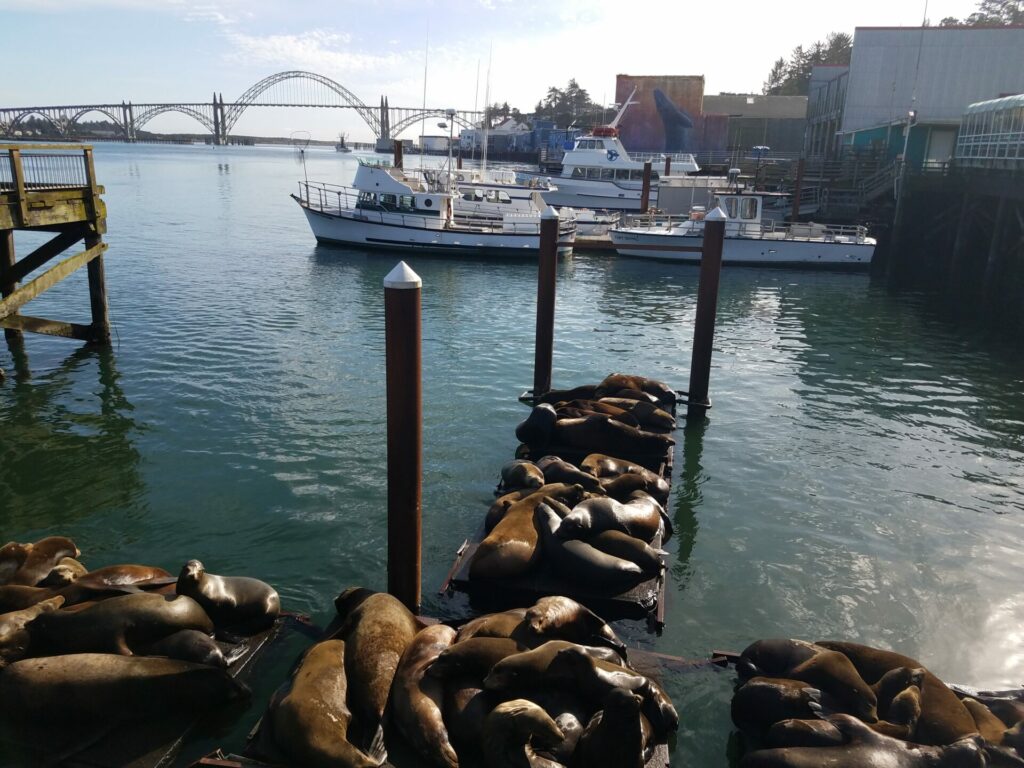 Thankfully Thousand Trails and South Jetty RV and Camping Resort worked with everyone staying in the campground allowing us to stay put until the end of April. We'll see what happens from there.
The manager Tammy, Mikaela, Sierra, and Cody along with the rest of the staff at South Jetty have gone above and beyond during the pandemic. They answered all our questions in a positive helpful manner.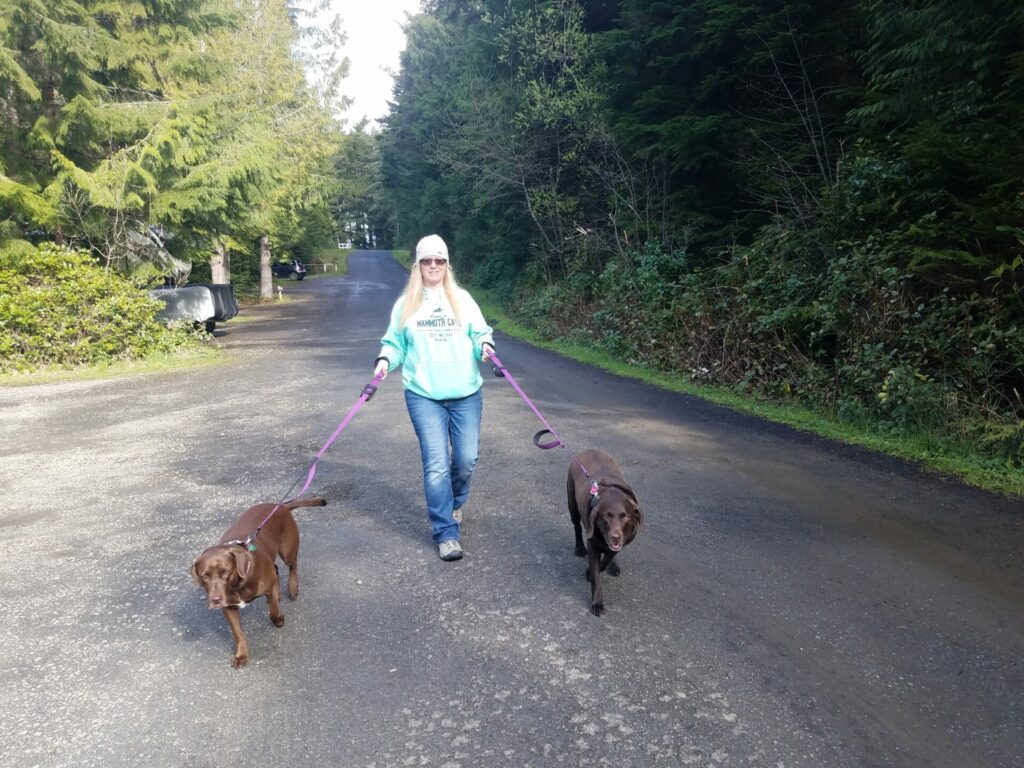 With everything changing daily they have been very professional and worked hard at keeping the campground clean and in great shape. We've been very thankful that we are allowed to stay here for as long as we have with all the uncertainty going on.
Amenities
The campground has all the amenities expected at a Thousand Trails Resort. Unfortunately, everything except the Restrooms and Laundry Room has been closed due to "Social Distancing" and "Stay at Home" orders.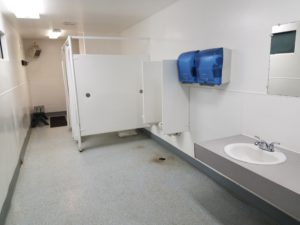 The restrooms and showers are in really good shape. The staff did an outstanding job keeping them clean and spotless with their daily cleanings.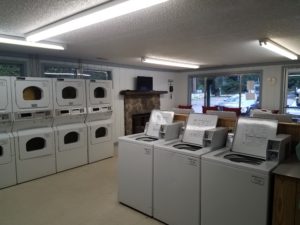 The Laundry Room is located at the Main Office building as you drive in. It is well-kept and very clean. With eight washers and eight dryers, there is plenty for our needs. Washers cost $1.50 per load which runs 30 minutes. Dryers cost $0.25 for every 10 minutes of drying time.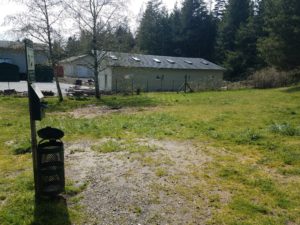 There is a nice dog park that was open when we arrived but closed with the latest Stay at Home orders. Our dogs loved being able to run and play a bit, but have been happy with just going for walks around the park for now. There is a big hole that a dog has dug that needs to be filled in. With the rains, it became a tiny pond.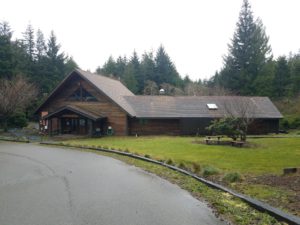 There are two Lodges in the campground. Both were closed due to the Stay at Home orders that were in place during our stay. Both looked like nice places to hang out if they were open. From what we've seen the campground has a lot of activities when they are open.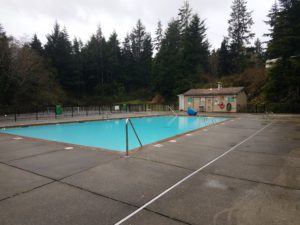 South Jetty RV and Camping Resort has what looks like a great pool with two spas. They were closed while we were there due to the Stay at Home orders in place.
Personal mail is not accepted. You can use general delivery at the Florence post office (zip code 97439). RV parts and medical supplies are accepted only with pre-approval from Ranger Station (fee: $5.00 per package).
Sports, Recreation, and Playground Areas
Nice play area for the kids and the park does have a basketball hoop and a volleyball court. All were closed due to the Stay at Home orders.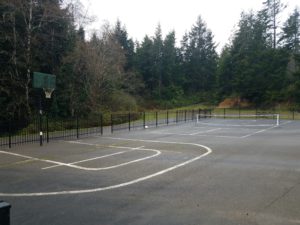 Things to see/do nearby
Being located on the Central Oregon Coast there is a lot to see and do in the area. Unfortunately during the pandemic, most things were closed or very limited on what we could do.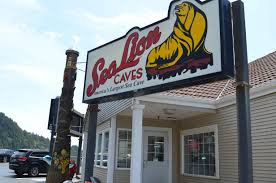 Some things nearby are:
Oregon Dunes National Recreation Area (Sand dunes for 4 wheeling)
Long walks on the beaches
Heceta Head Lighthouse
Sea Lion Caves
Eat at Mo's
Lots of lakes and rivers for fishing, boating, and sightseeing.
Whale Watching
Tide Pools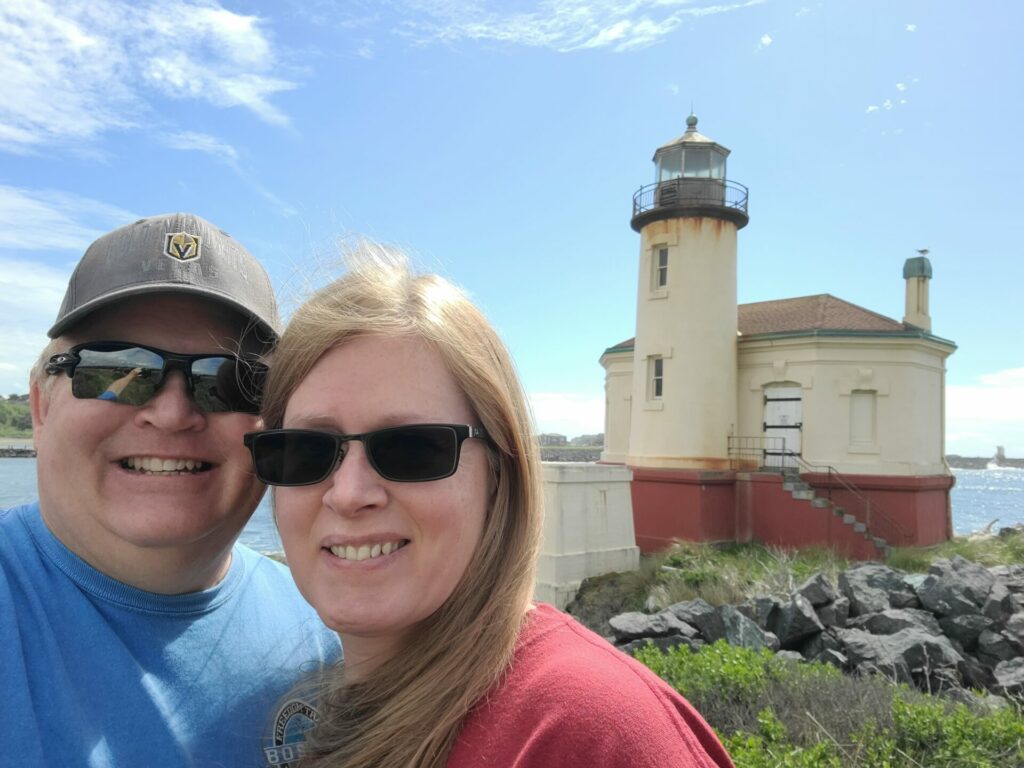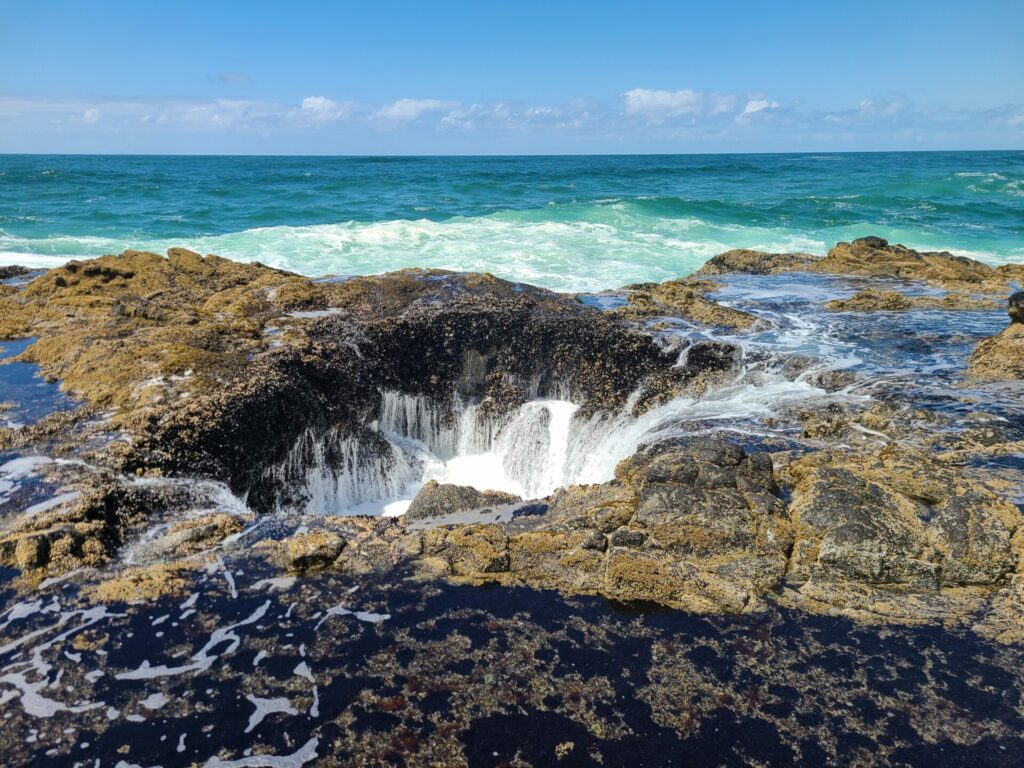 Conclusion
When on the Central Oregon Coast South Jetty RV and Camping Resort is a great choice. There is so much to see and do. Florence is a cute little beach town with fun shops in the downtown area. With a friendly helpful staff, they make you feel right at home. We will definitely be back!
We hope you enjoyed this review. If you have any questions about South Jetty Thousand Trails or want to leave your own personal review please comment below.