One day you're living a dream lifestyle traveling the country and seeing all the amazing sights it has to offer. Then the next you're hearing "Stay at Home" orders from the state. What if you don't have a "Home"?
At least a normal home. What if you live in an RV and they start closing all the campgrounds? Where are you supposed to "Stay at Home"? This has happened to us and many other Full-Time RVers during the Coronavirus Pandemic.
Riding out the Coronavirus Pandemic in an RV? What, exactly, are proper precautions during a health crisis that even a month ago seemed inconceivable? That's the question we and many other Americans traversing the country in an RV have. Should they pull into a Walmart parking lot and hunker down? Should they hit the open road? Or if their RV is their permanent residence, should they return to their hometown and try to find a place to park?
This post contains affiliate links. As a participant in Amazon Associates and various affiliate programs, we are compensated when qualifying purchases are made through our referral links at no additional cost to you. Full Disclosure

Staying Informed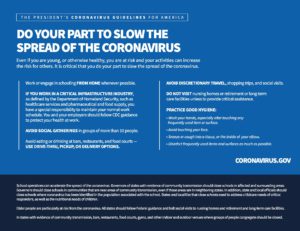 The first thing to do is stay informed. It's a very fluid time with news and information changing daily if not more often. While finding information online is easy, it's not always easy to determine whether that information comes from a reliable source.
Sources like the President's Coronavirus Guidelines For America or the Centers for Disease Control and Prevention (CDC) should be your first sources to visit for the most up-to-date Coronavirus information and recommendations for staying safe during the COVID-19 outbreak. Other sites for the state you are in can also provide more localized specific information on staying safe during this time.


Staying Put
Stay-at-home orders and closures of campsites all across the country have all been a big headache to a group of people who originally went tiny to live a life of freedom on the road. Many RV-friendly areas across the country are responding to the CDC's recommendations, temporarily closing areas usually open for camping.
Because of the changing circumstances, RVers must stay aware of the status of their current location as well as the locations along their route. If you're able to stay put for the time being it is best to do so.
Full-Time RVers like ourselves have been scrambling to find a place to stay during the pandemic. Luckily for us, we had reservations and arrived at South Jetty Thousand Trails in Florence, Oregon on March 18th, just two days before Oregon's Governor issued a stay-at-home recommendation.
On March 23rd she issued a formal Stay at Home Order after tens of thousands of people flocked to the Oregon coast over the weekend. With the Stay at Home order came the closure of State Parks and Campgrounds.
The government doesn't realize that all who travel in RVs are not just vacationers. Some are Snowbirds that are far from home and others are actually Full-Time RVers with no actual home to go to. So campgrounds become their temporary home. Closing them becomes troublesome, leaving people stranded.
Our reservation at South Jetty was for 21 days with a scheduled departure of April 8th. After the Governor's Stay at Home Order was issued and State Parks and Campgrounds closed we got notice that our stay at L.L. Stub Stewart State Park for April 27th was canceled.
Okay we're good we still had about three weeks till then, and my cousin has a place with full hookups where we can stay if we absolutely need to. With the Stay at Home Order in place, we decided we'd need to hunker down the best we could and limit our travels to the next park if possible.
We contacted Thousand Trails to use one of our two "Buy Weeks" and buy an extra week at South Jetty and push our next reservation at Pacific City Thousand Trails another week. For $29 I was able to buy an added week and stay in the place where we were. A few days later we were notified that Thousand Trails Parks at Seaside, Whalers Rest, and Pacific City would not allow new arrivals. Our Pacific City Thousand Trails reservation for April 15-27 was canceled.
Now things started getting scary for where we would go. With our Pacific City reservation canceled we started thinking we'd need to go to my cousin's to ride things out at the end of our South Jetty reservation. Thousand Trails came through though and allowed free extensions until April 30th. We instantly took them up on the offer. We're very thankful for Thousand Trails work during this crisis. They have been more than fair in allowing us to stay for the duration of the Stay at Home Orders.
For now, we know we won't need to be moving around too much (at least till April 30th) finding a place to stay and can hopefully ride out this pandemic here in Florence.
Staying Prepared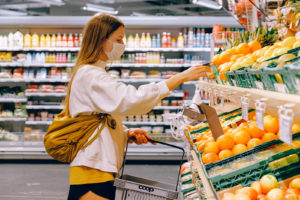 Preparing for some ups and downs is part of the RV lifestyle. RVers generally move often, and most have an emergency plan in place in case a situation arises and they need to move quickly. But not one that would be for needing to stay in place.
RV's are limited in their storage space. With the spread of the coronavirus, RVers need to be extra vigilant, stocking up on the supplies they might need for at least a few days. Finding everything you need at a grocery store and in-demand supplies might be challenging. Stocking up on the things your family needs is important. Every family is different; a good rule of thumb is to stock the items you need to be self-contained for three days or longer. Limit your trips to the store as much as possible.
Staying Safe
One thing easier in an RV than in a Sticks and Bricks home is cleaning. While it may need cleaning more often it doesn't take long to clean an RV. Whether you are inside or your RV or outside of your RV in a public area, to keep you and your family healthy make sure you follow the Cleaning and Disinfection Recommendations from the CDC. Their guidelines for disinfecting surfaces and fabrics apply to any application, including RV cleaning.
Conclusion
This is a trying time for all of us. The pandemic has shown us we need to stay calm. Guidelines are changing often. By staying informed, staying put, and staying prepared, you can properly address your needs, make changes to your travel plans when a change is warranted, and stay safe in the process.