One of Lisa's favorite Panda Express Entrée options is Sweet Fire Chicken. But being on the road, a lot of places where we camp doesn't have Panda Express, so making it at home is a great option to have it anytime you like. With an amazing sweetness and just the right amount of spice, it's a fairly simple meal to make.
This post contains affiliate links. As a participant in Amazon Associates and various affiliate programs, we are compensated when qualifying purchases are made through our referral links at no additional cost to you. Full Disclosure
In the last couple of months, I've been honing my skills of stir-frying on our Blackstone Tailgater. I love having the grill and griddle combo for making a variety of amazing meals. This meal can be cooked on the flat-top grill or in a large skillet. We like to double the recipe to have leftovers the next day. This homemade version is super easy to whip up for a great weeknight meal. If you're short on time you could cut down on time further by using frozen chicken nuggets.
Steps
Prepare Chicken, Onion, Red Bell Peppers, Pineapple, and Green Onion.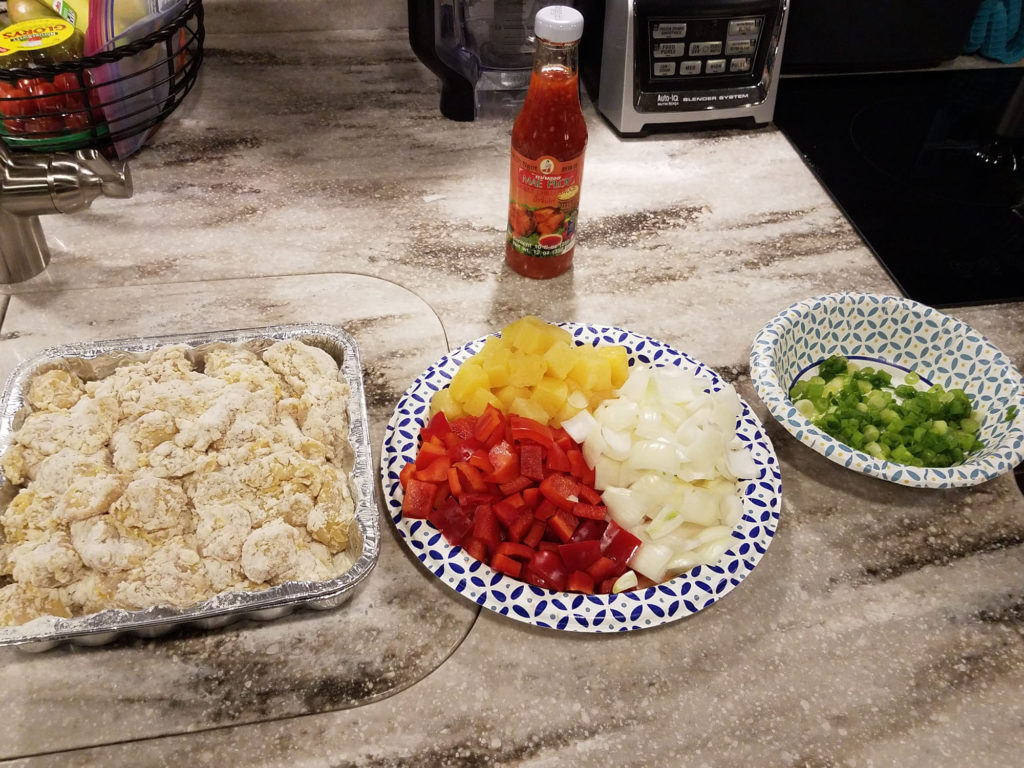 Fry Chicken on a flat top griddle or in a skillet.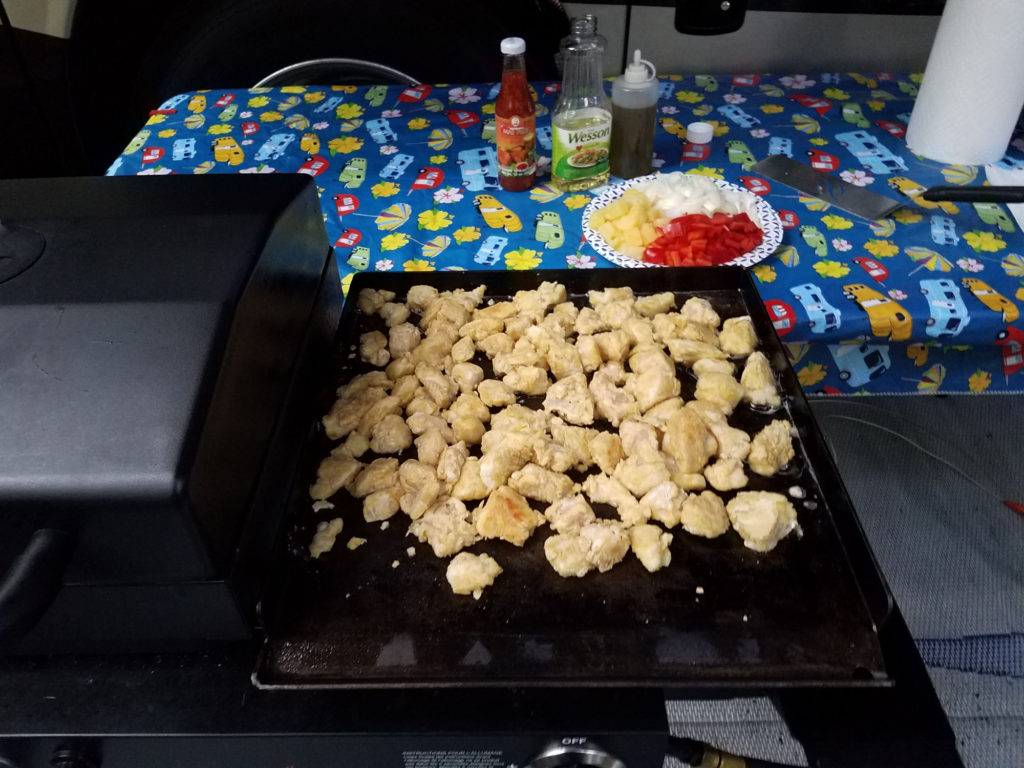 Set Chicken aside and cook Vegetables.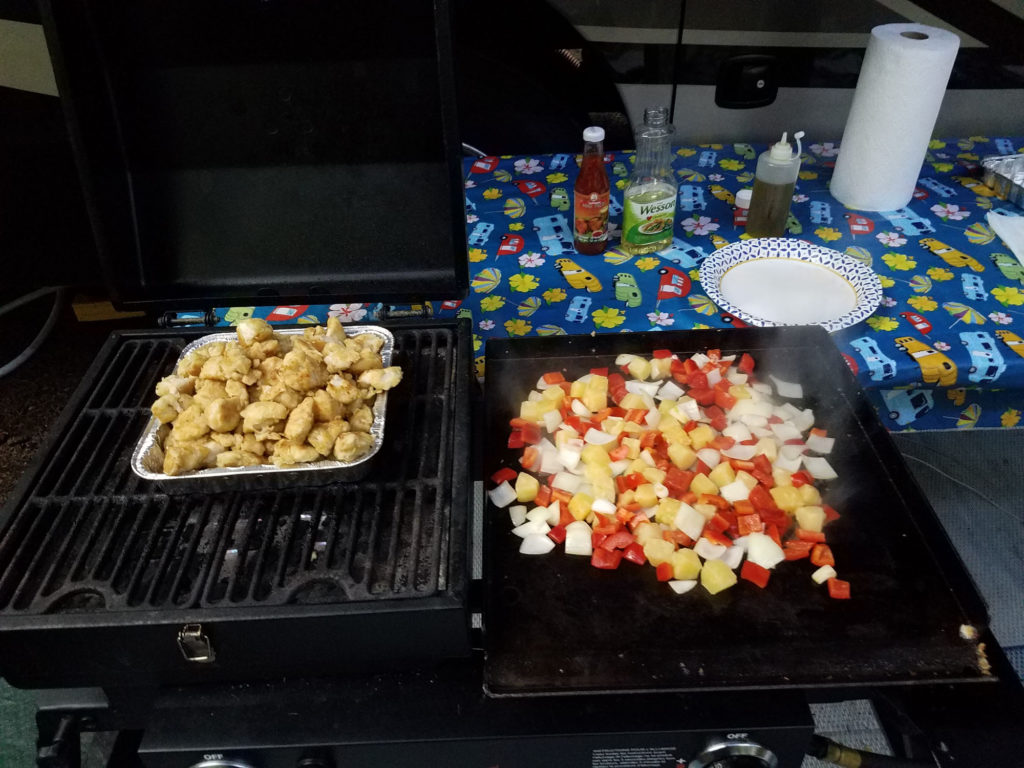 Add Chicken to Vegetable Mixture and add Thai Sweet Chili Sauce to taste.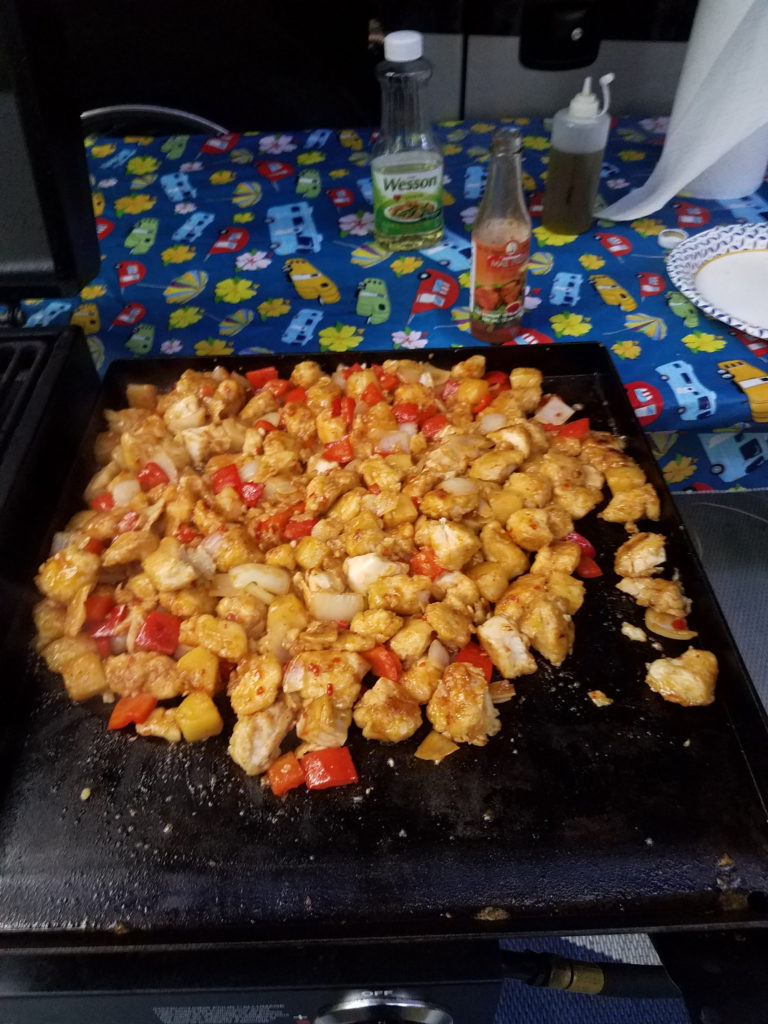 Serve over Jasmine Rice and Garnish with Green Onion.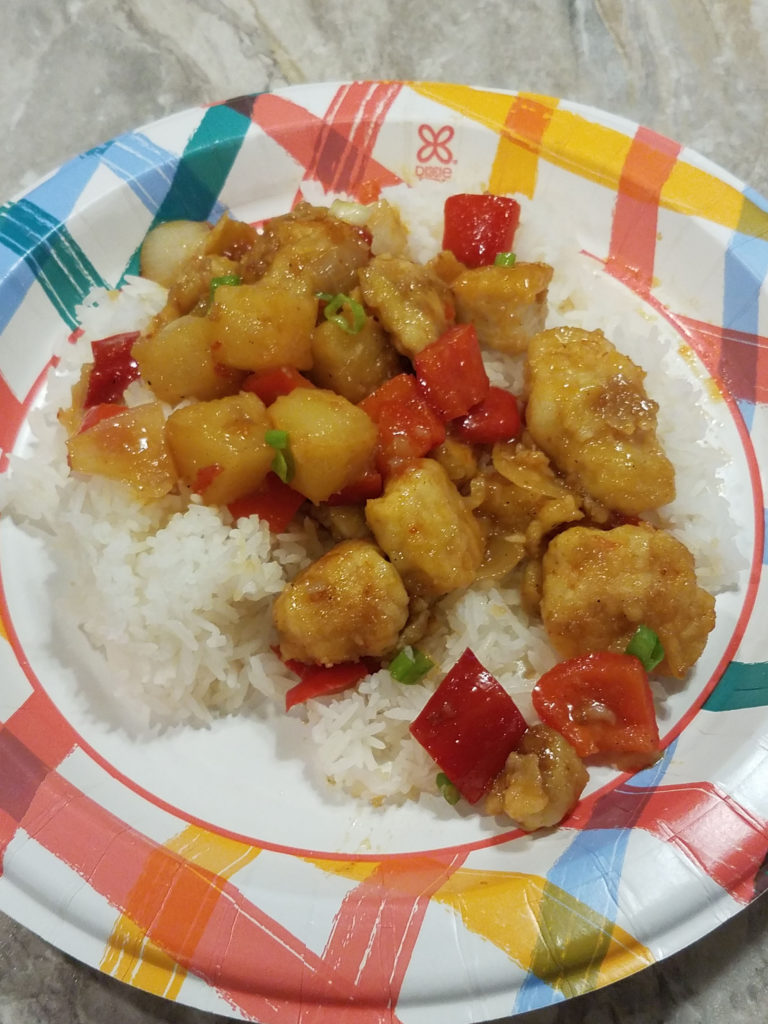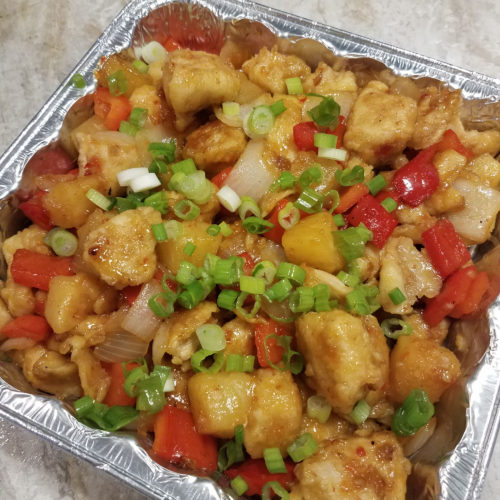 Sweet Fire Chicken Just Like Panda Only Better
This copycat version of Panda Express' Sweet Fire Chicken is Delicious!
Ingredients
1

lb

Boneless Skinless Chicken Breast – cut into 1-inch chunks

1/2

cup

Canola Oil

1

cup

All-Purpose Flour

2

Large Eggs, beaten

1

tbsp

Olive Oil

1

Medium Yellow Onion, Chopped

1

Red Bell Pepper, Chopped

1 1/2

cups

Diced Pineapple, fresh or canned

12

oz

Thai Sweet Chili Sauce

3

Green Onions, chopped

2

cups

Jasmine Rice, cooked
Instructions
Dredge Chicken in flour, dip into egg mixture, then dredge in flour again, pressing to coat.

Chop Onions, Red Bell Pepper, and Pineapple. We prefer to use canned chopped pineapple.

Heat Canola Oil on Blackstone Griddle or a large skillet over medium high heat.

Once oil is hot add Chicken to griddle, cook until evenly golden and crispy, about 2-3 minutes per side. Set cooked chicken aside in baking pan while cooking vegetables.

Heat Olive Oil on Blackstone Griddle or large skillet over medium heat.

Add Onion, Red Bell Pepper, and Pineapple. Cook, stirring occasionally until tender, about 4-5 minutes.

Stir Chicken into Vegetable Mixture and add Thai Sweet Chili Sauce. Mix until well combined.

Serve over Jasmine Rice, Garnish with green onion.
Conclusion
Sweet Fire Chicken is an easy delicious dish that can be whipped fairly quickly and tastes even better than Panda! I hope you give it a try. If you have any questions or comments please feel free to add them below. Let me know if you've made this recipe yourself.
If you're looking to build your own home-based business like we have with this webpage, check out Wealthy Affiliate.
Wealthy Affiliate is an all-in-one platform that you can build your whole affiliate marketing business on. It combines training, software, and website hosting into one. This makes the whole process of starting an online business from scratch much easier, especially if you're new to building a website.