Early on in our RVing life, we discovered that our new motorhome needed to be washed but most campgrounds don't allow "self-washing" of vehicles, including RVs. They will happily provide a list of authorized mobile RV wash services, but that can be quite expensive and really, if you're anything like we are, no one cares for our coach more than we do, so the job won't be quite up to our standards.
We could take the time to pack up drive across town to Blue Beacon Truck Wash and run it through there for about $35. But it's such a quick wash it just never seems to get the RV as clean as we'd like, going that route.
This post contains affiliate links. As a participant in Amazon Associates and various affiliate programs, we are compensated when qualifying purchases are made through our referral links at no additional cost to you. Full Disclosure

That's where Aero Cosmetics comes in. Our choice is to use a simple spray on wipe off waterless wash wax by Aero Cosmetics called, Wash Wax ALL.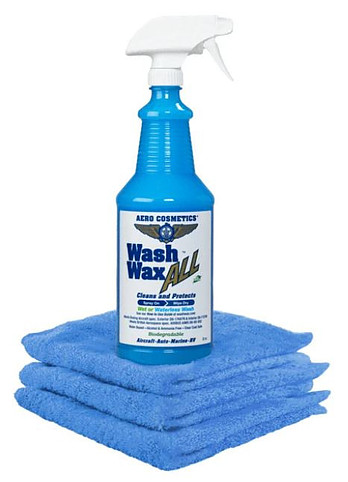 What is Wash Wax ALL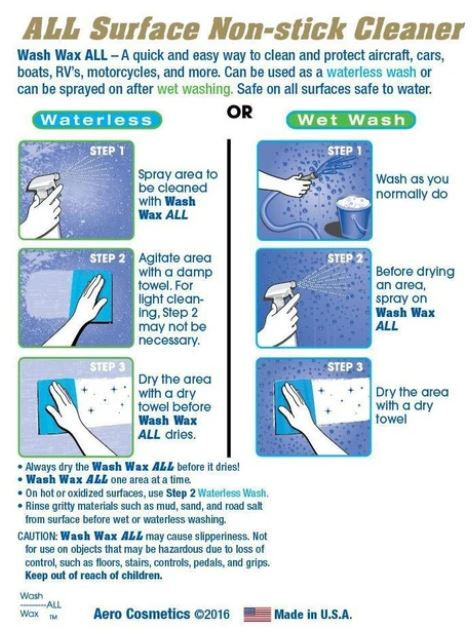 Wash Wax ALL is a biodegradable waterless wash and wax in one. Clean & protect your entire vehicle without water.
Developed over 30 years ago for Aircraft, it also works great on your RV, Car, Boat, and Motorcycle. Removes dirt without scratching.
Simply spray on and wipe dry, leaving an anti-static, non-stick UV protective coating on all surfaces such as paint, glass, plastic, leather, vinyl, rubber, wood, gel coat, aluminum, granite, and other hard surfaces.
Works well with the Aero Scrubber. I use the Aero Scrubber to remove bugs off the front of my RV.
Usage

Wash Wax ALL is simply the best waterless car wash you can find. It gently cleans and protects, leaving a non-stick UV protective coating on all vehicle surfaces.
Wash Wax ALL is a High-performance water-based aircraft quality wax for your aircraft, car, boat, or RV. There is no Alcohol or Ammonia in this product. Their eco-friendly formula is biodegradable and safe on all surfaces both inside and out. Human-friendly, no eye or skin irritation like some other automotive products.
Try it out, once you see the difference you will never use automotive products again. Wash Wax ALL is used by the Military, Airlines, Corporate, and private aircraft owners around the world for over 32 years. This is a high-quality easy to use product.
It Can be used as a Waterless Wash/Wax or just spray on after wet washing to Wax as you Dry. Works on wet or dry surfaces
Understand that this is a Waterless Wash and Wax Product. Wax will protect and enhance the shine you currently have. If you have dull, oxidized, or scratched finish you will need a polish to address those issues. Wax is for Protection; Polish is for Repair. If you need a polish, Aero Cosmetics also makes Polish ALL, an easy-on, easy-off liquid polish. It removes oxidation and fine scratches from paint, plastic, aluminum, silver, and other metals. It can be applied by hand or with a power polisher.
Our Review
Aero Cosmetics Wash Wax ALL is made in the USA and is simply the easiest product to get a beautiful looking shine on your aircraft, car, boat, motorcycle, or RV. We haven't found a better waterless wash and wax product than Wash Wax ALL. I can't stop raving about this product! I give this product five plus stars!
Wash Wax ALL comes in a wide variety of sizes. 16oz spray bottle, 32oz spray bottle, 1-gallon Jug, 5-gallon jug, 8oz concentrate that makes 1 gallon, and 16oz concentrate that makes 2 gallons. A 32oz bottle will wash and wax our 38-foot motorhome twice without the use of water. I can completely wash/wax our whole motorhome in about 2 hours totally by hand. It's as easy as just spraying on and wiping dry with a microfiber towel. You can get an Aero Cosmetics Waterless RV Aircraft Boat Wash Wax Mop Kit with Bug Scrubber/Mini Mop here. This kit allows you to wash wax those hard-to-reach places without a ladder.
What's great about Aero Cosmetics is they stand behind their products with their 100% money-back guarantee. So if you're not completely happy with the results, they encourage you to contact them to correct the issue.
Other Aero Cosmetics Products
Aero Cosmetics has a full line of products for the exterior and interior of any vehicle.
Conclusion
So as you've read, we've found Aero Cosmetics is a 'does it all' product line that leaves us feeling good about not harming the environment as well as our health or motorhome. No corrosive or caustic cleaners. All of their products can be used not only on or in RVs but also aircraft, boats, automobiles, motorcycles, and even your home.
I hope you enjoyed the reviews on this product. If you have any questions about Aero Cosmetics Products or Wash Wax ALL, or you want to leave your own personal review, please leave a comment below.
If you're looking to build your own home-based business like we have with this webpage, check out Wealthy Affiliate.
Wealthy Affiliate is an all-in-one platform that you can build your whole affiliate marketing business on. It combines training, software, and website hosting into one. This makes the whole process of starting an online business from scratch much easier, especially if you're new to building a website.