Kayaking Big Springs Water Trail is a great way to spend a relaxing day on the river. Located close to Island Park, Idaho, and is famous for the gigantic rainbow trout that swim protected in its waters. It's also an awesome place to float, canoe, raft, tube, or kayak.
The Greater Yellowstone Ecosystem's diversity and natural wealth include hydrothermal features, wildlife, vegetation, lakes, and geologic wonders like the Grand Canyon of the Yellowstone, and Big Springs. Big Springs is the headwaters of Henry's Fork of the Snake River and is one of the largest springs in the country producing over 120 million gallons of water each day.
This post contains affiliate links. As a participant in Amazon Associates and various affiliate programs, we are compensated when qualifying purchases are made through our referral links at no additional cost to you. Full Disclosure
Big Springs
Big Springs a Natural National Landmark is one of the 40 largest natural springs in the world. The springs create the headwaters of the Henrys Fork of the Snake River which travels across Fremont County creating spectacular scenery at Upper and Lower Mesa Falls. With a constant temperature of 52 degrees, the springs are home to rainbow trout, muskrats, ducks, moose, and other critters. It is not unusual to see osprey and eagles dive for a meal of fresh fish from the springs.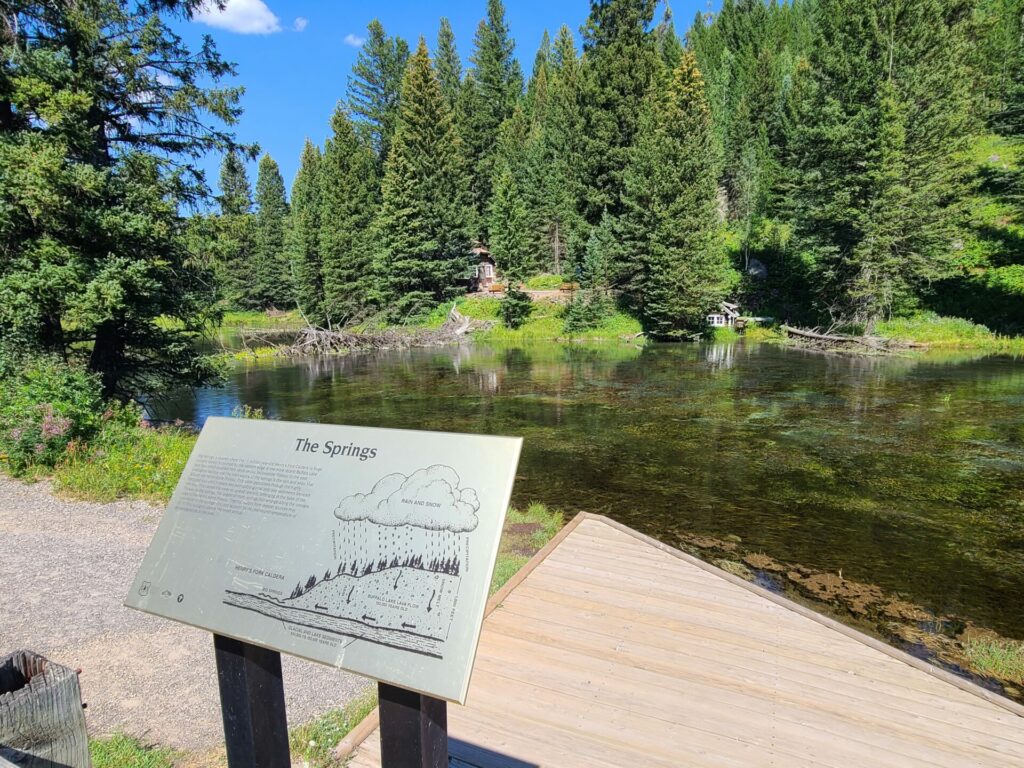 The Henrys Fork is considered one of the best fly-fishing streams in the nation and makes it a popular destination for outdoor enthusiasts. Surrounded by mountains with dense forests of lodgepole pine, broad grassy meadows bursting with summer wildflowers, and a wide variety of wildlife, including black and grizzly bears, moose, elk, deer, bald eagles, sandhill cranes, and much, much more.
Location
Located in Island Park, Idaho, the Big Springs National Recreation Water Trail can be accessed from the campground and ends 4.5 miles away at Mack's Inn. It offers a lazy three-hour float or canoe trip through beautiful scenery. Wildlife, including moose, bald eagles, and sandhill cranes, are often seen along the trail.
There is plenty of parking and pit toilets at the trailhead.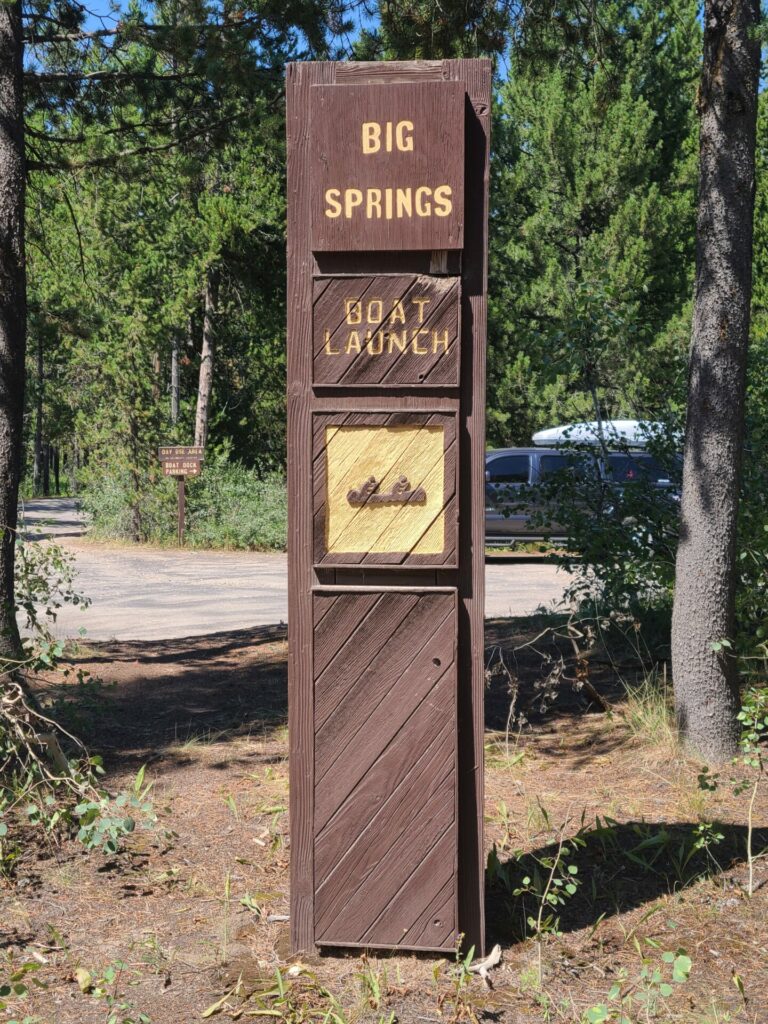 Kayaking Big Springs Water Trail
If you're looking for a great way to spend a day on the water enjoying some amazing scenery, Kayaking Big Springs Water Trail is the perfect activity for you. While the area can be fairly crowded mid-summer we recommend going during the shoulder season at the end of August or early September.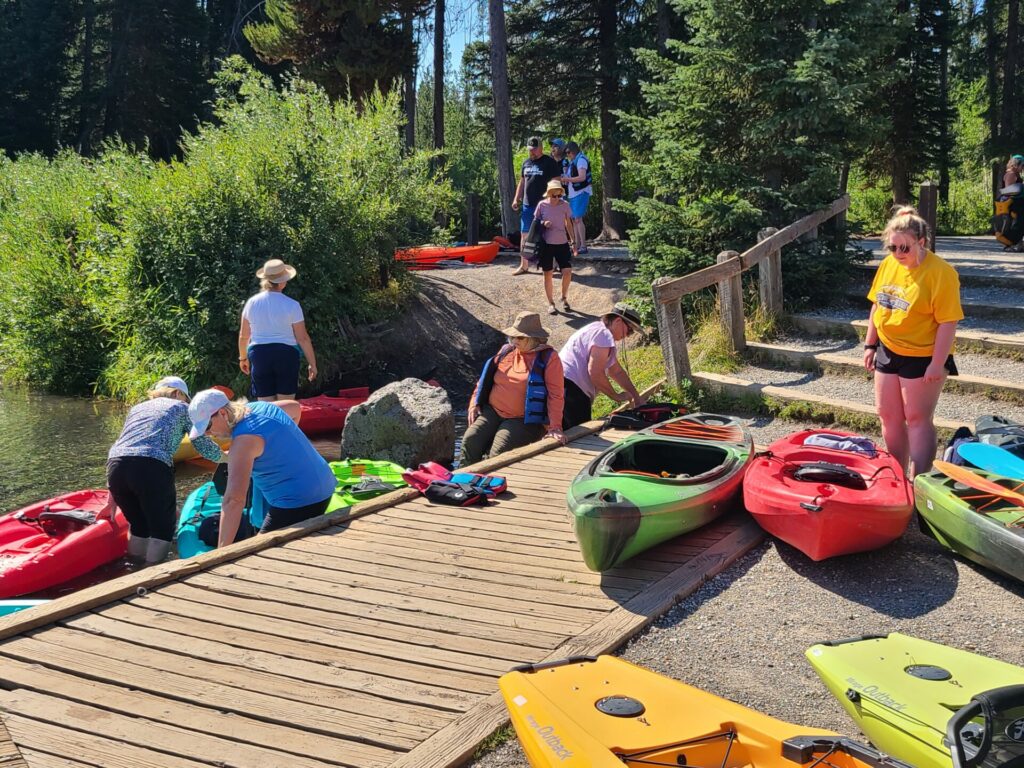 You have many options when floating down the river. You could bring tubes, rafts, canoes, or kayaks for your float. We have Hobie Outback Pedal Kayaks, but the river is so shallow it's not deep enough to pedal so you need to use the paddle, or mostly just let the current take you along.
If you don't have your own kayak or other water equipment you can rent from Mack's Inn Adventures. They

When you first launch your kayaks from the "trailhead" you pass under what appears to be an old railroad trestle turned ATV/hiking trail. The water is shallow in most of the river in this area. Stay to the left to avoid the sand/gravel bars in the middle of the river. There were a couple of places we got too close to the center and had to walk our kayaks a bit to deeper water.
As you continue your kayak or float trip sit back and enjoy the scenery hopefully you'll see some moose in the water or other wildlife along the banks.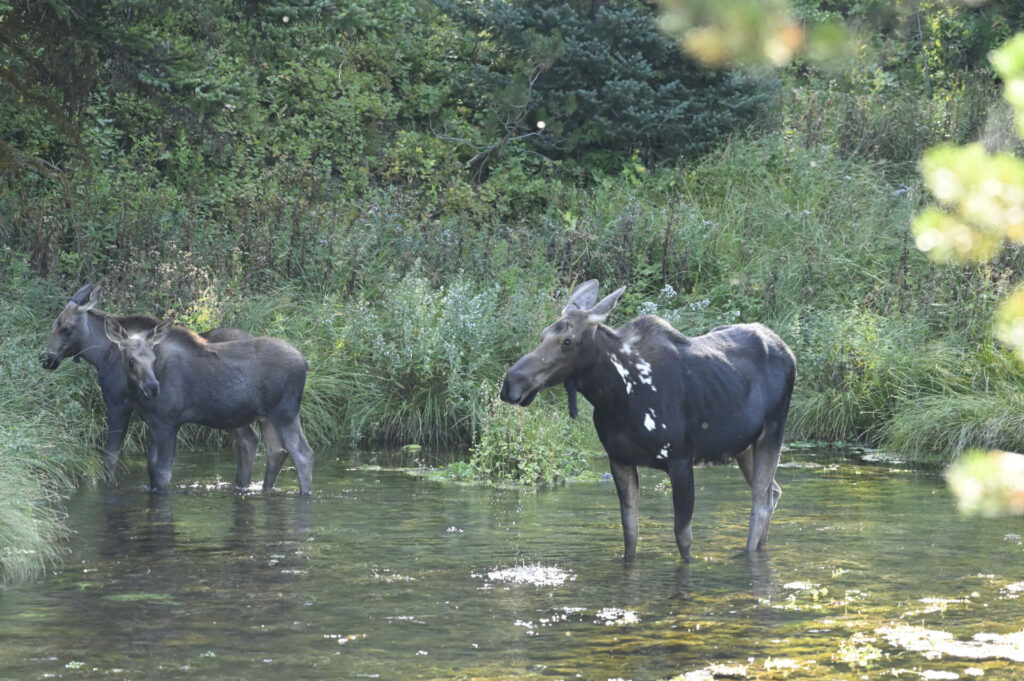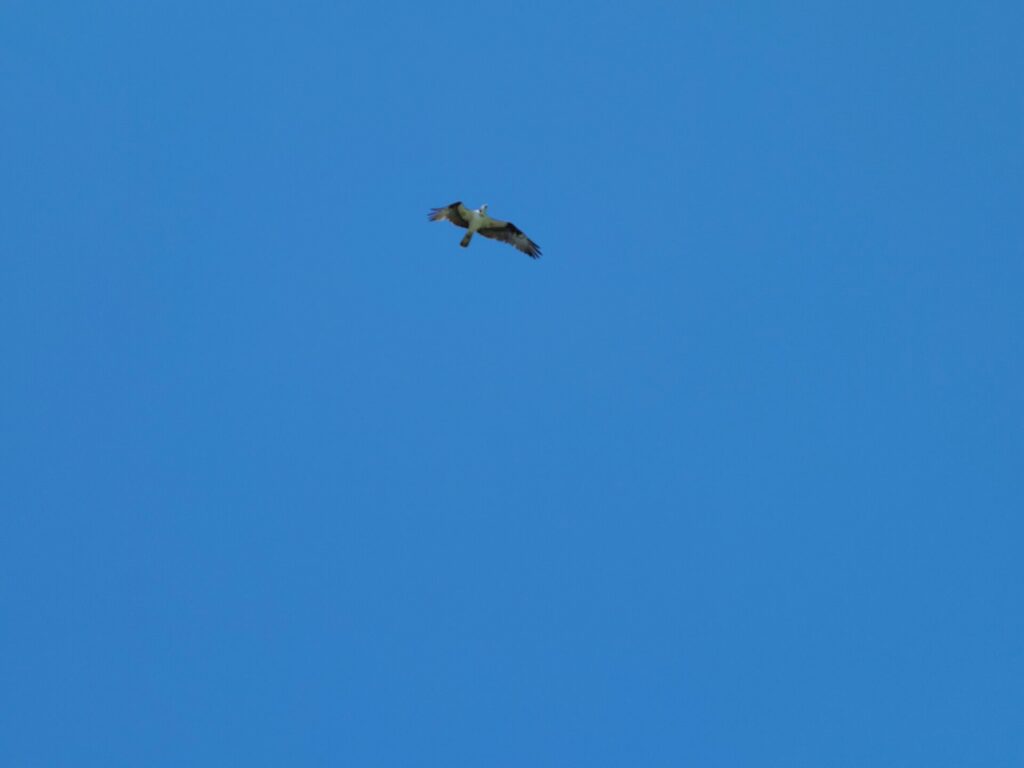 Henry's Fork is considered one of the best fly-fishing streams in the nation. But note, there is no fishing from Big Springs to Henry's Lake Outlet (2 miles downstream). Once passed the Lake Outlet we did see a few people trying their luck at fishing.
On the day we floated the river we saw eagles, and osprey, and hung around a beaver dam for a bit hoping for a glimpse of the beaver without luck.
It took us a little more than three hours to float the 4.5 miles. We didn't do a whole lot of paddling so that could be why it took us longer than average.
The take-out location is just before the Highway 20 bridge at Mack's Inn.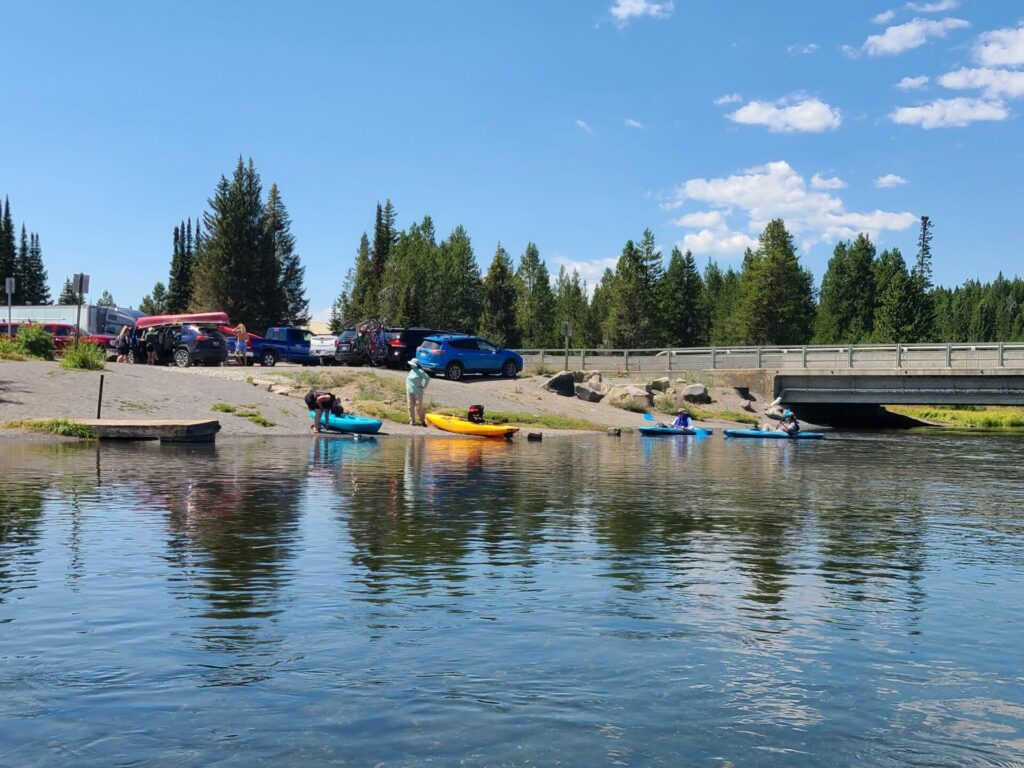 You'll need to have an extra mode of transportation to take you back to your vehicle at the trailhead or you can use the shuttle at Mack's Inn Adventures. We paid $30 for the shuttle to take me back to our Jeep when we did the float.
What to Bring
When Kayaking Big Springs Water Trail make sure you have everything you need with you. Beside your floating device and life jacket, bring coolers, drinks, snacks, sunscreen, a hat, a wet sack, or at least a waterproof/zipped plastic bag for valuables and a bag for trash.
Where to Stay
During our first summer in Yellowstone, we stayed at Yellowstone Grizzly RV Park in West Yellowstone, Montana. It's probably the nicest RV park in the area. Campers flock to this campground yearly because of the gorgeous, manicured lawns, clean sites, and community atmosphere. Bordered on two sides by the Gallatin National Forest, the park is uniquely peaceful and quaint, and is well-known for its friendly staff and straightforward layout.
The area boasts lots of places to stay, from RV parks, Cabins, and hotels there are plenty of places to choose from when staying whether you choose West Yellowstone or Island Park.


Other Things to See and Do in the Area
The Greater Yellowstone Ecosystem has so much to see and do. It's not just the National Park. Before or after your float be sure to visit the historic Johnny Sack Cabin. A German immigrant named Johnny Sack built his home at Big Springs. He designed the cabin and all of its furnishings by hand out of wood from local trees, taking three years to finish. A water wheel he constructed is nearby and turned by the spring water flowing from the hill.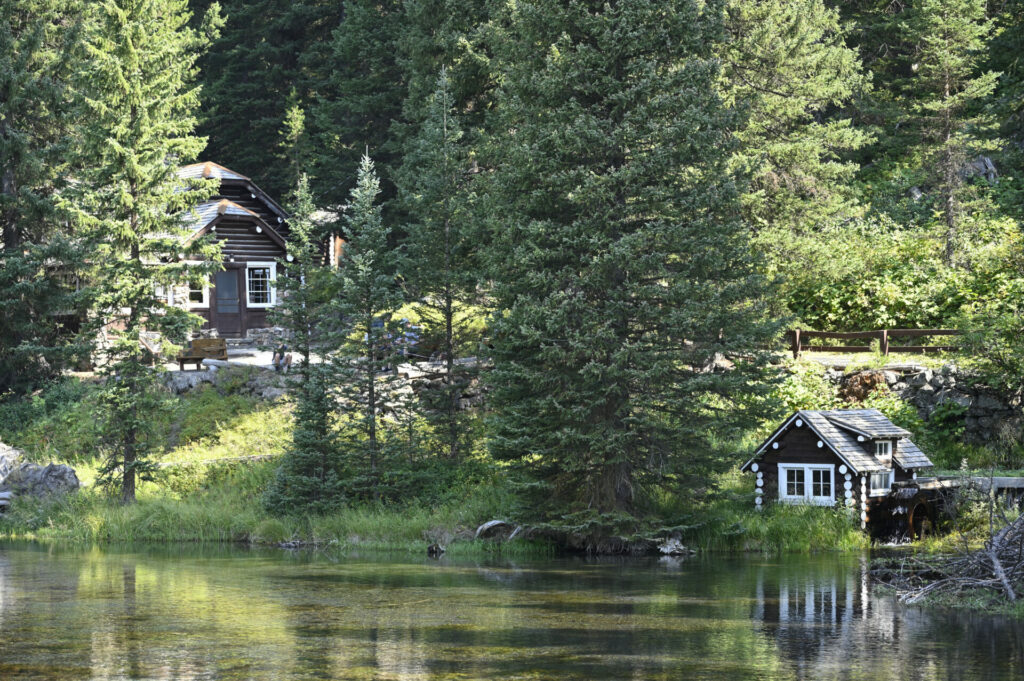 Now run by the Forest Service, this site is on the National Register of Historic Places and is open from the middle of June to Labor Day Weekend. It is one of the most photographed spots in Island Park.
Don't miss checking out the fish at the Big Spring Bridge. It's fun to feed them some bread or popcorn.
Our Other Interesting Kayaking Trips
Conclusion
Kayaking Big Springs Water Trail in Idaho offers a unique and scenic experience for outdoor enthusiasts. Located on the Henrys Fork of the Snake River in the Caribou-Targhee National Forest, the Big Springs Water Trail offers breathtaking views of the surrounding landscape and opportunities for wildlife viewing.
With its diverse range of recreational activities and scenic landscapes, the Henry's Fork and Big Springs is a must-visit destination for anyone interested in outdoor recreation. To fully enjoy your time on the water, be sure to prepare adequately, follow all safety guidelines, and leave the area better than you found it. Happy paddling!
What interesting places can you recommend? We're always looking for neat out-of-the-way experiences to add to our list of places to visit. Thank you for reading our article. If you have any comments or questions we'd love to hear from you below.
If you're looking to build your own home-based business like we have with this webpage, check out Wealthy Affiliate.
Wealthy Affiliate is an all-in-one platform that you can build your whole affiliate marketing business on. It combines training, software, and website hosting into one. This makes the whole process of starting an online business from scratch much easier, especially if you're new to building a website.