Visiting Fort Worth Stockyards is like seeing where the West begins. Get ready to step back in time and experience the Wild West in the heart of Fort Worth at the historic Stockyards!
Fort Worth Stockyards National Historic District in Fort Worth, Texas has been a testament to the city's Western heritage for over a century. Visiting Fort Worth Stockyards, with its lively rodeos, horseback riding, western stores, and unique dining experiences, it's no wonder why the Stockyards attract millions of visitors each year. Whether you're a local resident or just passing through, a trip to the Fort Worth Stockyards is a must-do experience when in the Dallas/Fort Worth area.
This post contains affiliate links. As a participant in Amazon Associates and various affiliate programs, we are compensated when qualifying purchases are made through our referral links at no additional cost to you. Full Disclosure
Location
The Fort Worth Stockyards is a historic district that is located in Fort Worth, Texas, north of the central business district.
131 E Exchange Ave, Fort Worth, TX 76164
Visiting Fort Worth Stockyards Takes You Back to the Late 1800s
The Fort Worth Stockyards has a rich history dating back to the late 1800s when Fort Worth became known as "Cowtown," it was a major hub for the cattle trade. During this time, Fort Worth cattle were driven up from Texas to be sold at the nearby Union Stockyards. The Stockyards were in operation from 1866 to 1934 and played a crucial role in the growth and development of Fort Worth.
Experience the Wild West at its Finest
Today, the Fort Worth Stockyards offer visitors a chance to experience the Wild West at its finest. From the daily longhorn cattle drive to the world-famous rodeos, to the historic buildings, the Stockyards are a must-see attraction for anyone interested in Western culture and history.
Daily Cattle Drive
One of the most popular attractions at the Fort Worth Stockyards is the daily cattle drive. The Fort Worth Herd is the world's only twice-daily longhorn cattle drive. This unique event takes place twice every day at 11:30 AM & 4:00 PM in the Fort Worth Stockyards and is a reenactment of the cattle drives that took place in the late 1800s. Visitors can watch as a herd of longhorn cattle is driven down Exchange Avenue, just as they were over 100 years ago. If you're going on a weekend get there well in advance of the drive times as streets in the area are closed and you'll want to get a good spot along the sidewalk to watch the cattle drive.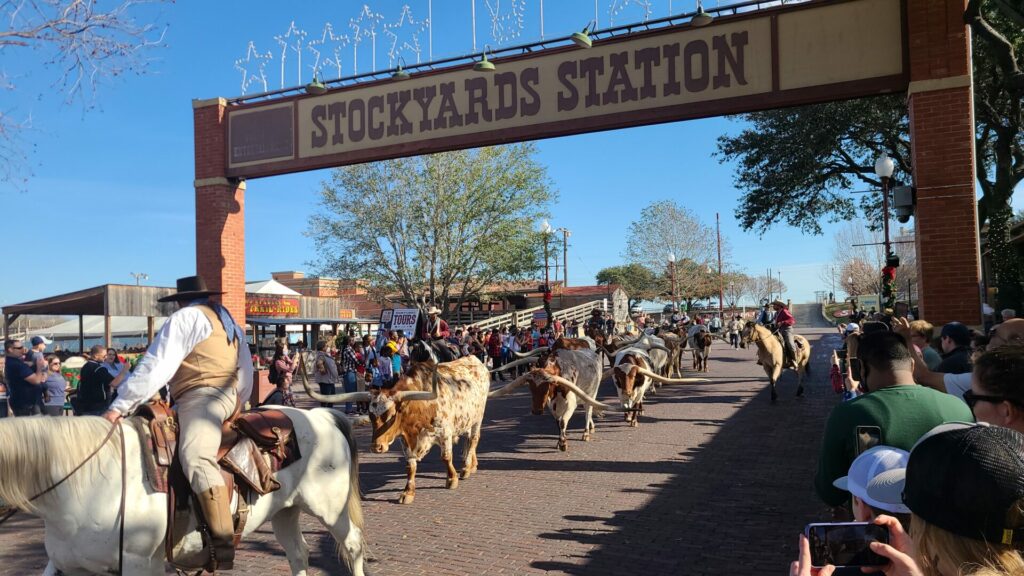 On April 8, 2024, a solar eclipse will occur in the skies above the United States. While most of the country will only observe a partial eclipse, several states are well-situated for a more dramatic display—a total solar eclipse. If you want to see the eclipse completely block out the sun, a condition called "totality," we'll help you figure out the best camping spots in the path of the 2024 solar eclipse so you can experience this natural phenomenon in nature!
World-Famous Rodeos
Another popular attraction at the Fort Worth Stockyards is the world-famous Stockyards Championship Rodeo. Experience the world's only year-round rodeo held at the Cowtown Coliseum on most Friday and Saturday nights. The rodeos feature professional cowboys competing in events such as bull riding, bareback riding, and steer wrestling. The rodeos are a true testament to the Western heritage of Fort Worth and are a must-see for anyone visiting the Stockyards.
Unfortunately the times we went to the Stockyards there were other events going on at Cowtown Coliseum so we didn't catch the rodeo. We did get to see an awesome Mexican Bullfighting competition.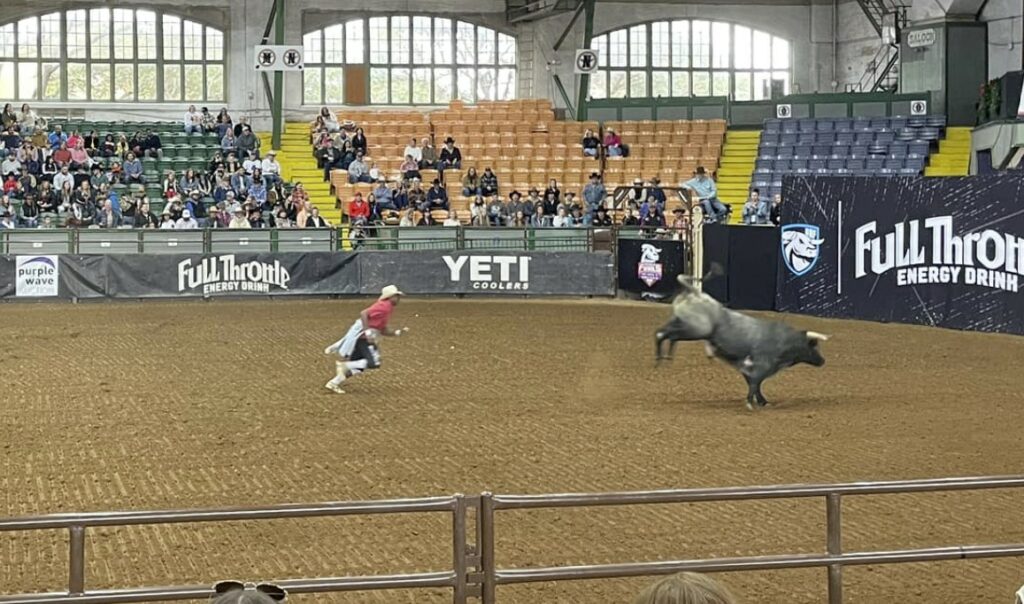 Through March 30, 2023, the Professional Bull Riders is holding its PBR Stockyards Showcase every Thursday night. One of the most exciting live sporting events to witness, this event pits some of the best bull riders in the world in a battle with the sport's rankest bovine athletes in the ultimate showdown of man vs. beast.
Historic Buildings
In addition to the cattle drive and rodeos, the Fort Worth Stockyards also offers visitors the opportunity to explore historic buildings and see what life was like in the Wild West. Explore the Cowtown Coliseum, home of the first indoor rodeo, or the Livestock Exchange Building which was built in 1903 and served as a livestock exchange. It was once known as "The Wall Street of the West". From the Texas Cowboy Hall of Fame to the Stockyards Museum, there are plenty of opportunities to learn about the history and culture of the Stockyards.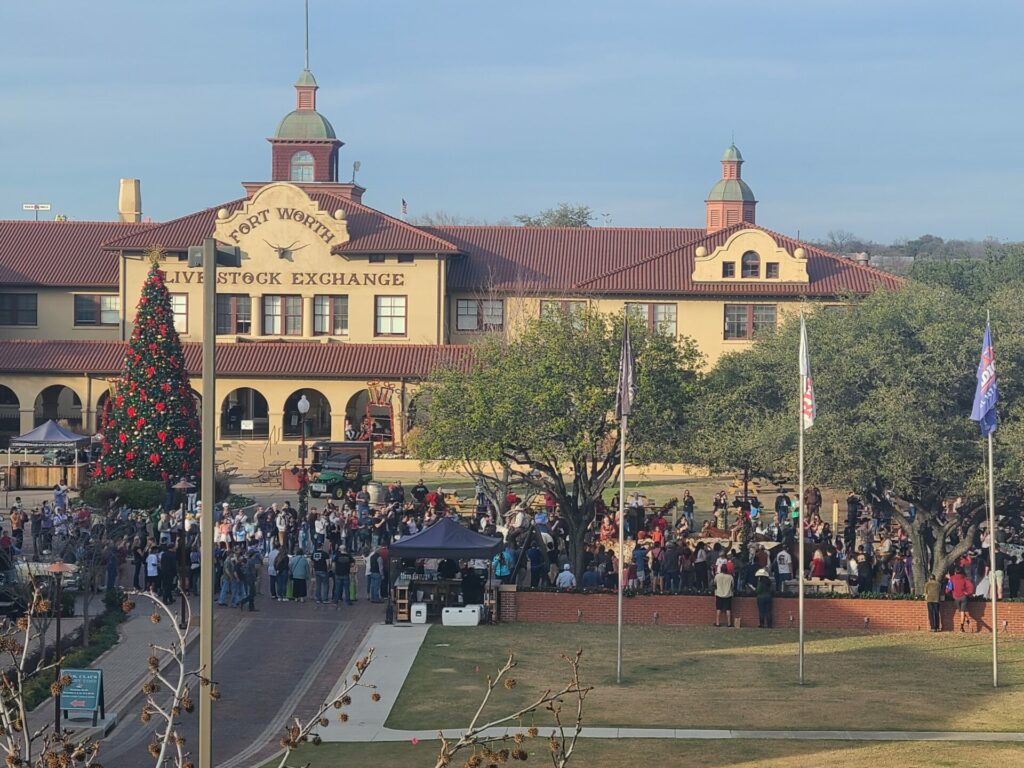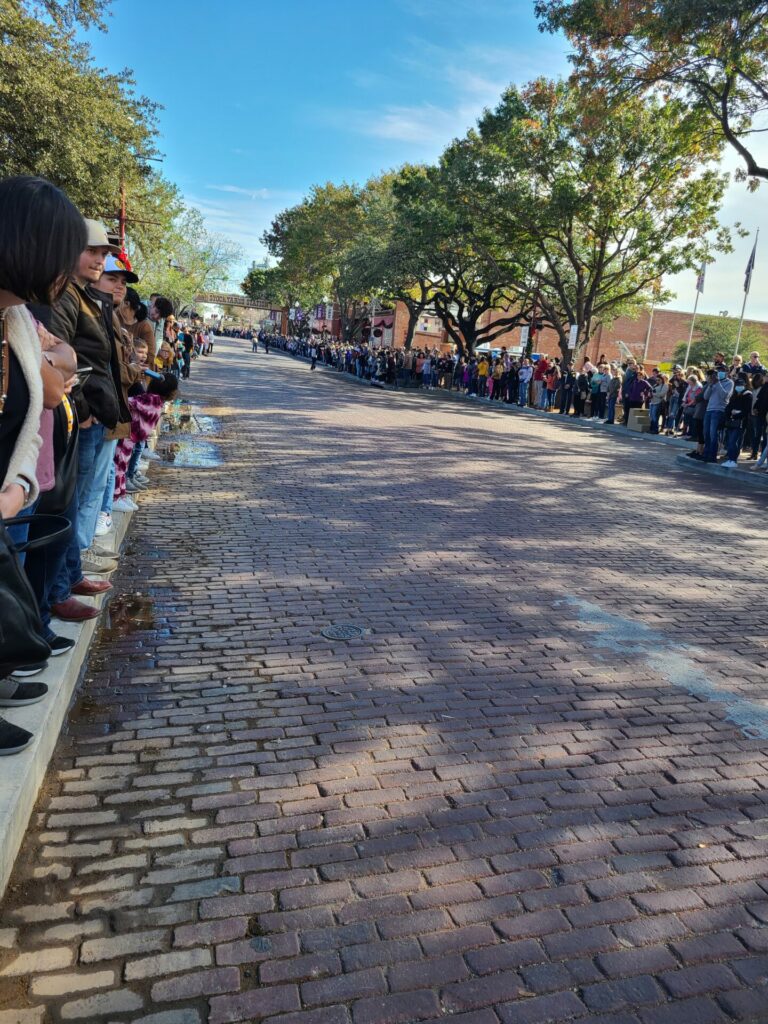 Dining and Shopping in the Stockyards
Visitors to the Fort Worth Stockyards will also find plenty of opportunities to enjoy dining and shopping experiences that are unique to the area. From traditional Western-style BBQ and Tex-Mex restaurants to unique boutiques, the Stockyards offer something for everyone.
One of our favorite places to frequent when we go to the Stockyards is Billy Bobs Texas. The Worlds Largest Honky Tonk is a fun place to visit to have a bite to eat grab a couple of drinks and/or see a show. For nearly 42 years, Billy Bob's has hosted the biggest stars in country music and classic rock from Alabama to ZZ Top. With concerts a few nights a week, this place is always rockin'! Be sure to check out the Wall of Fame and see how your hands match up to those of Garth, Willie, or Miranda.
Other Things to See and Do
Where to Stay
For our visit to Fort Worth, we stayed at Bay Landing RV Campground, which is a Thousand Trails Campground that is about an hour's drive from the Stockyards.

If you're not a Thousand Trails member and would like to give it a try. Get out and camp with $100 off a Thousand Trails Camping Pass.
For Christmas, we got tickets to see a concert at Billy Bobs and didn't want to drive an hour back to Bay Landing when the concert got out at about midnight so we stayed at the Hyatt Place Fort Worth Historic Stockyards. A very nice hotel right in the middle of the Stockyards. The Hyatt isn't the only hotel near the stockyards there are plenty of others in the area and in Fort Worth.
Frequently Asked Questions
Is Fort Worth Stockyards worth visiting?
In our opinion yes the Fort Worth Stockyards are worth visiting. If you have any interest in the West or Western culture, this is the place to find out what life was like back then. From a rodeo at Cowtown Coliseum to shopping through Mule Alley, the Fort Worth Stockyards are an essential stop for anyone who wants to see what it's like to be a Texan.
What does it cost to visit Fort Worth Stockyards?
Admission to the Fort Worth Stockyards is free. However, many of the individual attractions do charge admission fees and have their own hours of operation.
Where does the Fort Worth cattle drive start and end?
Every day at 11:30AM and 4PM (weather permitting), the cattle drive travels through the Historic Fort Worth Stockyards on East Exchange Avenue in front of the Livestock Exchange Building.
Is there any free parking at the Stockyards?
Free surface parking is available in Modern's parking lot near the entrance. In the Stockyards National Historic District free street parking is offered along East Exchange Avenue. Additional paid parking can be found in paid lots throughout the district.
Can you walk around and drink at the Stockyards?
Yes, in the Historic District, you are able to walk the sidewalks with a beer if it is purchased from a licensed venue on Exchange Avenue. You must follow and abide by local, federal, and state laws. Don't Drink and Drive.
Conclusion
A visit to the Fort Worth Stockyards is an unforgettable experience. With its rich history, daily cattle drives, world-famous rodeos, and unique dining and shopping experiences, the Stockyards offer visitors a glimpse into the Wild West and a chance to step back in time. Whether you're a local resident or just passing through, a trip to the Fort Worth Stockyards is a must-do experience that you won't soon forget.
What interesting places can you recommend? We're always looking for neat out-of-the-way experiences to add to our list of places to visit. Thank you for reading our article. If you have any comments or questions we'd love to hear from you below.
If you're looking to build your own home-based business like we have with this webpage, check out Wealthy Affiliate.
Wealthy Affiliate is an all-in-one platform that you can build your whole affiliate marketing business on. It combines training, software, and website hosting into one. This makes the whole process of starting an online business from scratch much easier, especially if you're new to building a website.