Are you looking for a getaway in the heart of the Rocky Mountains? Look no further than Island Park, Idaho. Discovering Johnny Sack's Cabin, an authentic slice of Western history nestled in the heart of the Yellowstone ecosystem. Visiting Johnny Sack's Cabin was one of our favorite things to do during our time in the area. This hidden gem offers a glimpse into the life of a pioneer. With its rugged exterior and warm, inviting interior, the cabin offers visitors a unique experience that cannot be found anywhere else.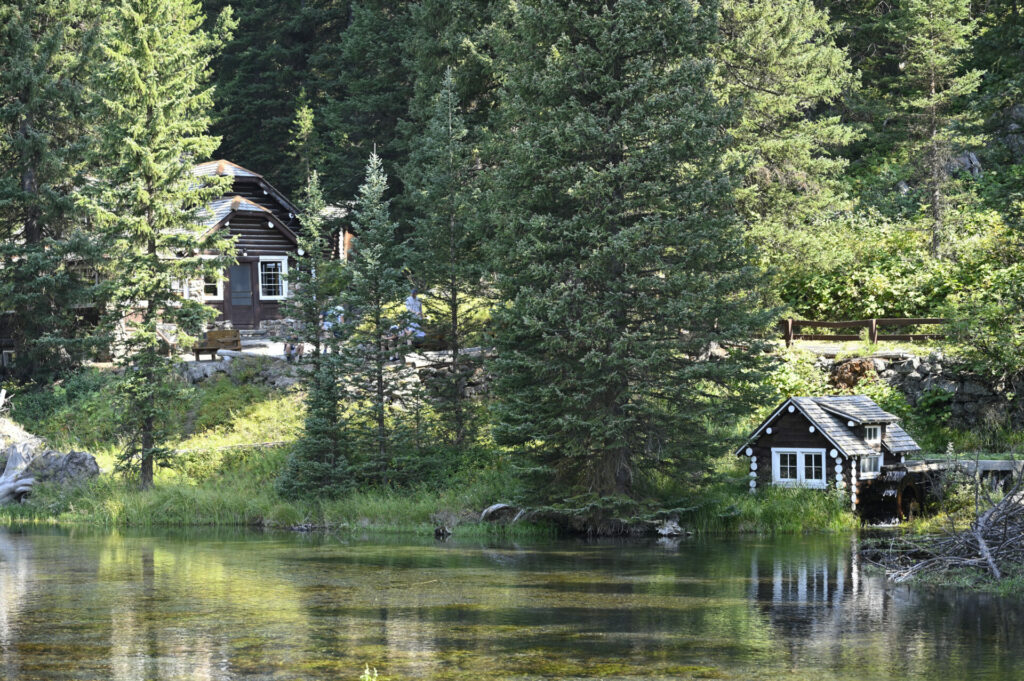 Due to its unique location and picturesque setting, Johnny's Cabin and the nearby water-wheel have long been one of the most photographed sites in Island Park. The cabin attracts thousands of visitors each summer interested in the log and stone structure as well as the building's colorful creator.
This post contains affiliate links. As a participant in Amazon Associates and various affiliate programs, we are compensated when qualifying purchases are made through our referral links at no additional cost to you. Full Disclosure
Who was Johnny Sack?
Johnny Sack was a German immigrant standing only 4'11" tall. As an early resident of Island Park, Johnny Sack was a cabinet maker, built furniture, and shoveled snow from cabins for his livelihood.
Location and Access
Big Springs and Johnny Sack's Cabin is located in Island Park, Idaho, five miles east of Mack's Inn which is approximately 30 minutes away from Yellowstone National Park. It is easily accessible by car, and the drive is scenic and picturesque.
Park in the paved lot to the north of the wooden bridge. Walk back across the bridge while looking for large trout swimming in the shadows. Seagulls abound, on the lookout for snacks from tourists.
Take a detour and walk down either side of the river for great views.
From the bridge, continue south and follow the signs for Johnny Sack's Cabin. Keep an eye out for moose, waterfowl, and minx. The cabin is open to the public from mid-June through mid-September from 10:00 am to 4:00 pm, and visitors are invited to visit and see firsthand the unique craftsmanship of one of Island Park's early settlers. Donations are appreciated.
Visiting Johnny Sack's Cabin
Johnny Sack, a German cabinet maker, immigrated to the United States in his twenties. In 1929, he leased a small piece of land at Big Springs from the U.S. Forest Service and began building his cabin in 1932. He built the entire cabin himself using primarily hand tools. It took him three years to complete the construction.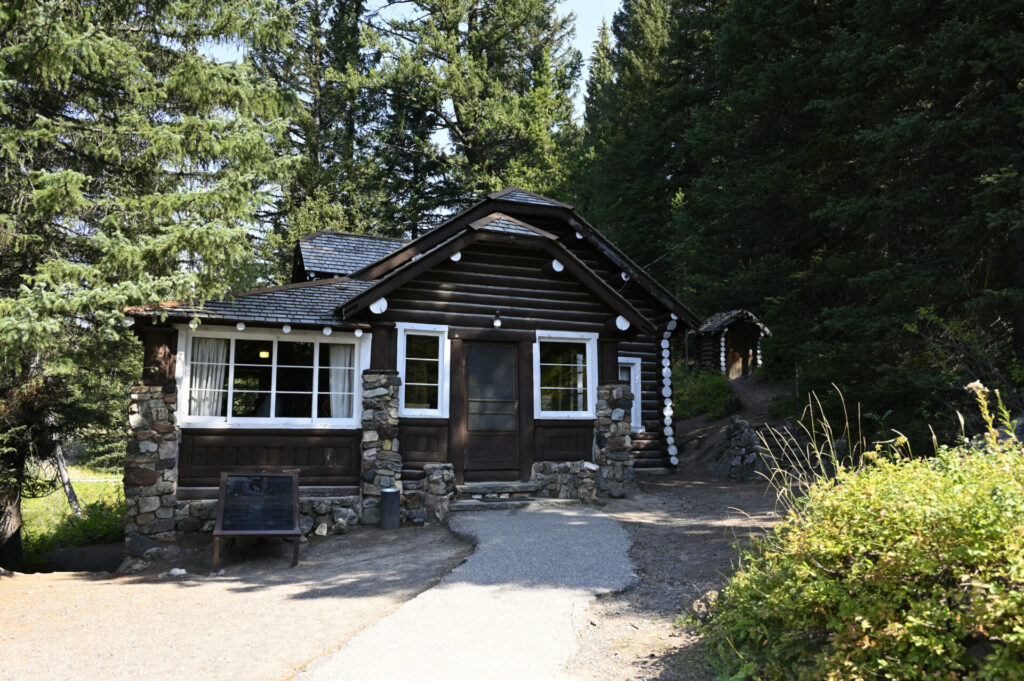 Johnny soon built a small wooden structure and waterwheel in order to create electricity using the power of Big Springs. Despite being a bachelor throughout his life, Johnny had many friends and visitors, which led him to expand his cabin over time.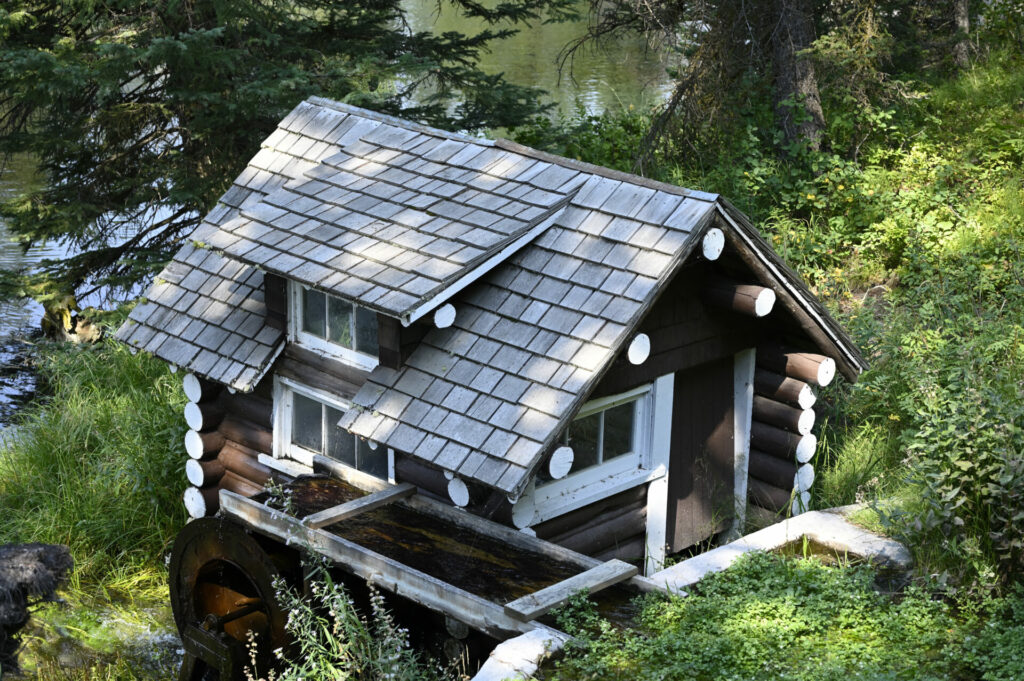 One of Johnny's trademarks is the split bark decoration used in the cabin's furniture and interior. By meticulously preparing the lumber, the bark is preserved on the wood, imparting a unique texture and color to the trim of windows, wall panels, ceiling lamps, chairs, desks, beds, and other wooden items. He took great pride in detailed work. Today many of the individually crafted pieces of wood furniture Johnny created for his home remain in their original location.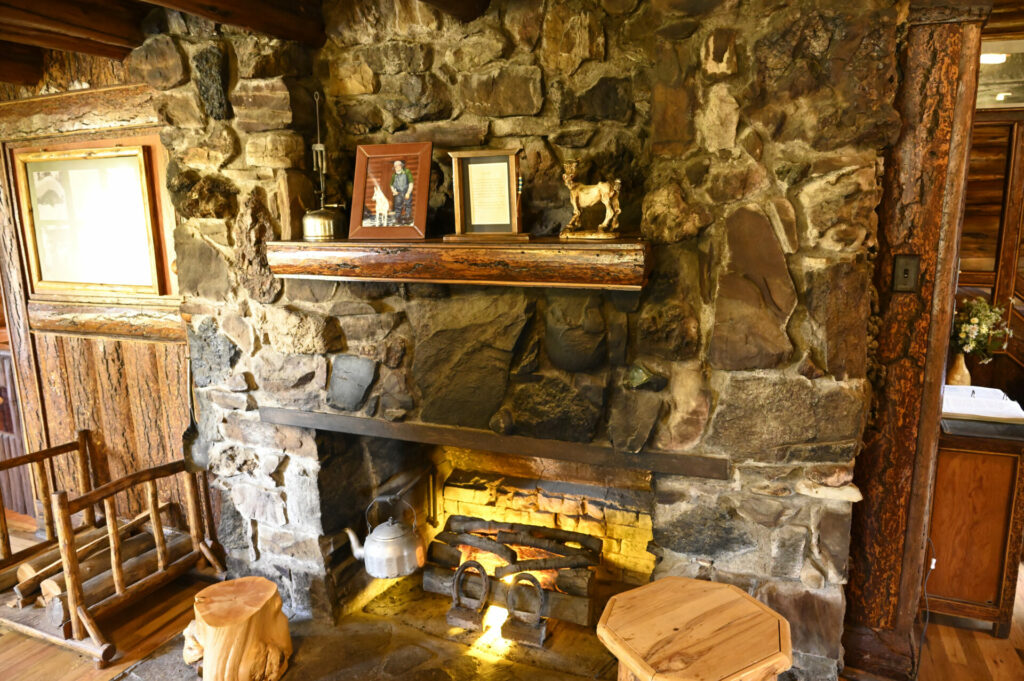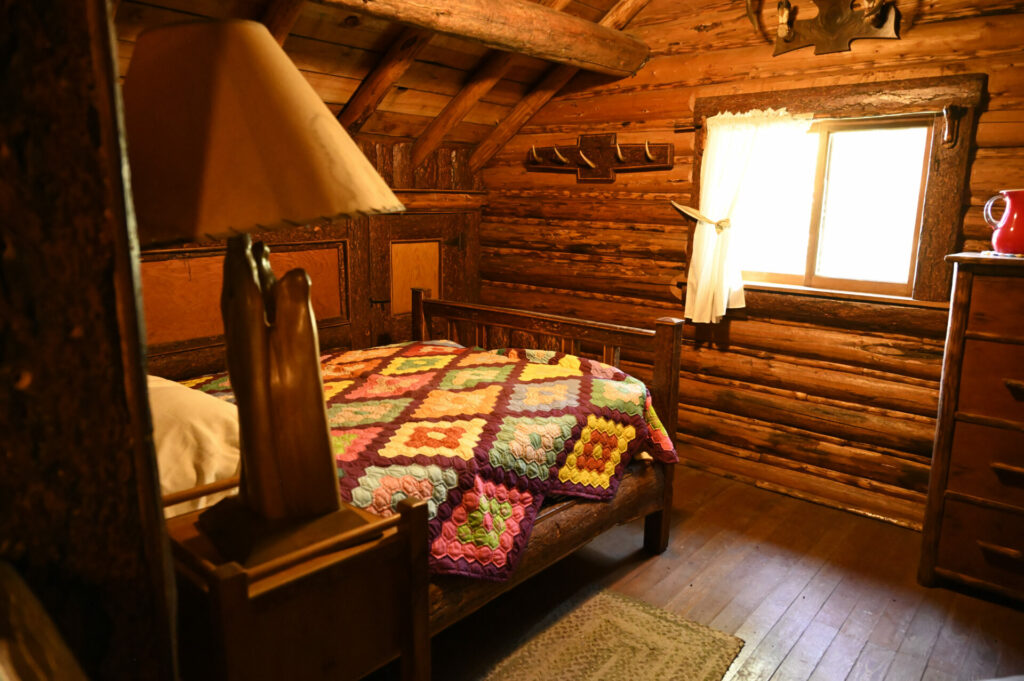 The cabin became part of the National Register of Historic Places in 1979 and is the property of the U.S. Forest Service. The cabin remains open to visitors through the efforts of the USFS, Fremont County Parks and Recreation, the Island Park Historical Society, and numerous volunteers.
Don't miss checking out the fish at the Big Spring Bridge. It's fun to feed them some bread or popcorn.
Big Springs
Big Springs is one of the 40 largest natural springs in the world. Producing over 120 million gallons of water each day Big Springs creates the headwaters of the Henrys Fork of the Snake River which travels across Fremont County creating spectacular scenery at Upper and Lower Mesa Falls. With a constant temperature of 52 degrees, the springs are home to rainbow trout, muskrats, ducks, moose, and other critters. It is not unusual to see osprey and eagles dive for a meal of fresh fish from the springs.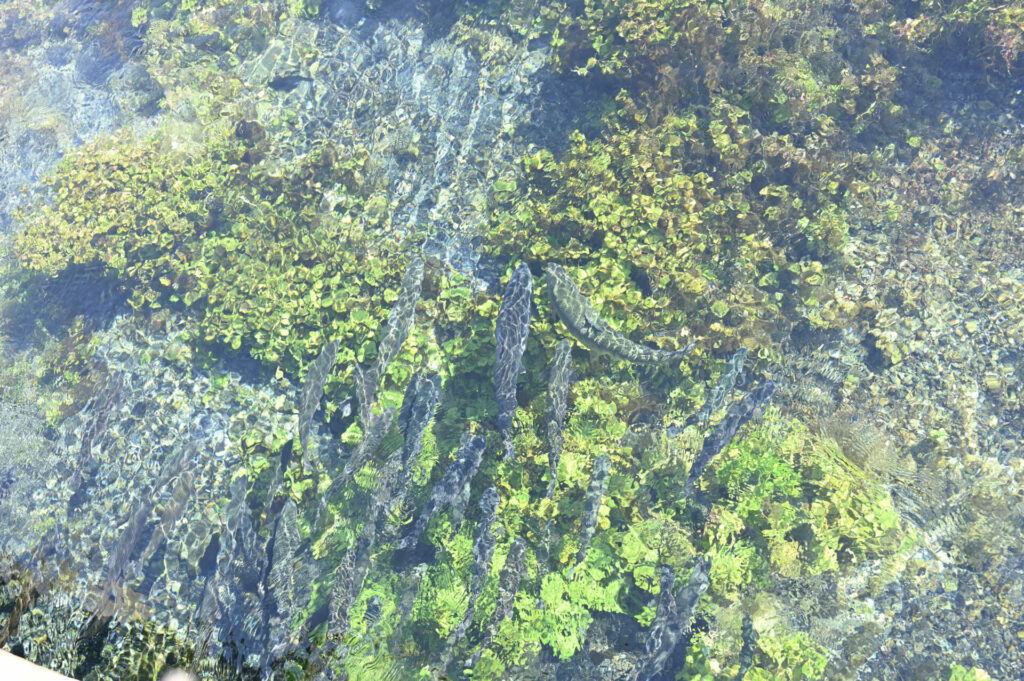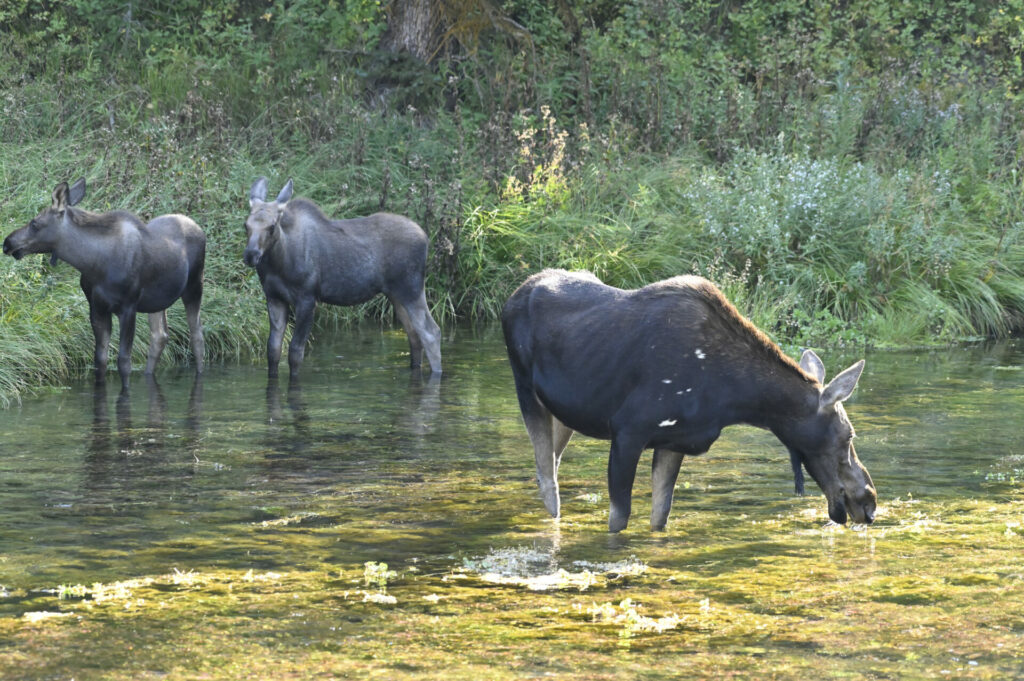 The Henrys Fork is considered one of the best fly-fishing streams in the nation and makes it a popular destination for outdoor enthusiasts. Surrounded by mountains with dense forests of lodgepole pine, broad grassy meadows bursting with summer wildflowers, and a wide variety of wildlife, including black and grizzly bears, moose, elk, deer, bald eagles, sandhill cranes, and much, much more.
Where to Stay
During our first summer in Yellowstone, we stayed at Yellowstone Grizzly RV Park in West Yellowstone, Montana. It's probably the nicest RV park in the area. Campers flock to this campground yearly because of the gorgeous, manicured lawns, clean sites, and community atmosphere. Bordered on two sides by the Gallatin National Forest, the park is uniquely peaceful and quaint and is well-known for its friendly staff and straightforward layout.
The area boasts lots of places to stay, from RV parks, Cabins, and hotels there are plenty of places to choose from when staying whether you choose West Yellowstone or Island Park.
Other Things to See and Do
While in the area we highly recommend kayaking, floating, rafting, canoeing, or tubing the Big Springs Water Trail. This trail offers a lazy three-hour float or canoe trip through beautiful scenery. Wildlife, including moose, bald eagles, and sandhill cranes, are often seen along the trail.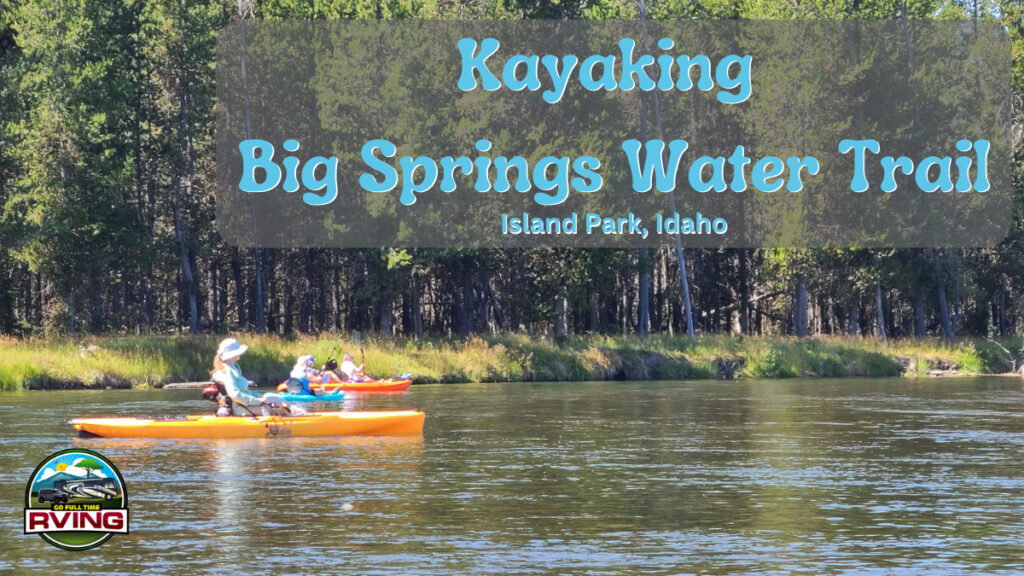 There is so much to see and do in the Yellowstone Ecosystem. Not only in Yellowstone National Park, but the Tetons, and surrounding towns like Island Park, West Yellowstone, Gardiner, Virginia City, Nevada City, Ennis, Big Sky, Jackson, and Cooke City has enough things to see and do to keep you busy for a lifetime.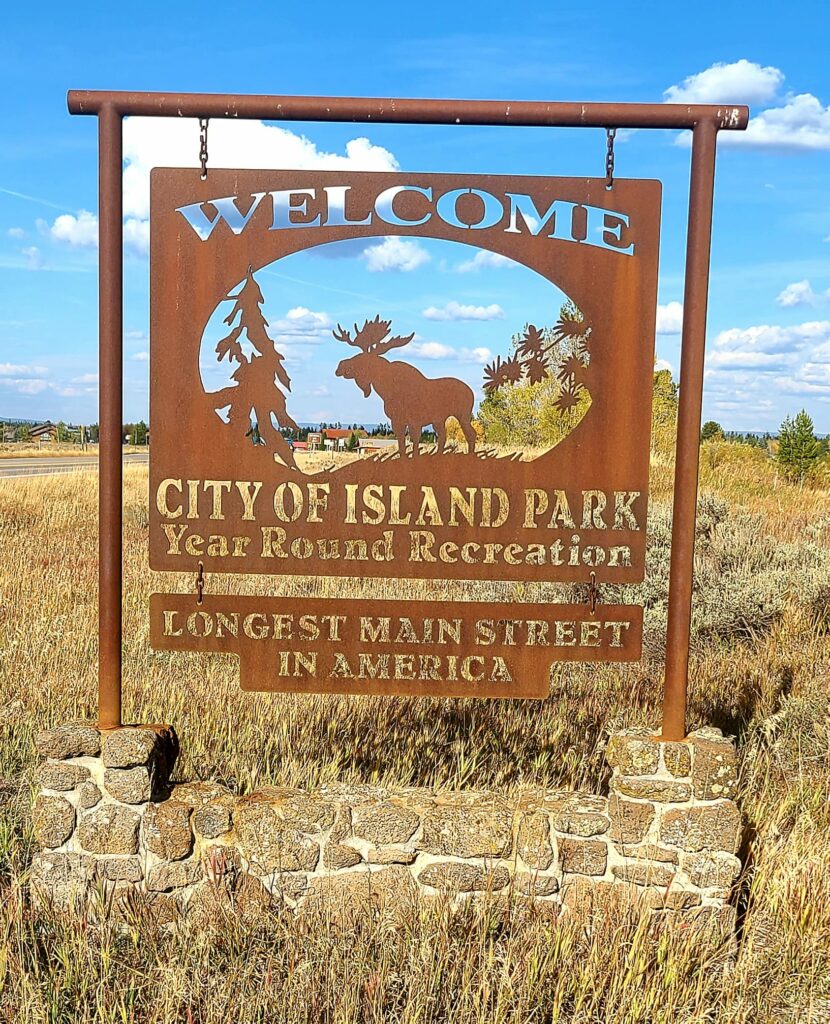 See the Longest Main Street in America. Island Park's Main Street takes the crown for being the longest Main Street in America, measuring a total of 36.8 miles. In 1947, local establishments in the vicinity, including resorts and businesses, came together to create the town of Island Park. This was a necessary move at the time due to Idaho's strict liquor laws which forbade the sale of alcoholic beverages outside of a city's limits. As a result, the town's width ranges between 500 to 5,000 feet to accommodate this incorporation. As of today, Island Park has evolved into a hub for outdoor activities, boasting a plethora of lodges, resorts, cabins, and campsites in close proximity to Yellowstone National Park.
Explore Harriman State Park and Wildlife Refuge. The nearby Harriman State Park and Wildlife Refuge, spanning over 11,000 acres, offers an abundance of year-round recreational opportunities and serves as a natural habitat for elk, moose, and trumpeter swans. In the past, the land, which also functioned as a cattle ranch, was owned by Union Pacific Railroad investors. Presently, this alluring location welcomes visitors during winter to embark on snowshoeing adventures, Nordic skiing, or fat bike riding along its 24-mile-long groomed trails. In the summer season, birdwatching, hiking, and horseback riding are among the activities one can engage in at the park.
Conclusion
Visiting Johnny Sacks Cabin in Island Park Idaho is an experience that should not be missed. The cabin is a piece of history that has been preserved for future generations to enjoy. It's a great way to escape from the hustle and bustle of daily life and immerse yourself in the beauty of nature.
The serene surroundings of the cabin and the rich history make it a perfect destination for anyone looking for a unique and memorable experience. So, if you're planning a trip to Island Park Idaho, don't forget to add Johnny Sacks Cabin to your list of must-visit places.
What interesting places can you recommend? We're always looking for neat out-of-the-way experiences to add to our list of places to visit. Thank you for reading our article. If you have any comments or questions we'd love to hear from you below.
If you're looking to build your own home-based business like we have with this webpage, check out Wealthy Affiliate.
Wealthy Affiliate is an all-in-one platform that you can build your whole affiliate marketing business on. It combines training, software, and website hosting into one. This makes the whole process of starting an online business from scratch much easier, especially if you're new to building a website.