Foothill Village RV Resort is an age-qualified (55+) Encore Resort located in scenic Yuma, Arizona. There are 171 full hook-up sites at Foothill Village. There seemed to be a few seasonal/full-time residents here but not as many as the other Encore Parks in the area.
This post contains affiliate links. As a participant in Amazon Associates and various affiliate programs, we are compensated when qualifying purchases are made through our referral links at no additional cost to you. Full Disclosure
We do all our trip planning with RV Life Trip Wizard. RV Trip Planning Made Simple! RV Life Trip Wizard is by far the best RV route planner we've found. Get your 7 day Free Trial
Location
Prices
Sites are $53.00/night or $46.00/night weekly rate during the peak season.
Normally Foothill Village is under the Trails Collection part of a Thousand Trails Membership as are all the Yuma Encore Resorts. But with Covid going on ELS has made Foothill Village a regular Thousand Trails Park and waived the age qualifications giving access to all members.
As a Thousand Trails Member, you have access to this park for free. At this time we don't know if Foothill Village will remain a regular Thousand Trails Park or return to being on the Trails Collection.
If you're not a Thousand Trails member and would like to purchase a Camping Pass to get started, click here to save $100.
Reservations
For Reservations Non-Thousand Trails Members go to: rvonthego.com or call 877-570-2267.
For Thousand Trails Members with Trails, Collection add on go to: ThousandTrails.com or call 800-388-7788
Our Review
Foothill Village is a small no-frills park with full hookups. While I wouldn't consider it a resort the park is clean and well-kept. Sites are gravel with a small patio. There is adequate room between sites and from what we saw can fit most big rigs. More The sites have no landscaping, no picnic tables, no BBQ, or fire ring which seems to be the norm for what we've seen in Yuma.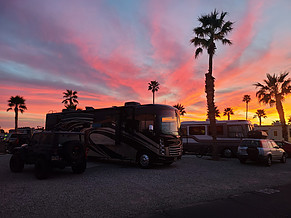 There is a small heated pool and hot tub, pool hall, and the rec room closed due to Covid. Water and power were good but only 30 amp sites were available. It's easy to get into the park and get around all sites are back in. While the freeway is close, the road noise is minimal and better than Araby Acres that we previously reviewed.
We stayed at Foothill Village from February 14-22, 2021. The staff we dealt with was friendly and willing to help in whatever way they could. If back in Yuma Foothill Village would be on our list of possible places to stay.
Amenities
For a "Resort" Foothill Village lacks a lot of amenities you'd find in more upscale resorts but it does have the primary things you'd want from a campground. The staff is very friendly and helpful with any questions you may have.
The restrooms were clean and well taken care of when I checked them out.
Laundry
Laundry rooms are located in the Main Building near the main office. The cost to wash was $1.75 and the cost to dry was $1.75. You do need to purchase a card from the vending machine for $5. The card purchased then has a credit of $3 on it to use and add more money to. We've found that the card works at all the Arizona parks we've been to. But the card we purchased at a Thousand Trails Park in California didn't work here.
Dog Park
There really isn't a dog park per se. They do have a gravel area that runs the length of the front of the park for walking dogs. It's not an off-leash area.
There is a very small lounge area with a TV in the main office building.
Pool/Spa
A small but nice heated pool and spa are available in the park.
Phone and Internet Service
We use T-Mobile for our phone service. Service at Araby Acres was OK with 3 to 4 bars of 4G service.
Our Verizon MiFi received 2-3 bars of service and we were able to use our Fire Stick and stream Netflix with no problems.
We didn't use any mail service while we were in town on this trip. But did see mailboxes at the main office building so mail service may be available. Check with management.
Sports, Recreation, and Playground Areas
This is normally a 55+ age-qualified community so there are no kids' activities. There are shuffleboards, pool tables, and horseshoe pits.
Things to see/do nearby
Los Algodones, Mexico – Molar City is home to the largest concentration of Dental Clinics in the world. With over 300 dental clinics tourists flock to Los Algodones for cheap dental care.
Yuma Territorial Prison – Yuma's #1 attraction, The Yuma Territorial Prison is a living museum of the Old West.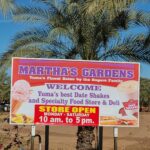 Martha's Gardens Date Farm – Our favorite place to get a Date Shake! If you haven't had a Date Shake you need to go here and try them out. They are amazing.
Yuma Marine Corps Air Station – Go and check out the aircraft flying in and out of the Air Station. F-35s, Harrier Jump Jets, V-22 Osprey, Apache, Blackhawk, and Sea Stallion Helicopters all fly out of this Marine Base.
Other Encore Parks in Yuma

Conclusion
Foothill Village is a nice little park. Not really a resort in our opinion but nice nonetheless. If spending some time in Yuma put this park on your list of possible places to stay.
Where do you stay when traveling through Yuma? Let us know if you have any comments or questions below. Thank you for reading our Review of Foothill Village RV Resort.