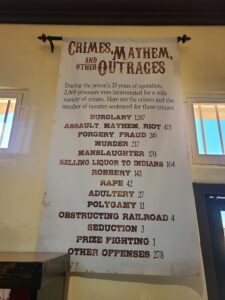 Yuma Territorial Prison is a living museum of the Old West. A total of 3,069 desperadoes, including 29 women, were convicted of crimes ranging from murder to polygamy, with grand larceny being the most common. A majority served only portions of their sentences due to the ease with which paroles and pardons were obtained. They were imprisoned in rock and adobe cells between 1876 and 1909. The cells, main gate, and guard tower are still standing, providing visitors with a glimpse of convict life in the Southwest a century plus ago. If you're in the Yuma area it is a must-stop attraction.
This post contains affiliate links. As a participant in Amazon Associates and various affiliate programs, we are compensated when qualifying purchases are made through our referral links at no additional cost to you. Full Disclosure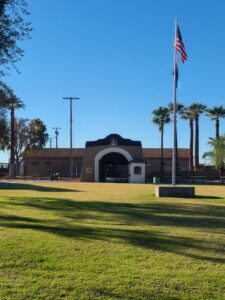 In 1871 Yuma incorporated and became the county seat of Yuma County. The Territorial Prison was authorized by the Legislature in 1875 and $25,000 was budgeted for the project.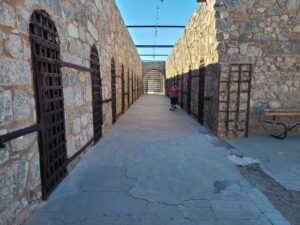 Walking through the Yuma Territorial Prison you get a feel for what life must have been like in Arizona's first prison. On July 1, 1876, the first seven inmates entered the Territorial Prison at Yuma and were locked into the new cells they built themselves
The Prison continued in operation for 33 years when, due to overcrowding, all inmates were moved to a new facility in Florence, Arizona.
Directions, Hours, and Admission
Yuma Prison State Historic Park is situated on 7 acres on a bluff above the Colorado River in Yuma, Arizona. It is located at the Fourth Avenue exit south from Interstate 8. After crossing the Colorado River, the entrance to the park is on the east side of Fourth Avenue.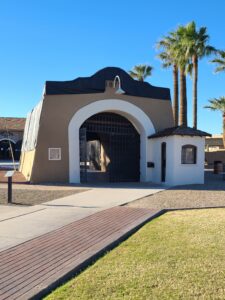 Address: 220 N Prison Hill Road, Yuma, AZ 85364
Hours of Operation: Thursday – Monday 9:00am to 5:00pm Closed Tuesday & Wednesday
Prison Admission:
$8 Adults
$6 Seniors age 62 and over
$4 Children age 7 to 13
FREE for children 6 and under
Hell Hole or Country Club on the Colorado
Prisoners feared and loathed the Territorial Prison. In contrast to its notorious reputation as a "Hell Hole," Yuma was a model prison.
Insufferable heat… that made the place an inferno.
Surrounded by rivers, quicksand, and desert in all directions.
Snake Den and Ball and Chain as standard punishment.
Tuberculosis is #1 Killer
Impossible to endure, more impossible to escape.
Many Yumans resented the prison since it had more modern amenities than most homes in Yuma. Folks in Yuma referred to the prison as the "Yuma Country Club" because of these niceties and the fact that the only three flushing toilets in all of Yuma were in the prison.
Electricity
Forced Ventilation
Sanitation, including two bathtubs and three showers
A library with 2,000 books, the most in the Territory at the time
An enlightened, progressive administration
Even a Prison Band!
The Prison and Prison Life

The main cell block housed more than 200 convicts and accommodations were tight. Six men to a cell, it can get very crowded, especially if you're not liked by your other cellmates, which could cause problems.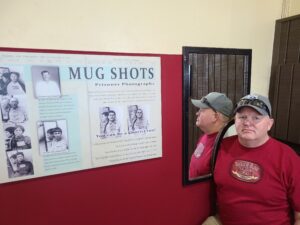 A special mirror was used when snapping mugshots. It was one way to get both front and profile views of the convict.
There were strict forms of punishment at the territorial prison. One was a ball and chain for those who tried to escape, of which 26 actually did. Another was maximum security for some of the troublemakers, but for the real troublemakers, there was a dark cell.
In the center of the cell, there was a cage, and the cage was 5 feet high, and 10 feet long, and that's where they kept the troublemakers. There were two solid metal doors so there'd be no light whatsoever coming into the cell. The only light is from a vent that's in the center of the room.
Celebrity Criminals

There were some pretty famous faces at Yuma Territorial Prison.
The most famous male convict was probably Buckskin Frank Leslie, who was a character down in Tombstone, Arizona about the same time Wyatt Earp and his brothers were down there. And he was sent to prison for murder. The prison even had women convicts. The most famous female convict was Pearl Hart, who committed the last stagecoach robbery in Arizona.
One of my favorite things to stumble across in our travels is how one place we've visited ties in with another. The Tombstone tie-in to the Yuma Territorial Prison was really interesting. Not only Buckskin Frank Leslie had ties to Tombstone. John Behan, Former Sheriff of Cochise County, the adversary of Wyatt Earp and Doc Holliday in Tombstone, was a Superintendent at the Prison.
Yuma High School
Once the prison shuttered, it became the temporary home of Yuma Union High School from 1910 to 1914. Teachers conducted classes in the cell block area and the school held assemblies in what had been the prison hospital.
In 1913 the Yuma football team traveled to Phoenix to play the "Coyotes". Yuma High won. The angry "Coyotes" dubbed the Yuma High players the "Criminals". At first "Criminals" was a fighting word. Before long, students and teachers wore the name with pride, and in 1917, the school board officially adopted the nickname. Yuma High School has been proudly called the home of the "Criminals" ever since.
Conclusion

If you are ever driving through Yuma I'd recommend checking this Historical Site out. Getting to the prison is very quick and easy.
Townspeople have always considered the abandoned complex a source of free building materials. This, together with fires, weathering, and railroad construction, destroyed the prison walls and most of the buildings. Most of the original prison is now gone, but enough is still in place to take you back in history and still provide a glimpse of convict life a century ago in the Arizona Territory. The grounds still have one of the Guard Towers, Sally Port, Cell Blocks an old yard, and some other interesting historical items as well as many informational spots giving you more information. Yuma Territorial Prison property is well-kept and lots of effort have been put in to keep this place accessible to the public.
Thank you for taking the time to read our article on the Yuma Territorial Prison. Have you been there? What was your impression of the prison? Let us know if you have any comments or questions below.
If you're looking to build your own home-based business like we have with this webpage, check out Wealthy Affiliate.
Wealthy Affiliate is an all-in-one platform that you can build your whole affiliate marketing business on. It combines training, software, and website hosting into one. This makes the whole process of starting an online business from scratch much easier, especially if you're new to building a website.