Even those with dental insurance can find themselves facing huge bills for expensive dental treatments or procedures that are out of their budget. This is the case for Lisa. She has an insurance plan that she pays for but only covers a few items. While in Reno she went to the dentist for a cleaning. They told her she had a couple of cavities and asked if she wanted them taken care of. The insurance covered a good portion of the work so she agreed to have it done. Unfortunately, the dentist didn't do a good job on the fillings and she had issues with pain and sensitivity once she was done. Upon returning to the dentist they told her she would need root canals and caps to make things better. Of course, this all would cost more money!
Once we were back in Las Vegas Lisa went to her normal dentist and was told that the guy that did the work previously had done the procedure wrong and that they wouldn't work on her teeth she would need to go back to the other dentist. Well after the botched procedure she wasn't about to do that so she started looking into other options. What about medical tourism (Dental work in Mexico)?
This post contains affiliate links. As a participant in Amazon Associates and various affiliate programs, we are compensated when qualifying purchases are made through our referral links at no additional cost to you. Full Disclosure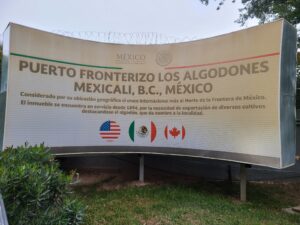 Los Algodones, BC, Mexico (Molar City)
Near the borders of Arizona and California lies the tiny Mexican town of Los Algodones (its official name). Despite having a population of just 5,500, there are over 300 dentists there. The reason Los Algodones is called Molar City is that thousands of medical tourists flock to Los Algodones every day for dental work.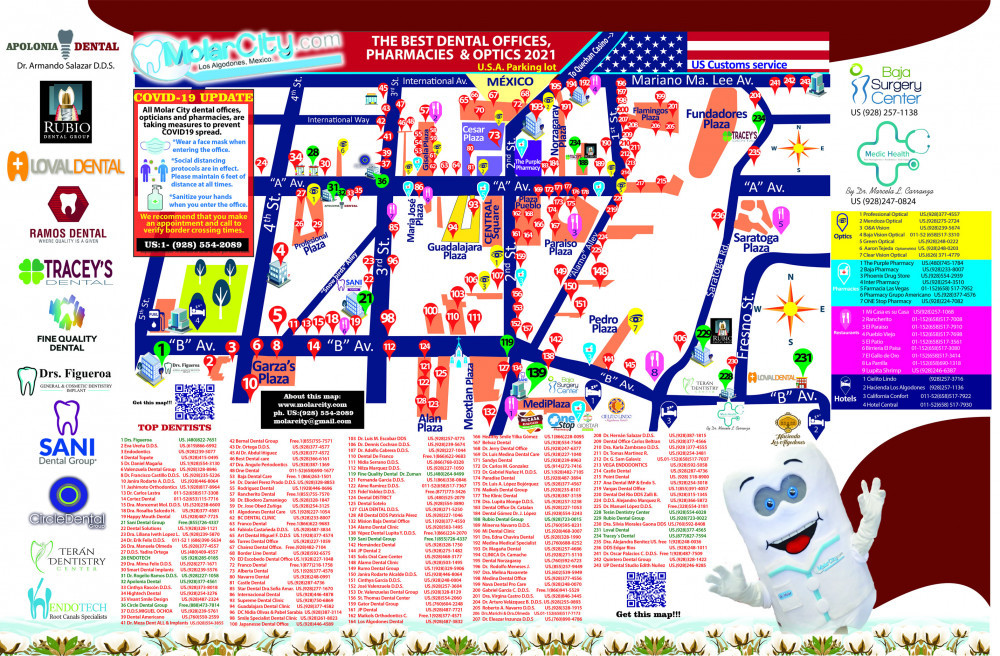 Aside from the warm winter weather and sand dunes, it is Yuma's convenience to Los Algodones that brings so many snowbirds to the town. You can literally park your car at a parking lot off Algodones Road on the USA side and walk across the US-Mexico border right into the heart of Los Algodones, which makes it a quick and easy place to visit. It's safe, friendly and they freely accept US Dollars
Finding a Quality Dentist in Mexico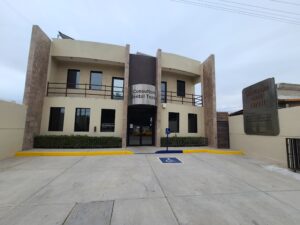 When you cross the border into Los Algodones you are bombarded by hordes of hawkers, usually working on commission. The clinics they represent may be fine, but there is no way of knowing unless you do your own research. The best way to avoid getting less than satisfactory dental work is to explore your choices thoroughly and choose a dentist in advance based on their experience and reviews.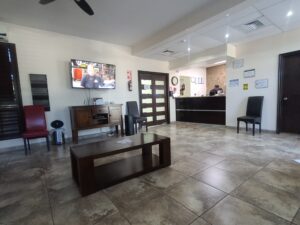 Word-of-mouth is your best bet to find a dentist in Los Algodones. Getting a recommendation from someone you know that may have had work done there should provide adequate comfort that you have a good dentist in Mexico.
That's what Lisa did. We have some friends that have traveled to Los Algodones for dental work and they recommended Dental Topete (#4 on the map above). Dental Topete has their own office building which is very well-equipped, spotlessly clean, and well-staffed by a team that speaks fluent English as well as Spanish.
The team led by Dr. Francisca Topete Vallejo with her 38 years of dental experience and her two daughters, Dr. Ivonne Rendón Topete with 13 years of experience, and Dr. Ana Karen Rendón Topete with 4 years of experience provide you with excellent dentistry in a comfortable, caring atmosphere.
Crossing the Border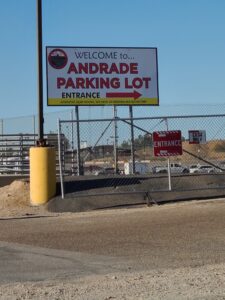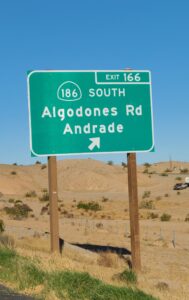 Take Interstate 8 West from Yuma, AZ to the Algodones Rd/Andrade/Mexico exit 166. Travel South on Algodones Road for 2 miles to the Mexico Border. At this point, you could take your car into Mexico, but the vast majority of people just park on the U.S. side and walk over.
For $6 (cash only) we parked the Jeep at the Quechan Tribal parking lot, which is the last turn before crossing the border and about a 5-minute walk across to Los Algodones. The lot can accommodate RVs for an additional fee if you don't have a separate vehicle. We thought the price was pretty reasonable and were glad we didn't drive across, especially when we saw the line of traffic to get back into the USA that afternoon!
Walking across the border was a breeze – we just walked through the white iron revolving gate and just like that we were in Mexico! We didn't have to show our passports or any ID at all walking into Mexico, but we were sure to bring our passports (you need to show them) in order to return to the USA later that day. With the Covid-19 pandemic still going on the border closes at 3pm Arizona time so we had to make sure we were back in the States by then. We were always in line by about 1:30 at the latest.
Is it safe?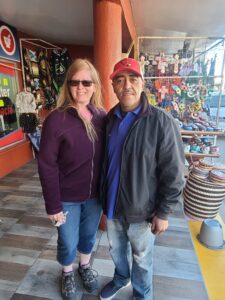 Constant news reports, particularly in the U.S., give the impression that the drug war has rendered most of Mexico unsafe. In fact, out of 2,500 municipalities (counties) fewer than 5% have been affected by the drug war, and the U.S. advisory has stated that, apart from Acapulco, all of Mexico's major tourist destinations are safe.
Most border towns are generally safe, including Los Algodones, provided you don't go looking for trouble, particularly at night. Thousands of dental patients travel to the border towns every year and experience no problems, and some towns, such as Los Algodones have reported no trouble at all.
Once we were across the border and figured out the lay of the land we felt perfectly safe walking around town checking out the sights and shops.
Be aware of uneven surfaces. While we were crossing the border one day we saw two ladies trip over uneven surfaces and fall down.
The Experience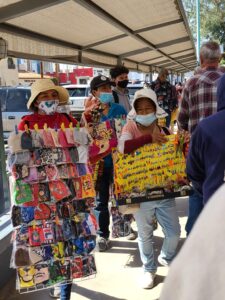 What a contrast, walking from the States into Los Algodones and being immediately greeted by all the hawkers trying to sell their wares or get you into their shops. "Hola! I have a good price for you!" "What you want?" "What you need?" "I have a good dentist for you!" "Your dentist is too expensive, mine is better!" "You need glasses?" "Prescription meds?" "No Money, No Honey" "Almost Free!" "Cheaper in the morning!" "Something for the wife?….Neighbor's wife?" "Free Mexican suitcase (plastic bag) with purchase." "Give me chance to rip you off for less!" and our favorite "Viagra… Great for Newlyweds!"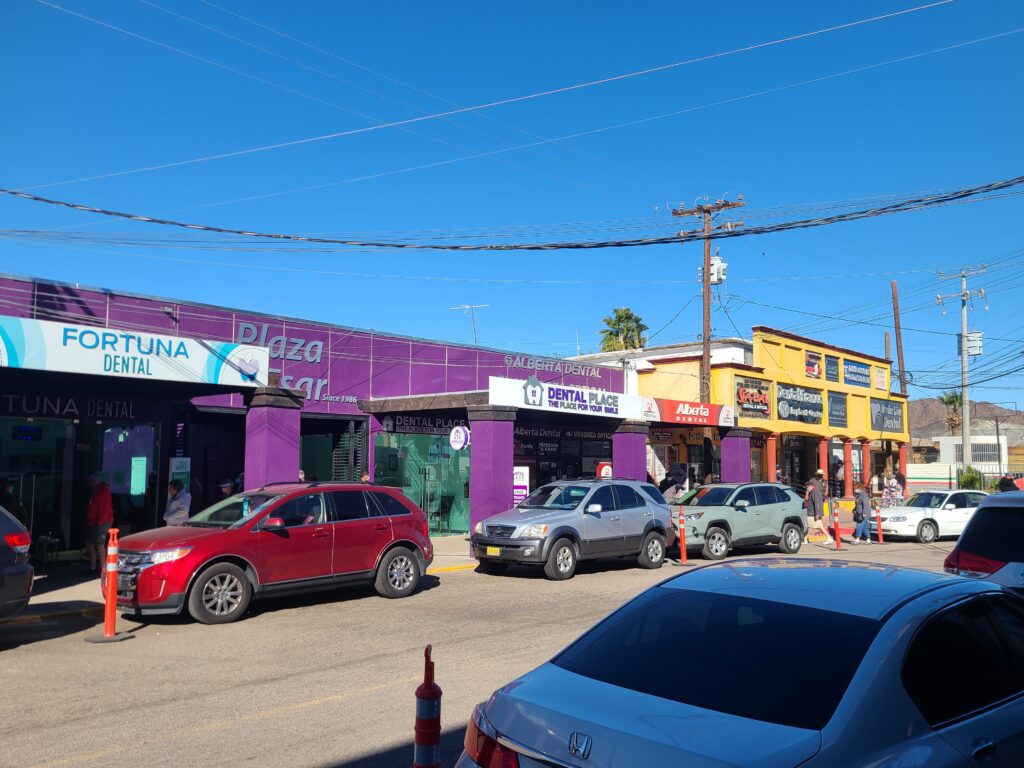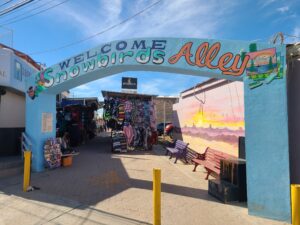 Continually amazed at just HOW MANY dentist offices there are in Los Algodones, among the street vendors, eye doctors, and pharmacies. Some of the bigger dental clinics were housed in their own modern buildings as is Dental Topete while other smaller ones were strangely tucked in behind a mess of street vendors, which in our opinion wouldn't inspire much confidence in them!
We had a sign painted for the front of our motorhome by spray artist Marlon down on Snowbird Alley. He does some amazing work creating a custom artwork using spray paints and household items as brushes.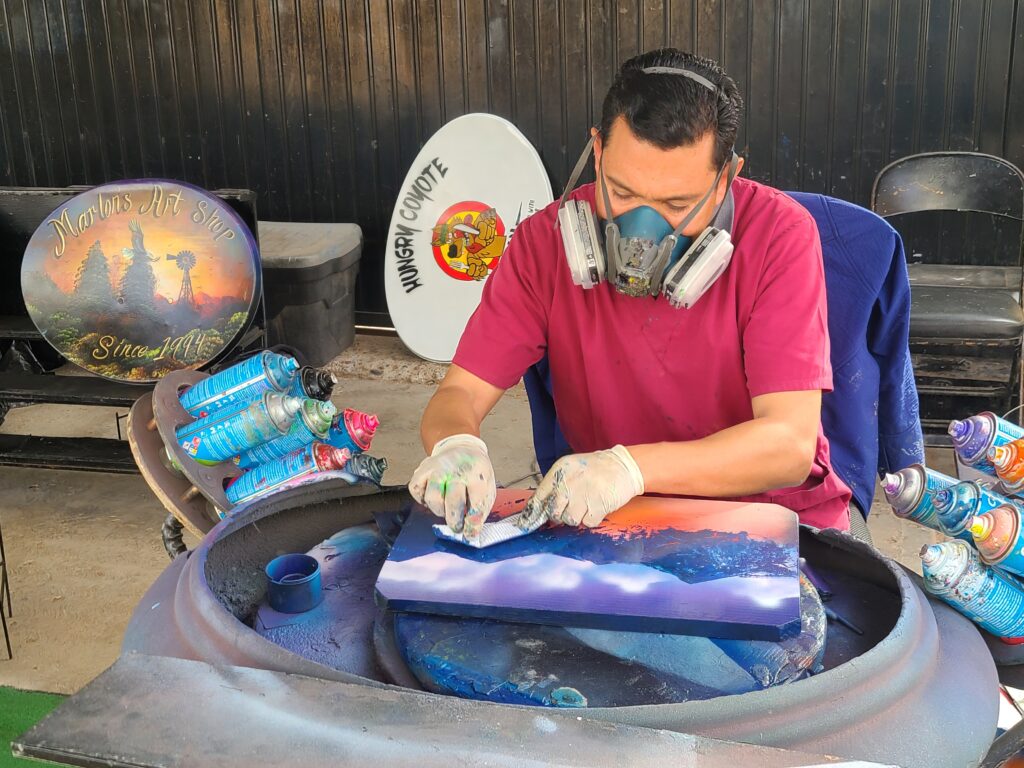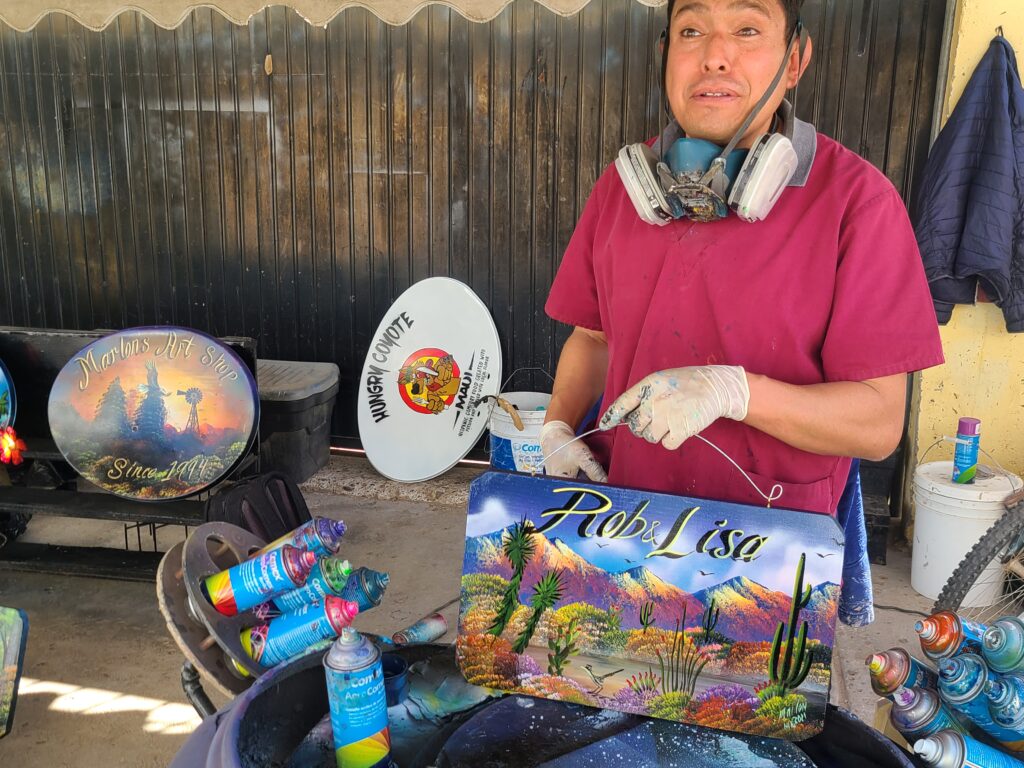 How long will it take and how much cash will I need?
How long will totally depend on the purpose of your visit. There are over 50 dental laboratories in town that can provide your dental work much faster than at home. Good quality crowns, bridges, dentures, etc. can be finished in as little as 1-2 days.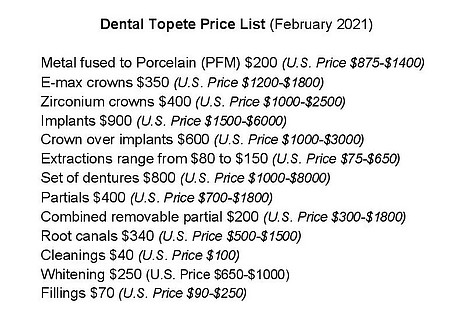 Dental Services in Los Algodones cost is about 70% to 75% less than in the United States or Canada. Prices are approximate, each dental office has a variation of a few dollars.

How much time and money you anticipate you'll need for the purpose of your visit depends on what you need or want to do while in town. U.S. Dollars are widely accepted in Molar City so you don't need to worry about changing money. Be sure to take enough money for lunch and shopping too. You can withdraw cash from an ATM located in the parking lot on the USA side and also use the ATMs in Mexico but those will attract a higher fee, being international. Be sure to take plenty of cash for the day as many places do not accept credit cards or if they do, they charge a fee. Always have a little additional cash on hand for those unexpected purchases you might make while in another country.
If you pay your dentist in Los Algodones by credit card, your card provider will probably charge you an overseas transaction fee, typically between 2.5% and 5%. Clinics may also charge a fee for debit or credit card payments Dental Topete charges 5% for credit card payment. You can avoid any extra fees by bringing cash with you, to really optimize your savings on Los Algodones dental prices.
Other things to get in Mexico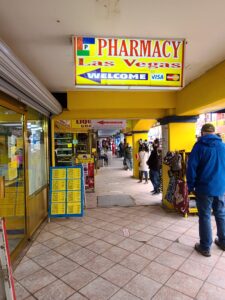 Yep, if you're in need of dental work, a new pair of glasses, and/or pharmaceutical medication or alcohol at excellent prices, Los Algodones is your place! Whether you spend a little or a lot, you will end up saving a ton on USA or Canadian prices.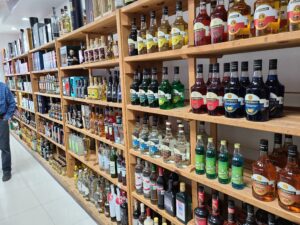 There are lots of folks selling belts, purses, wallets, ceramic animals, hats, t-shirts, jewelry etc. Amigos on every corner enticing you to use their particular dentist, pharmacy or eyeglass services. We bought a few small souvenirs, and some Mexican Tequila with the worms, and purchased some prescriptions way cheaper than back home. We even refilled a pain pill prescription for Ruby to help with her strained shoulder.
We were even lucky enough to catch a celebration they were doing for the opening of a new library in town. The mayor was on hand as well as Mexican dancers.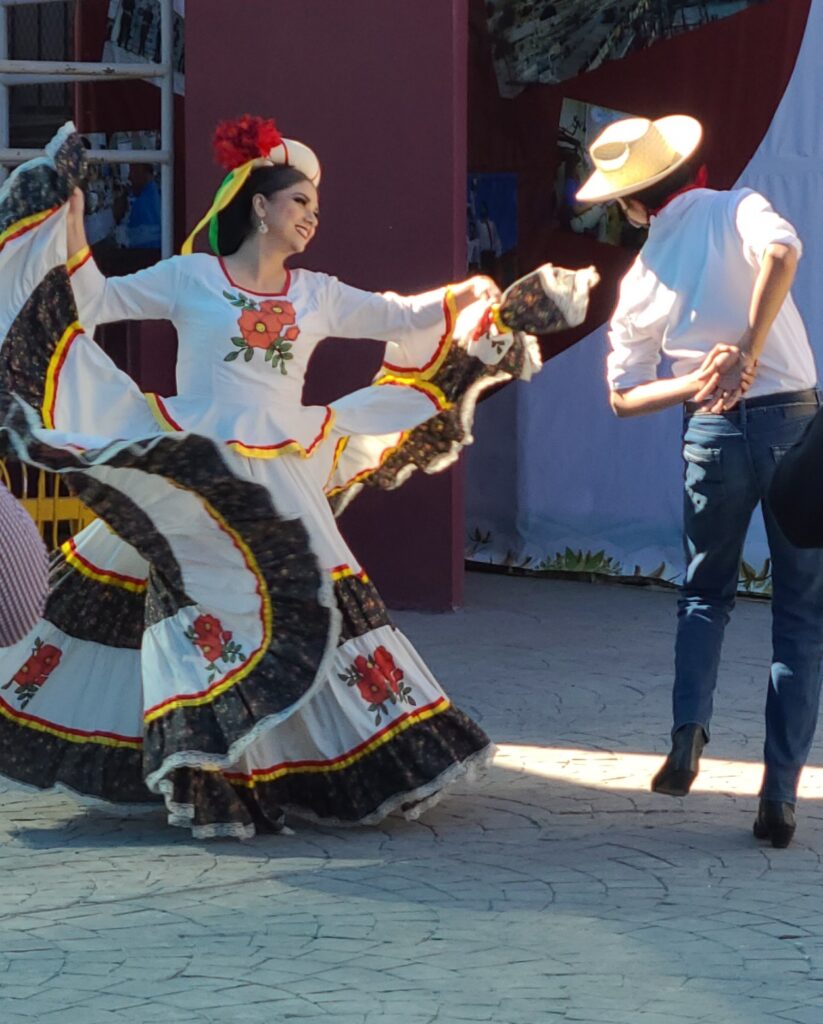 Common myths and misconceptions about Mexico for dental
Low costs mean low quality – The lower costs are due to a lower cost of operation, not a lower quality of care. Some, but not all, dentists have training and credentials from the USA and/or Mexico and many are members of the American Dental Association. There are also some dental offices in Mexico that are in-network members of U.S. insurance providers. So not only is dental tourism popular with uninsured people, but it is also attractive to people who need major work done, and have dental insurance yet still have to pay a large sum out-of-pocket. Having major work done in Los Algodones can help reduce that, but you'll need to carefully do your research first to find a dental provider that qualifies with your plan.
It's dangerous – Los Algodones is just minutes in walking distance from the USA-Mexico border. It's the safest border to Mexico. The town is safe for walking, safe to carry cash in, and easy to navigate. There are plenty of dangerous towns in the USA too, so keep things in perspective but as always, stay mindful.
It's not hygienic – Good dentists adhere to US standards, sterilize their dental instruments, and use a disinfectant spray manufactured in the US and approved for dental office use by the FDA and American Dental Association. From what we learned, common area surfaces in the office are routinely cleaned with Lysol. They also use sterile plastic barriers to cover the handles for the dental lamp and other controls for the chair and related equipment and use new gloves, saliva ejectors, protective masks, and dental burs (drills) for each patient. Don't be afraid to ask about each dentist's hygiene standards and practices during your due diligence process. Don't assume that every dentist's office will have the same practices.
They don't speak English – The dentists, front office receptionists, and many other staff speak fluent English as well as Spanish, so they can communicate with their clientele which primarily comes from the USA and Canada.
The water isn't safe – You will find that most, if not all, dentists use purified water stored in sterile containers. If you aren't sure – be sure to ask your chosen dentist about their source of water to put your mind at ease.
There isn't a guarantee on the work – Many dentists do offer a guarantee on their service, you just need to select one that is highly recommended and does offer a guarantee. Most dentists rely on word-of-mouth recommendations to build their business, so it's in their interests to keep their customers happy and return visits while referring them to others. Again, do your homework and ask questions to get the answers you need.
Conclusion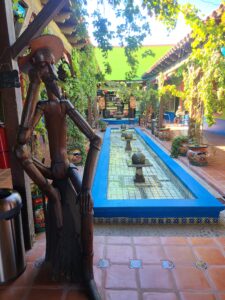 While it's understandable that you might have some doubts and concerns about going to Mexico for dental work, once you start doing your research, checking the credentials of a short list of recommended dentists, read the reviews, listen to the experiences of others you know and trust who have been there done that and rave about the results, AND then see it for yourself, your fears starts to dissipate.
If one or both of us need more extensive and expensive dental work done down the road, we'll be making a trip back to Los Algodones for sure. The cost of that trip, whether we fly or drive the coach, is still likely to be far less than what we would need to pay using our dental plans in the States.
Recap and additional notes:
You need a Passport to cross. Mexico doesn't care, but it's necessary to get back in the U.S.
With Covid-19 the border station is open from 7am to 3pm Arizona Time. The worst time to cross back into the US is after lunch, the lines at border patrol are longest from about 1-3pm Arizona time. If you can, come early and go back before the lunch crowd.
The tourist zone of Los Algodones (where all the dentists, pharmacies, and eyeglass stores are found) is kept clean, regularly policed, and considered quite safe. The residential areas outside the tourist zone are not kept clean, and I can't speak as to how safe they are.
Despite being in the Pacific time zone, many businesses in Algodones follow Arizona time.
Shrimp tacos, tortas, and Churros yum! And no we didn't get sick.
Bring cash. The street vendors take cash only. Some businesses will accept checks and cards but not all of them do, so confirm payment options when you're making your appointment so you know what to bring with you.
Not all dentists in Algodones are equal, look online and ask your RVing friends for recommendations for the best experience.
The general rule of thumb is that dental care in Algodones costs about 1/3 of what it does in the US, the work Lisa had done follows this. If you know you need work done before arriving, this should give you an idea of what to expect cost-wise.
To see a specific dentist, you'll want to make an appointment ahead of time to make sure you can get in.
Pharmacies and eyeglass centers are walk-in. Most of the eyeglass places I peeked in guaranteed a two-hour turnaround time. If you have multiple things to do in town, get your glasses order in first to make the best use of your time.
The hawkers are much bolder than salesmen in the U.S. Get use to saying 'no' repeatedly. Avoiding eye contact and walking with a purpose helps if you're in a hurry. If you show any interest in something and decide not to buy it, expect that it'll take a while for 'no' to sink in.
Well, that about sums up our visit to Los Algodones! We hope you found this article useful and, if you're considering Los Algodones for dental, that it helps give you the confidence to explore it further. Good luck!
Have you been to one of the Mexican Border towns for dental work, medical care or pharmaceutical needs? What was your experience like? We'd love to hear you thoughts or questions below.