Voyager RV Resort is arguably the best-rated RV park in the region. The Age Qualified 55+ property has several sections, including a hotel, an upscale manufactured home community (The Bay) for full-time residents, seasonal residential areas for both RVs and park models and short-term RV sections, where we stayed.
This post contains affiliate links. As a participant in Amazon Associates and various affiliate programs, we are compensated when qualifying purchases are made through our referral links at no additional cost to you. Full Disclosure
We do all our trip planning with RV Life Trip Wizard. RV Trip Planning Made Simple! RV Life Trip Wizard is by far the best RV route planner we've found. Get your 7 day Free Trial
Sure the price is a little more than some other resorts in the area, but you get what you pay for! This resort is all about the amenities and activities, more so than any other resort we have ever been too!

Location
Located in Tucson, Arizona, Voyager RV Resort is an ideal location to start all your Southeastern Arizona adventures.
8701 S Kolb Rd
Tucson, AZ 85756
Prices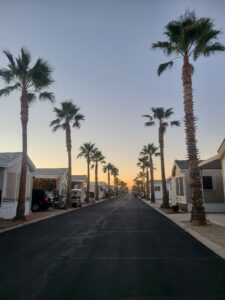 Premium back-in spaces are 33.5 ft. x 50 ft. with no neighbors parked behind you. All spaces have full hook-ups with 30/50-amp service. Each space has its own concrete patio area with a picnic table. Price: $61/night or $53/night weekly rate.
Premium pull-thru spaces are approximately 30 ft. wide and 100 ft. in length. All spaces have full hook-ups with 30/50-amp service. Each space has its own concrete pad with a picnic table. Priced at $61/night or $53/night weekly rate.
Standard back-in spaces are 33.5 ft. wide and 50 ft. in length. All spaces have full hook-ups with 30/50-amp service. Each space has its own concrete patio area with a picnic table. Priced at $58/night or $50/night weekly rate.
Value back-in with no slides RV spaces are 25 ft. x 50 ft. All spaces have full hook-ups with 30/50-amp service. Each space has its own concrete pad with a picnic table. Priced at $53/night or $46/night weekly rate.
If you're a Thousand Trails Member with the Trails Collection you can stay at this resort for $20/night up to 14 nights. This makes this resort an amazing deal for the area.
Reservations
For Thousand Trails Members log in to your Thousand Trails account to reserve your spot.
For Non-Members go to rvonthego.com to book your stay. Or call 877-570-2267 or 800-424-9191 for help.
Our Review
Tucson is one of our favorite Arizona towns and if you are looking to live the Resort lifestyle this is definitely the top RV resort in the area. With a thriving arts scene, great food, a hip downtown, the University of Arizona, Pima Air & Space Museum, Saguaro National Park and so much more you gotta add Tucson to your travel list.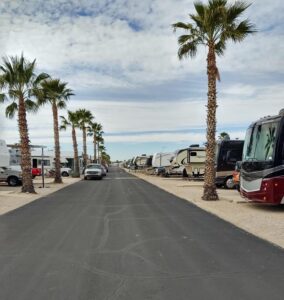 What can I say about Voyager RV Resort? WOW! This place is amazing! They have nearly everything so you hardly even need to leave. So many amenities in one RV Resort. All the staff we dealt with were super friendly. It's a very well-maintained and well taken care of 55+ park.
Conveniently located right off Interstate 10, the park is easy to find. Arriving at the gated entry we were greeted by security and directed toward the office building to pick up our arrival packet and pass for the resort. We were then escorted to our site. This is a very large park, there are miles of interior roads that are easy to navigate and walk.
This was our second trip to Voyager RV Resort and both times the resort was not full, even during the busy season, so the spacing between vehicles was very good. On our first trip to Voyager, we had one of the 100 ft. long pull-through sites. On this trip, we had a Premium back-in site that backed to the wash where we could walk our dogs. The sites are long, if not wide, and each one has 20/30/50 amp service and full hook-ups, a cement pad with a small picnic table.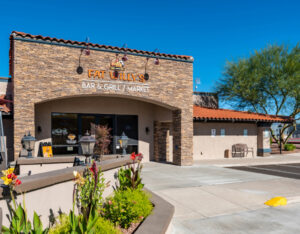 There is an on-site Hotel, restaurant, and bar (which the food was great although the service was slow), convenience store, post office, all kinds of activities, Pools, and Spas, Chapel, game rooms, craft rooms, golf course, etc. There are two dog runs. The one closest to our site was really muddy after a day of rain. But once dried out the dogs loved it. There are two very nice laundry facilities.
If you have one or more dogs you'll need to make sure you are assigned to a "dog-friendly" loop, since you aren't allowed to even walk them in other loops.
If you want to get your money's worth and truly see why this resort is rated so high….take advantage of the activities and amenities. This is not the place to just sit around.
When not experiencing a pandemic, Voyager RV Resort has probably the best set of amenities found anywhere in the state, even including a full-service restaurant and a golf course, and offers more activities than one can count. These amenities are numerous, including a swimming pool and spa, fitness center, game room with billiards, clubhouse, wood shop, stained-glass shop, and a dog park, as well as courts for pickle ball, bocce ball, volleyball, and tennis.
Truly Voyager is one of those "destination" places where many snowbirds come for the winter year after year. It is a must-stay at type of place if you're in the Tucson area.
Amenities
Voyager Resort has all the amenities you'd want from a campground and more. The staff is very friendly and helpful with any questions you may have. While most of the crafting amenities were closed due to Covid the sports areas were open.
The restrooms and showers looked new and were spotlessly clean when we were there.
There is a main laundry room near the office area and a smaller laundry room on 5th St. You have to buy a laundry card for $5 then you have $3 credit on it. It is the same card we used at other Thousand Trails Resorts in Arizona. I don't recall how much it cost to do a load of laundry here though.
Our dogs loved running and playing in the dog parks. Plenty of room for them to sniff around and stretch their legs playing with other dogs.
We didn't visit the lodge during our stay. With Covid going on we didn't have a need to go there.
Pool/Spa
Voyager RV Resort has three beautiful pools that we didn't use during our stay since we were so busy seeing the area.
Phone and Internet Service
We use T-Mobile for our phone service. Service at Voyager Resort was good with 5G and 3-4 bars of service.
Our Verizon MiFi received 4 bars of service and we were able to use our Fire Stick and stream Netflix with no problems.
I'm sure we could have used the mail service at Voyager to receive mail, but we did General Delivery to the Vail U.S. Post Office not far from the resort.
Sports, Recreation, and Activities
Voyager normally offers the following activities but some have been shut down due to Covid:
Ceramics
Bocce Ball
Line Dancing
Activities Center
Activities Director
Ballroom Dancing
Card Room
Yard Co-ed Water Aerobics
Craft Shop
Wood Shop
Dance Hall with Stage
Guided Tours
Jam Sessions
Live Entertainment
Men/Women Exercise Classes
Planned Activities
Red Hat Society
Square dancing
Tap dancing
Weekly Dances
Western Line Dance classes
Woodcarving
Dancing
Volleyball
Activities Coordinator
Arts & Crafts
Bingo/Card Playing
Church Service
Computer Club
Creative arts and crafts classes and projects
E-Mail Access/central modem connection
Hiking Club
Line, Country Western, and Swing Dance Lessons
Men's/Women's Golf League
Potlucks
Sightseeing Tours
Square, Line, Round & Ballroom Dancing
Tournaments
Weekly Potlucks
Things to see/do nearby
Saguaro National Park – Its 2 sections are on either side of the city of Tucson. The park is named for the large saguaro cactus, native to its desert environment. In the western Tucson Mountain District, Signal Hill Trail leads to petroglyphs of the ancient Hohokam people. In the eastern Rincon Mountain District, Cactus Forest Drive is a loop road with striking views of the desert landscape.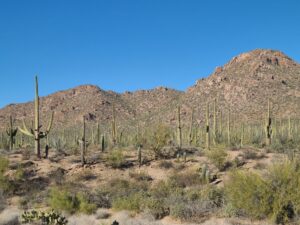 Pima Air and Space Museum – One of the world's largest non-government-funded aerospace museums. The museum features a display of nearly 400 aircraft spread out over 80 acres on a campus occupying 127 acres. It has also been the home to the Arizona Aviation Hall of Fame since 1991.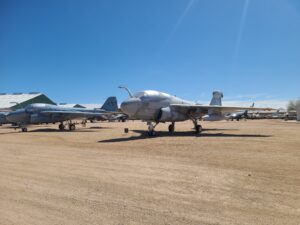 Colossal Cave – Hidden high in the southern Arizona Mountains with its endless Sonoran Desert vistas, rich history, and authentic Wild West vibe, Colossal Cave Mountain Park is a destination for the adventurous at heart.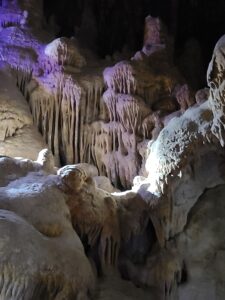 Mt Lemmon – A summer retreat, Mount Lemmon is approximately 30 degrees cooler than nearby Tucson, which is only about one hour away. Located in the Santa Catalina Range, Mount Lemmon is surrounded by the Coronado National Forest and home to a town befitting of the name,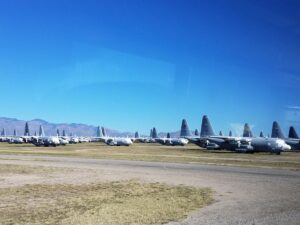 Old Tucson – An American movie studio and theme park just west of Tucson, Arizona, adjacent to the Tucson Mountains and close to the western portion of Saguaro National Park. (Closed Indefinitely Due to Covid-19)
Tombstone – Known for its Wild West history. Exhibits at the Tombstone Courthouse State Historic Park include replica gallows. On historic Allen Street, the O.K. Corral outdoor theater re-enacts the 1881 cowboy gunfight. Resident ghosts are said to haunt the bullet-riddled Bird Cage Theatre. Outlaws are among the local townsfolk buried at the 1878 Boothill Cemetery.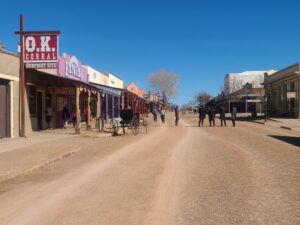 El Charro Café – Oldest Mexican restaurant in the United States. Will be 100 years old next year. They claim to be the inventors of the chimichanga. When preparing a burrito the owner accidentally dropped it in a pot of hot grease and the chimichanga was born. The décor in the restaurant is cute.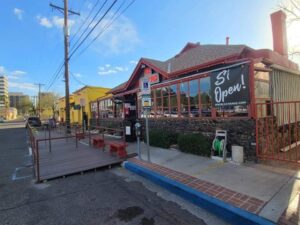 Conclusion
Voyager RV Resort and Hotel has it all! With a variety of accommodations to choose from Voyager RV Resort has a special feeling of a real community and the endless array of things to do and places to go are part of the experience. This is definitely a resort you don't want to miss.
If you've been to the area and have a favorite spot to hike, eat, or play let us know in the comments below. We'll hit them up on our next trip through Tucson. Also, let us know if you have any questions of your own about the area.
If you're looking to build your own home-based business like we have with this webpage, check out Wealthy Affiliate.
Wealthy Affiliate is an all-in-one platform that you can build your whole affiliate marketing business on. It combines training, software, and website hosting into one. This makes the whole process of starting an online business from scratch much easier, especially if you're new to building a website.