Growing up in Oregon it was seldom that I'd use an umbrella or wear a rain jacket, but I guess being an adult and living in the Southwestern desert softened me a bit. I've owned a few rain jackets but they always seemed to get wet and feel like they were leaking or seeping water through them. I never really liked the feeling of them. It almost felt like I was wearing a swamp jacket.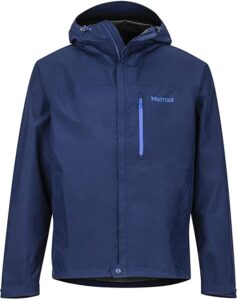 Note: Some of the links in this article are affiliate links.
GoFullTimeRVing.com is a participant in the Amazon Services LLC Associates Program. As an Amazon Associate, we earn from qualifying purchases linking to Amazon.com and affiliated links. When you use the links on this page to make a purchase, we may get a small commission and you may get a great bargain. You don't pay anything extra by purchasing through these links. It's a win-win all around. See our Full disclosure for more info. Thank you!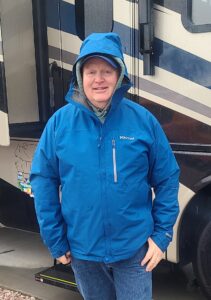 With our upcoming Alaska trip, I knew we'd need something better something actually waterproof. But something lightweight. I checked out different options and decided I needed a rain jacket that used Gore-Tex as its main waterproof barrier. I wanted something waterproof but didn't want to require a loan to purchase it. Some of the jackets I looked at were outrageously priced. So the price was going to be a factor in finding a waterproof jacket made with Gore-Tex. Soon I found the Marmot Minimalist Gore-Tex Rain Jacket. It fit everything I was looking for.
Product Description
The Minimalist Rain Jacket is a lightweight shell featuring Gore-Tex with Paclite Technology, making it waterproof, windproof, breathable, and somewhat packable. The hydrophobic Gore-Tex membrane contains over 9 billion pores per square inch to reduce internal moisture, and the Paclite layer regulates temperature while keeping weight to a bare minimum. The Minimalist jacket also features fully taped seams to prevent leaks, a storm flap to protect the front zipper, and an attached hood that adjusts for better facial coverage. If interior heat should begin to build up, simply open the Pitzips—zippered ventilation openings under the arms—to increase airflow. Your arms will retain full mobility through it all, thanks to the built-in Angel-Wing Movement.
Gore-Tex is the leader in the market when it comes to waterproof and breathable garments. They are the option most manufacturers turn to when they want a truly premium product, even when they have great in-house alternatives. If you want the incredible durability and premium performance of a Gore-Tex membrane, you won't get it for cheap. But the Marmot Minimalist is one of the cheaper options on the market.
Fit And Size Variety
This is a regular-fitting jacket with articulated elbows for better mobility. It runs true to size and you can wear it over pretty much anything, from a thin t-shirt to a fleece hoodie. If you want to wear the Minimalist over an insulated jacket you might want to pick it up in a larger size, depending on how thick your mid-layer is.
The Marmot jacket is available in sizes from S to XXL. It's not a very inclusive size range, so hopefully, it is available in your usual size.
Review
For the most part, Marmot nailed the details in terms of weather protection.
The Minimalist is a basic Gore-Tex Paclite design. A step up from that would be much more money. All in all, it's not the best jacket but is pretty good. Better quality would be a lot more money. You're going to be hard-pressed to find a nicer jacket for the price.
I like the price and the minimalist look. The colors are great and vibrant. Being Gore-Tex it's breathable, windproof, lightweight, well-made, and a nice rain hood. The sleeves are a bit too long in the arms in my opinion but they do keep my hands dry. There are no pockets inside, and you're unable to hide the hood which would have been nice if you were able to tuck it away. It's not stuffable, but after all this, I still like it and recommend it.
Conclusion
The Marmot Minimalist Rain Jacket strives to be exactly what the name promises: a simple, functional piece of rainwear without too many bells and whistles to bog you down. For the price, you'll be hard-pressed to find a better Gore-Tex waterproof rain jacket.
If you're looking for a Women's Marmot Minimalist Rain Jacket you can find them here.