Saguaro Skies is a new campground (FamCamp) that opened on September 1, 2020. The FamCamp has 61 pull-thru spaces that are 60 feet long, with 30 and 50 amp electrical service, water and sewer to each.
While it doesn't have as many amenities as other FamCamps we've been to it is a great place to stay and you'll be hard-pressed to find a cheaper alternative in the Phoenix area. You do need to be a DOD Card holder or a VA card holder with Service Connected Disability to access Luke Air Force Base and Saguaro Skies FamCamp.
This post contains affiliate links. As a participant in Amazon Associates and various affiliate programs, we are compensated when qualifying purchases are made through our referral links at no additional cost to you. Full Disclosure
We do all our trip planning with RV Life Trip Wizard. RV Trip Planning Made Simple! RV Life Trip Wizard is by far the best RV route planner we've found. Get your 7 day Free Trial
Location
Located on Luke Air Force Base in Glendale, Arizona.
Authorized ID card holders with base access may enter through either the South Gate (open 24 hours) located on Litchfield South of Glendale Avenue or the Lightning Gate (open 0500-2100, 9pm for us civilians, daily) located on Litchfield Road North of Glendale Avenue. After you enter either gate, follow the FamCamp signs that lead you right to the FamCamp location on Thunderbird Street.
Prices
At $30 a night, guests can stay for up to 30 days and potentially longer if space is available at the conclusion of their 30-day reservation. Active duty service members can make reservations up to 60 days prior to their check-in date, and all other Department of Defense ID cardholders can make reservations up to 30 days in advance. After 90 consecutive days, guests must check out and leave the base, with all their belongings for a minimum of 24 hours before returning to the FamCamp.
Reservations
For Reservations/Information: 623-856-4891 or lukefamcamp@lukeevents.com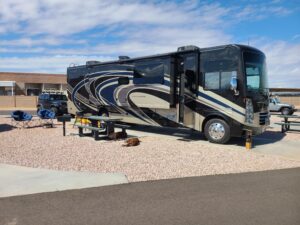 Arrivals between 0800-1700 (daily) must stop by the FamCamp office and complete the registration before parking on your assigned site.
Arrivals after 5pm must stop and verify the site ARRIVAL LISTING for site assignment that is posted outside the office in the information board BEFORE you proceed to a site.
ALL late arrivals will complete their registration the following morning as soon as possible after staff arrives at 0800
Our Review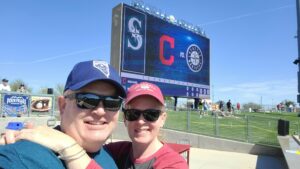 Saguaro Skies Campground is a very nice base camp for any of your Phoenix area activities. Located on the far West side of the Valley of the Sun it may be a bit far from some of the towns like Mesa, Gilbert, and Chandler on the East side of the valley. The Phoenix metro area is the fifth largest in the country so it is quite a distance across the valley.
During our stay March 1-15, 2021 we spent some time in Peoria going to the Seattle Mariners Spring Training Games so Saguaro Skies FamCamp is a great location and just a short drive to the ballpark. It would also be close to the other ballparks in Surprise, Glendale, and Goodyear. It's also close to Gila River Arena and State Farm Stadium in Glendale.
All the sites are 60′ pull through making parking a breeze. Being a new park the trees haven't had a chance to grow too much yet so there isn't any shade.
The Commissary, BX, ITT Office, and Base Gas Station are all within walking distance. At the gas station is a Combined Class-6 with tons of food/drink options, a Burger King, and a Tire Center. Gas pump islands are big-rig friendly & they have diesel.
Luke AFB is home to the 56th Mission Support Group. The wing's mission of training the world's greatest F-35 and F-16 fighter pilots. So being on an Air Force Base jet noise is a regular occurrence. Gotta love the "Sound of Freedom"!
Amenities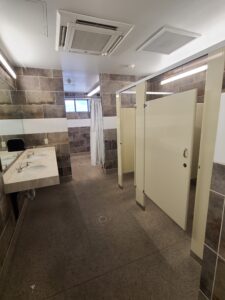 While the FamCamp doesn't have too many amenities of its own it is located within walking distance of the Commissary, Shoppette, and Base Exchange, providing convenience for guests.
The restrooms and showers looked new and were spotlessly clean when we were there.
The laundry room is located in the main building. Washers and dryers are free of charge for guests.
There is no dog park in the campground or on Luke AFB. There is plenty of room to walk your dogs along Thunderbird Street or the field next to the FamCamp. If walking dogs in the field next to the FamCamp be aware of goat heads. These thorny things get stuck in dogs feet easily. The closest dog park is about 3 miles away.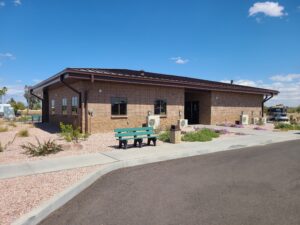 While not really a lodge the main building houses men's and women's restrooms with showers, a community room with books, television, a mini kitchen, and desk space, as well as washers and dryers free of charge for FamCamp guests.
Saguaro Skies FamCamp does not have a pool or spa but if you're looking for a dip in a pool there is one located at Silver Wings Pool Bldg. 708
Phone and Internet Service
We use T-Mobile for our phone service. We had great service at Saguaro Skies FamCamp.
Our Verizon MiFi received 4 bars of service and we were able to use our Fire Stick and stream Netflix and Prime with no problems.
We used general delivery for our mail at the Litchfield Park U.S. Post Office.
Sports, Recreation, and Playground Areas
There is no play area in the FamCamp but across the street from the Express Gas Station is a playground and there are ballparks and of course a gym on base.
Things to see/do nearby
Wildlife World Zoo – Wildlife World Zoo, Aquarium & Safari Park has Arizona's largest collection of exotic and endangered animals, with more than 600 species, rides, a petting zoo, and daily shows.
Westgate Entertainment District – Visitors who make their way to Westgate will enjoy an interactive dining, shopping, and entertainment experience. The shopping district is anchored by the Gila River Arena, home to the NHL's Arizona Coyotes. Just across the street is the Arizona Cardinals State Farm Stadium.
Glendale Historic District – A generous collection of over 100 antique stores, specialty shops, charming eateries, unique museums, a candy factory, and several historic homes.
Thunderbird Conservation Park – Is a large park that is dedicated to preserving a portion of Arizona's desert environment, in the city of Glendale. This 1,185-acre preserve boasts more than 14 miles of rugged trails, perfect for horseback riding, bird watching, trail running, hiking, and mountain biking.
Mystery Castle – Built by Boyce Luther Gulley over a 15-year period. The mystery in Mystery Castle is what compelled Gulley to abandon his job, wife, and his one-year-old daughter and set off to build the castle.
Conclusion
Phoenix is one of our favorite cities with plenty to keep you busy for a long time. There are plenty of places you can stay around the valley but you won't find a more economical place than Saguaro Skies Campground (FamCamp). If you are planning on a visit to the Valley of the Sun check it out.
Thank you for reading our article. Where is your favorite place to stay in the Phoenix area? If you have any questions or comments please let us know below.